Bijan Robinson. DJ Uiagalelei. Spencer Rattler. These are the players who get all the hype in devy drafts, and rightfully so. They are the big-name recruits and guys with surefire NFL talent. Surprisingly enough, however, the top-scoring QB in the league and three of the top ten running backs from last season came from outside the Power Five group of conferences. There are values to be found outside the Alabama's and Clemson's of the world. Here are ten names you should be looking to add in your devy drafts from Group of Five schools.
QB Carson Strong, Nevada
Everyone assumes Spencer Rattler and Sam Howell will be the first two quarterbacks drafted next season. But don't be surprised if Strong surpasses one or both of them this season. After a mediocre 2019 season that saw him throw for 11 touchdowns and seven interceptions, Strong exploded onto the scene in 2020. He threw for 2,858 yards, 27 touchdowns, and only four interceptions in nine games while improving his completion percentage from 63.4 to 70.1 percent. Strong gets his leading receiver, Elijah Cooks, back this season from injury as well. The sky's the limit as far as the numbers he can produce this year. Another strong season from the junior quarterback could find himself in Zach Wilson territory come the 2022 NFL Draft.
QB Grayson McCall, Coastal Carolina
Redshirt freshman McCall won the starting job at Coastal Carolina last season and never looked back. While Strong is more of a prototypical pocket passer with limited rushing ability, McCall ran for at least 40 yards in all but three of his 11 games en route to 569 rushing yards and seven touchdowns on the ground. He was no slouch through the air either; amassing 2,488 passing yards with 26 touchdowns against only three interceptions and a 68.8 completion percentage. McCall won't be draft-eligible until 2023, which looks to be a strong class with DJ Uiagalelei and Bryce Young at the forefront. So you won't see an immediate return next season on your NFL squad. Another strong season could put him on NFL radars and get him drafted in the first few rounds.
QB Desmond Ridder, Cincinnati
Ridder surprised draft pundits by returning to school for his senior season instead of entering the 2020 NFL Draft. The NFL's loss could be your devy squad's gain. While no one will mistake Ridder for Lamar Jackson, he's the type of quarterback the NFL has shown they covet moving forward. He averaged nearly 60 rushing yards per game last season and scored 12 rushing touchdowns. This was more rushing scores than his first two seasons combined. Add in a career-high 66.2 completion percentage and 152.9 QB rating, and he's a quarterback I could see getting day two draft capital next season. He might struggle to be a starting quarterback in the NFL with his skillset. But he's worth a flier in the late rounds of your devy drafts and could have some NFL fantasy value.
QB Dustin Crum, Kent State
Kent State only played four games last season due to the pandemic, but Crum made sure to make them count. He accounted for at least three touchdowns in every game and was the leading scorer in C2C formats on a points per game basis (averaging close to 42 points per game). Crum is entering his fifth season at Kent State and his third as a starter. He is primed for another stellar statistical season in the high-scoring MAC conference and rise on the NFL radar. While he is likely to be a day-three pick, he will almost certainly be drafted and end up on a roster, and sometimes that's all it takes. I wouldn't spend a high pick on him in devy drafts, but you could definitely do a lot worse with your final pick in drafts than taking a flier on him and his potential.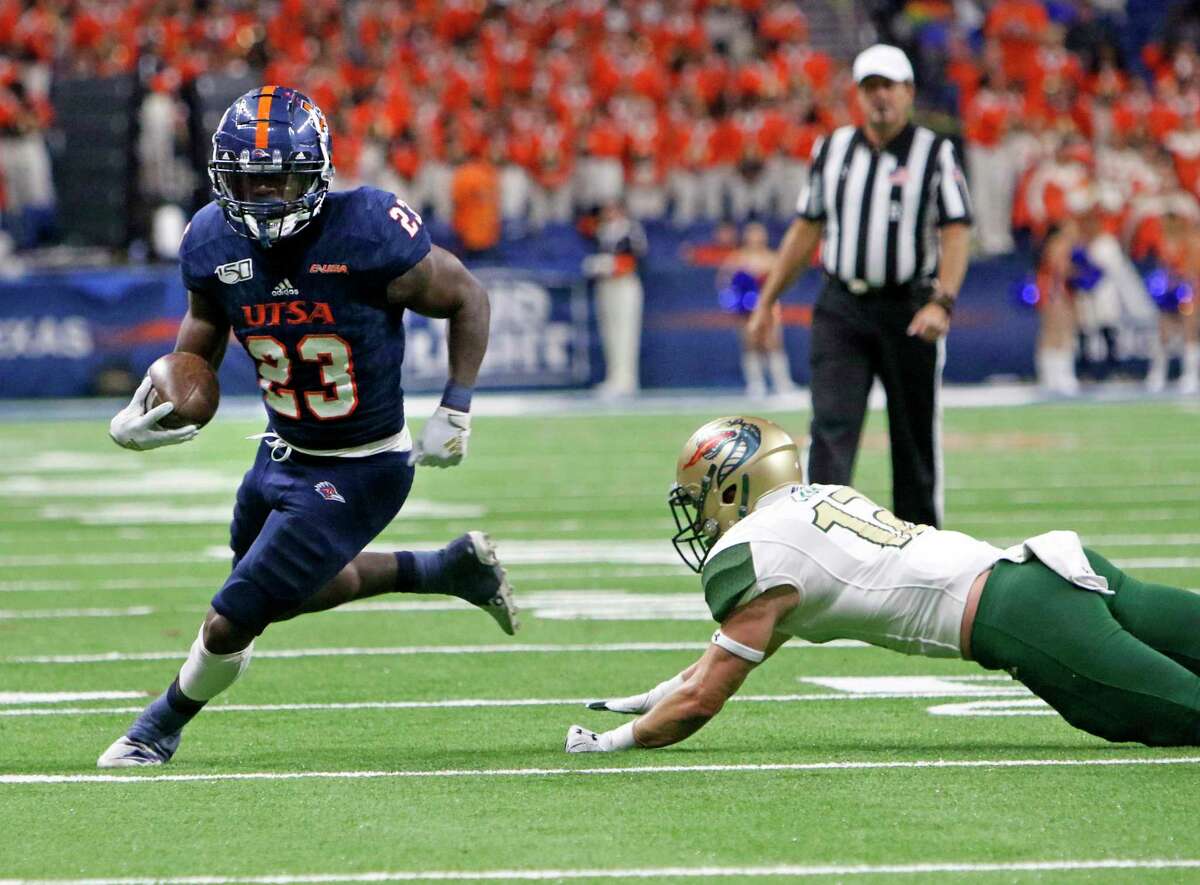 RB Sincere McCormick, UTSA
McCormick is a name that might not be familiar to some, but he's definitely a player worth taking a chance on in your devy drafts. After averaging 82 rushing yards a game in 2019, he exploded last season to average 133 yards per game with 11 rushing touchdowns. He won't struggle to stay on the field on third downs as well, catching 20 passes for 131 yards and a stellar 11 touchdowns. At 5'9″ and 200 pounds, he is built like a prototypical NFL running back. His three-down potential should equate to draft capital if he decides to enter the draft next season.
RB Jerome Ford, Cincinnati
Ford, a former high four-star recruit, started his career at Alabama before transferring to Cincinnati before the 2020 season. While he struggled to find consistent carries behind Gerrid Doaks, he made the most of the limited opportunities. Over 73 carries, he put up 483 rushing yards (6.6 per carry) with eight rushing touchdowns. Doaks is gone to the NFL, the latest running back the Bearcats have put in the league following Michael Warren and Mike Boone. Ford should step into the bellcow role for a team that was 22nd in the nation last season in rushing yards per game. His pedigree, coupled with the increased workload he will receive, make him one of my favorite targets in the middle rounds of devy drafts.
WR Jalen Tolbert, South Alabama
Unless you are a hardcore devy or C2C aficionado, there's a good chance you've never heard the name, Jalen Tolbert. That might change after this season. While playing in the Sun Belt conference, Tolbert has amassed superb numbers over the past two seasons. His 2019 season saw him compile a 30.44% weighted dominator percentage (27 receptions for 521 yards and six TDs). While that was right on the trajectory you'd like to see for a wide receiver to have a shot at an NFL future, he far surpassed that in his junior season. In 11 games, his 64 receptions, 1085 yards, and eight touchdowns were good for a 40.85% weighted dominator. He also possesses prototypical size at 6'3″ and 195 pounds. I could see an NFL team falling in love and taking him on day two in the 2022 draft.
WR Khalil Shakir, Boise State
Shakir improved upon his solid 2019 campaign – 63 receptions for 872 yards and six TDs in 14 games – by exploding for a 43.98% weighted dominator last season. He matched his 2019 touchdown total in half as many games. Shakir averaged over seven receptions and 100 receiving yards per contest. He has the size at 6'0″ and 190 pounds to be a receiver that the NFL covets also. I can see Shakir getting day two draft capital if he puts up another solid season this year. He's a name that might not be flashy, but I think taking him with a mid-round pick in devy drafts is a shrewd move that could pay dividends next season.
WR Dante Wright, Colorado State
Wright is another player who might not be a household name but is definitely a player you should watch. After posting a weighted dominator percentage of 21.34% in his true freshman season – which is over the 20% early breakout threshold analytics gurus love to see – he improved to a 32.35% percentage in the pandemic shortened 2020 season. While he might be a little small at 5'9″ and 180 pounds, the NFL has shown an increasing willingness to draft shorter WRs who can create separation. Assuming Wright tests well, I see no problem with him getting draft capital and a path to relevance in the NFL. As a high upside, high reward-type prospect, he's a player you can take late in your devy drafts.
TE Cole Turner, Nevada
Turner, a converted WR, had a breakout season last year at tight end for the Wolf Pack. He tallied 49 catches for 605 yards and nine touchdowns in nine games and put up at least 48 receiving yards in every single game. Nevada returned Strong and most of their offense from last season. They had the twelfth leading passing offense, so I expect Turner to have another strong statistical season. I'm not sure he will ever be an in-line TE in the NFL but that isn't a death sentence. Plenty of move TEs, such as Kyle Pitts, who have been drafted highly in the NFL Draft. I expect Turner to be the next man up in that regard. He should get day two draft capital next season. Given most devy leagues are trending towards TE premium, Turner is an excellent pick in the later rounds.
While Strong is likely the only one of these players with first-round draft potential; all of them are players who should get drafted into the NFL and have a chance at seeing the field at the next level. Draft them confidently in the mid to late rounds of your devy drafts. Even over more well-known Power Five assets like Kedon Slovis, Jerrion Ealy, or Demond Demas, and reap the rewards!
Love DynastyNerds? Want more? Try this link for 15% off a #NerdHerd membership!
https://www.dynastynerds.com/ref/DynastyPJ/