What's up, Nerds?! Who's pumped for Week 11 to be here for the 2021 NFL Season!!! It's time to make your playoff push so we can compete for the Championship!! The season is flying by already! We are past the halfway point of the season! I can't wait to review these tight end starts/sits next week to see how they went. We have an amazing squad full of Nerds to provide you with all the starts/sits so you can win your matchup every week. This is going to be the longest season yet with 17-game schedules! More football is never a bad thing.
George Kittle IS BACK! However, we did lose Dallas Goedert to a concussion. The tight-end bloodbath is never-ending.
This Week 11 bye is so much nicer with only 2 teams instead of 6 NFL teams on bye, like with Week 7. Nonetheless, combine that with the endless amounts of injuries and well, this is a tough week! But, that's why we are here to help! FYI: The 2 teams on bye this week are Denver Broncos and Los Angeles Rams. That means this is going to be a rough week for teams that rely on Tyler Higbee and Noah Fant- a lot of teams will be hurting for tight ends.
The Dynasty Nerds writers are here to provide you with weekly starts and sits. We will be making our recommendations based on weekly consensus PPR rankings from FantasyPros. Here is our squad and the position groups they will be covering to help you each week. Follow us, friend us, tweet us.
The Team doing Start/Sits
QB: Jayson Snyder @Spydes78
RB: Gage Bridford @GbridgfordNFL
WR: Tristan Cook @Tristancook_
TE: Jake Oliver @DarthDbacks
FLEX: Ethan Wyatt @ethanAwyatt
IDP: Jon Glosser @Glosser13
We look forward to hearing from you!
NOTE: Rankings are based on a 12-team PPR league. So, saying WR2 means top 24, or TE1 means top 12, etc. It is referring to the fact that he is projected among the top-12 TE of the week. TE1=top-12, TE2=finishing between top-13-24. Finally, all rankings are taken from Fantasy Pros Weekly Expert Consensus Rankings.
Now, you may be wondering who I am since I'm not the same guy from last year. My name is Jake Oliver. I've been with the Nerds since June. I have written a lot of articles with this wonderful team since then.
These articles are made out of love and passion for fantasy football, the NFL, and helping others. If you all have any questions or comments, hit me up on Twitter, in the comments here, or on Discord in Fantasy Football Chat! I'll be posting a bunch and love to engage with anyone. We would appreciate it a lot if y'all checked out the other start/sit articles as they rock too! One final tidbit, if you're wondering why Travis Kelce, Darren Waller, or Mark Andrews aren't listed, well, that's because you need to START YOUR STUDS! These guys are ones that you start them once and forget about them. I'll be focusing on the other tight ends that are a bit trickier to decide whether you should start them or not.
Week 10 Review
First, let's review my picks from last week. I'm curious to see how well I did in Week 10 and to keep myself accountable. Hopefully, I didn't mess up too much!
Pat Freiermuth: Pat was targeted a LOT in what was a disgusting game by the Steelers. Pat got 9 targets and caught 5 of them for 31 yards. Too bad he didn't run for more yards.
Logan Thomas: Well, as it turned out, LT didn't play as he wasn't ready to return. Unfortunate. I did warn y'all and hopefully, you kept him on your IR.
Dan Arnold: Another 10+ PPR point day for Mr. Arnold as he caught 5 passes for 67 yards on 7 targets. That's good enough for TE6 overall.
Zach Ertz: Ertz had another decent day in what ended up as a miserable Cardinals loss. He had 4 catches on 6 targets for 46 yards. It helped that he was the 2nd-most targeted player for the Cards Sunday. Ertz was TE13 on the day.
Tyler Conklin: Boy, Conklin's yardage was minuscule but his final point tally was not. Over his 5 targets, he caught 3 of them for 11 yards and TWO TDs. Hope you started Conklin as he was TE4 overall.
Noah Fant: Noah was productive on Sunday getting over 10 PPR points. After all, was said and done, he racked up 59 yards on 5 catches. Top-10 finish for Fant.
Geoff Swaim: Well, I told you not to start Geoff. As I expected, it was a let-down. 4 catches on 5 targets for 26 yards isn't going to get it done.
Adam Trautman: Trautman had his best game of the season. Yet, that didn't mean much for fantasy. He caught 5 of his 6 targets for only 32 yards. That's not a great yards-per-reception rate.
Tyler Higbee: Well, I didn't say to not start him, just to keep your expectations lower. I was wrong because of course, the 49ers wreck the Rams. Higbee got 3 passes for 20 yards and a TD. Top-10 finish.
Jared Cook: Cook got burned in the field. He didn't produce over his three targets and only caught one for 10 yards. Ouch.
Gerald Everett: Russ came off the IR and apparently thought his only target was Gerald Everett. He targeted 8 times and Gerald caught all 8 for 63 yards. Great day for Gerald. Sorry, y'all!
Tyler Kroft: Kroft was unable to make it back for this game due to an injured lung.
Overall, for the week: 8/11. Overall, for the season: 64/96
Tight End Starts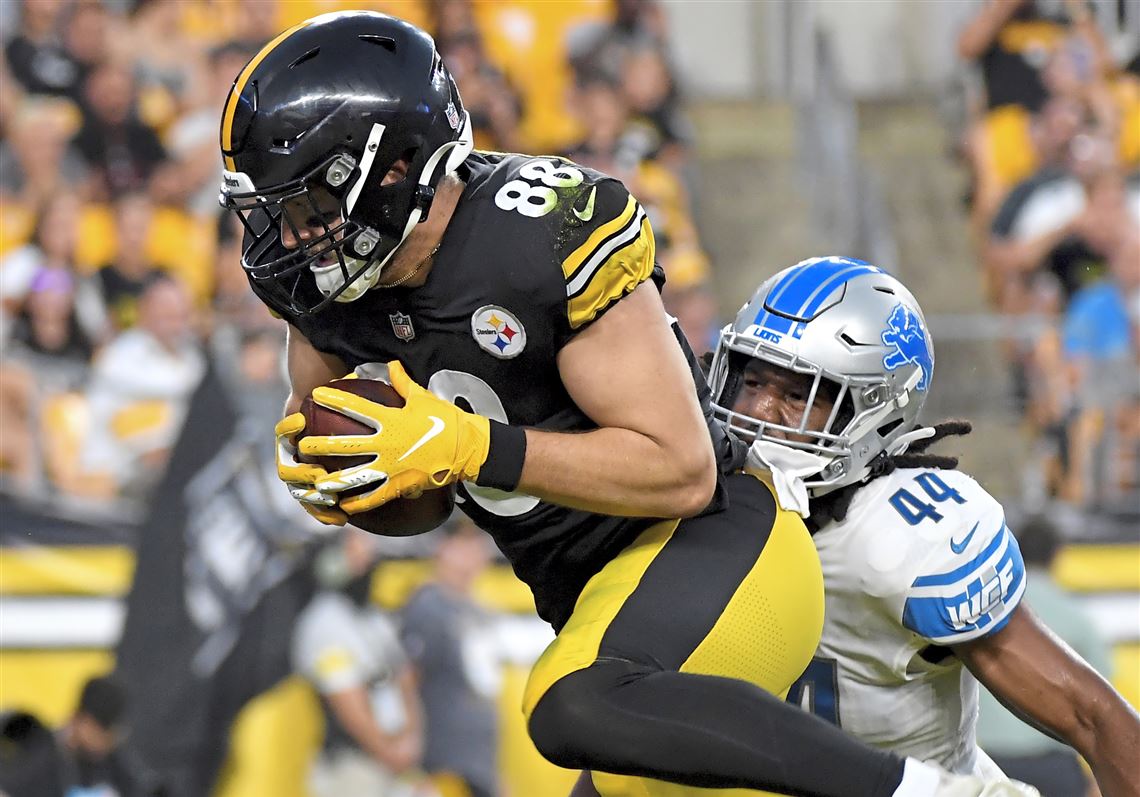 Tight End Start of the Week: Pat Freiermuth
The Freiermuth train is arriving earlier than expected. In only his rookie year, Pat has become a full-fledged Dynasty TE1. He has exceeded all expectations. Truly, I don't think anyone expected this level of play from Pat on a crowded offense. Of course, it helped that Juju lost his shoulder, Chase Claypool has been dealing with injuries, and Eric Ebron decided to not fight for his job. Add that up, and you get a rookie TE that has 32 receptions for 276 yards and 4 TDs.
The behinds-the-scenes stats on Freiermuth are even better. He's the TE16 overall with a 9.1 ppg average. Pat plays 58% of the snaps and holds a 12.2% target share. He's clearly the TE1 in Pittsburgh as he had out-targeted Ebron 42-15. In addition to that, Pat's a red-zone monster. He's top-5 among tight ends with 10 red-zone targets. He's caught 7 of those targets for 4 touchdowns. Additionally, he's being targeted more and more. He had 9 targets last game and had at least 7 targets in each of the last 4 games. That's tight end fantasy money. His 157 air yards and 8.6 yards per reception (ypr) leave some to be desired. However, I am blaming that on the dead arm of Big Ben. I can't wait for a new QB next year, perhaps Aaron Rodgers?
The best part of Freiermuth this week is his matchup. He faces the not-scary Los Angeles Chargers. Their defense has been a let-down despite them bringing Brandon Staley in as head coach. The Chargers are giving up the 5th most points to tight ends per game with an average of 10.1. You know that means to start Pat right? Los Angeles is especially vulnerable to seam routes, which just so happens to be the routes Pat runs a lot of. This is going to be a big game for Pat. Fire him up!
Start: Mike Gesicki
Big Mike the slot-wide receiver, in his words, is yet another start this week. I get that you're worried about his massive dud last week. He got zero points, I know. On the other hand, he still got 7 targets which is a great indicator of success. He's had at least 6 targets in 8/10 weeks so far this season. With that kind of amount of targets, no wonder he's been so successful. Mike is the TE3 overall this year in PPR leagues. Gesicki averages 11.1 ppg. He's on pace to reach career highs as he's already hit 44 receptions, 70 targets, and 529 yards. That's extremely good.
Gesick's the clear TE1 in Miami out-targeting Smythe 70-21 while playing on 73% of the snaps. Mike is close to leading the league in air yards with 410. Remember, you want players who have a larger amount of air yards as that can lead to more points. He leads his team with an 18.4% target share. Among tight ends, he's top-5 with 12 ypr. Finally, he even has 6 red-zone targets and has caught 4 of them.
Mike has a positive matchup this week against the New York Jets. They can be beaten by tight ends. Of course, it doesn't hurt that Brian Flores found his brain and is letting Tua start again. Tua starting is great news for Gesicki. The Jets allow 8.9 ppg to the tight end position. I'd bet that Mike Gesicki goes over it.
Start: Dalton Schultz
So, Dalton had a rough week last week against the Falcons. That wasn't completely unexpected. It was the first game that Gallup was back for and he got incorporated into the offense. Plus, the Falcons have been surprisingly good against tight ends this year. When the Cowboys got out to such a large lead, all the backups came in. This limited the playing time for Schultz to truly make an impact. Despite that, I am not concerned going forward.
Dalton's the leading tight end on the team with 51 targets to Jarwin's 15. He's the TE8 overall and averages 11.1 ppg. Schultz plays 76% of snaps which allows him to maintain his 15.7% target share. I doubt those numbers will go down. Dalton is having a breakout season with 38 catches for 438 yards and 3 touchdowns. He's averaging 11.5 ypr and has accrued 3 broken tackles. Both are high marks among tight ends.
Now, in Week 11, the Cowboys are facing the Chiefs. This is a wonderful matchup as Kansas City struggles against tight ends. They give up 10.0 ppg which is the 6th-highest in the NFL. Dalton will be featured a lot in what will be a high-scoring game. Make sure you have a piece of the highest-scoring game this week, hopefully. The NFL is very weird this year.
Other Starts: Adam Trautman, Tyler Conklin, CJ Uzomah
Tight End Sits
Tight End Sit of the Week: Gerald Everett
What a shocker it was to see Russell Wilson come back and start force-feeding targets to Everett. Maybe that's why they lost the game to the Packers. Russ hardly targeted any of his WRs. Due to that, it's no wonder that Gerald had the best game of his season so far. Of course, that's not saying much. Prior to Sunday's 8 catch, 8 targets, 63 yards a big game, he had only caught or been targeted 4 or more times once this year. That was way back in Week 3. That's not a good indicator of a breakout about to happen.
Gerald's the TE28 on the season, averaging only 6.9 ppg in his 7 games this year. His season totals are lackluster as they only amount to 22 receptions for 198 yards and one single touchdown. That touchdown was scored way back in Week 1 when he caught his only red-zone reception. His air yards are horrendous with only 65. I thought Russ could throw deep? Nonetheless, his target share of 10.2% is abysmal as is his total target of 25. He's averaging 3.5 targets per game. OUCH. The only positive is that he has a 70% snap share.
Now, he has a scary matchup against the banged-up Arizona Cardinals. You know that they are eager to erase what happened Sunday and have a statement game. They want to show that Sunday is not the team they are. They'll be sure to lock down Everett as well, just like they have against every tight end they have faced this season. They allow the 2nd-fewest tight end points with only 4.4 ppg. Don't start Everett.
Sit: Dan Arnold
Mr. Arnold is the TE18 overall, averaging 8.3 ppg, and is a revelation this year. Dan shocked most fantasy players by actually being a tight end you could start the last couple of weeks. Yes, that's due to the Jaguars targeting him often, which is odd considering they have better weapons. Nonetheless, Arnold's still been solid for many teams lately. Last week, he had another TE1 week with 5 receptions for 75 yards.
Despite the fact that Dan had over 60 yards in 4 of the last 5 weeks, he's a sit this week. Now, Dan may be the TE1 on the Jaguars, but the tight end still only has 50 targets. Even worse, he's only playing on 54% of the snaps and has an "okay" 14.8% target share. Basically, he's getting lucky that defenses are overlooking him and letting him get wide open a few times a game. He has a great 12.0 ypr, but a not-so-great 216 air yards. This lends credence to the fact that Arnold is just getting forgotten about by defenses. Furthermore, we desire a tight end who is targeted in the red zone. That's not Arnold. He only has 4 targets in that zone with 2 catches and zero TDs.
With a horrible matchup this week against the 49ers, I'd be benching Arnold. The 49ers are the toughest matchup for a tight end. They allow only 4.3 ppg to the tight end position. Additionally, with that defensive line, look for Arnold to have to block more than he normally does. Sit Arnold if you can.
Sit: Geoff Swaim
I feel silly telling people to bench the TE31 in fantasy because that should be obvious. Unfortunately, it isn't. He's averaging 4.4 ppg, but people see his last three weeks and think he's a start. He's NOT. I know that Geoff has caught 4 passes in each of the last three games. Despite that, his total yardage for those games is 23, 29, and 26 yards respectively.
Need I really tell you that those yardages aren't good? I'll provide further information to support why I don't support Swaim. He's barely getting out-targeting Firkser by 26-20. Those 26 targets amount to only an 8.4% target share which is awful. Plus, he has a 6.9 ypr which means he does nothing with the ball. If you're starting Swaim, you're praying for a touchdown.
Now, this week, Swaim has a great matchup against the Texans. Houston gives up 10.6 ppg to the tight end position. Great! Except that they also give up 21.1 ppg to the RB spot, and 25.2 to the WR spot. With the Titans having good wide receivers, and a decent corp of running backs, and with what will be a large lead, there's no reason for them to extensively target Swaim. Of course, watch Swaim get a touchdown. I'd still sit Geoff.
Other Sits: Cole Kmet, Mo Alie-Cox, and Jared Cook
Make sure to subscribe to the #NerdHerd, where you get exclusive content, dynasty/rookie rankings, and DynastyGM! Additionally, if you want 15% off of ANY SUBSCRIPTION, USE PROMO CODE 'MAYTHEFORCEBEWITHYOU' or CLICK HERE.
Good luck with your Week 10 matchup, especially with your tight end starts! I truly hope you win! Give me a follow on Twitter @DarthDbacks. I love to talk football, baseball, movies, shows, Star Wars, Marvel, and of course to interact with the fantasy football community. Join Fantasy Football Chat and get tons of access to the best fantasy football chat group where many Nerds hang out in. It's free too!
As always, May the Force be with You…