2020 East-West Shrine Game
Long looked upon as the lesser of the college Senior All-Star games, the East-West Shrine Game has nonetheless played host to scores of dynasty relevant players. Players such as Brett Favre, Steve Smith, and Elijah McGuire have taken the field in this charity contest on their way to NFL careers. This year will be no different than past years as scores of players with NFL dreams take to the field in the hopes of showcasing their skills and improving their draft stock. Coaches for the game are drawn from the ranks of NFL teams with this year's head men being Mike Caldwell of the Tampa Bay Bucs and Ben Steele of the Falcons. Without further ado, let us take a look at some of the players you will want to monitor during the practices leading up to the contest and during the game itself.
QB:
Kelly Bryant (6'3-225 lbs) Missouri
The QB who was forced out of Clemson early by Trevor Lawrence has had an interesting college career, to say the least. He was recruited out of Piedmont, SC grading out as a 4-star prospect. He spent his first two seasons in Clemson backing up All-American Deshaun Watson. When Watson graduated following the 2017 National Championship it was finally Bryant's turn. The big kid displayed the size and athleticism that bought him to the University. He put up over 3,000 total yards and 24 TDs. You can see his stats below.
Bryant helped guide the Tigers to a 2017 ACC championship and a birth in the college football playoff. After being bounced by eventual champion Alabama and finishing the season 11-2 Bryant found himself on thin ice. The following year he lost his starting gig to Freshman phenom Trevor Lawrence and the rest is history. Lawrence went on to win a National Championship while Kelly transferred to Missouri. Bryant struggled to find his footing in Missouri despite playing in a similar Spread Offensive Scheme. When he is at his best Bryant manages to buy time for his skill players to get open as you can see in the play below.
Bryant also can stand in the pocket and drive the ball over the middle of the field. His arm is strong enough to fit the ball into tight places when his mechanics are proper. He also possesses some touch and can put drop the ball over defenders. You can see examples of these types of throws below.
Kelly Bryant certainly has some skills as you can see. However, he has his fair share of warts as well. He tends to hold onto the ball for too long at times and take unnecessary sacks. He can also get a little sloppy from time to time when protecting the ball. In all likelihood, Bryant will not be drafted as a starting QB as was once considered a possibility when he led Clemson to an ACC title. However, he will likely find his way onto an NFL roster either late in the draft or as a UFA. Stranger things have happened than a former 4-star recruit rising from the ashes at the next level.
Tyler Huntley (6'1-205 lbs) Utah
The 1st Team All-Pac12 QB has enjoyed a storied career at Utah. One of the better dual-threat athletes in the nation he was a finalist for several of the top QB awards in college football. The kid from Dania, Florida helped lead the Utes to one of their best seasons in school history this past year. Coupled with senior RB Zach Moss he led the school to the Pac-12 title game before falling short against the eventual Rose Bowl Champion Oregon Ducks.
Huntley has a slight build for a dual-threat QB. However, he has displayed an ability to make use of the tools at his disposal. One area in which he excels is throwing while on the move. You can see below that he maintains his velocity and accuracy when rolling out on the bootleg against USC. In the second clip, you can see him tuck the ball and make the play with his legs against Washington State.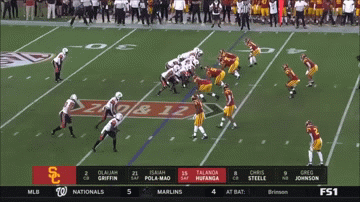 Huntley offers an intriguing skill set when it comes to the next level. He reminds me somewhat of a poor man's RGIII. He will need to add as much weight as possible to his slight frame if he is going to maintain any effectiveness at the next level. Despite upping his yards per attempt and overall stats in his final season at Utah I still have questions about his arm talent. However, due to his above average athleticism, he will likely be a day 3 selection in the upcoming NFL draft as a developmental backup. Keep an eye on how his week goes at the Shrine Game.
Tommy Stevens (6'5 235 lbs) Mississippi State
The former Penn State and Mississippi State QB has followed a different path to the Shrine Game. Sitting behind former Nittany Lion QB Trace McSorley for several years it was a bit of a shock when Stevens up and transferred out of Happy Valley on the eve of his final season. At 6'5 235 Stevens will likely be asked about his willingness to play other positions in the NFL. It may behoove him to consider it as he was successful with the ball in his hands as a pure athlete at various times throughout his collegiate career. You can see below that he was a more than adequate receiver and rusher when called upon.
Upon transferring to Mississippi State Tommy Stevens transitioned to a full-time QB. Sadly for him, he suffered through an injury-plagued final season in college football. Stevens played relatively well but is still a somewhat unknown quantity. He could be anything from Logan Thomas, Terrell Pryor, to Taysom Hill and anything in between. You can see from his stats below that he can truly do a little bit of everything on the field. Keep an eye on him at the Shrine Game to see if and how he plays QB or if he is used as a moving chess piece.
RB:
Tavien Feaster (6'0-221 lbs) South Carolina
Feaster is the second Clemson transfer to make his way onto the list here at the Shrine Game. Once looked upon as one of the top High School RBs in the nation, Tavien Feaster was somewhat of a disappointment at Clemson. He was always a quality player averaging over 5.5 ypc but never managed to wrestle a full-time workload from his backfield mates. Despite playing an integral role in the 2017 National Championship run, he saw less work in his Junior year. The former Tiger made the best of a bad situation and transferred in-state to South Carolina. While playing for the Gamecocks he earned honorable mention All-ACC in his lone season in Columbia. When I watch his game the traits that stand out to me are his power, balance, and effort. Feaster is rumored to run a sub 4.4 40 but in the film, I have watched he looks to have actually lost a step between his freshman and senior campaign. You can see in the clips below some of the power and balance he possesses running through arm tackles and picking his way through traffic.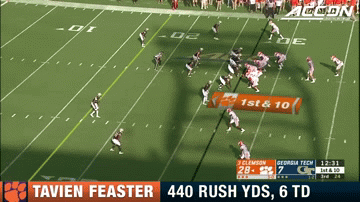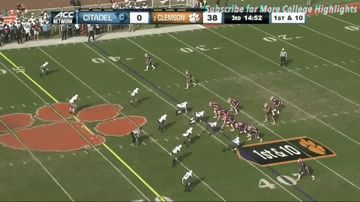 You can see from just these few clips that Feaster certainly has some talent. He will likely find his way onto an NFL roster at some point. While he has shown some glimpses in the past he certainly has some issues to work on. In particular, he needs to improve as a pass blocker. He will certainly be an interesting player to watch during Shrine week.
Tony Jones Jr. (5'11-225 lbs) Notre Dame
The leading rusher last season for the fighting Irish, Tony Jones Jr. decided to forgo a 5th year of eligibility to enter the NFL draft. The former 4-star recruit out of the famed IMG Academy came to Notre Dame with lofty expectations. He suffered through several injuries early in his collegiate career before eventually emerging in 2019 after the injury to starter Jafar Armstrong. The powerful Jones is a violent runner who succeeds with physicality at the point of contact. He seeks to deliver punishment to defenders. Head coach Brian Kelly called Jones an all-purpose player whose ability in picking up the blitz more than compensated for his lack of top-end speed. Whether he has that 5th gear or not, Jones delivered many big plays for the Irish and will be an interesting player to track during Shrine Week and going forward.
SWOON! pic.twitter.com/iHH4oB58mP

— One Foot Down (@OneFootDown) December 28, 2019
Rodney Smith (5'11-210 lbs) Minnesota
One of the most prolific rushers in the history of Minnesota football, Rodney Smith will be a player to watch at the Shrine Game. The redshirt senior left behind an indelible mark on the Gophers program. He is the most accomplished of all the RBs at this year's Shrine Game. You can see from his stats below that he was a major factor in the Gophers best season in the last 50 years.
Smith has adequate size & speed, a nice jump cut, and decent power to his game. He excels as a one-cut get up the field and go type of back. He also shows a willingness and success as a pass protector. His hands are ok on the whole. Overall there is a lot to like about this underrated runner. He will likely not be anywhere near the top of the draft come this spring but this kid will find a home on an NFL team. You can see from his highlights below that he bring a ton a versatility to the table. Keep an eye on how the coaches talk about him during the week leading up to the game.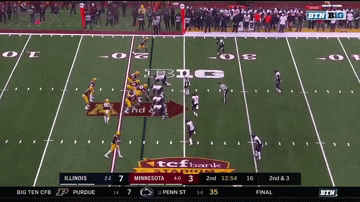 WR:
Tyler Johnson (6'2-205 lbs) Minnesota
Update: At the time of this writing Johnson was still expected to participate as no news had broken that he was withdrawing from the game. Johnson is not participating in the game or practices.
2nd Update: Per Dane Brugler.
I'm told #Minnesota WR Tyler Johnson elected to pull out of the Shrine Game.

Nothing injury related. Just focused on his training for the Combine. https://t.co/D7zAm11cbV

— Dane Brugler (@dpbrugler) January 14, 2020
The hometown senior from Minneapolis, Tyler Johnson is one of the best prospects at the Shrine Game. One could argue that it was a considerable snub that he was not invited to the much more prestigious Senior Bowl. This is the player dynasty owners will most want to pay attention to at the Shrine Game. This kid will undoubtedly get drafted in the earlier rounds of the NFL draft and has a chance to develop into a solid NFL starter. You can see from his stats below that Johnson was the definition of a WR1 while with the Gophers.
The Minnesota Senior is one of the most polished route runners in the entire draft. He is more smooth than explosive when running his routes. This is not to suggest that he does not have top-end speed. He does well after the catch but truly excels when setting up defenders with his route running. He also creates good separation with the use of his hands off the line. Johnson is completely comfortable when operating in traffic over the middle or on the outside. He is one of the better over the shoulder catchers I have seen in this class and has some of the best hands. You can see from the highlights below that this kid is worth the price of admission by himself. I will have a full profile on him out before the game but until then take a peek at a couple of his highlights below.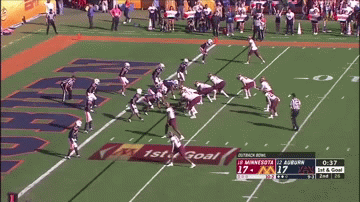 Malcolm Perry (5'9 190 lbs) Navy
The former Midshipman QB is one of the more interesting draft prospects in this year's class. Not only did he throw for over 1,000 yards and 7 TDs, but the Captain also put up an absurd 295/2,017/21 rushing line. Simply put, he was the Navy offense. Perry left Annapolis as the All-time rushing leader for NCAA QBs. Thanks to a recent change in the rules governing academy athletes, Perry will be allowed to pursue a career in pro-football before satisfying his military obligation. I expect him to be drafted sometime in the middle rounds of the NFL draft this spring.
It was a foregone conclusion that if he were to have a shot at the next level he would need to switch positions. Perry will bring an attitude and toughness to the WR position which will ingratiate him to his coaches and teammates. He will be attempting to make the same transition as players like Julian Edelman who was himself a running QB at Kent State before making the transition. With the recent trend of packages centered on mobile QBs, it is also possible that Perry could be a swiss army knife-like Taysom Hill. While a bit on the smaller side at 5'9 190, Perry runs with conviction and decisiveness. He keeps his weight behind his pads and has excellent vision to find the creases in a defense. He did spend a little bit of time at the slotback position in the Navy Triple Option early in his career. One thing is for sure, despite the fact that he has a long road ahead of himself learning a new position, Perry is fun to watch with the ball in his hands. Hopefully for his and all our sakes he is selected by a creative offensive mind that is capable of making use of his incredible talents. You can check out a few of his plays below.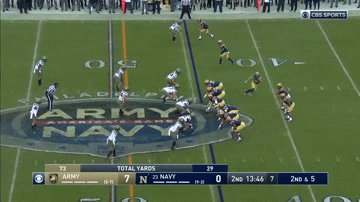 Joe Reed (6'1-215 lbs) Virginia
Let's just mark this down now, despite the fact you may not have heard of him, Joe Reed will be drafted this spring. The Virginia senior has been a decent receiver during his time at Charlottesville with 129 catches for close to 1,500 receiving yards. However, what he has also been, is a dynamic return man. Reed leaves the school holding records for kick return yards (3,010) and TDs (4). This dynamic playmaker averaged over 28 yards per return throughout his career. Simply put, he is electric with the ball in his hands. When you watch him think of a poor man's Devin Hester.
NFL teams are always looking for players who can play multiple positions. I expect Reed, with his abilities as a WR and Return Specialist, to be drafted in the later rounds of the NFL draft this spring. Just how high he goes will be determined by how coaches believe they can develop him as a WR. Keep an eye on how he makes out at the Shrine Game this week. Below is just a small sample of the playmaking ability he will bring to the next level.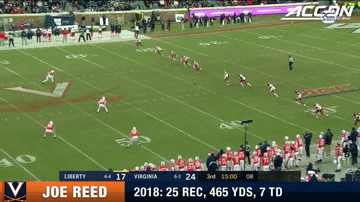 TE:
Giovanni Ricci (6'3-240 lbs) Western Michigan
The Western Michigan kid has the makings of a move TE at the next level. During his college career, he transitioned from WR to TE adding bulk to his frame. His background as a wideout shows when you watch his film as he is very fluid in and out of his breaks for a TE. His former position also shows when it comes to other areas of his game. He is a bit undersized for a TE and can sometimes get overpowered in the running game. This could present a problem or be a blessing in disguise for us in the dynasty community. Ricci will likely be far more useful as a pass catcher to NFL teams and will need to be slowly brought along with the rest of his game.
He will likely be a late-round draft pick or priority UFA. Keep your ears pinned to the ground on this one. Once teams see the athleticism he brings to the table his name might begin to slowly creep up draft boards. He will be a name to watch at the Shrine Game to see how he holds up against the better competition. You can see some of the upside he brings to the table in a couple of plays below.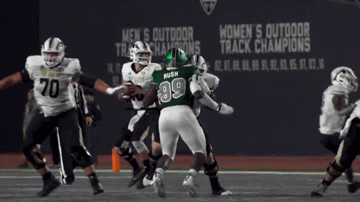 Final Thoughts:
While it does not offer the same level of talent as the Senior Bowl, The East-West Shrine game does have it's fair share of future NFL players. It is always a good idea to monitor both the game and the tea leaves coming out of practice before these senior all-star games. This is the first time many of these players have interacted outside of their comfort zone with NFL coaches. Tyler Johnson is a sure-fire dynasty asset so I would recommend watching the game to scout him alone. However, while you are watching him do yourself a favor and watch some of these other fantastic college athletes. Who knows, one of them may just become the next Steve Smith.
Thank you for reading this article! Please be sure to join the #Nerdherd so you don't miss out on any of the amazing things we have to offer @Dynastynerds.com. Follow me @ReflipeWThenuz for more dynasty content and other musings.