With a little under three months, until the NFL Draft hits Nevada, dynasty football fanatics have been awaiting the Senior Bowl since the end of bowl season. The prestigious week of practices in Mobile, Alabama and the subsequent all-star game has provided the foundation for collegiate players to get an opportunity to showcase their on-field and off-field ability in front of NFL front offices. The Senior Bowl has provided us some of the most recent franchise-level quarterbacks to get drafted including Baker Mayfield, Josh Allen, Daniel Jones, and Carson Wentz.
This year's quarterback crop has a little bit of everything. You have the enigmas – Jordan Love, Jalen Hurts, Shea Patterson, Justin Herbert – that have proven to be productive but have created a fair share of adversaries along the way. You have a project in Steven Montez from Colorado who checks all of the boxes from a physical standpoint, but his film and statistics leave feelings of underwhelming frustration. And you get this year's FBS leader in passing yards and touchdowns, Anthony Gordon from Washington State, who has statistical production on his side, but he has certainly had his share of mistakes.
This should be fun.
Jordan Love – Utah State
Height: 6'4
Weight: 225
The captivation of the Jordan Love paradox continues to Mobile, as he steps into the final action of his collegiate career. The journey has been up and down for the Bakersville native, as Love as developed into one of the most fascinating quarterback prospects in the 2020 class. His 2018 season provided optimism for his draft stock after going from a relatively unknown freshman to a highlight-reel player recording over 3500 passing yard and 32 touchdowns. His efforts led to him being placed in discussion for the top quarterback drafted, and scouts began to salivate about the idea of landing the next diamond in the rough. 2019 was not as inspiring for Love truthers, as a drastic drop in most statistical passing categories left some questions to be answered. Love ended his Utah State career with an outstanding performance against Kent State and will certainly be under the microscope of NFL scouts during the week.
Love's physical profile is NFL-ready, and because of his exceptional natural arm talent, he is truly capable of making every throw in the book. He might not have the Mahomes-level Howitzer, but Love has the arm strength to drive the ball downfield on vertical routes and get the ball out on a frozen rope to the opposite hash. He gets the ball out early and allows his receivers to create after the catch. Love is certainly not a dual-threat quarterback, but he is mobile enough to extend plays. His mechanics are pretty good for the most part. Once he gets outside of the pocket, Love's big-throw aptitude is almost even more impressive. His throwing mechanics remain consistent as he extends plays in improvisational situations.
Love's ability to quickly process coverage leaves a lot to be desired. He tends to lock onto his primary reads, and if they are not open, Love seems inclined to force some fearsome throws. Overconfidence in his arm is not necessarily a bad thing, as it is the same flair that has produced various jaw-dropping plays. On the other hand, this aggressiveness has unquestionably been a factor in the increased interceptions in 2019. Love has a tough time keeping his composure under interior pressure which is alarming. It is not because of a lack of mobility; it just seems that he gets flustered when he has defenders barreling towards him. Once he gets the fidgety feet, his mechanics seem to fluctuate which leads to some poor throws. He has shown the ability to use his eyes to manipulate defenses but lacks consistency from play to play.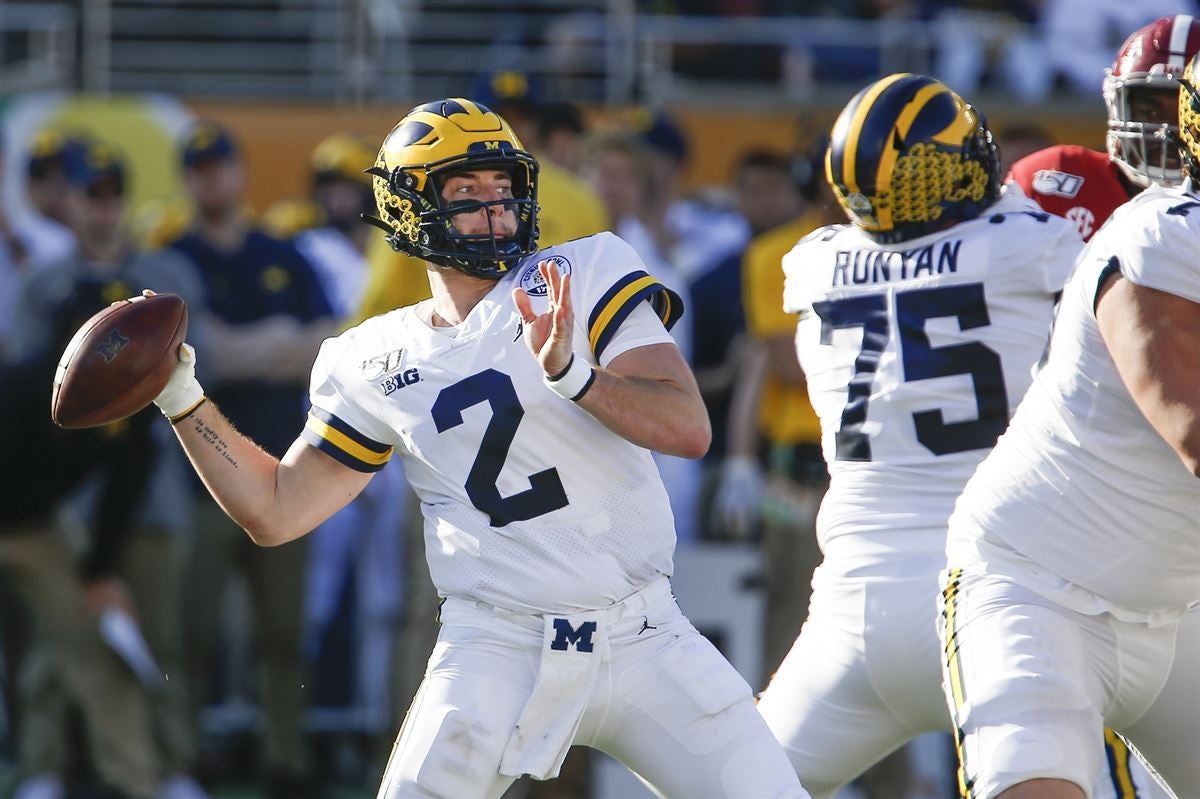 Shea Patterson – Michigan
Height: 6'2
Weight: 203
From the number one quarterback prospect in the class of 2016 to public enemy number one in Oxford, Mississippi to somewhere in the middle, Shea Patterson has had quite the fascinating football career. Patterson ended his final game as a Wolverine in disappointing fashion, as he completed only 46 percent of his passes for 233 yards to go along with one touchdown and two interceptions. Michigan would go on to lose to Alabama by a score of 35-16, and while he certainly was not the lone factor, Patterson's erratic accuracy on deep passes was quite apparent to those viewing the game. Patterson dealt with sheer negativity around him for much of his career but was more productive than fans give him credit for. Not many hecklers want to mention that Patterson was the second-fastest passer to 5000 yards in Michigan history and is in the top ten in school history for completions, yards, and touchdowns in only two years. While his ceiling is not incredibly high, Patterson's efforts this week could be the factor in being drafted as a backup quarterback for the future.
Patterson has a natural awareness in sensing incoming rushers and does a great job extending the play in an unstructured situation. He is very elusive and has shown the quickness in short areas to see this translate to the next level. His poise and his ability to find creases to keep the play alive is impressive. His arm talent is not necessarily overwhelming, but he has a very quick release, and there is very little wasted motion in his mechanics. He is an accurate thrower in the short and intermediate-range with some zip and has shown glimpses of throwing some pretty balls downfield when his feet are set. Because of his mobility, Patterson is also able to uncover windows in coverage and has shown the ability to adjust his release point without losing quickness.
Patterson's arm strength will not set the world on fire, and combining this with his aforementioned deep ball accuracy issues creates a pretty limited prospect. Much of this was on display against Alabama, but this has been an issue with him going back to his Ole Miss days. Despite his ability to sense pressure coming off the edge, like Love, Patterson has some issues keeping the proper mechanics when he faces interior pressure. His inability to take advantage of mismatch situations is startling considering his receiver core usually had the edge physically in most matchups. A ton of his questionable throws came when his feet were not set in the pocket. Patterson is a little jumpy to put the ball down and run when his first read is covered. Even when he eludes the initial pressure, his decision-making is questionable because of his tendency to revert to finding the big-time throw.
Jalen Hurts – Oklahoma
Height: 6'2
Weight: 218
The Jalen Hurts saga has been one of the more engrossing college football stories in recent memory. His tour to light the world on fire began when an injury to Blake Barnett led him to become the first true freshman quarterback to start for Alabama in over thirty years. After being named the SEC Offensive Player of the Year, he would continue his dominance into his sophomore year, where he led the Crimson Tide to the National Championship game. He was benched at halftime for Tua Tagovailoa and would spend the following year acting primarily in a reserve role. Hurts would transfer to Oklahoma, where he put up 506 yards of total offense in the season opener against Houston. Ending the season second behind Joe Burrow in the Heisman Trophy voting, Hurts is back in the limelight and with his dual-threat capabilities, he is looking to take the NFL by storm. However, does his game translate easy enough to spend early draft capital on? We will get an idea of that this week.
Hurts is a great athlete and possesses enough bulk to take the beating at the next level. He throws the ball with plenty of zip on intermediate routes, and his deep ball strength is good enough. He is relatively accurate on most throws and has shown sightings of using nice touch on routes near the boundary. His awareness in the pocket to feel pressure and evade is one of the best in the class. Once the pocket collapses, Hurts remains poised and will leave his body on the line to get the throw off. His rushing numbers speak for themselves, as Hurts has shown deadly ability on rollouts and designed runs. He does not possess game-breaking speed, but it is more than adequate and man, he is a load to bring down.
Hurts gets away with a ton of inaccurate throws because of his incredibly stacked receiving core. You could make this same argument for a ton of quarterback prospects, but it is incredibly apparent watching Hurts play. Like Patterson, Hurts is a primary one-read and go type of quarterback and tends to start looking for running lanes when his primary read is unavailable. Lincoln Riley did a great job molding his play-calling around Hurts' strengths, but the majority of Hurts' dropbacks consisted of half-field reads. He is relatively raw in terms of understanding the intricacies of reading and shifting secondaries with his eyes. He can certainly sling the ball, but his deep passes tend to become more inaccurate and have a tendency to hang in the air too long.
Steven Montez – Colorado
Height: 6'5
Weight: 230
Colorado is certainly not known as a quarterback factory, but Montez has quietly created an argument for being the best quarterback in school history. The three-star El Paso, Texas native has ended his collegiate career holding 43 school records including the most passing touchdowns in history with 61. With all that said, Montez may be the most frustrating quarterback down in Mobile this week. In a league where general managers are extremely enamored by a quarterback's physical measurables, Montez is an interesting prospect at first glance. Yet, when watching him play and checking his statistics, you begin to realize that he is wholeheartedly a work in progress, and he will make some exceptionally exasperating decisions. Nevertheless, we have learned that prospects only need one front office to fall in love with them, and a quality performance will increase his chances of getting drafted.
Montez is another guy with an absolute cannon of an arm. His release is butter-smooth, and he is capable of driving passes to all parts of the field with ease. He delivers the ball with plenty of zip and is confident in hitting all three levels. With a clean pocket, he is incredibly accurate in the short and intermediate-range. He possesses the ideal size that has become sought-after, and his body has enough girth to absorb tackles. Montez does not have blazing speed, but his solid athleticism combined with his frame allows him to be an underrated runner when the play breaks down. His powerful arm suggests he is limited to only throwing fastballs, but Montez had shown he is capable of throwing good touch passes at times.
Despite his arm strength, Montez seems to have trouble getting his receiver's timing on many passes. Many of his throws were underthrown leaving Laviska Shenault and KD Nixon with absolutely no chance of fighting for the ball. The foundation of Colorado's offense revolves around bubble screens and getting the ball out quick. This might cause Montez some issues when he is tasked to throw a more complex route tree. He gets skittish when faced with pressure and tends to become a pure runner. The inconsistencies in his footwork can be potentially fixed, but Montez's mental processing and his decision-making are downright scary. On many occasions, he will glance over open receivers, throw into double and triple coverage and not recognize defenders in the second level. He can throw the ball with great velocity, but at times, he would disregard his mechanics and rely solely on his arm.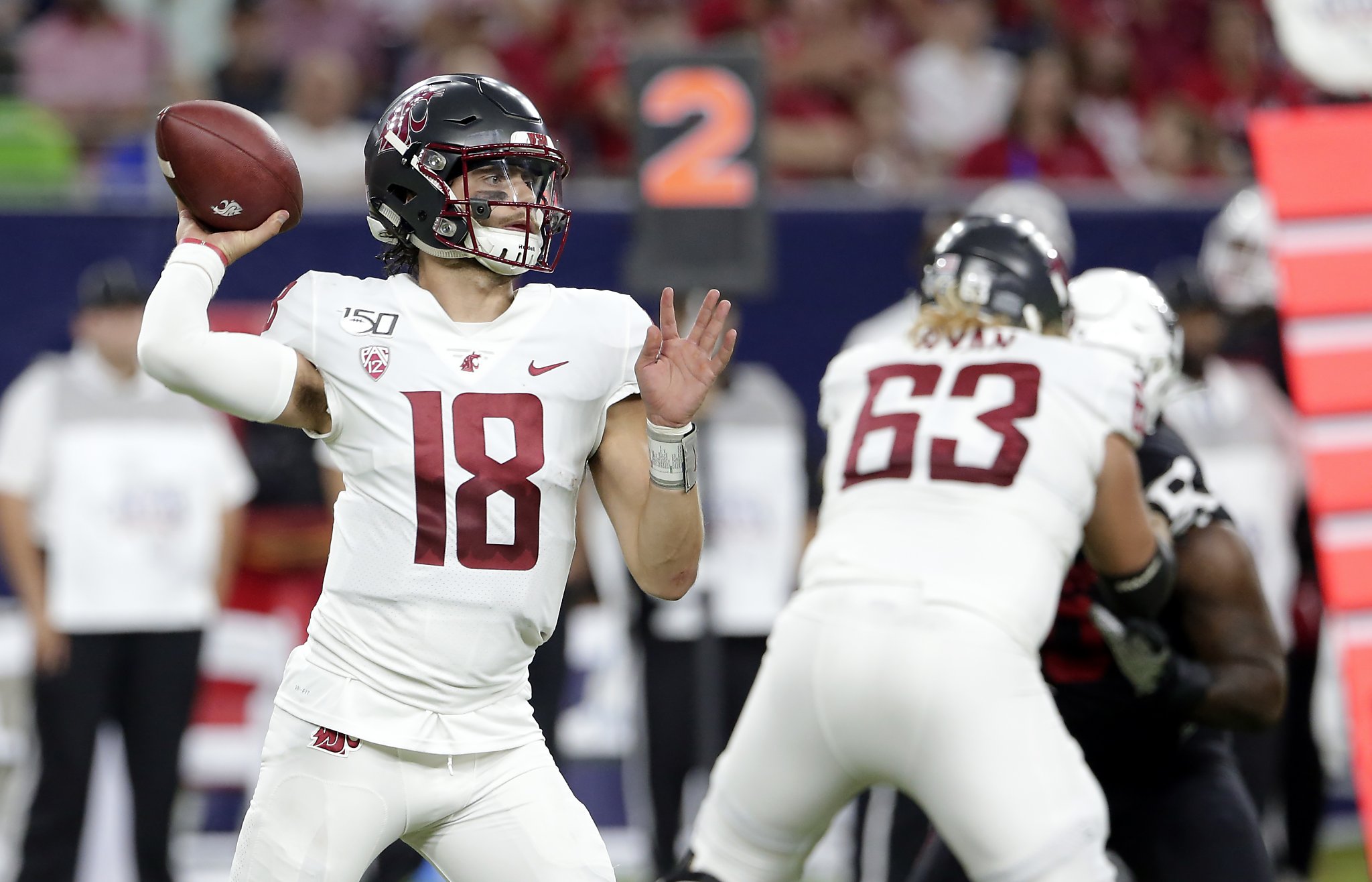 Anthony Gordon – Washington St.
Height: 6'3
Weight: 210
I do not disagree with the notion of questioning prospects coming from the Air Raid system; Washington State has had players like Luke Falk and Connor Halliday put up video game-like numbers in Pullman, but their abilities rarely transition smoothly. On the other hand, it is extremely difficult to knock the production of a guy that throws nine touchdown passes in a game. The scouting community missed out on a guy like Gardner Minshew who has proven to have a role in the league, but people do not realize that even his best season pales in comparison to what Gordon has done in 2019. In his final year, Minshew threw for a respectable 4,779 yards and 38 touchdowns. These were Washington State records before this year. Gordon blew them out of the water with 5,579 yards and a mind-boggling 48 touchdowns. I am not saying he is a sure-fire prospect, but I do suggest that you keep your eye out for him during the week because he is flying under the radar completely.
Gordon has a speedy release and throws a pretty deep ball. He possesses great touch along the boundary on vertical routes and intermediate crossing patterns. Gordon is comfortable throwing back-shoulder passes and throws to the front pylon and has shown the capability to modify his release point. His pocket awareness is very underrated, and I love how he consistently manipulates secondaries with his eyes. His arm strength is not elite, but I do not necessarily consider it to be a limitation, as he has shown he is comfortable throwing most of the route tree. Gordon remains patient in the pocket to scan the field and seems comfortable running through full-field progressions. He is mobile enough to evade pressure and extend plays, and he does well to reroute his receivers when the play breaks down.
While I vehemently disagree, contrarians would suggest that Gordon is merely a product of the Air Raid system. Although he seemed comfortable scanning defenses, he had multiple instances where he did not recognize linebackers disguised in coverage over the middle. I would consider Gordon's arm strength slightly above average, but he seemed to struggle to get zip on passes in the short and intermediate-range. The ball stayed in the air far too long at times, and in an offense designed to get the ball quickly out in space, it became evident. His footwork is incredibly lazy, and Gordon will trust his arm to squeeze passes in more than most. Although he does a great job hanging in the pocket and reading his protections, he became erratic under pressure which led to some bad decisions.
Justin Herbert – Oregon
Height: 6'6
Weight: 238
Justin Herbert wrapped up a highly-decorated career in typical Justin Herbert fashion; he played well enough to get the win against Wisconsin in the Rose Bowl, yet still found a way to disappoint. Herbert's name sits atop a list of incredibly productive college quarterbacks that have been a part of the Ducks program, and his numbers are more impressive when you take in account his relatively weak receiving core throughout the years. There is an argument that Herbert is the best quarterback in Oregon history behind Marcus Mariota, and his best receiver in his career was seventh round draft pick Dillon Mitchell who currently is a part of the Minnesota Vikings practice squad. He possesses a ton of the traits that teams have become infatuated with as of late including his frame, mobility and his ability to make all of the throws. However, some people have soured on Herbert with more film analysis. Not many players have more to gain or lose with their performance this week than the former Oregon quarterback.
When kept clean in the pocket, Herbert has proven he is capable of taking over games with his ability to shred defenses at all three levels. He has plenty of arm strength, and he is incredibly accurate over the center of the field and in the intermediate range. Herbert has an innate touch on the ball that allows him to excel at fitting throws between two zones along the boundary. Herbert has the prototypical size, and his release is effortless and smooth. If his first read is open, he will get the ball out insanely quick, and Oregon has done a great job playing to his strengths. Herbert has proven to have some underestimated mobility when extending plays and can pick up yards if left unaccounted for. There are some kinks in his lower body that can be worked out, but his mechanics are good for the most part.
Justin Herbert makes some MVP-level throws at times, but the degree of inconsistency in his game causes irrational headaches. Far too often, he will sling an inaccurate pass at the feet of the receiver or make a head-scratching decision in his progression. When the play breaks down, Herbert tends to go into hero mode and try to make a highlight-reel play. His surplus of arm strength is his own worst enemy at times when he tries to squeeze passes into precise gaps. His mobility is great, but he takes a ton of unnecessary hits and has a history that creates durability concerns. A lot of his disappointing interceptions come with a guy in his face, and his feel in the pocket is something that needs improvement.