Another fantasy football season has come and gone, and while most are focused on the upcoming NFL draft, those of us in the devy world are looking forward to next year's college season. Campus to Canton leagues offer a unique experience as you get to draft and play in two leagues and gain a working knowledge of incoming NFL players before they enter the league. If you're looking to get involved for the first time this offseason, here is an early look at a first-round mock draft Matt Jackson and myself put together highlighting some of college's top returning players.
1.01 – Sam Howell – QB, North Carolina
Drafted by DynastyPJ
6'1″
225
2022 Draft Eligible
Quarterback is king in fantasy football, and the next heir apparent for me is Sam Howell. Howell set the ACC record for most passing touchdowns by a quarterback through their sophomore season with 68 this season (breaking the record of one Trevor Lawrence in the process) and shows no signs of slowing down. His plus accuracy and arm strength to all levels of the field make him the likely first pick off the board next season, and he should be yours here as well.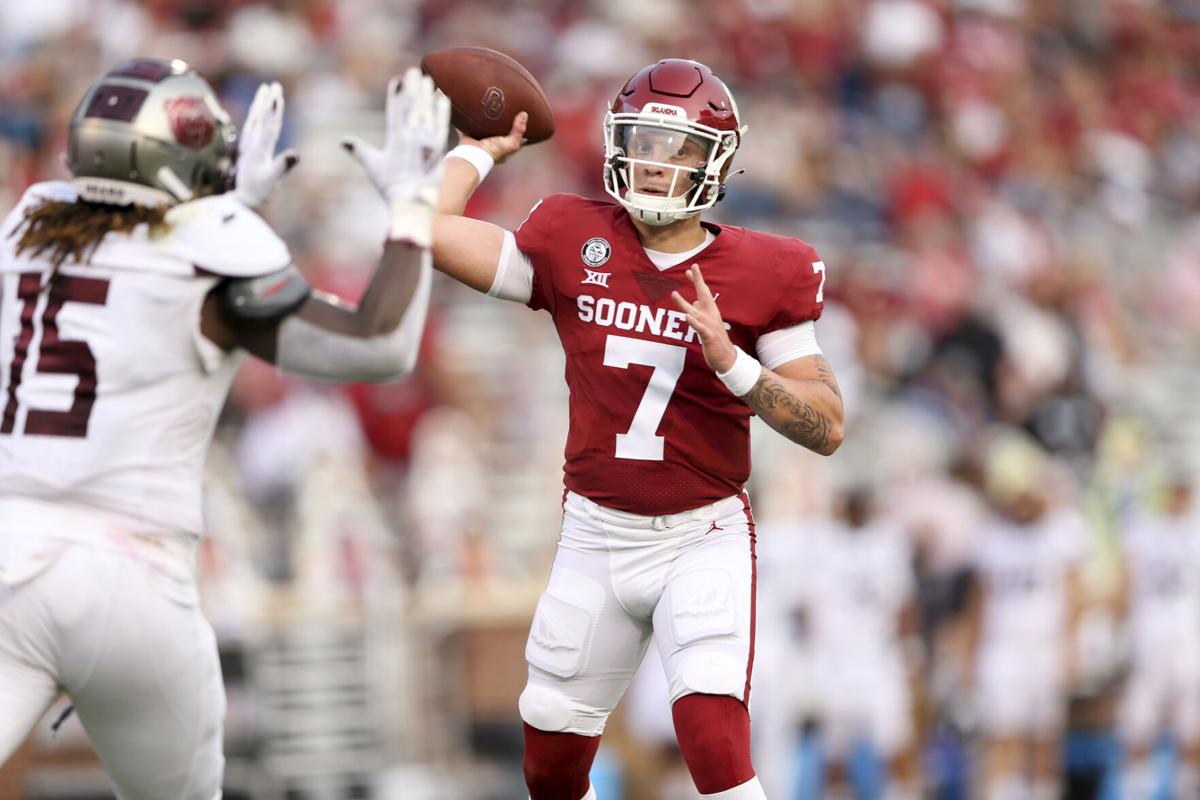 1.02 – Spencer Rattler – QB, Oklahoma
Drafted by Matt Jackson
6'1″
198
2022 Draft Eligible
If there is a QB in the devy landscape that can have a Patrick Mahomes-like impact, it is Spencer Rattler. Rattler has next-level arm talent and showed growth in his maturity and leadership during his first starting season. His ability to extend plays with his legs and push the ball downfield set him apart in his draft class.
1.03 – Breece Hall – RB, Iowa State
Drafted by DynastyPJ
6'1″
215
2022 Draft Eligible
Breece Hall was a player I was targeting even before his breakout season, but I would be smashing the button to pick him here. He ran like a man possessed, scoring a rushing touchdown in every game he played this season while finishing second behind only Najee Harris with 21 rushing scores. His thick frame and agility make him one of the toughest backs to bring down in the nation, as evidenced by his 931 rushing yards after first contact this year. Breece is destined to be a star at the next level, but before he gets there, he can be a star for your C2C teams as well.
1.04 – Kedon Slovis – QB, USC
Drafted by Matt Jackson
6'2″
200
2022 Draft Eligible
Kedon Slovis is most known for taking the USC offense from the hands of fellow youngster JT Daniels. Slovis's performance in his freshman season was the reason for Daniels transferring to Georgia, and well, the rest is history. While Slovis struggled with some accuracy issues, he still offers a high-level starter upside in a weaker QB class.
1.05 – George Pickens – WR, Georgia
Drafted by DynastyPJ
6'3″
199
2022 Draft Eligible
George Pickens is the first wide receiver off the board for my squad, and deservedly so. His combination of size, route running, and contested catch ability is a thing of beauty to behold. He quickly emerged as JT Daniels favorite receiver when he took over a struggling passing game, and with Daniels back next season, he should be in line for a major breakout before finding success on Sundays in the NFL.
1.06 – Garrett Wilson – WR, Ohio State
Drafted by Matt Jackson
6'0″
193
2022 Draft Eligible
Wilson is my WR1 in the 2022 class, so getting him here at the 1.06 is a slam dunk pick for me. Wilson has big-play ability and is a contested-catch monster. While he will have to share the spotlight with Chris Olave one more year, Ohio State receivers have shown an ability to step up big in the NFL, and I think Wilson can be the next one in a long line of heralded receivers.
1.07 – Bijan Robinson – RB, Texas
Drafted by DynastyPJ
6'0″
222
2023 Draft Eligible
Bijan is a former 5-star prospect (per 247Sports) who initially saw limited action last season due to the presence of Keaontay Ingram in the backfield. However, after averaging over 18 yards per carry over the Longhorns final two games of the season while scoring six touchdowns, Ingram is now playing for the Trojans, and Bijan is primed to be the lead dog in the backfield. While you will have to wait a little longer for Bijan to enter the draft, you can reap the rewards the next two seasons on your C2C teams and get one of the best young running backs in college today.
1.08 – David Bell – WR, Purdue
Drafted by Matt Jackson
6'2″
205
2022 Draft Eligible
I chose to double-dip at the WR position and take my WR2 in the 2022 class David Bell. Bell exploded onto the scene for Purdue in Rondale Moore's absence to the tune of 86 receptions, 1,035 yards, and seven touchdowns. In 2020 with Moore back on the field, Bell followed up his campaign with three games over 100 yards and had over eight receptions in all but one game. Bell has a "my ball" mentality and is anything but Moore's second fiddle. He is a true alpha receiver that I'm thrilled to get in the middle of the first.
1.09 – Bryce Young – QB, Alabama
Drafted by DynastyPJ
6'0″
194
2023 Draft Eligible
The QB2 for my squad is a player I think will break out in a big way this season – Bryce Young. He didn't see much action this season behind Heisman finalist Mac Jones but is poised to take over a high-powered Alabama offense next season. Coming out of high school, Young was a five-star recruit per 247Sports and their second overall ranked player in the 2020 class. He brings much more athleticism to the position than Jones did and should be able to step in and produce high-level numbers for the Crimson Tide over the next two seasons before being a high draft pick in the NFL.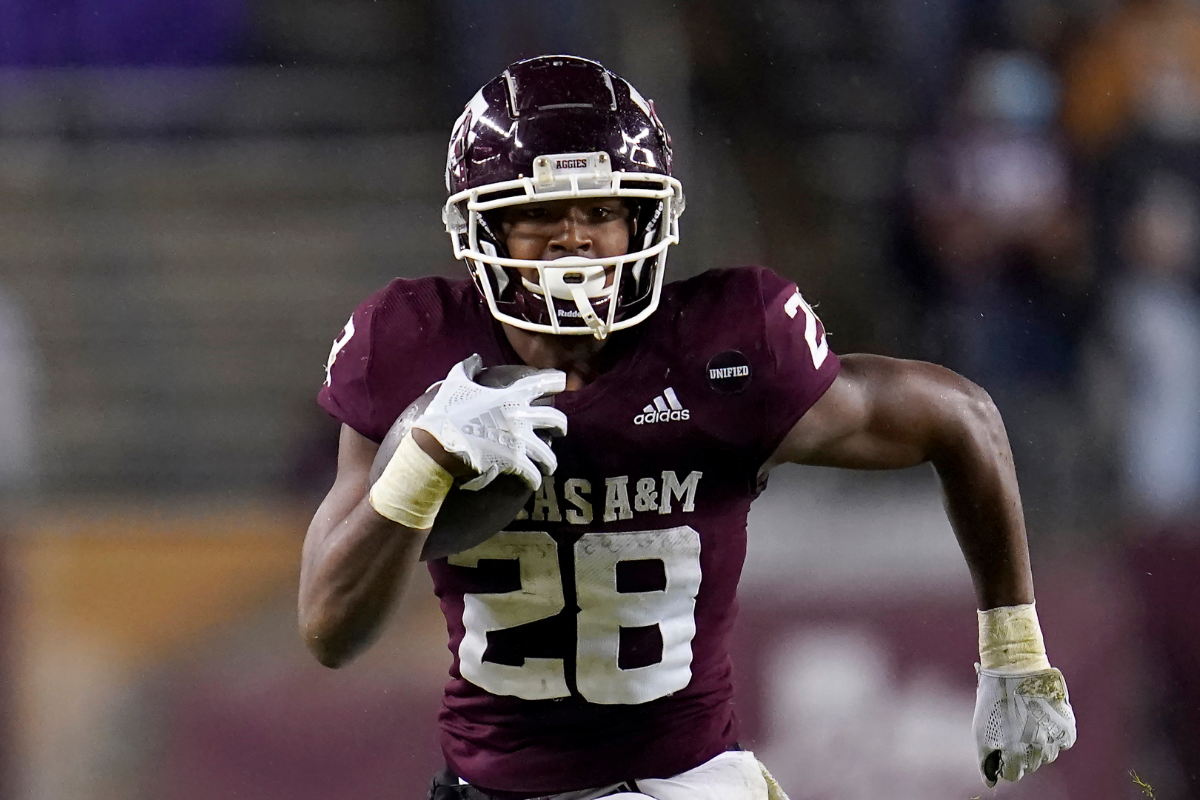 1.10 – Isaiah Spiller – RB, Texas A&M
Drafted by Matt Jackson
6'1″
225
2022 Draft Eligible
In a weak running back class, I chose to take a player who can be a tier-one player in his class. Spiller shows great vision between the tackles, has the speed to take the ball to the house and is a true three-down back. With 49 receptions in his first two seasons, Spiller offers immediate PPR upside and is someone I'm excited to get at the end of the first round.
1.11 – Kayshon Boutte – WR, LSU
Drafted by DynastyPJ
6'0″
185
2023 Draft Eligible
Boutte is a player that I absolutely love and will be targeting early and often in drafts this season. After Arik Gilbert opted out of LSU's final two games of the year, Boutte had 19 receptions for 416 yards and four touchdowns. With Gilbert's transfer to Florida complete, Boutte is going to be the alpha in that passing game, and given his early production, he is very likely to find success in the NFL. Draft him and take advantage of that production on your C2C teams before seeing him shine on Sundays.
1.12 – D.J. Uiagalelei – QB, Clemson
Drafted by Matt Jackson
6'4″
250
2023 Draft Eligible
With my last pick in this mock draft, I'm taking a home run shot on a guy that I believe can have a massive rise in stock this time next year. In his two-game sample size as a starting QB, Uiagalelei threw for over 780 yards with four touchdowns and zero interceptions. DJ has a cannon for an arm and has underrated mobility for a quarterback of his size. He is the next quarterback in a long line of great Clemson starters and has the upside you are looking for in the back end of the first.
This concludes our early look at a Campus to Canton first-round mock draft. Who was drafted too high? Too low? Who has the better team? Feel free to reach out to DynastyPJ or Matt Jackson on Twitter and let us know!