Finding diamonds in the rough can be a tough game in fantasy football, but it's essential for dynasty leagues. It's really the closest we as fantasy football goers can get to being an NFL scout. We review the tape and analyze the chances a player has with his team. This is probably what makes it so satisfying when you get it right with a player. Draft season is the best time of the year, so go out and take a chance on some of these guys in your dynasty leagues.
Jaelon Darden-Wide Receiver, Tampa Bay Buccaneers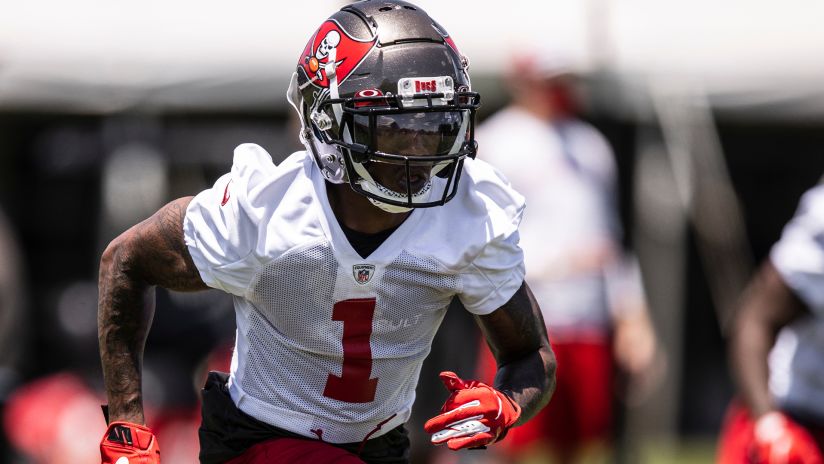 Jaelon Darden is an electric player whose combinations of speed and elusiveness made him incredibly tough to tackle at North Texas University. Darden's senior year at North Texas could only be described as domination. Putting up 1,190 yards and 19 TDs on 74 catches, Darden was simply incredible. He can stretch the field with his deceptive straight-line speed, but he can also make defenders look silly on a screen pass. It's hard to imagine that Tom Brady and Bruce Arians will let Darden's talent sit on the bench all season long.
There are a couple of knocks on Jaelon Darden, one being that he's too small at 5'9 and 174lbs. Darden's speed and quick-twitch elusiveness kept defenders off him in college and should transition to the next level. The other knock against Darden is his need to refine his routes. Darden's route running should improve with hard work and time in the league; many receivers come into the league needing work on their routes.
Overall, I think Darden will start as a kick returner with Tampa Bay. He should rotate in with Tyler Johnson and Scotty Miller as the 4th receiver. This Buccaneers team has shown that they can use all the weapons on their team, so I expect Darden to get touches this year. He'll get the chance to show that his game can translate to the next level. I don't expect him to be groundbreaking in his first season, but Darden will be a good stash on your dynasty teams.
Kawaan Baker-Wide Receiver, New Orleans Saints
Kawaan Baker played well throughout his entire college career at Southern Alabama. Last year, Baker had 659 yards and 8 TDs on 51 catches. The best season for Baker was his sophomore year when he put up 494 yards and 4 TDs on 33 catches while rushing for 251 yards and 9 TDs. I'm guessing that's why the Saints snagged this seventh-round gem because he's got that gadget receiver potential.
Baker has excellent hands, and he pairs that with some good route running. Baker reminds me of Deebo Samuel in the sense that if you give him an inch, he'll take a mile. I can see him being a yard after the catch (YAC) monster for the Saints. I imagine this is a dream for Sean Payton, who's a wizard at getting his receivers open. Pairing Baker's skillset with Sean Payton's mind is a combination that might make Baker a fantasy-relevant player soon.
Kawaan Baker was picked in the seventh round by the New Orleans Saints. The standout from the University of Southern Alabama might be one of the steals in the 2021 Draft. Baker is going into a great situation in New Orleans, with no clear-cut number two receiver behind Michael Thomas. This leaves the door wide open for Baker to move in on more opportunities in a high octane offense. Baker is someone to stash on taxi squads in dynasty leagues.
Dan Arnold-Tight End, Carolina Panthers
Dan Arnold signed a two-year deal with the Carolina Panthers to become their "move" tight end/slot receiver. Arnold put up 438 yards and 4 TDs on 31 receptions in Arizona last season. There were a couple of stats that stood out to me for Arnold. One was his deep ball targets (12) and the other his average depth of target (Adot) of 12.5 yards. Arnold played well last year, running deep routes for the Cardinals. Though limited in his usage, Arnold made the most of every opportunity with his 14.1 yards per reception.
The Panthers added Arnold this year because last year, Ian Thomas was non-existent in their offense. Adding Arnold will also give Darnold an easy target to find downfield. If we learned anything from Joe Brady's offense last year, it is that the Panthers will throw the deep ball. Between PJ Walker (11) and Teddy Bridgewater (55), the Panthers quarterbacks threw 66 deep balls. Darnold has the arm to keep up those numbers, and Arnold should be a guy he looks for when he's in the game.
Overall, Dan Arnold is an absolute steal if he can get on the field for the Panthers. This is a guy who could easily fill in for a bye week and perform. I'm going out on a limb and saying Dan Arnold will have a career year in 2021 with the Carolina Panthers. If this take is proven correct, he'll be a steal in dynasty leagues.
Javian Hawkins-Running Back, Atlanta Falcons
Javian Hawkins is an undrafted rookie out of Louisville, signing with the Falcons after the Draft. Hawkins proved to be a reliable running back in 2020, putting together 822 yards, 7 TDs, and catching 16 passes for 127 yards and 1 TD. He showed impressive versatility in the Louisville offense showing off his ability to burst through to the second level. I see Hawkins ceiling as James Robinson from last year. He can plug and play in the offense while having the ability to put up good numbers. 2019 was the best look at what Hawkins could do as the lead back because he put up 1,525 yards and 9 TDs. He was dominant that year with a 5.8 yards per carry average.
The reason I'm gung-ho on Hawkins being a deep stash this year is his situation in Atlanta. Currently, the Falcons number one running back is Mike Davis. Davis had a good season last year but has questions of whether he is a full-time running back. This is where Hawkins could step in, as he does everything Davis can, but he's younger. Early on, I could see Hawkins coming in playing a change of pace role, which could lead to more opportunities later on in the season.
Javian Hawkins is one of my favorite players to pick up in rookie drafts this year. He's walking into a promising situation with the Atlanta Falcons. The Falcons running back room is very weak. Mike Davis will lead the squad, but last year we found out he's only good for a limited amount of time. I expect that Hawkins will get his chance to take over the running back room this year, which is an excellent reason to snag him in deep dynasty leagues.
Conclusion
It's very important to follow your conviction when you're playing fantasy football. It's important to take a chance on guys that you see have an opportunity to play. Picking up a player that either some people have soured on or don't think will be good can sometimes lead to a franchise changing season. Just think how the guys who picked up James Robinson felt last year, or the guys who originally drafted/picked up Aaron Jones. So do yourself a favor, grab a few stash guys, fill your taxi squads, and don't be afraid to follow your conviction. Happy Drafting!
If you liked this article and wanted more like it, check out our Dynasty articles at Dynastynerds.com.
Get the Dynasty Nerds app in the Apple store and the Google Play store. Mock drafts for Superflex, 1QB, Standard, even SFB11. If you are a DynastyGM subscriber it even syncs with your actual teams so you can do rookie mock drafts with ALL of your actual picks. Also on desktop.