We already brought you a 'Way Too Early 1QB Rookie Mock', so now we're moving on to a Superflex Rookie Mock Draft. Superflex is growing year-by-year in popularity and is quickly becoming the preferred setup amongst our analysts. If you aren't sure what Superflex is, Erik Kortz released his first installment to his 'Intro to Dynasty' series where he covers how Superflex works and what it is.
This mock draft serves to give you a good idea of the current value of these prospects and the thought process behind each pick. We'll be releasing three rounds of this mock in three separate articles. Below are the results of the second round and why each writer made their pick. Enjoy!
ICYMI: Click here to see round one's results.
2.01 – Clyde Edwards-Helaire, RB LSU
Those who perceive Clyde Edwards-Helaire (CEH) as a guy destined to play a third-down role (due to his flashy 55-453-1 receiving stat line this year) are losing sight of the 215-1414-16 numbers he posted on the ground in 2019. Moreover, a study of his film only bolsters the value of his box score numbers. Edwards-Helaire runs with underrated physicality and has the versatility to be an affordable three-down option for his whichever team selects him in the draft. That's certainly not to say he's a lock for workhorse duty, but I'll gladly snag a running back with his high ceiling as the 5th RB off the board.
2.02 – LaViska Shenault Jr., WR Colorado
I would have taken CEH here but Brian stole him so I went with a player I like more, in a vacuum. Think of what we all thought Sammy Watkins would be. That is what I believe LaViska will be. His burst and strength that he plays with should help him make an impact in year one. Laviska can play any receiver position on the field (X,Y, Z) and he has the release to beat most corners off the line. If he balls out at the combine, expect him to shoot up many draft boards. He has a first round rookie draft grade from me right now and I would be exstatic if I get him in round two of most my leagues.
2.03 – Ke'Shawn Vaughn, RB Vanderbilt
I wanted to come away with a running back here and luckily the last guy in my tier one was still available. Vaughn is slowly creeping up boards and will likely be in the top seven at his position for most analysts after the combine. Vaugh possesses elite contact balance, can cut on a dime without giving up any speed. He attacks holes quickly and shows off great vision. He's one of a handful of three-down backs in this class and I think regardless of landing spot will be a top 20 running back in fantasy in 2020.
2.04 – Henry Ruggs III, WR Alabama
I was stunned to see Ruggs still on the board at this point. I'm expecting him to get drafted in the first round of the real draft this year, and this guy has an absurdly high ceiling. His speed makes him a threat to take any pass to the house, and he could legitimately break John Ross' 40-yard dash record at this year's combine. He's not coming in with the injury issues that we typically see with some burners, but he's more than just a speedster down the field. Put in the right situation, he could be the top wide receiver from this class when it's all said and done.
2.05 – Bryan Edwards, WR South Carolina
One fun thing about mocks this time of year is that everyone's rankings tend to be fairly volatile. Just a couple of weeks ago, in our 1QB way-too-early mock, I grabbed my other consideration here, Tyler Johnson and left Bryan Edwards on the board. As of now, Bryan Edwards is one good draft night away from landing as my WR-1 for the 2020 class. For sake of brevity, I'll encompass most of what I love about Edward's profile with one stat: his receiving share during his 18-year-old season. It well crosses the 20% threshold that was a precursor for some of the best wide receivers in the game such as OBJ, Mike Evans, and the great Calvin Johnson. Another fun fact? It's a feat that none of the WRs that went ahead of him had accomplished. Is market share the only important thing to look at? Not at all. Unfortunately, if Bryan Edwards can't secure a day-two draft capital at worst, my opinion is likely to drastically change (especially in the face of the hit to his success chances it is to go back for his senior year). But as of now, if I can get potentially one of the best WRs in the draft in the second round? I'm over the moon.
2.06 – Tyler Johnson, WR Minnesota
This pick was between Justin Jefferson or Tyler Johnson here; I wrote about Justin Jefferson in our 1QB mock draft a few weeks ago, so I'll pivot to one of my other favorite wide receiver prospects here. Johnson put up big numbers – 86/1386/15 his senior year, but he played in the Big Ten and, as they say, they don't play a lot of defense there. Still, Johnson's market share dominance is nothing short of impressive, a ridiculous 38% average over his last three years. Even factoring in his weaker freshman year (<7%) he still has the best market share numbers in this class. Johnson's tape is good. He's got quick feet, toughness, a diverse set of releases at the line, clean breaks, and enough speed to get it done at the next level. You'll be stoked to get Tyler in the middle of the second round.
2.07 – Justin Jefferson, WR LSU
This pick was a very difficult one for me. I debated between Moss, Jefferson, and taking a quarterback in Jake Fromm or Jacob Eason. I love being able to grab one of college football's most productive receivers from last season. Jefferson is a smooth route runner with excellent hands. He'll fulfill a team's slot receiver role. Depending on his draft capital in April, he could be a sneaky pick in the second round of Superflex drafts with a high floor.
2.08 – Zack Moss, RB Utah
Do you want to talk about running backs with a high floor? Zack Moss is that man. Grabbing him late in the second round gives you the flexibility to shoot for the moon with your next picks. You know that Moss will come in right away and produce for the team taking him. He's extremely tough between the tackles. Moss mixes good vision with a great ability to break tackles. He isn't the fastest guy in the world, but he's an extremely efficient runner. I have seen him at RB1 on some people's boards, so grabbing him here is fantastic.
2.09 – Eno Benjamin, RB Arizona State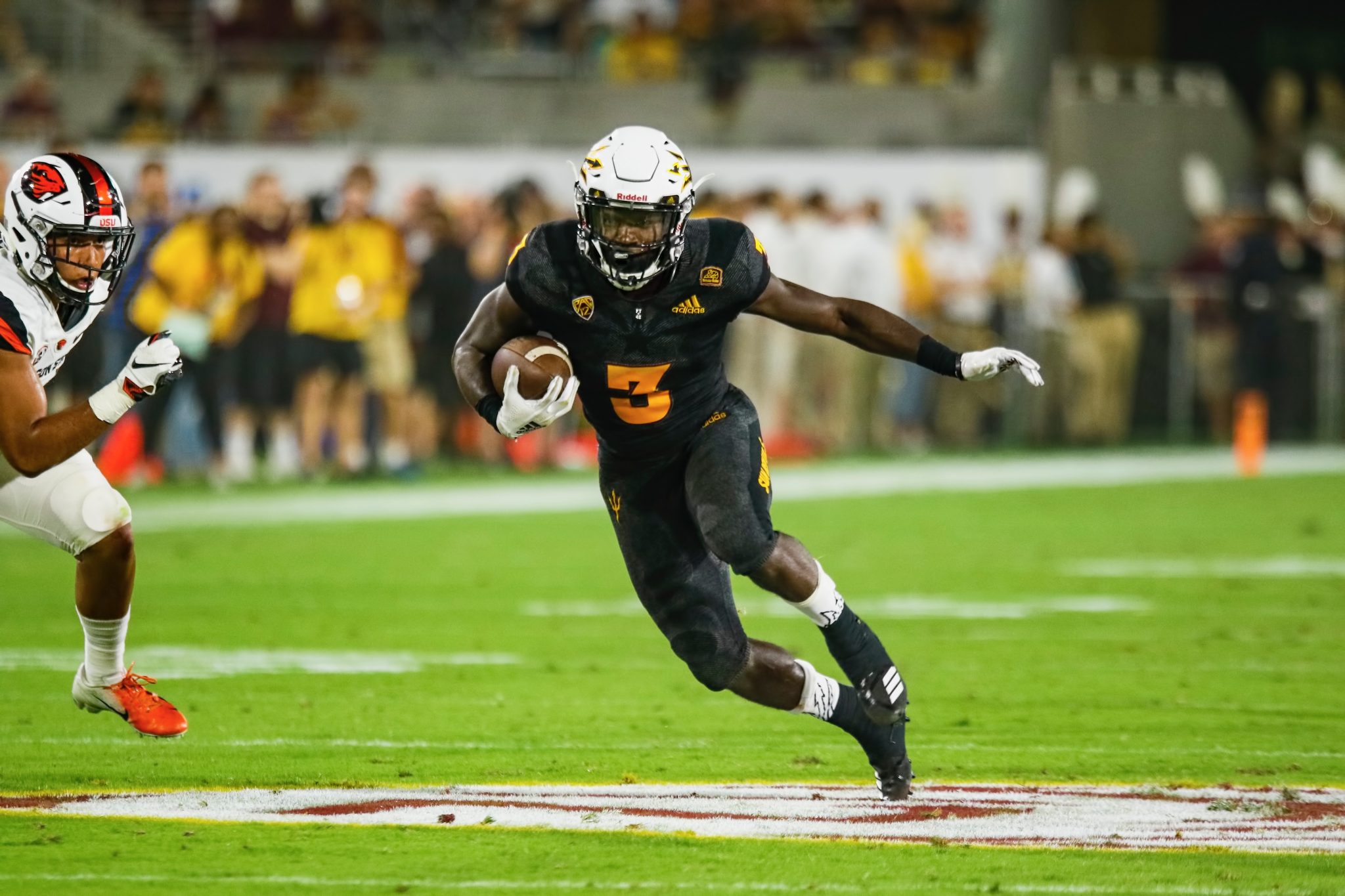 I'm going to remain true to my current Dynasty Nerds Superflex rookie rankings and take Eno Benjamin here, although his performance during the Senior Bowl left much to be desired. He weighed in smaller than people were expecting at 5′ 9″ and only 195 lbs. Eno is a high character player that's received a ton of praise from his college coach, Herm Edwards. He plays with a high motor and is surprisingly a good runner in-between the tackles for his size. He can catch the ball, make people miss, and break tackles. The question with him will be his size. Either way, I'm satisfied grabbing a do-it-all player like him here at the back of the second round.
2.10 – Darrynton Evans, RB Appalachian State
This is my underdog pick of 2020. Coming from a small school at Appalachian State, Darrynton Evans racked up 1,480 yards. Even with his day three projection from Rotoworld, he should still contribute to any team that takes him given a year or two to develop. His skill set reminds me a lot of a JV version of Derrick Henry because his receiving skills still need some work. This is a bit of a reach here, but he's a 'my guy' for me in this year's class.
2.11 – Jake Fromm, QB Georgia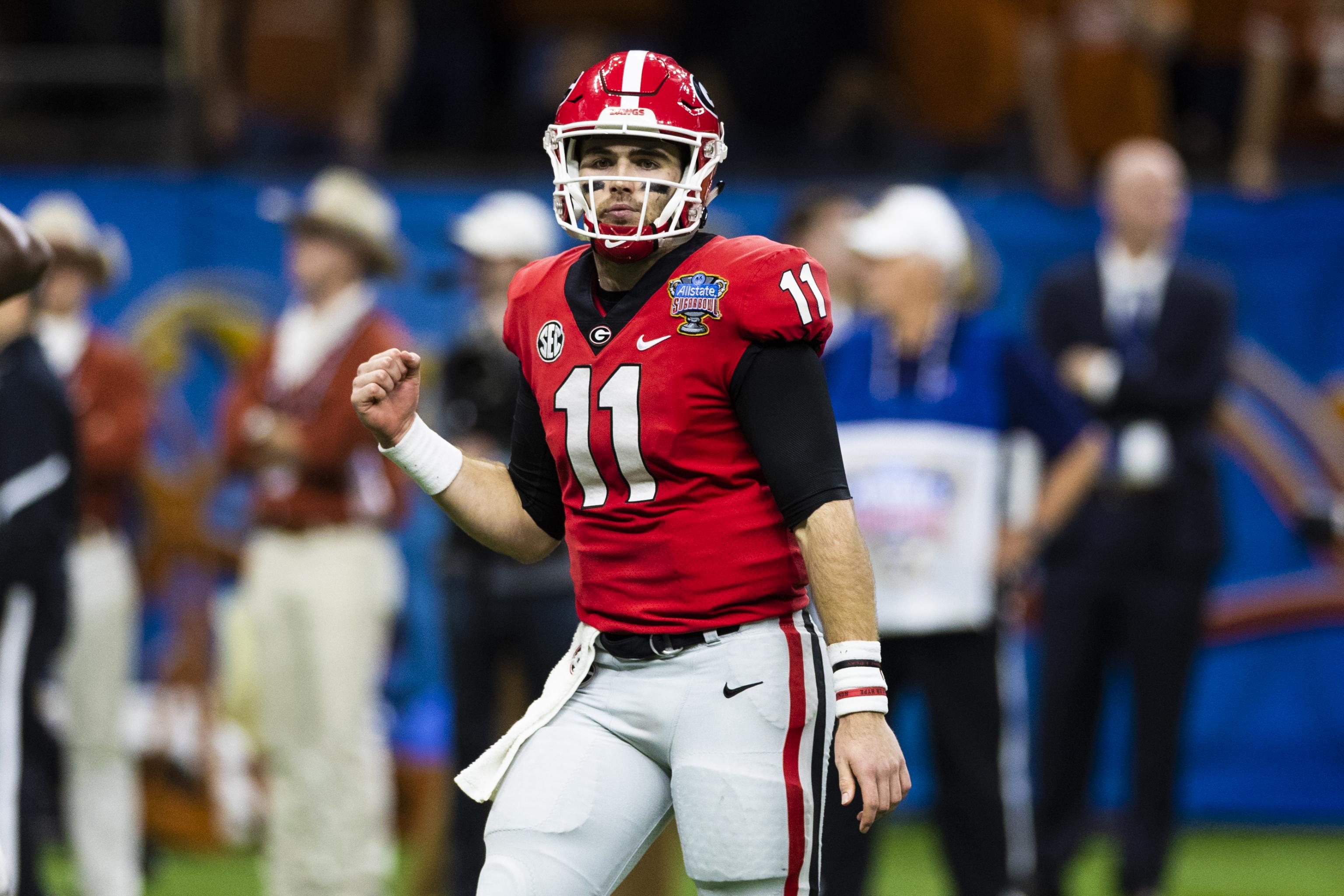 This is a Superflex mock, right? The value of a quarterback in this format can't be understated. I can see Fromm being taken in the latter part of the first round, or early second. I believe he has a high floor and could be plugged in right away on a team that's a quarterback away from contending. Fromm has a good head on his shoulders and is said to be a leader in the locker room. I only take quarterbacks based on draft capital. So, if he goes in the first two rounds I'll be grabbing him here in my leagues.
2.12 – Jacob Eason, QB Washington
I struggled with taking a couple of position players here at the back of the second round. However, this is Superflex and any time you have the chance to get a starting quarterback this late in the draft you cannot pass up on that potential. Eason is not a universally lauded prospect coming out of Washington. Despite the lack of consensus, I have seen several mock drafts landing Eason with a team in the first round of the NFL draft. If it is even a possibility to get that type of value here at the end of the 2nd you must not pass on that. You simply do not want to be the player who ignores the door when opportunity knocks.
That concludes the second round of our Superflex rookie mock. Stay tuned for the next round. There's still plenty of running back and wide receiver talent left on the board. Are you a #NerdHerd member? For $2.99 per month, you get access to the buy/sell tool, exclusive podcasts, the Dynasty Prospect Film Room, rankings, and more to come. See you in round three!