As the name implies, dynasty fantasy football is all about building a dynasty and being competitive every year. However, the point of fantasy football is still to win championships. To do that, you need more than just a strong core; you need to supplement with the right breakout candidates to raise your team to the next level. Here are some undervalued RBs to target to help you bring home the 'ship.
All ECR ranks are pulled from FantasyPros PPR Dynasty Rankings.
Austin Ekeler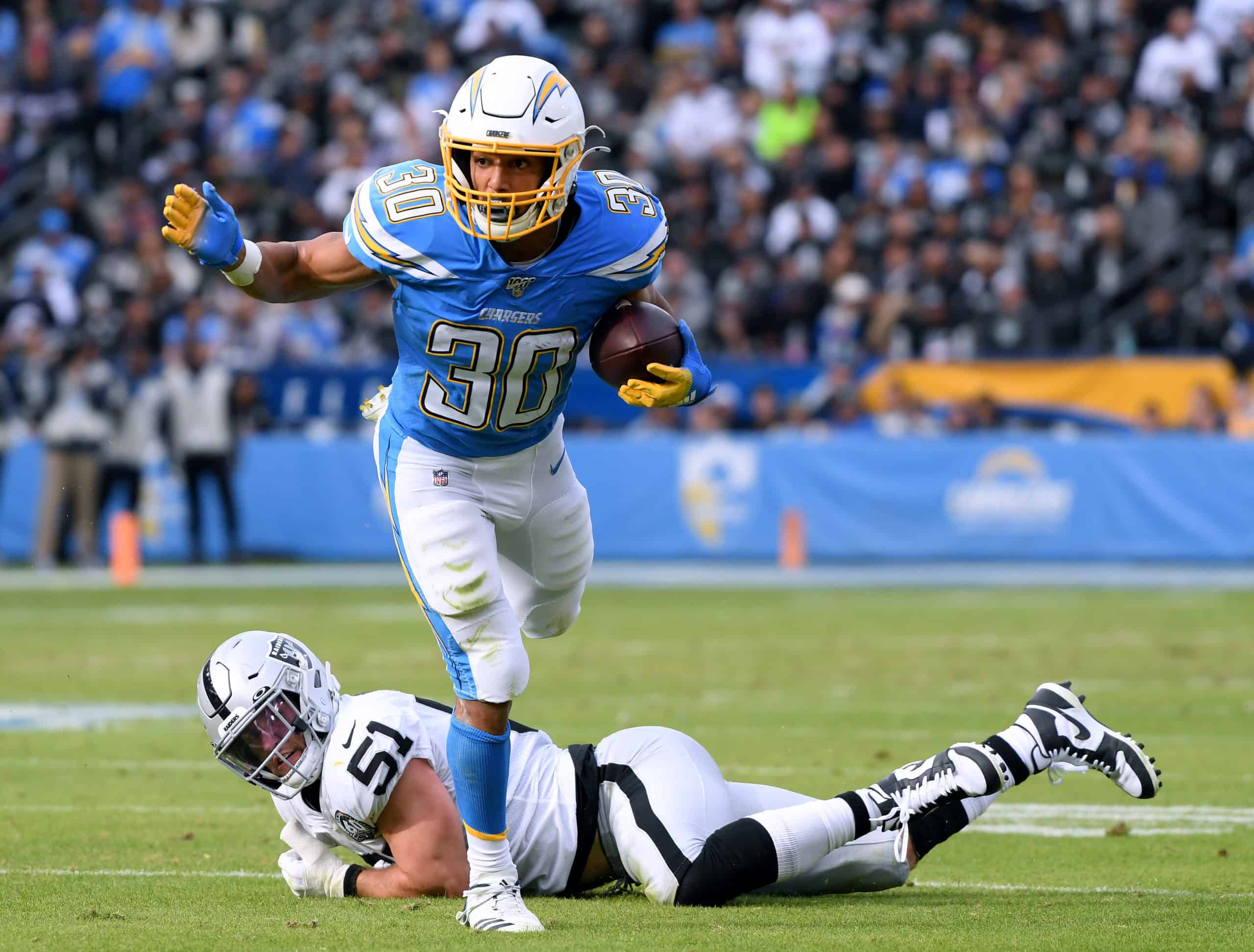 ECR: RB14
I get it. Ekeler has always been a complementary back. He's never carried a starter load. He faded down the stretch last year (which is debatable, by the way). You know what else he did? Finish the season as the RB4 in full PPR. As a backup. That doesn't happen by accident. Now that Melvin Gordon ran himself out of town, Ekeler gets to step up into the lead back role that he filled admirably during Gordon's ill-advised holdout. While it is true that Ekeler will likely have to split carries with both Justin Jackson and rookie Joshua Kelley, his rushing volume isn't what lands him here on our list. 
Since Ekeler's rookie season in 2017, the Chargers RBs have steadily seen an increase in targets, both in terms of absolute numbers (132, 141, 182) and target share (22.6%, 27.5%, 30.5%). Offensive coordinator Ken Whisenhunt was fired halfway through 2019, but his replacement Shane Steichen actually helped raise the RB target share even further (28% under Whisenhunt versus 33% under Steichen). Steichen also sped up the offense; the Chargers only ran 453 total plays in the eight games under Whisenhunt but ran 517 total plays in the eight games under Steichen. Now that Steichen has had the "interim" tag removed from his title, we can expect that kind of increased target share and overall play volume to remain in place.
A New Quarterback in the Mix
The QB situation doesn't worry me either. Sure, we all know Philip Rivers loves his scatbacks. That doesn't mean Tyrod Taylor doesn't like to check down. In fact, Taylor is a noticeably more conservative QB than Captain Checkdown Alex Smith. Taylor didn't always force-feed his RBs during his three-year stint as Buffalo's starter, but he did peak with a solid 26.1% RB target share in 2017, proving that he's perfectly capable of doing so. As for Chargers QB of the future Justin Herbert, 23% of his pass attempts during his senior year at Oregon were screen passes. Something tells me Ekeler will be just fine when Herbert eventually takes over.
The best part of all this is that Ekeler can actually help you beyond just this year. His new 4-year, $24 million contract extension is pretty team-friendly for a presumed lead back, which means the Chargers shouldn't be desperate to offload him the first chance they get. Underrated for this year and lined up for a stable role for the next several years as well. What's not to like?
Fearless Forecast: 200 carries for 860 yards and 4 TDs; 115 targets, 90 catches for 945 yards and 5 TDs; 16 games
Jordan Howard
ECR: RB48
Howard joining the Dolphins in a Chan Gailey offense is a curious fit. Gailey historically likes to get his RBs involved in the passing game, something that Howard just isn't known for. Sure, his hands are better since his laser eye surgery a few years ago, but all the eye surgery in the world doesn't give him the agility required to run a proper route tree. On top of the odd fit, Howard is splitting the Dolphins backfield with fellow new arrival Matt Breida. From a dynasty perspective, there's also the looming possibility that Miami drafts a stud RB as the final piece to their rebuild within the next year or two. All told, it's perfectly understandable why Howard is considered a borderline RB4/5 by dynasty experts.
However, that doesn't mean he can't help you win this year. While the best RBs under Gailey have been good receiving backs, Chris Ivory and Larry Johnson both did fine in Gailey-led offenses. In fact, the duo of Howard and Breida seems to fit the same mold of Ivory/Powell and Johnson/Charles. Howard is virtually guaranteed those big back reps too, as the RB depth behind Howard and Breida is atrocious (Kalen Ballage, anyone?). The lack of competition alone should lead to around 200 carries and 30 catches for Howard. With that kind of volume, Howard could have his worst year as a pro and still return value at his current price tag. He should be a decent flex option for teams seeking championships this year.
Fearless Forecast: 195 carries for 740 yards and 6 TDs; 35 targets, 25 catches for 175 yards and 0 TDs; 15 games
Boston Scott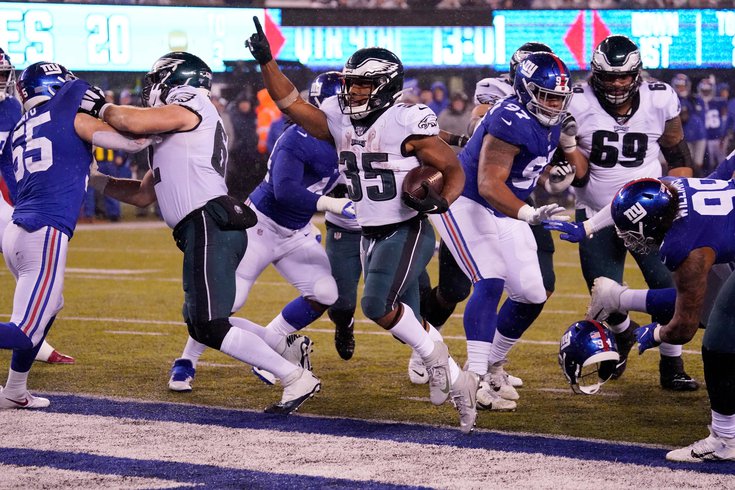 ECR: RB58
Show of hands; how many of you knew than Boston Scott was the RB7 over the last four weeks of the 2019 season? Obviously, some extenuating circumstances led to that, but it is nevertheless worth noting that he could put up those kinds of numbers at all. Comparisons to Eagles stalwart Darren Sproles have already started spreading, even if they are understandably hesitant thanks to Scott's meager four-game sample size. Still, that comparison is a positive sign for Scott's future. During his healthier (and younger) days, Sproles consistently ranked anywhere from a fringe RB2/3 to a mid-RB1. He was able to post those numbers despite surpassing 150 total touches only once in his entire career.
That ability to post solid numbers on so few touches will be key for Scott if he can maintain it. He'll be operating behind newly minted workhorse Miles Sanders. This means Scott will be relegated to a change of pace role for most of the season, though he could become the main guy should Sanders get injured. There's no guarantee Scott's mimicry of Sproles will continue, but for the price tag of a fringe RB5/6, the potential reward far outweighs the risk. 
Fearless Forecast: 85 carries for 340 yards and 4 TDs; 50 targets, 40 catches for 380 yards and 2 TDs; 395 total return yards; 16 games
---
Find this article helpful? You can follow me on Twitter and Reddit at TubaDeus, though I spend most of my time on Discord. The DynastyGM is changing the way you manage your dynasty teams. Find out how your team stacks up against the rest of your league, see which positions you are strongest, and find a trade partner.