Devin Duvernay
Name: Devin Duvernay
School: Texas
Position: WR
Height: 5'11
Weight: 210 lbs.
Age: 22
The Player
Devin Duvernay burst onto the college football scene during his senior year at the University of Texas. The cousin of Cardinals QB Kyler Murray came to Austin as a legacy athlete along with his twin brother Donovan. The 4-star recruit is a WR in an RB's body. At 5'11 210 lbs. Duvernay embraces the physical nature of the game. The departure of Lil' Jordan Humphrey allowed Duvernay to slide into the slot and dominate the competition. Devin earned 1st team All-Big 12 honors for his efforts. You can see his college stats below.
Duvernay is one of my favorite later round WRs in the 2020 draft class. He has the misfortune of coming out in a class that is absolutely stacked with high-end WR prospects. He doesn't have the size of a Tee Higgins or a CeeDee Lamb, nor does he have the career production of some of the other higher-end options. As a result, he may slip into the middle to late rounds of the upcoming NFL draft.

However, Duvernay's misfortune is the savvy dynasty owner's boon. I still feel that depending on the landing spot, Devin will be a quality NFL WR. If he lands in a favorable spot he could easily turn into a solid fixture in your dynasty lineup. Without further ado let us dive into his film and see some of the things that excite me about this prospect.

Film Observations
Strengths:
Without question, the most special aspect of Duvernay's game is his YAC ability. He is electric with the ball in his hands. He brings a physicality to the WR position that you don't often find these days. As I stated earlier he is a bit of a WR in an RBs body. You can see from the video below that he will frequently fight through the first contact and work extra yards.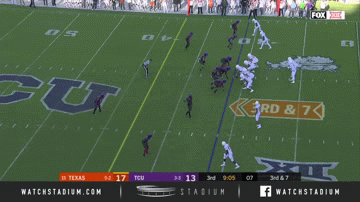 Another obvious strength of Duvernay's game is his raw speed. The Texas tornado ran a blistering 10.27 in the 100 meters during his High School track career. That speed is evident whenever you turn on his college tape. You can see an example of him using his natural gifts to devastating effect.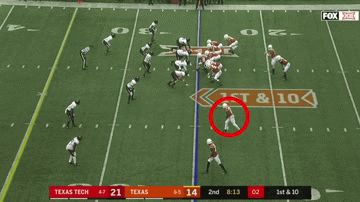 Working mostly out of the slot Duvernay displayed a good set of hands during his time at Austin. He routinely makes 'hands' catches both over the middle of the field and along the sideline. This is not overly surprising considering he is coming off a 106 catch season. Below you can see a couple of examples of Duvernay making good use of his hands. Pay attention to his footwork in the second clip. Note how he gets both feet down while concentrating on making the catch in the corner of the endzone.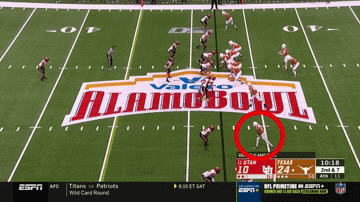 Another area that I feel good about Duvernay's game is the way Texas occasionally used him in the running game. This is another example of Duvernay's run after catch ability. With moves like these, he will have added versatility to whichever team drafts him this spring.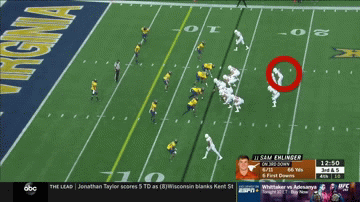 Weaknesses:
While Duvernay is an intriguing prospect he is certainly not without his warts. Playing the majority of his time in the slot at Texas, the young playmaker is quite raw when it comes to his release at the line of scrimmage. He typically uses speed to make up for his deficiencies with his craft. This will need to be cleaned up at the next level. He will also need to develop his route running which was somewhat underdeveloped during his time at Austin. For all his athletic gifts, Duvernay is a bit stiff in his movement. He is not quite as fluid an athlete as you might like.

Final Thoughts:
As I alluded to earlier, Devin Duvernay is one of my favorite late-round prospect WRs. He possesses top-end speed for the position. While he only has one season of good tape to review, it was a great one. He will undoubtedly provide kick return value to the team that selects him this coming spring. Duvernay will likely be typecast as a deep threat complimentary piece on his next team.
Hopefully, for his sake and ours, he will be drafted by a team that will seek to utilize his unique skills. I see him as somewhat of a cross between Golden Tate and Doug Martin from a physical standpoint. His run after catch ability will be the best asset he brings to the table at the next level. I look for Duvernay to be drafted in the middle rounds of both the NFL draft and your dynasty rookie drafts this year.

Thank you for reading this article! Please be sure to join the #Nerdherd so you don't miss out on any of the amazing things we have to offer @Dynastynerds.com. You will get rankings, extra podcasts, and access to our rookie film room. So much for so little, why miss out on all the fun. Follow me @ReflipeWThenuz for more dynasty content and other musings.