Welcome back to the Devy to Dynasty series. For this series I will breakdown my top devy players for the upcoming seasons. My goal here is to help not just devy players build a stout roster, but also dynasty players to gain knowledge about these college players years before they enter the NFL draft. It will also allow you time to manipulate draft picks and continue to re-tool instead of re-build as you'll have a step up on your competition already knowing these prospects. To give you a quick explanation: Devy leagues allow you to draft current college players. These players could be freshman when you draft them. You hold them until they enter the NFL and then they move to your roster. It adds an extra layer for trades and a new way to build your team, as you still have rookie drafts as well for the players not drafted in the devy draft.
We are getting closer to spring ball and college football season will start to be in full swing. We will start seeing who could be replacing players who have graduated, transferred, or entered the NFL draft and what younger players begin to stand out. You can find my tier 3 Devy quarterbacks here. For this article, I will give you my top Devy quarterbacks heading into the 2020 season. These will be all of my top quarterbacks ranging from 2021 eligible to even some 2023 eligible players. Here are my tiered Devy QB rankings.
Tier 2
Tier two consists of three quarterbacks who will all be available in the 2021 class. All three transferred to new schools for the 2020 season. While Costello and Newman played last year, King sat out most of the 2019 season. All three could improve their stock and be in the conversation to be the third QB drafted in 2021.
KJ Costello- Mississippi State: eligible 2021
Height- 6'5
Weight- 222
Grade- Senior
Style- Pro
H/S Star Rating- 4
K.J. Costello starts the trend of tier two quarterbacks, all of which have transferred to new schools for the 2020 season. Costello put his name on draft radars during his junior year with Stanford, his first full year as the starter. He took a big step forward from his sophomore season and many, including myself, were looking forward to his senior season. However, his senior year would be cut short after five games. After suffering a head injury on a missed targeting call, Costello would sit out for the rest of the season. He was granted a medical redshirt and entered the transfer portal in the off-season. He chose a destination that has every fan Mississippi State excited, joining new head coach and air master himself Mike Leach.
Costello has the prototype NFL size and arm strength. He continually shows good velocity and accuracy with his ball placement. Costello has good leadership skills and seems to command an offense, works through his progressions and makes his adjustments and line calls. He has the "injury-prone" label at the moment and he is entering a new system. Playing a full season and playing in a high powered offense will help shoot Costello up draft boards and possibly put him with Purdy as the third-best QB in this draft class.
Jamie Newman- Georgia: eligible 2021
Height- 6'4
Weight- 230
Grade- Senior
Style- Dual
H/S Star Rating- 3
After three seasons as the dynamic play-caller for Wake Forest, Jamie Newman shocked the college football world by entering the transfer portal and landing with Georgia. While at Wake Forest Newman showed he could be a dynamic passer with 26 touchdowns in 2019, but he did throw 11 interceptions. Newman showed he can make plays with his legs as well as biding time in the pocket and strong runs for multiple touchdowns.
Newman brings NFL speed and size to the field. He makes good anticipation throws allowing his wide receivers to keep moving and gaining RAC yards, (hello George Pickens.) The transfer showed extremely good accuracy last season. Newman's biggest question heading into 2020 is can he do it against better competition? He will now be going against SEC defenses and will be expected to win. If he can lead Georgia to playoff contention, he will be rising up draft boards.
D'Eriq King- Miami: eligible 2021
Height- 5'11
Weight- 195
Grade- Redshirt Senior
Style- Dual
H/S Star Rating- 3
D'Eriq King is a fascinating watch for the 2020 season. In the last full season we saw of King, he was downright phenomenal. Checking in with over 3,000 yards passing with 36 touchdowns and just 6 interceptions in 2018. He entered his senior season with Houston and after four games "discussed" sitting out the rest of the season with his coach. It was decided that sitting out was the best decision. He entered the transfer portal and landed with the Miami Hurricanes. King is joining a team with some limited talent. However, after what we saw out of him in his junior year we know King can be a game-changer.
King does have interesting mechanics and sitting out for a year likely didn't help those. He is smaller in stature but did take a beating his junior year so I don't think his size will hurt him much. King is extremely mobile and can be a playmaker with his legs. He'll have to prove to NFL teams he can throw the ball with accuracy to help his draft stock.
Tier One
My tier one of the quarterbacks consists of five players. Two of the quarterbacks will be battling with each other to be the top pick in the 2021 draft with another who shouldn't be far behind these two if he enters the draft. The last two QB's in this tier burst onto the scene like a tornado and won't be eligible until the 2022 class.
Justin Fields- The Ohio State: eligible 2021
Height- 6'3
Weight- 223
Grade- Junior
Style- Dual Threat
H/S Star Rating- 5
For many, this may seem controversial with Justin Fields ahead of Trevor Lawrence. While Lawrence burst onto the scene his freshman season and set the world ablaze as the best Qb prospect since Andre Luck, Fields was sitting on the bench behind Jake Fromm. Whom Georgia thought (at the time,) was a better prospect, they are likely having doubts about that now. Fields showed out in his first real season as a starter for the Ohio State Buckeyes. Leading them back into the playoffs, ultimately losing to Lawrence and Clemson.
Fields has incredible arm talent and as we saw last season can be dangerous with his legs. He will be going into his second full season with Ryan Day and his offense which should allow him to open it up even more, (which is scary.) He is losing three key wide receivers and his star running back for the 2020 season. The Ohio State offense will likely rely on him more than ever, which should help shoot his stock up even more.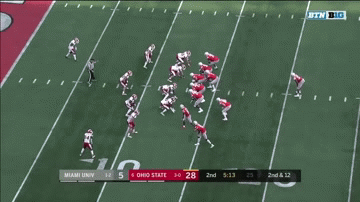 Trevor Lawrence- Clemson: eligible 2021
Height- 6'6
Weight- 220
Grade- Junior
Style- Pro
H/S Star Rating- 5
Trevor Lawrence is widely regarded as the best quarterback prospect since Andrew Luck. Lawrence made a name for himself in his freshman season when he took over as the starter and had one of the best freshman seasons we have seen in college football. He came out his sophomore year and struggled out the gate which left many wondering had we seen the best of him? Yet halfway through the year, we saw him return to form and prove his freshman season wasn't a fluke.
Lawrence has the prototype NFL size and arm which will have many general managers fawning over him during the draft process. He can hurt teams with his legs as well as his arm. His throwing is one of the smoothest you will see. With his play in the 2019 season, I do have some questions about him though. At times he lacked poise when getting blitzed and looked truly flustered in the pocket. Lawrence forced bad throws this year leading to interceptions and he fumbled the ball more than I would like. Depending on which Lawrence we see in 2020 could lead to him being the top pick in the 2021 draft.
Brock Purdy- Iowa State: eligible 2021
Height- 6'1
Weight- 210
Grade- Junior
Style- Pro
H/S Star Rating- 3
Brock Purdy started as the third-string quarterback his freshman year and moved his way into the starting position. While only playing in 10 games he still wasn't someone many were excited about. Enter the 2019 season and Purdy showed that the flashes we saw as a freshman weren't a fluke. Purdy would end up being ranked fifth in the country in offense and led the Big12 in passing yards, finishing as a semifinalist for the coveted Davey O'Brien award. Purdy will look to continue the upward trend as he tries to put his name in with the top two of the 2021 class.
Purdy does a good job extending plays when he needs to, and I love how he always keeps his eyes downfield. He can be dangerous running the ball and if left unchecked will burn defenses with his legs. When under pressure he consistently does a good job moving through his reads and making the right throw. While he has the arm strength to get the ball downfield he seems to struggle with downfield accuracy. I would like to see him limit the crucial interceptions he made in 2019. If he plays close to how he did in 2019 Purdy should at worst be the third quarterback off the boards in the 2021 draft.
Jayden Daniels- Arizona State: eligible 2022
Height- 6'3
Weight- 175
Grade- Sophomore
Style- Dual
H/S Star Prospect- 4
Jayden Daniels won the starting quarterback job for Arizona State and he did not look back. Much like his classmate Sam Howell, Daniels had an amazing freshman season. Daniels showed incredible skill making plays off-script using his legs to create time for a pass or even gain yards running. While he racked up 355 yards rushing and made some memorable plays with his legs, it is his arm is what excites me the most. A 17:2 TD/INT ratio is extremely good for a veteran and Daniels did it as a freshman.
Daniels is one of the most exciting devy QB prospects. Many will compare him to Lamar Jackson because of his frame and ability to run, but Daniels is currently a better passer than Lamar was in college. His mobility coupled with his ability to throw on the run make him a huge threat to defenses. He has great arm talent and accuracy at all three levels of the field. Moving forward I would love to see Daniels grow into his body a bit more and work on some anticipation throws.
Sam Howell- North Carolina: eligible 2022
Height- 6'1
Weight- 225
Grade- Sophomore
Style- Dual
H/S Star Prospect- 4
Sam Howell stepped into the starting role for North Carolina as a true freshman and had a truly incredible year. Howell put up numbers I think it is fair to say no one expected. While the overall team didn't thrive, Howell did. With his incredible freshman season, he's put himself in talks with the top of what currently looks to be a loaded 2022 quarterback class.
Passing Table
Passing
Year
School
Conf
Class
Pos
G
Cmp
Att
Pct
Yds
Y/A
AY/A
TD
Int
Rate
*2019
North Carolina
ACC
FR
QB
13
259
422
61.4
3641
8.6
9.7
38
7
160.2
Career
North Carolina
259
422
61.4
3641
8.6
9.7
38
7
160.2
Howell thrives on making improvisational plays outside of structure with the skill to make difficult off-platform throws. He can make difficult throws on the run. He can make any throw and has some serious arm strength. Howell has some serious zip on the ball and can fit the ball into any window. Coming into his second year of the Tar Heel offense he should thrive even more. If Howell continues to progress he'll be in the talks for the best QB of the 2022 class.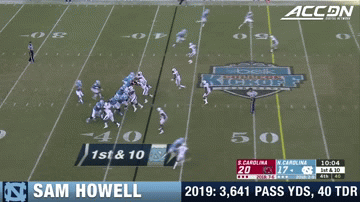 The Wrap
All of my quarterbacks in tier one and two have proven they can play at the college level. Each of them has the upside to be at the top of their respective draft class. Outside of Fields and Lawrence, most of these players should still be available in your devy drafts. As the season progresses continue to check back as I will continue to update stock changes for all of these QBs. Check back soon as my tier three and four running backs article is coming soon. Follow me on twitter for all my devy updates @SportsfanaticMB and check out my podcast Fantasy Football Roundtable for all of the hot off-season topics and prospects.