The Player
Cam Akers
Height – 5′ 11″
Weight – 212 lbs
Age – 20
Akers' History
A former 5-star recruit out of Clinton High School in Mississippi who caught the eyes of Georgia, Tennessee, Ohio State, and Vanderbilt while playing as a dual-threat quarterback. Akers has consistently carried an attitude that no competition is 'too big' since earning MVP honors at the Rivals' Dallas camp he attended prior to recruitment.
With several well-known programs actively pursuing him, he eventually accepted the offer from Florida State. Statistically, Akers underwhelms in this class of running backs, but he did crack 1000+ rushing yards twice in three seasons with the Seminoles.
The production in 2019 is middling as he wasn't top-10 in any standard category. He ended the season 62nd in per carry average (min. 150 attempts), 32nd in rush yards (27th in scrimmage yards), and 16th in rush TDs (12th in scrimmage TDs). This may make it tough to swallow that Akers is a top prospect in this year's RB class, but context and tape can open eyes.
The dip in production in 2018 was likely due to sub-par offensive line play that slightly improved in 2019. Even with the improvement, tougher run defenses like Clemson and Miami made for long days on the field. Given the well-known struggles of the offensive line (ranked 115/130 in line yards) in, the tape provides a lot of hope for NFL production even in the context of the above stats. To look at Akers through the proper lens, consider this: Per PFF, 3.9 of Akers' 4.9 yards per carry average came after contact (80% of his production). When we go to the tape, it becomes evident how hard-fought his production was.
The Tape
Vision
Cam Akers shows good vision in getting what is blocked. Assuming he gets to run behind an offensive line that can block better than Florida State's has in the last few seasons, Akers should have no problem becoming a solid running back option. In the tape samples viewed, Florida State ran a lot of inside and mid-zone where Akers had most of his success. Florida State's struggles in the trenches provided many opportunities for Akers to demonstrate patience and good change of direction.
His overall vision has room for improvement. Akers could elevate this attribute by maximizing space along the boundaries of his offensive linemen. Additionally, his mental processing speed appears to be affected significantly with messy trenches. It is frequent that he either overruns the gap or waits just a beat too long to hit the hole in these situations. This is all tied to phasing/pacing with his feet where his feet may be slightly out of position for the cut. This is not at all to say he is incapable of getting in phase; on the contrary, every occasion where he explodes it is because his feet are in phase which allows him to respond to gap development on time.
Burst
The tape shows some high-level explosiveness, but it is ultimately capped at a grade of 'good' due to what his burst looks like when he experiences the vision challenges highlighted above. When he gets good, clean blocking he flashes that desirable 1-step acceleration, resulting in erased linebacker angles and positive yards consistently. This burst is an expression of the explosive ability he demonstrated in a 41-inch vertical as a 5-star recruit, which is near elite according to NFL combine measurement standards.
Challenges in staying consistent with his level of burst come on the edges. For a running back that can explode through holes as he does, his speed to the edge is underwhelming. Additionally, his balance caps the consistency with which he will maximize yards as he gets tripped up easily. As a consolation, he does consistently fall forward.
Finish
Cam Akers' calling card comes in a demonstration of very good play strength. Being that his elusiveness significantly declines toward the top-end of his speed, Akers' opts to run through and over the opponent. There are plenty of times when he destroys defensive backs in the open field or carries linebackers for a few extra yards. Breaking one-arm tackle attempts is common for Akers who also shows off his competitive toughness fighting for extra yards. This is how we should expect him to make his money at the next level.
Akers appears to have long strides at top-speed, similar to Tevin Coleman. Coming out of high school, Akers was running a 4.44 40-yard dash. This ability grants him good home-run speed, but as stated earlier, it comes at a cost to his change of direction and agility when running at top speed.
Receiving
He has had some drop problems in his college career, recently having dropped 5 of 35 catchable passes. While that is something he has to improve, he has good enough quickness and change of direction to be a consistent mismatch against good linebackers. Below, we get a glimpse of what this mismatch could look like. This is probably six if the pass was accurate.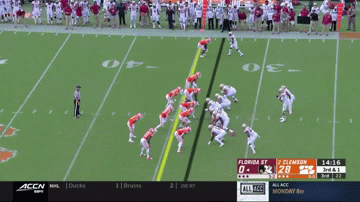 He does approach the reception with active hands when possible and has even flashed the flexibility to catch the ball low while on the run. After the catch, he penetrates immediately and will make the first guy miss without excessive dancing.
Blocking
Assessing a skills position player's competitive toughness is a lot easier when they participate in blocking. Akers demonstrates his toughness in his finish as well as his desire to block. When he is on assignment, he shows good technique, engaging with his hands inside, lowering his center of gravity, and driving the rusher's force upward without lunging, stopping them in their tracks.
He has demonstrated he can be serviceable from a play strength standpoint against linebackers and has even flashed the ability to deal with defensive linemen. While it's hardly expected for him to do this consistently against NFL linemen, it is encouraging that he has the desire and ability to execute blocks. This quality of his game should earn him early snaps.
While he exhibits the play strength and ability to block well, he does appear to have challenges in mental processing when blocking is necessary. When extra defenders are blitzing, he can be seen trying to assist a lineman in a block rather than keeping his eyes scanning for the unblocked man. Some of this may be a result of knowing assistance is needed given the line's challenges overall (115/130 in sack rate). Coaching and better offensive line play should provide a marked improvement at the next level.
NFL and Fantasy Outlook
In the NFL, Akers should fit any scheme that features inside/mid-zone where he appears to be the most sudden and explosive. Teams willing to grind out wins by running the ball to control the game will be able to employ Akers' services to beat up the defense while maintaining the explosive play potential on the field. Quarterbacks can consistently take advantage of the separation Akers can offer within the running back route tree.
For fantasy, many fantasy owners will stop at the box score, thus driving his draft position down, at least until the NFL draft. He should be considered in the mid to late 1st round of rookie drafts unless his landing spot is extremely juicy. It is possible he could drop to the early 2nd with all the intriguing receiver and quarterback prospects coming out in 2020.
All should keep in mind that Akers has the X-factor of being a former high school quarterback in addition to receiver experience. These are abilities coordinators love to keep in their back pocket for trick plays, and fantasy points are fantasy points. The tape, though mired with poor offensive line play, shows Akers has the upside to be a dependable running back in the right situation.