The Player
Laviska Shenault Jr
Height-6'2
Weight-220
Age- 21
Shenault's History
Laviska Shenault is a junior wide receiver out Colorado. Shenault joined the Colorado Buffaloes as a three-star prospect out of DeSoto, Texas. Besides his size and play, Shenault stands out because of his dreadlocks, which are fairly significant to him. When Laviska was 10 years old his family was on a vacation. His father was struck by an oncoming vehicle while walking around their family car. To help immortalize and remember his father, his father's legacy flows through his hair and why he lets the dreads flow out of his helmet.
Shenault didn't have much of an impact during his freshman season with Colorado. He would quickly make a name for himself at Colorado as his first-ever Collegiate touch turned into a touchdown. Laviska picked up a fumbled ball on a punt and returned it for a touchdown.
His Sophomore year would be much more celebrated and Shenault broke out in a big way. He would miss three games due to turf toe, yet he would go out and put up some prolific numbers that would lead to multiple awards. A First Team All Pac-12 selection (first for Colorado since Paul Richardson in 2013.) He would also be voted as the team MVP only the 5th sophomore to achieve this honor.
The off-season between his sophomore and juniors seasons would bring turf toe and left shoulder labrum surgeries. Unfortunately, Shenault would enter his junior year still beat up. While playing in all 11 of Colorado's games, Shenault only started in nine of the games and struggled to put up the same kind of numbers he did in his breakout sophomore year.
Receiving & Rushing Table
Receiving
Rushing
Scrimmage
Year
School
Conf
Class
Pos
G
Rec
Yds
Avg
TD
Att
Yds
Avg
TD
Plays
Yds
Avg
TD
2017
Colorado
Pac-12
FR
WR
7
7
168
24.0
0
2
4
2.0
0
9
172
19.1
0
2018
Colorado
Pac-12
SO
WR
9
86
1011
11.8
6
17
115
6.8
5
103
1126
10.9
11
2019
Colorado
Pac-12
JR
WR
11
56
764
13.6
4
23
161
7.0
2
79
925
11.7
6
Career
Colorado
149
1943
13.0
10
42
280
6.7
7
191
2223
11.6
17
Advanced Stats
| First Downs | Team Scrimmage Yards | Dominator Rating | Big Play % |
| --- | --- | --- | --- |
| 29 | 18.0% (2nd on Team) | 19.1% (2nd on Team) | 14% |
This table above illustrates just how big a part of the Buffaloes offense Shenault was. In Shenault's big play % he took 11 plays more than 20 yards, four of which resulted in touchdowns. stats courtesy of https://expandtheboxscore.com
| Total Touches | 1st Quarter | 2nd Quarter | 3rd Quarter | 4th Quarter |
| --- | --- | --- | --- | --- |
| 56 | 17 (30.4%) | 23 (41.1%) | 9 (`6.1%) | 7 (12.5%) |
In the table above you can see how Shenault was used throughout games. Injuries lowered his overall touches but he was consistent throughout the game. Stats courtesy of https://expandtheboxscore.com. While the stats don't look great in his final season lets see what Shenault does on the field that could help an NFL team.
Strengths
Versatility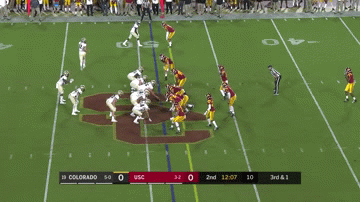 Shenault can play all over the field. Used in the wildcat here, he has taken snaps at QB and RB along with WR. He is a legitimate offensive weapon and as you can see here a game changer once he gets in space.
Strength and Contact Balance
Shenault has the ability to absorb contact when making catches. His strength to keep his legs moving keeps the play alive. While this is poor tackling as well, Shenault makes this play with his strength and contact balance.
Speed
Shenault has a ton of speed for his size. He won't be as fast as a guy like Reagor, but he will be near the top of the 2020 class.
Hands and Ball Tracking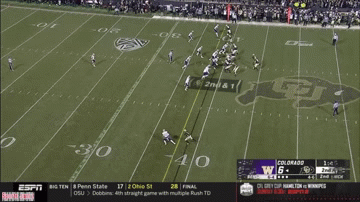 Shenault is a ridiculously good vertical threat. His ability to make a play on the ball and hold it through contact is elite. His speed and size truly help him in getting in position at times against small cornerbacks. So with all of these strengths, in what areas does Shenault lack?
Weakness
While Shenault is a physical specimen, his biggest question mark or "weakness" is his injury history. Two of three years in college Shenault was dealing with multiple injuries. If he can get past that his upside is unmeasurable. The other weaknesses I see in is game also come from one of his strengths. He was used all over the field at Colorado, which also has hurt some of his development at wide receiver. This might not matter much as he'll likely get a crash course at the position by whoever drafts him, but it does mean he'll come in a little bit raw.
Summary
Shenault is an extremely intriguing prospect. His size/speed combination could be deadly in the NFL. You then add in his versatility, contact balance and hands, you may have one of the rarest upside talents at wide receiver we have seen in a while. With all that upside comes some downsides though, injuries and being raw at wide receiver could also see him falter in the NFL. So where is the best landing spot for Shenault in the NFL draft?
NFL Draft and Fantasy Value
Shenault has first-round value for me. However, with his injuries and the depth at the position, I think it's more likely he'll slip into the second round. If he does go in the first the best fits for him are at the end of the round with Baltimore and Green Bay. Teams in the second round I think could go for him are CIN, IND, DAL, and DEN. Outside of DAL and DEN, I think any of these landing spots could be good for Shenault. The two most intriguing to me are the first two mentioned. In Baltimore, if he could be used as a weapon in the running attack and the receiving game he could be deadly. Think a mixture of Andrews and Hollywood Brown. In Green Bay to be opposite Adams and be a threat all over the field with a Hall of Fame quarterback who should hit him in stride, could also be a deadly combination.
For fantasy, I would imagine Shenault is going to go toward the back end of the first round. If he happens to slip into the second snag him quickly. His versatility and ability to get open deep should help him get on the field quickly. Due to how explosive he is I see Shenault with WR1 potential regardless of the team he goes to. The biggest thing to watch with him will be if he can stay on the field.
That completes the Laviska Shenault Jr. draft profile. Continue to check back as new profiles will be released every couple of days. If you want to see more of my work you can follow me on twitter @SportsfanaticMB and also on my podcast Fantasy Football Roundtable, where we will be discussing all the hot off-season topics and prospects.