Height – 6' 2"
Weight – 197 lbs.
Age – 23
School – Florida Gators
Jefferson's History
From Ravenwood High School to Ole Miss, from Ole Miss to Florida, Tennessee native Van Jefferson (son of former Patriots wide receiver and Lions wide receiver coach, Shawn Jefferson) may be one of the more underrated prospects in the 2020 draft. As a coach's son, he was subject to NFL-level coaching received by wideouts like Calvin Johnson and Nate Burleson. Entering Ole Miss as a 4-star recruit he lacked bulk, but his work ethic drove him to add 10 pounds of mass, a testament to his tenacity.

Considering his time in Ole Miss was part of a trio that included D.K Metcalf and A.J. Brown it may be easy to overlook his production against the larger landscape of college football.
Receiving & Rushing Table
Receiving
Rushing
Scrimmage
Year
School
Conf
Class
Pos
G
Rec
Yds
Avg
TD
Att
Yds
Avg
TD
Plays
Yds
Avg
TD
*2015
Ole Miss
SEC
FR
WR
0
0
0
2016
Ole Miss
SEC
FR
WR
12
49
543
11.1
3
5
40
8.0
0
54
583
10.8
3
2017
Ole Miss
SEC
SO
WR
10
42
456
10.9
1
0
0
0
42
456
10.9
1
*2018
Florida
SEC
JR
WR
11
35
503
14.4
6
0
0
0
35
503
14.4
6
*2019
Florida
SEC
SR
WR
12
49
657
13.4
6
1
7
7.0
0
50
664
13.3
6
Career
Overall
175
2159
12.3
16
6
47
7.8
0
181
2206
12.2
16
Ole Miss
91
999
11.0
4
5
40
8.0
0
96
1039
10.8
4
Florida
84
1160
13.8
12
1
7
7.0
0
85
1167
13.7
12
A glance at his college production may not have one salivating at the mouth, but watching the tape should surely get the salivary glands churning. A look back at his time at Ole Miss shows he was the leading receiver on the team with Metcalf and Brown present. A.J. Brown eventually took over the lead role in 2017.

Jefferson's decision to transfer to Florida was triggered by the NCAA sanctions levied on the institution. An additional motivator for Jefferson was the reduced amount of opportunities in 2017 which is reflected in that slight dip in production. This was more than likely related to Brown's emergence. The transition resulted in Jefferson leading Florida wideouts in production in both 2018 and 2019.

One thing that can be seen from the 10,000-ft view of his college production is a trend in improving production, however slight. Even though his statistics aren't gaudy, it is reasonable to believe that he could be a contributor at the next level.

Strengths
Release
You will consistently hear about Jefferson's route running as his biggest strength, and this is how he wins, but it starts from the snap. His release is disgusting, and it really sets up his success in running the route. It is common to see very good quickness against press coverage significantly manipulate the hips of the opposing cornerback where their only option to respond is to continue turning around often leaving them out of position. The lack of attempts to jam him in the context of this quickness could convince viewers that DBs are concerned about the disadvantage if they were to miss. Even when they do make this attempt, he has good enough play strength and use of hands to combine with his quickness to clear and immediately get into his stem.

Separation Quickness
In the stem he consistently attacks leverage, but he varies his approach occasionally giving the DB the leverage they desire initially just to use it against them in the secondary release. At this point, his separation quickness, which is very good, comes through his quickness in body and head fakes aided by very good feet and fluid hips. Jefferson has good explosiveness out of the break to maximize the advantage afforded by his quickness, especially on slants, digs, outs, pivots. He can also win with good mental processing, finding zone soft spots, and understanding when he needs to flatten or stretch routes. His play speed is very good in that he appears to play instinctively from the snap through the break in the route.
We can see Jefferson here at the bottom of the screen as the 'X' against this Cover 2 look. Typically, the goal in a wide split like this is to get outside the cornerback. Jefferson's savvy shows here as he attacks outside so convincingly that the DB widens to get physical just to end up missing due to Jefferson's quickness. Though he wasn't targeted here, he wins routes like this consistently.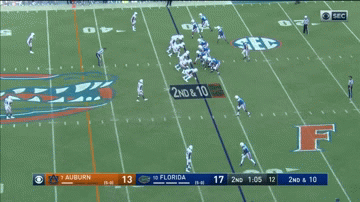 While deep speed is not exactly a feature of his game, his prowess in running routes will open up deeper opportunities. Watch how he sells the Out route on this double move.
Hands
Great route running means nothing without good hands, and Jefferson has them. Consistency with active technique to look the ball in is encouraging, especially considering the frequency with which prospect can look to make a move before the catch. His catch radius will help passers that get a little high while allowing QBs to throw him open with confidence. Given the consistency with which he gains positional leverage, he should be thrown open often. Good body control and concentration facilitate his catch rate along the sideline, but very good competitive toughness helps him with receptions in traffic and over the middle of the field. Jefferson has shown throughout college the ability to track the deep ball looking through his eyelids.

After the Catch
After the catch, Jefferson appears to have good acceleration, solid speed, and solid elusiveness. He shows off movement efficiency that is present from snap-to-finish by immediately penetrating downfield once the reception is secured.

Blocking
Lastly, that competitive toughness is part of his blocking game which is very good for a wide receiver, often moving his assignment off the mark while showing an intense desire to win. This has to be something his father ingrained into his work ethic; the desire to win without the ball in his hands. This is a trait that should earn him field time.
Weaknesses
His overall athletic profile could be a concern, especially being on the lighter side of the scale. Given that, it is not far-fetched that he will be challenged to maintain his stem against strong physical corners that aren't fooled by his release and route running. Closing speed on the release versus off coverage leaves something to be desired though he easily makes up for that in his consistent separation quickness. He is not the type of receiver that we should expect to succeed on 9 routes, but again his route running prowess allows him to work double moves that can allow him to win deep.

At the catch point, improvement in hand strength could elevate his hand's grade from good to very good. His athleticism does cap his potential after the catch. While he can be seen running away from the competition in college, it was by a small margin. In the NFL, this gap will surely close. His elusiveness with the ball in his hands is not what one would expect given the quickness shown in his release and separation. This could be due to a shift in mental processing and thus play speed when he is carrying the ball.
NFL and Fantasy Projection
In the NFL, Jefferson has the release/quickness to succeed as an 'X' and the mental processing of schemes to succeed as a 'Z', but he projects best as a possession receiver out of the slot due to his complete skill set and lack of high-end athleticism. From here Jefferson can offer a consistent target in the short and intermediate areas of the field. He would be a great fit in a timing and rhythm offense like West-Coast, but his ability running routes will open up occasional deep passing opportunities. He will be able to contribute in the running game with his desire, tenacity, and play strength in blocking defenders of comparable size and strength. His athletic limitations could be exposed in the stem of routes against bigger stronger defensive backs. Production after the catch could also be limited due to his play speed with the ball in his hands.

For fantasy, because he doesn't have a top-notch athletic profile, he shouldn't be in consideration until round 2 of rookie drafts. His ceiling is a low-end WR2 or high-end WR3 in PPR leagues, but his value in standard leagues could drop him to the third round for consideration. He is a little older and will enter his rookie season at 24 years of age. With that said, route runners of his quality in the right offense can still have quality ceilings and a long career because it is not dependent on athletic ability. It is realistic for Jefferson to have a ceiling of 'Cooper Kupp' who has been a massive contributor to the Rams as a QB-friendly wideout.