It's almost here. Football season is almost upon us. Every year we spend hours of prep work with mock drafts on top of mock drafts, reading articles, and listening to podcasts to give us the upper hand over our league-mates. There is no better time to be a football fan than hoisting the trophy over your head in week 16.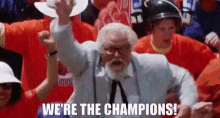 Those of you who are doing your first year of dynasty leagues are in for a real doozy. Every year there are rookie mistakes that take place in the heat of the moment. I can think of a handful of times – my buddy Shawn taking quarterback Aaron Rodgers with the 1.01 – where people overthink their pick and end up making the wrong decision.
The essential thing while drafting a start-up dynasty team is to decide which direction you want to take early in the draft. Not determining the proper course of your team can leave you in limbo for multiple years, causing you to go crazy or worse; become uninterested.
Do you want an up and coming team who might not compete this year, but has a chance a couple of years down the road? Do you want to win now, giving yourself a competitive team for the next couple of years, but looking towards a rebuild in year three? How about a young team who could end up full of stars three years from now while taking risks on bust candidates?
If you are looking to build a team to win now, thus funding your rebuilding years, this is for you. Frequently I see mistakes from these teams such as drafting players who won't give you simultaneous peak production. Prime examples are running backs like Mark Ingram and Le' Veon Bell and pairing them with wide receivers like Denzel Mims and Jerry Jeudy. Another common mistake is drafting guys like Julio Jones and DeAndre Hopkins far too early in drafts. You can easily throw your money away when you draft teams to win now. However, you don't have to. Winning now can be easy if you just follow the numbers.
Don't draft a quarterback early.
Yes, even with Lamar Jackson being a cheat code, I still don't want to draft a quarterback early. These are the positional breakdowns for the difference in the percentage of points from the 1st overall player to the 12th.
Tom Brady scored 64.4% of Jackson's points.
Chris Carson scored 49.4% of Christian McCaffrey's points.
Jarvis Landry scored 63.4% of Michael Thomas' points.
Jason Witten scored 53.9% of Travis Kelce's points.
Already you have a massive separation in running backs and tight ends. The model above doesn't factor in starting multiple running backs and wide receivers and flex spots. If you decide to go wide receiver in the first round, quarterback in the second, and tight end in the third, you are most likely looking at the 18th-20th running back off the board. Last year the RB18 – James White – put up only 42.5% of McCaffrey's fantasy input. In other words, If you had White taking up two of your roster spots, you still wouldn't get McCaffrey's production.
You could say McCaffrey's production is unobtainable. Aaron Jones, the second-leading running back in points -had the least amount of points for the runner-up in fantasy points to the position since 2015. White scored only 63.6% of Jones' points while Brady scored 77.9% of Dak Prescott's points (second in points as a quarterback). In addition, only Aaron Rodgers has finished with 375 points or more in multiple seasons since 2010.
Breaking Down the Point Differentials:
The difference between the top 12 quarterbacks
The QB12 scored 22.1% less than the QB2, but top 12 quarterbacks like Josh Allen and Carson Wentz are currently drafted in the 9th round, according to Fantasy Football Calculator. Running back Kerryon Johnson – RB42 – and wide receiver Ceedee Lamb – WR40 – are both being drafted in the same round. When you take those percentage values of point differentials, it's not even close.
What About the Tight End
The tight end position is the trickiest one. Suppose you don't want to continually tinker with the position then selecting Travis Kelce or George Kittle as they consistently produce significantly higher points than any other tight end. However, I prefer to stream. The Cardinals only played three games in 2019, where the tight ends were drafted in the top 12 in fantasy. Ten of the remaining 13 games, the tight ends drafted outside the top 12, produced double-digit points. Gerald Everett against the Seahawks or Eric Ebron against the Raiders were a couple of the streaming options throughout 2019. Although the strategy is risky, you can save you draft picks for the wide receiver and running back upside.
What Do the Numbers Mean?
It goes to show selecting a running back who you believe will finish top 12 is the way to go. If you don't get at least two top backs, there's a chance you're already behind your league-mates. Your selections aren't guaranteed to finish as a top back, but you'll have a better chance as 8 of the running backs drafted in the top 12 also ended in the top 12. In comparison, only 4 of the wide receivers finished in the top 12.
After you select two running backs early (possibly three pending the flow of the draft), your next task is to smash your draft button on receivers before the WR24 comes off the board. Following the receiver run, the RB25 through RB36 are the most stable option to fill out the flex. It seems veteran RBs like Jordan Howard and Tevin Coleman took up most of this range in 2019. Getting a back with a role in their offense is crucial. Late in the draft, taking a tight end flyer and a quarterback in rounds 9 through 12 will maximize your potential fantasy points per week. Finding a quarterback, you will start in Week 1 while having massive upside is crucial. Matt Stafford and Cam Newton in the 10th are excellent candidates. Meanwhile, if your tight end flyer doesn't hit after drafting him late, there's always the option to stream.
Get your running backs early.
Pound receiver.
Stream tight end.
Wait on a quarterback.
Find Chase at FF_Intervention on Twitter. Click here to find more of his work including the Fantasy Intervention Podcast
Have you tried the DynastyGM tool? It is the best way to manage your dynasty teams. Bundle with your Nerd Herd membership for just $4.99 or get it solo for $2.99.