It's Fantasy Football season once more! Though, if you're in dynasty leagues, it's year-round for you. For example, right now, you're trying to make trades/waiver claims and get your team ready for the season. This is the prime trading season to get guys you're high on for a lower price!
So, what guys should you acquire? If you have them, what should you sell them for or don't sell them? Well, I'm here to help you with that issue. This is the fifth article in a series of articles that will cover all 32 teams in the NFL. If you are looking for a specific division, here is a quick link to AFC West, North, South, and East.
I'll be recommending one main breakout player from each division, along with a player to get from every team. Explain why I chose them/my predictions and what I'd trade for them. This is for any league as well since I'll be including IDP players too. This article is about the NFC South.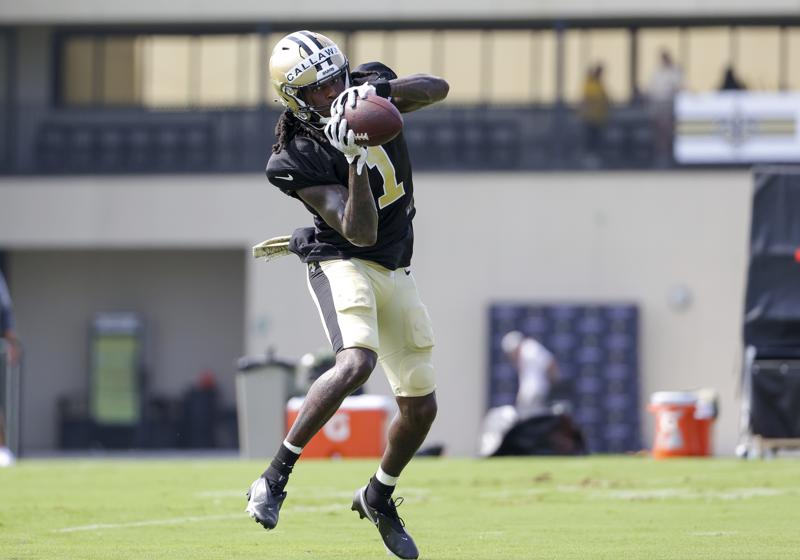 New Orleans Saints: Marquez Callaway
I already did a breakout article on one Saints player, Adam Trautman, so I figured I should choose another player.
Admittedly, the WR group for the Saints is not the best. It was pretty good until Michael Thomas went wild and had surgery. He's projected to miss at least the first four weeks. Then, Tre'Quan Smith went down with an injury. Thankfully, he's back playing already. There is one player that is getting recognized due to his play in camp. That player is Marquez Callaway.
Callaway went undrafted in the 2020 NFL Draft before signing with the Saints. Now he's projected to be the WR1 for the Saints to start the season. He's only 23 and went to Tennessee for college.
He played in 11 games last year, which shows that Sean Payton believes in him. He also started three of those games and had 21 receptions for 213 yards. In the first preseason game against the Ravens this year, he had three receptions for 61 yards. That's a 20+ yards per reception rate.
Why Callaway will break out in Dynasty
Callaway is set to get the majority of the WR reps to begin the season. He's healthy, has had a terrific camp, and has multiple attributes that help him.
He's 6'2″ and 205 pounds and able to take hits. Callaway has good burst after the catch and will fight to make the catch. He's also able to separate off the line of scrimmage from the cornerback covering him.
With so many injuries/bad plays in the WR room for the Saints, it's basically Callaway all by his lonesome. He's set for a massive target share to begin the season. If he performs well the first few weeks of the season, there's no reason that Taysom/Jameis won't keep targeting him.
Yes, Thomas will be back, but there's no guarantee he will be healthy/effective this year. Plus, he will draw coverage away from Callaway, which opens him up for easy receptions.
Remember my saying, more opportunity= more fantasy points. You can't score fantasy points if you're not on the field. Callaway is set up for a bunch of time on the field.
Finally, our great Dynasty Nerds writer Alex Levin did a series of articles on fantasy opportunities. One of the teams he covered was the Saints. In it, he proves how the Saints continually target the WR position a lot. He also predicts that the Saints will target the WR position more than last year for this season. That helps one believe in Marquez even more, knowing the Saints' penchant for throwing to their WR's often.
What's is he Worth in Dynasty?
Callaway is currently the #100 ranked WR on Fantasy Pros. He's still a deep sleeper. His price, rank, and draft position haven't caught up to his talent or opportunity. That's why it's the perfect time to strike and trade for/draft Callaway. In dynasty, he's worth the equivalent of an early third-round rookie pick which is a STEAL. He's already shown more than a lottery ticket in the third. Don't fall for the ruse of "I got Claypool in the third." That's one pick out of 12. Not good odds. Don't miss out on Callaway. He's under contract for a long time in a pass-happy offense. He will at least be a capable WR3.
Atlanta Falcons: Russell Gage
The Falcons are a very strange team this year. Their defense is not going to be good. They have no running back besides 6-year back-up Mike Davis. They lost their best WR, Julio Jones, in the off-season. A new coaching staff. They also have one insanely over-hyped TE prospect in Kyle Pitts. Yes, I said it. They still have the great Calvin Ridley, so that's one person Matt Ryan can rely on.
Thus, when it came time to picking a breakout player, I had a bit of a struggle. I finally decided to go with the guy who had a good season last year. This man is going to get a larger workload this season as the new WR2 on the team.
That guy is Russell Gage. Gage Truthers rejoiced. He will be on the field often this year as he replaces Jones. The Atlanta Falcons will throw a lot this year with how bad their defense and running game is. Writer Alex Levin predicts that the Falcons will throw to their wide receivers over 53% of the time. That's over 330 targets to split among Ridley, Gage, Pitts, Olamide, and whoever else.
Gage is a former sixth-round pick out of LSU who's slowly been climbing the Falcons depth chart for three years. Now, he's reached the starter positions. Gage posted a solid stat-line of 72 catches for 786 yards and four touchdowns for the 2020 season. That's not bad for his first extended playing time in his career. It will get larger this year.
Why Russell Gage will break out in Dynasty
Russell played on 68% of offensive snaps last season. I see no reason why that can't climb to the 80% range. At least, so long as he is healthy. As the WR2/3 last season, Gage saw 109 targets. Julio is gone, but they brought in Pitts. Those should cancel each other out enough to where Gage still gets roughly 120 or so targets. That's plenty for Gage to be a reliable flex play every week, though.
Gage isn't going to win you the championship. He's not the sexiest play out there. He isn't even the best flex some weeks. However, you need depth in all your positions if you want to win your championship. In this case, Gage is the best depth guy out there. Additionally, there's a good chance he rises to weekly play this year with more playing time. He should finish the year as a high-end WR3.
The Cost in Dynasty
Gage doesn't cost much in dynasty at all. He's a 10-12th round pick in start-up super-flex PPR dynasty leagues. For a guy who's guaranteed volume in a pass-happy offense, that's good value. Additionally, he will get a lot of time on the field, which means more opportunities. More opportunity means more fantasy points. We all love fantasy points.
If you're trying to acquire him, he's worth an early third-round rookie pick. That's a bargain for his role in the offense. That pick is a lottery ticket. Gage has already proved his talent. If you're win-now and need some wide receiver depth, go get Gage. He's cheap, young (25), proven, and has many opportunities this year.
Carolina Panthers: Terrace Marshall
This breakout player is drawing lots of hype from training camp and preseason play. Although he's doing great so far, his price is still meager. Plus, he isn't set to play a bunch this season unless injuries to the top wide receivers on the Panthers happen. He's also a rookie, so there's always a hesitation in saying he is breaking out. Nonetheless, I have faith in his talent and team to say that he will break out.
Terrace Marshall is a rookie from LSU who got drafted in the second round of the NFL Draft. He's a skilled wideout that had a terrific career at LSU. From 2019-20, he played in 19 games and finished with 94 receptions for 1,402 yards and 23 touchdowns. Marshall's good at route-running, catching the ball and getting yards after the catch.
Marshall runs a 4.3 40 and is 6'2″ tall and a bit over 200 pounds. How many wide receivers have that type of size and speed? He can jump over the coverage and catch the ball. He's fast enough for go routes and any type of play. In addition to his talent, Marshall is returning to play for his old coach, Joe Brady, who helped lead LSU to the National Championship in 2019.
Brady will use Marshall to maximize his abilities. His price is already rising after his debut preseason game in which he had three receptions for 88 yards. He put on full display his skill at deep catches and running after the catch.
Why Marshall is set up for Dynasty Success and his Price
These are all skills that help a wide receiver find success in the NFL. Obviously, he's a rookie and will have growing pains. However, these growing pains he is going through right now combined with the loaded depth chart ahead of him are why you should go get Marshall. With more and more hype videos like this below, his price will rise throughout the season.
Finally, Marshall is set up to be the long-term WR1/2 for the Panthers. Robby Anderson is a free agent at season's end. He plays the role that Marshall is best suited for. I highly doubt the Panthers bring Anderson back. They would rather allow a younger and cheaper wide receiver to take that spot to pay other guys, like DJ Moore. Marshall will be a top-30 fantasy wide receiver after this season.
Right now, Marshall is going in the 11-14th rounds of a start-up super-flex PPR dynasty draft. His trade price is even better if you're a rebuilder/contender. If I'm contending, I'm trading a second-round rookie pick for Terrace all day. He is excellent depth for your roster, will be able to rise in value for years, and can give you a starting WR in a year.
If I'm rebuilding, I'm targeting Marshall in any trade. I would rather have him than picks. He will not start most games this year. That helps you rebuild as you want a high pick next year. Also, when you're ready to compete in a year or two, he will be scoring loads of fantasy points. Get Marshall on your team and watch others complain they didn't get him.
Tampa Bay Buccaneers: Jaelon Darden
This breakout pick is a bit of a confusing one for many, I presume. That's because you are wondering how Darden is going to get much playing time this year. Well, he's not. Yet, I am betting he shows enough this season to warrant his trade price increasing a lot. I also don't trust Antonio Brown to stay under control this whole season.
The Tampa Bay Buccaneers had a loaded wide receiver corps coming into the NFL Draft. I wasn't expecting them to select a wide receiver. Yet, instead, they selected draft analytics beloved Jaelon Darden out of North Texas in the fourth round. That showcased that Bruce Arians does not believe in his future WR's if the team can't re-sign Godwin and Brown after this season.
Tyler Johnson has also had a rough camp and suffered from weight issues as well. Darden has passed him on the order of reps in training camp already. Darden has been impressive in his first training camp. He's been a favorite of Brady during many passing down reps. Brady loves receivers that make tough catches and is slippery/fast enough to gain big yardage after the catch. That perfectly describes Jaelon.
Jaelon Darden's price in Dynasty
Darden is already showcasing his skills and shown a lot of growth as a WR. That will earn him some playing time during the season. He's set up to be a big part of the Buccaneers' future at WR. Plus, he's going in the late rounds of a dynasty start-up draft. Darden is a perfect taxi stash. Hold him for a year, see what happens in the off-season, and perhaps you get lucky.
If I'm a contender, I'm not trying to acquire Darden. Not unless you have an older roster and need some youth. Even then, he is only going to be in your taxi spots. On the flip side, if I'm rebuilding, I am trying to get as many shares of Darden as I can. He's cheap, a throw-in for most trades, and on a great team. He can help you tank for this year. Then, next year, he can help you win more games. In a rebuild, you want young guys who aren't going to play a bunch right away. That perfectly describes Jaelon.
Discount for Dynasty Nerds Subscription
For all who love Dynasty fantasy football or who love Dynasty Nerds, use my promo code "maytheforcebewithyou" to get 15% off any subscription of your choice!
I am always on Twitter at @DarthDbacks and in the largest Fantasy Football Chat on Discord under the same username. I hope this season goes excellent for you, and I'm happy to help on Twitter or Discord anytime! Also, happy to discuss Star Wars, Marvel, Baseball, movies, or writing with you.
As always, May the Force be with You…