It's Fantasy Football season once more! Though, if you're in dynasty leagues, then it's year-round for you. For example, right now, you're trying to make trades/waiver claims and get your team ready for the season. This is the prime trading season to get guys you're high on for a lower price!
So, what guys should you acquire? And for how much? Who should you sell or hold? Well, I'm here to help you with that issue. This is the third article in a series of articles that will cover all 32 teams in the NFL.
I'll recommend one main breakout player from each division, along with a player to get from every team. I'll explain why I chose them, offer my predictions, and discuss what I'd trade them for. This is applicable for any league as well since I'll be potentially including IDP players too. Let's look at the balanced NFC East next.
New York Giants: Xavier McKinney
Xavier McKinney was a highly touted safety prospect from Alabama. He was selected by the Giants in the second round of the 2020 NFL Draft. McKinney was ready to shock the NFL and IDP worlds. That was going to happen until he broke his foot right before the start of the season. He ended up missing all but six games last year.
However, those six games revealed a lot. Additionally, his training camp performance has solidified his IDP dynasty standing and NFL standing. McKinney played in six games and started four of those six. He had a stat-line of 25 tackles, 14 solo tackles, and an Interception in those six games. Those are pretty decent numbers for only six games. If you stretch that out to a 17-game season, the numbers would be 70 tackles, 39 solo tackles, and a few interceptions. 
That would be assuming he was in the same health zone last year, didn't practice, had no training camp, and hardly played. So, it's pretty much the exact opposite of this year. McKinney is healthy, participating in training camp, and has preseason games he gets to play in. He gets a real NFL off-season which will only help his development. 
Why Xavier McKinney is set up to succeed in Dynasty
There are many reasons as to why I think McKinney will succeed this year and prove a must-have for dynasty teams. He's young, talented, and has a history of success. He's a former All-SEC first-team player who is only 22 years old. 
A good point for dynasty teams playing the long game is that Jabrill Peppers, a fellow safety on the Giants, is a free agent after this season. With that said, McKinney should step into a massive role next year. 
Nonetheless, he's still going to have a large role in this season as well. The Giants are a team that uses a defensive scheme that largely incorporates three safeties on the field. This is great news since the Giants have three great safeties in Logan Ryan, Peppers, and McKinney. They used more than 60-70% of their schemes on incorporating three safeties. That means that McKinney will get tons of playing time on the field. This means more opportunity, and more opportunity means you get more chances for tackles and fantasy points.
McKinney is a skilled free safety at coverage and intercepting the ball. He is versatile, covering the slot, playing center field, rushing the passer/rusher, and being a roaming defender. All of that adds up to him getting more chances to make impact plays. 
What's Xavier McKinney worth in Dynasty?
McKinney is a top young DB, already proving himself in camp, and will continue to prove it in the regular season. He's most likely a DB2/3, but by the end of the season, he will easily be a DB1. McKinney is currently worth a 2nd round rookie draft pick in Mixed-IDP leagues and the same in IDP-only leagues. Accordingly, that price will keep rising the longer time goes on. If you find your team needs a DB to win now, go out and get McKinney. If you're rebuilding, target McKinney in trades or keep him if you have him. You can build around him and watch your team rise to the top soon. 
Philadelphia Eagles: Quez Watkins
Quez Watkins is a talented wide receiver for the Philadelphia Eagles. He's a second-year wideout, drafted in the sixth round of the 2020 draft. To say that he's far exceeded expectations coming into this year is an understatement. A few months ago, I had never even heard of Watkins. 
In fact, when I first saw the name of Quez Watkins in a text, I immediately thought that he meant the Lions wide receiver and that he got the name wrong. I was wrong. So, I started researching Watkins and began following the growing hype around him. 
Watkins is impressive, and I think he might be the latest late-round steal for an NFL team. He missed pretty much all of last year with an injury except for the final few games. Since that means that he pretty much lost an entire year of development, this is basically his rookie year. Plus, Watkins is getting to go through the various camps and an entire "normal" off-season of development. Thus, we shouldn't be too surprised that he's doing well. He's only 23 years old and just barely starting to hit his prime.
Why Watkins matters in Dynasty and could breakout
Quez struggled with running routes, catching the ball, and not getting pressed off the line of scrimmage last year. So far in this training camp, he has none of those issues.
Watkins is currently competing with Jalen Reagor (first-round pick from 2020) for the WR2 spot behind Devonta Smith. He is fast, can run routes well, and can get behind the defense for deep passes. He has great burst and can run after the catch, which is crucial to building yardage totals. In fact, Watkins runs a 4.35 40. That's fast for a WR. He showcases that burst below in the tweet.
Watkins has consistently been impressive this whole camp, whereas Reagor has been hit/miss, and John Hightower is out with an injury. Watkins has displayed a great rapport with Jalen Hurts, which is crucial in any QB-WR pairing. If they are on the same page, that can lead to more targets and fantasy points than if a wide receiver doesn't work well with a quarterback. 
Watkins is going to be on the field a lot this year. He is putting in work and building a rapport with Hurts. His game has improved a ton. Watkins is prepared for this moment and is about to run wild on NFL fields this season. As seen here, he is doing great in practice against a tough corner for the Patriots in J.C. Jackson.
What does Quez cost in Dynasty?
Watkins literally costs nothing right now! I just got him on waivers in four of my dynasty leagues. In some of the others, someone took him on waivers before me. You could trade a third-round rookie draft pick for him, and that's a steal for you. If you're win-now, he's a must-have. If you're rebuilding, target him as a throw-in to get a WR that you can start in the flex this year with the potential for more. Get Watkins now, before his price skyrockets.
Washington Football Team: Kamren Curl
Kamren Curl is a rather unexpected pick for me. Washington is filled with good football players, especially on defense. Matthew Berry is in seventh heaven right now because of that. Curl has a good shot at becoming the next big IDP safety in dynasty right now. He was a former seventh-round pick from Arkansas last year. 
Being a seventh-round pick made the teams' and fans' expectations of him low. Safe to say, those expectations have risen. However, Curl got his chance to shine thanks to Landon Collins' injury in week 7 of last season. He immediately showcased his talent from the start. By the end of the season, he had 88 combined tackles, three interceptions, two sacks, and a TD per PFR. Those are impressive stats for any player, let alone a rookie seventh-round pick player. He did all that on only 73% of the defensive snaps. He has great ball skills, as shown below.
Curl averaged 7.9 tackles per week. That's big fantasy points for your team. Additionally, Jordan Rains, one of the best IDP experts out there, thinks that Kamren Curl is a top-5 must-buy IDP player this year. If you like IDP, I'm positive you know about Jordan. 
Curl is extremely versatile as he can cover the slot, play deep, and play in the box. That allows him to maximize his snap share. Once again, more time on the field means more opportunity. Similarly, more opportunity means he can make more plays. More plays equal more points for your fantasy teams. That's why it's huge if Curl can stay on the field. 
Kamren Curl Price in Dynasty
Curl will be a great safety for a long time, especially in a dominant defense like Washington's. He's about to start all 17 games this year and put up huge stats. However, his price doesn't reflect that right now. In start-ups for dynasty mixed-IDP, he's going past the 15th round. That's huge value for a probable DB1 caliber player. What's even wilder is that his trade price is a late third right now. I would trade that for Curl all day long. You have to get him on your team if you are rebuilding, win-now, or anything else. Above all, I promise that after week 1, his price is going to rise.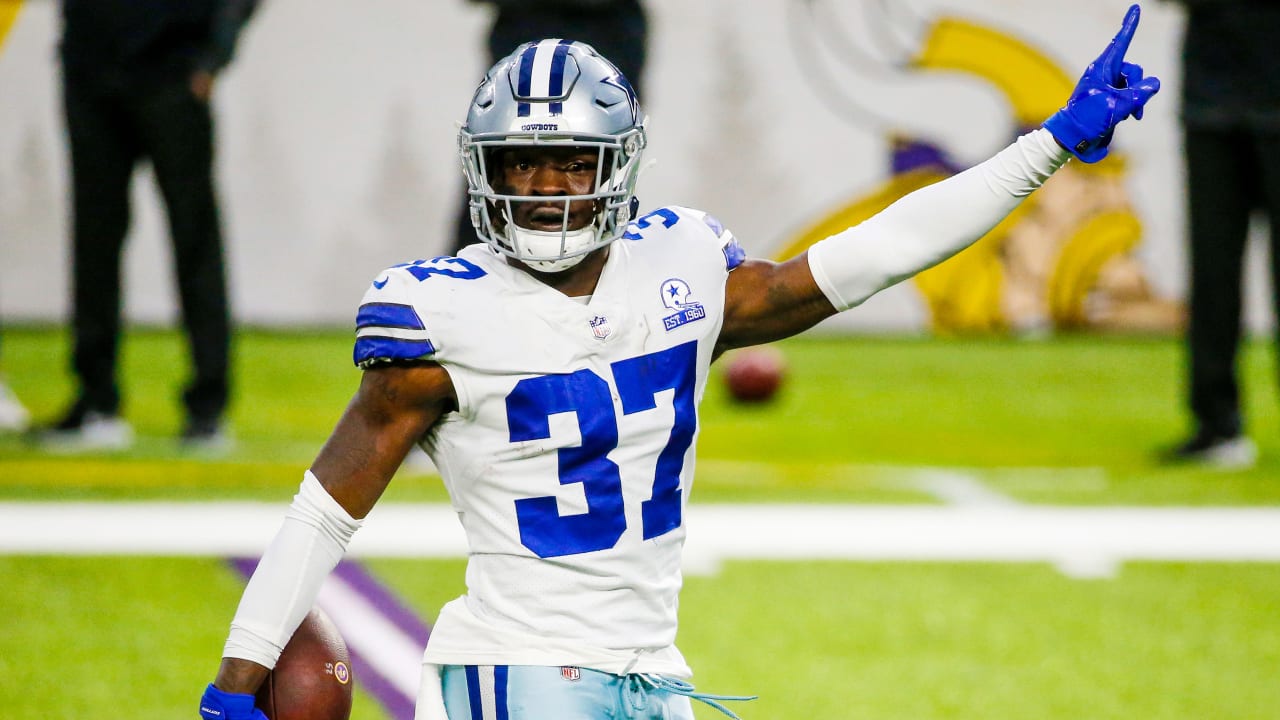 Dallas Cowboys: Donovan Wilson
Wilson was drafted in the sixth round of the NFL draft in 2019. He didn't play much his rookie year, but that changed last year. He developed into a top IDP player, starting 10 games and playing in 14. Wilson looked like the best defensive player for the Cowboys last year. 
In his 14 games last year, he raked his way into a solid statistical season. His stats last season are 71 combined tackles, 48 solo tackles, 3.5 sacks, two INTs, and two tackles for loss. If we extrapolate those numbers to a full 17 game season, he would have 86 combined tackles, 58 solo tackles, 4 sacks, 2+ INTs, and 2+ tackles for loss. Those are huge stats for a DB in the IDP world. FYI, his stats would be better than that, as his original stats were not just his starts. 
Wilson can play all three phases of being a safety in today's NFL. He can play up in the box, the slot, and the deep center field area. Thanks to that, he will be getting a lot of playing time in Dan Quinn's new defensive system. 
Wilson is an aggressive, hard-hitting, tackling machine at the safety position. He's able to diagnose what plays the offense is running and adapt to it fast. In fact, Wilson was PFF's highest-graded blitzing safety in the NFL last year. That's good for the impact plays you want from a player. 
In the nine games that Wilson played more than 75% of snaps in, his average IDP points per game were 13.94, according to FootballGuys. That's very valuable for your team. He's currently a DB3, but by the end of the year, he very likely could be a high-DB2. Therefore that's great for any dynasty-IDP-involved team.
Donovan Wilson's Dynasty Price
His price is likely the lowest it will be for a long time. In conclusion, get him cheap since he's being ignored for being on the Cowboys. His trade price if you're trying to buy him is a fourth-round pick. Insanely cheap. If you're selling him, don't sell for less than a third-round rookie pick. Above all, get Donovan Wilson before it's too late.
I am always on Twitter at @DarthDbacks and in the largest Fantasy Football Chat on Discord under the same username. I hope this season goes excellent for you, and I'm happy to help on Twitter or Discord anytime! Also, happy to discuss Star Wars, Marvel, Baseball, movies, or writing with you.
As always, May the Force be with You…