Superman returns to Charlotte. A year and a half after the Panthers parted with Cam Newton in favor of Teddy Bridgewater, Carolina came crawling back. Newton played sparingly against the Cardinals, but he figures to take over the starting job against Washington next weekend. The Panthers are hoping for a playoff push down the stretch with Cam Newton leading the charge. Let's dig deep into what Newton's impact will likely be on his new teammates' dynasty value.
Cam Newton
First and foremost, Cam Newton should be rostered in all Superflex leagues. Newton has certainly fallen from grace since his shoulder injury against the Steelers in 2018, but Cam has always been a better fantasy quarterback than a real-life QB. He is always a threat to get rushing touchdowns. He has the best weapons he has ever had in his career (Christian McCaffrey, D.J. Moore, Robby Anderson, Tommy Tremble). He is healthy, focused, and has fresh legs. Cam Newton may just start for your SuperFlex team down the stretch.
Sam Darnold
If you own Sam Darnold, why didn't you trade him away after his hot start to this season? Following the Newton signing, Darnold's dynasty value has never been lower. After once again seeing ghosts and throwing multiple interceptions against the Patriots, Darnold is unlikely to ever be a starter again in his career. Nobody expects Cam Newton to be the long-term solution in Charlotte, but multiple reports surfaced that Scott Fitterer tried to sign Cam Newton to a two-year deal. This information leads me to believe that the Panthers will ultimately run it back with Cam in 2022, especially if it goes well down the stretch. Carolina's front office has lost faith that Sam Darnold is the answer and will likely utilize Cam as the bridge to their next franchise quarterback in the 2022 or 2023 class. If the return goes poorly, they may trade for a starting quarterback in the offseason. Regardless, all signs point away from Sam Darnold. If you still roster him, see if anyone in your league believes in his future enough to give you any pick for him. Trust me. You'll come out ahead.
D.J. Moore
The Panthers' offense should look better once Cam Newton is at the helm. I don't think any weapon will receive more of a benefit of this than D.J. Moore. He is arguably the second-best receiver Cam Newton has played with (after Steve Smith, of course). The duo really seemed to find a rhythm during D.J. Moore's rookie year; however, Cam's shoulder injury (courtesy of T.J. Watt) hurt his accuracy down the stretch. The injury ultimately led to surgery. Then, Cam injured his foot in the preseason of 2019. Newton tried to play through it but ultimately was shut down after Week 2. D.J. Moore accumulated double-digit targets in both of his 2019 games with Cam Newton. They never played another game together; however, the duo worked out in Atlanta during the offseason. During his interview about Cam's return, D.J. couldn't seem to wipe to smile off his face. When asked if Cam Newton "still had it" during those off-season workouts, D.J. Moore stifled a laugh and said, "Cam is Cam." Expect D.J. Moore to see an increase in targets down the stretch. He's an elite receiver who is going to get better quarterback play. Try to acquire D.J. if possible. He might just help you win your fantasy championship.
Robby Anderson
Robby Anderson's stock can't go any lower, right? Robby's stock should go up as well. He has expressed frustrations on the sidelines toward Sam Darnold, and the disconnect that developed between the two ex-Jets couldn't be more obvious. Cam Newton may not have the deep ball accuracy he had in his past stint with Carolina, but he has never been afraid of taking shots. Don't expect elite production out of Robby Anderson down the stretch, but he is a boom or bust flex candidate that should have a higher floor with Cam Newton under center.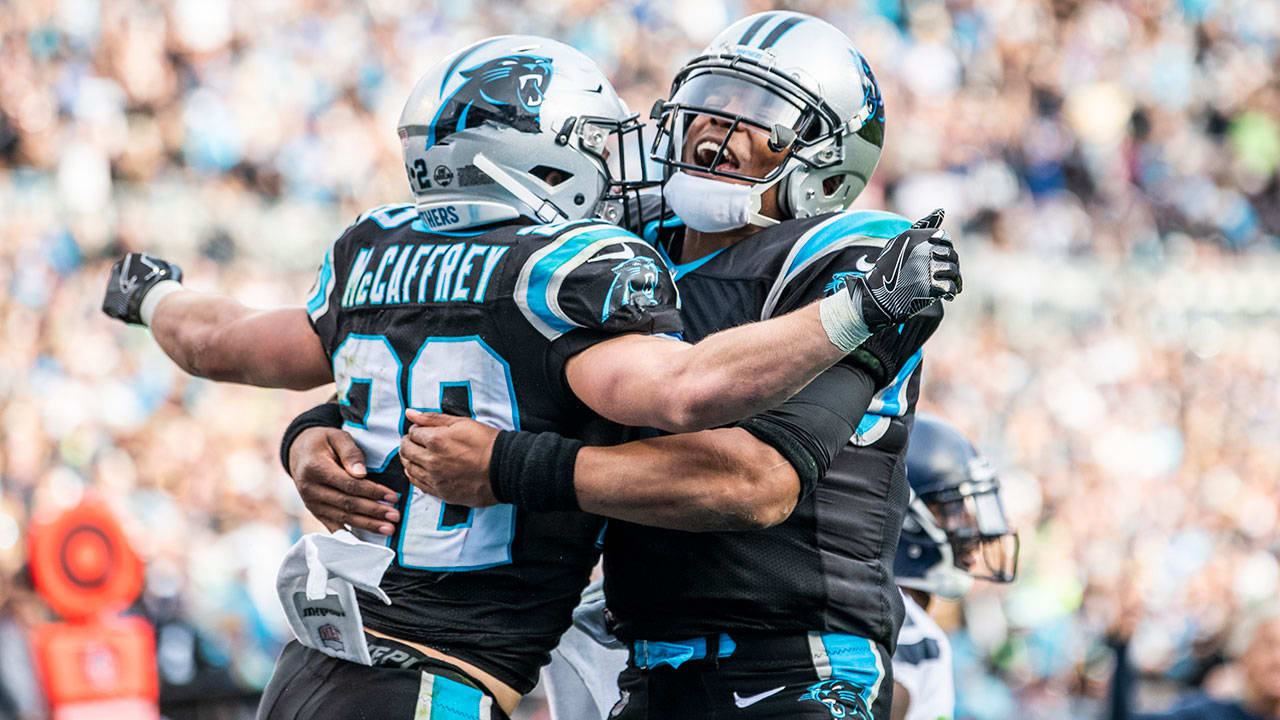 Christian McCaffrey
McCaffrey is finally healthy and is getting a brand-new quarterback. Christian is an elite fantasy option no matter who is under center, but the Panthers offense has been abysmal with Sam Darnold. McCaffrey only has one touchdown on the season in three and a half games. Even though Cam Newton may steal some rushing touchdowns from CMC, the Panthers offense should be visiting the red zone more often down the stretch. McCaffrey will face some tough defenses in the final weeks, including the Bills, the Saints, and two contests against the Bucs. McCaffrey is still an elite option, even against the toughest defenses. Defenses will likely stack the box against the lethal Cam, McCaffrey option; however, CMC will get plenty of receptions and is lethal after the catch. As long as McCaffrey stays healthy, he is the best fantasy running back in the NFL.
Tommy Tremble
A third-round pick out of Notre Dame, Tommy Tremble has already seen a rise in fantasy value during his rookie year. The Dan Arnold trade opened a starting job for him. Tremble is already an elite blocking tight end but is still developing on the receiving side of things. Rookie years are traditionally difficult for tight ends as they transition to the NFL; however, Tremble already has two career touchdowns, and his snap count has averaged above 50% over the last four weeks. Expect that number to continue to increase as Tremble improves as a route runner. Cam Newton has loved throwing to tight ends in the past. Tremble is no Greg Olsen; however, if he can develop some chemistry with Cam Newton, it could help Tremble to jumpstart his career of catching touchdown passes. This may be a good time to buy low on a tight end who could be a legit starter for the next decade.
The fantasy season is in full swing. How are you going to reward the league champ? I'll tell you – go to Trophy Smack and get that Championship hardware. Use promo code NERDS for a free ring when you order a trophy or belt.