I hope everyone enjoyed their turkey and had a great Thanksgiving! But the best part of Thanksgiving was enjoying that Thanksgiving football. Here are your rookies' studs and duds in Week 12.
The Good:
Jaylen Waddle
Jaylen Waddle exploded against the Carolina Panthers. Waddle caught 9 of 10 targets for 137 yards while also catching a touchdown. Waddle put up his best performance of the season and eclipsed the 100-yard mark for the first time in his young NFL career. Tua and Waddle have seemed to be connecting and have built nice chemistry between them. Waddle has also been carrying a huge workload for the Dolphins. He has only had a lower snap share of 70% back in Week 2 when he got hurt. Waddle is clearly the WR1 for the Dolphins and the main focal point of the offense. With the combination of targets and opportunities, Waddle should firmly be a solid WR1 every week going forward.
Elijah Mitchell
Mitchell was dominant on the ground as he rushed for 137 yards on 27 carries while also scoring a touchdown. He also caught 5 of 6 targets for 35 yards. Mitchell is the clear-cut RB1 of this San Francisco offense. No other RB was even close to Mitchell as the next RB with any carries was Jeff Wilson with 2 carries. Mitchell has gained the favor of Shanahan and should have RB1 upside every week as long as he's healthy. In a 49ers offense that still likes to run the ball, Mitchell should continue to reap the benefits of the league's top offenses. Mitchell will continue to have value not only for the rest of this season but also for the years to come. There is nothing to believe that Shanahan will pivot off of Mitchell, so he should be considered a nice RB1 for years to come.
Javonte Williams
Williams rushed 14 times for 54 yards while also scoring a touchdown. He also caught 3 of 4 receptions for 57 yards. Williams topped over 100 scrimmage yards for the second time of the season. Even though Williams outproduced Gordon in this game, the snap share percentages were still relatively evenly split. 58% going to Williams and 42% going to Gordon. The rookie RB is still in a timeshare and does not seem like it will happen this season. Until the situation changes, where Williams is the sole beneficiary of the backfield, he will continue to produce flex to low-end RB2 for fantasy. Williams has a great matchup against the Chiefs in Week 13 but should be capped by Melvin Gordon again.
Mac Jones
Jones had an excellent game against the Titans on Sunday. He completed 23 passes for 310 yards while also throwing 2 touchdowns. Jones also rushed 2 times for 11 yards. Mac Jones has surprisingly been the best rookie QB so far. Although Mac Jones has been excellent for the Patriots, that still hasn't translated into fantasy football points. This was only the second time Jones produced over 20 fantasy points. With the combination of the Patriots' run-heavy offense and the immobility of Jones, his upside is capped. Mac Jones shouldn't be started in 1 QB leagues but is a QB2 option in Superflex leagues.
… and the Bad:
Najee Harris
This was just an overall awful game for the Steelers as the Steelers fell behind quickly in the first half against the Bengals. At the end of the first half, the Bengals led the Steelers 31-3. This game script led to a complete abandonment of the run game going into the second half. Najee Harris rushed 8 times for 23 yards and caught 3 of 5 targets for only 14 yards. Harris was again inefficient with his opportunities, but this time he didn't have the workload to cover it. Though Harris had a down week, he should still be considered a strong RB1 for the rest of the season. The Steelers' offense has been a huge question mark all season, but dynasty managers should not be concerned about Harris. He will have a chance to bounce next week as they face off against the Ravens.
Devonta Smith
Similar to the Steelers, the Eagles had an equally awful game. The difference in this game, both the Giants and the Eagles, had trouble scoring the ball in this contest. The Giants did a nice job accounting for Smith in this game as Smith was the third most targeted receiver for the Eagles. Devonta Smith only caught 2 of 4 targets for only 22 yards. The Eagles have been wildly inconsistent this season. When they are great, they are dominant. When they are bad, they are horrible. Even though Smith had a positive game script, Jalen Hurts only mustered 129 passing yards. This is what dynasty managers should expect from Smith on any given week. The Eagles are inconsistent, but Smith is a low-end flex play that has the upside to produce high-end WR2 numbers. The Eagles have a great matchup against the NY Jets so expect Smith to bounce back in Week 13.
Kyle Pitts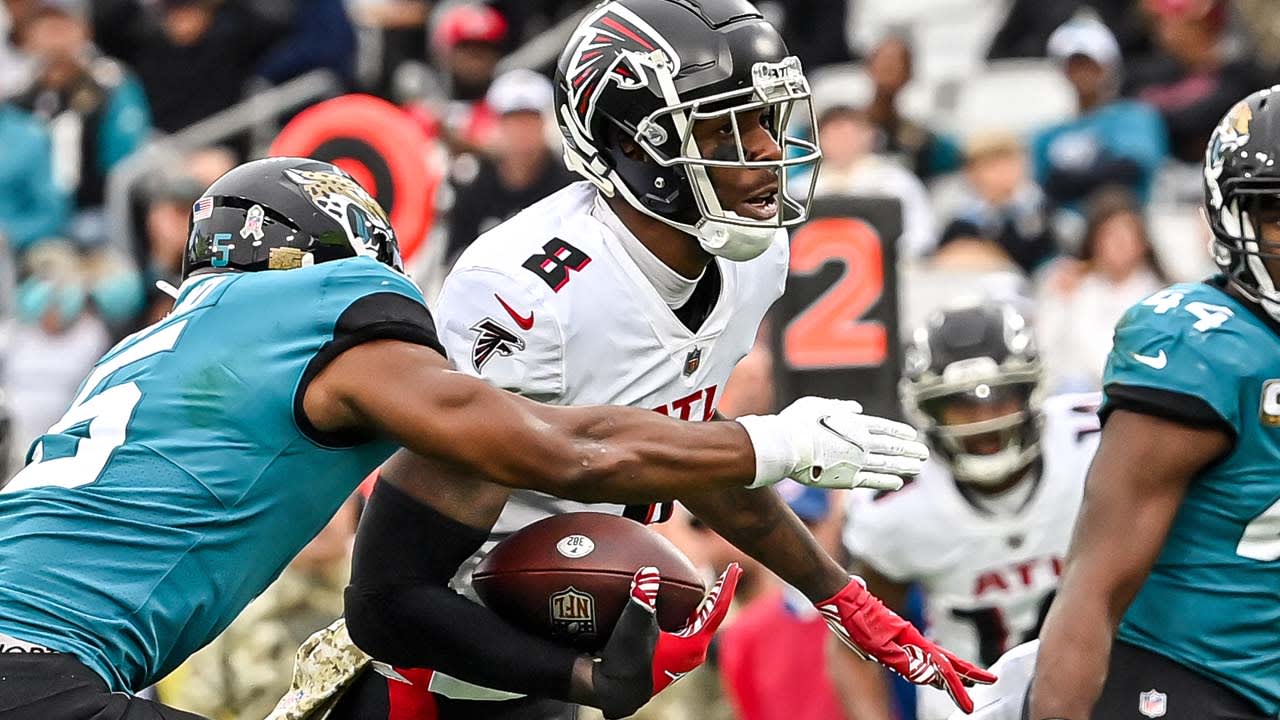 Kyle Pitts had a disappointing game on Sunday against the Jaguars. Pitts caught 2 of 6 targets for only 26 yards. The Falcons were effective in this game, but Pitts was the odd man out. Even though he was the second most targeted receiver for the Falcons, Matt Ryan couldn't connect with him. It is encouraging to see how much work Pitts has received in his rookie year, but it, unfortunately, hasn't translated into production. Aside from Pitts, the Falcons don't really have another receiver to take pressure off of him. Patterson has also been thriving in this offense, but he's used more as an RB than an actual receiver. The loss of Calvin Ridley has hurt his production, and it doesn't seem like Ridley will be back any time soon. Kyle Pitts should have enough targets to allow for TE1 upside, but dynasty managers should temper their expectations for him going forward. Pitts has a tough matchup against the Tamp Bay Buccaneers in Week 13.
Ja'Marr Chase
Chase caught all 3 of his targets for 39 yards. The Bengals were dominant in this matchup against the Steelers, but Chase didn't produce like he usually does. The Bengals didn't need Chase to have a huge game for them to blow out the Steelers. It seemed like any combination of Mixon and Higgins worked as the Bengals dismantled the Steelers' defense piece by piece. It looks like the Bengals have found their mojo again and are trending towards the right direction. Chase will look to bounce back against the Los Angeles Chargers in Week 13.
Sign up and become a #NerdHerd member and use the promo code WooLeeNERDS to receive 15% off of Nerds membership. Follow me on Twitter @WooLee_FFB for more fantasy football content!
The fantasy season is in full swing. How are you going to reward the league champ? I'll tell you – go to Trophy Smack and get that Championship hardware. Use promo code NERDS for a free ring when you order a trophy or belt.