2020 recap
A top end offense carried a leaky defense to the AFC South title and a playoff appearance. Efficiency was the key, as they were a top 5 scoring offense despite an average pace of play. The Titans were one of only three teams to have more rush than pass attempts. They ran the offense through Derrick Henry and used play action off that for a highly efficient passing attack. Their 42-16 victory over the Bills proved they had the ability to make a run through the playoffs. However, they sputtered against the Ravens in the wild card game and suffered an early exit. Offensive coordinator Arthur Smith left for the head coaching job in Atlanta, leaving some questions about what 2021 may look like. The roster is constructed to go after another playoff run with the successful formula Smith left behind.
Quarterback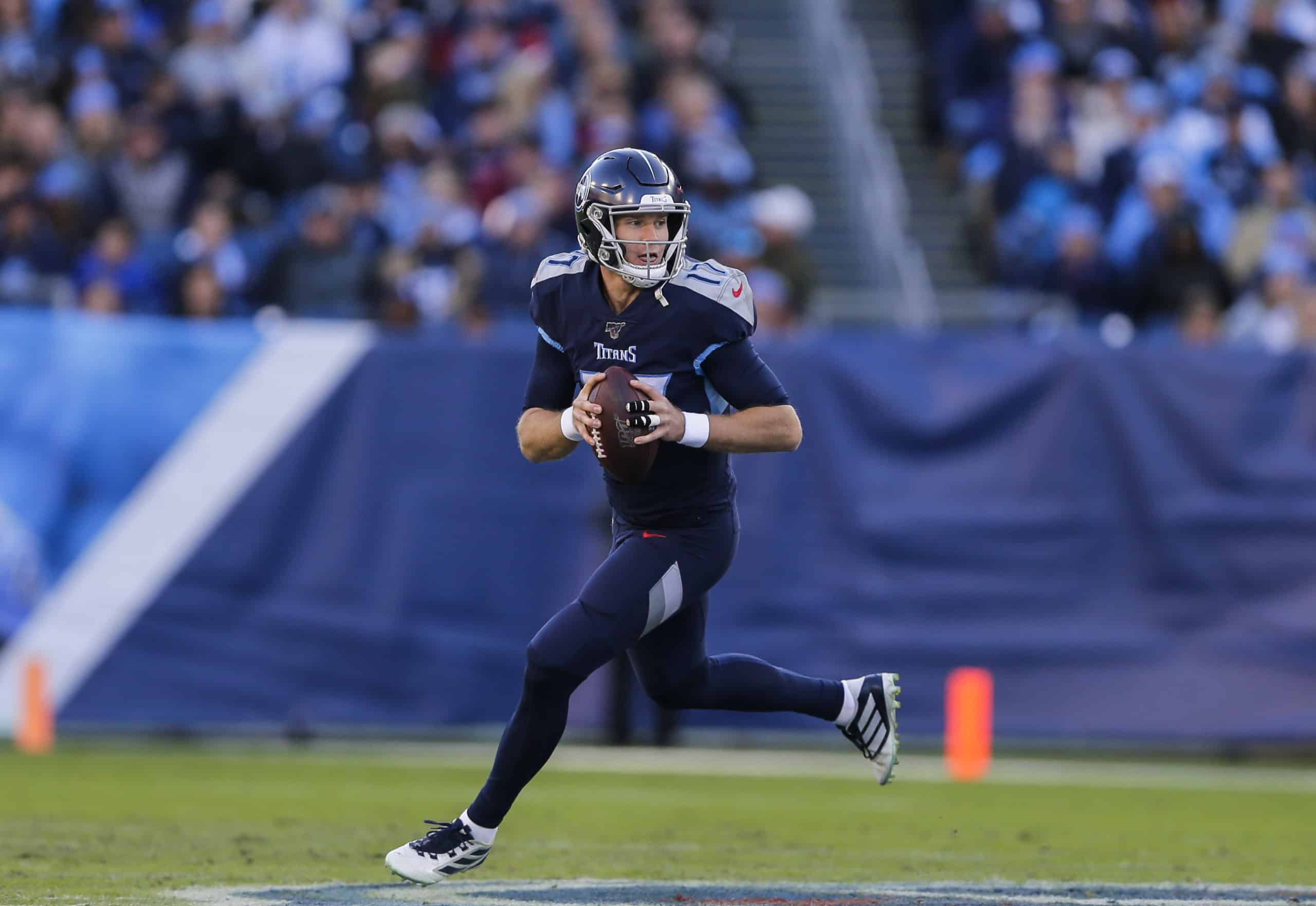 Ryan Tannehill
People are finally catching on to Tannehill's fantasy value as a reliable QB1. He gets there on the back of insane efficiency fueled off play action set up from Derrick Henry's imposing runs. Throwing to AJ Brown also doesn't hurt. It seems like Tannehill has always been an underrated option, but his resurgence with Tennessee started only a season and a half ago.
Tannehill put together a top-five passer rating last year after leading the league in 2019. With his efficiency and strong play on par with other elite names at QB, volume is the only factor keeping Tannehill a step behind his peers. Even with a porous defense, the Titans only attempted 481 passes, third fewest in the league. If Derrick Henry were to fall off after his monstrous workload, the Titans will need to rely on the passing game much more to pick up the slack. 
While other players get more credit as "konami code QBs," Tannehill's rushing ability is going under the radar. Tannehill has 11 rushing TDs in his 26 starts as a Titan. This rate sits behind only Josh Allen, Kyler Murray, and Lamar Jackson in that time span, out-pacing Dak Prescott and Deshaun Watson. Tannehill fits the prototype of the modern NFL quarterback. While a lack of passing volume usually leads to weekly variability, Tannehill's rushing stabilizes a solid floor. If the passing game opens up, a top three finish is in the realm of outcomes for Tannehill.
Running Back
Derrick Henry
There may not be a more entertaining sight than Derrick Henry steamrolling the Jacksonville Jaguars. Akin to his running style, it took Henry a while to build momentum as a premier rusher, with a quiet first 2.5 years in the league. But once he got going, there was no stopping this train. After torching the Jags in 2018 for 238 yards and 4 TDs in week 14, Henry has been unstoppable. He's been an RB1 in 21 of the 35 weeks played since that game (60%), and the #1 overall seven times. In other words, once every five weeks Henry was the top scoring RB, over a field of Zeke, CMC, Saquon, Kamara, and Cook. He only had seven bust games (outside RB2 finish) in that span. 
The question around Henry is when the wheels will fall off. That's often associated with a particular number of carries, such as "the curse of 370." But, just because a player hits a high threshold doesn't mean he can't repeat the following year. Jacob Rickrode (@clutchfantasy) has shown how career years at 27 or 28 aren't an anomaly. If anyone is built for this task, Henry is a prime candidate, with a massive frame and minimal usage in his first three years. He is the definition of an outlier, and should be able to carry your championship caliber squad to another title. He may even have a couple good seasons after that. Only sell him if you get value equivalent to his ADP as a top end RB1.
Sleepers
A workhorse like Henry leaves no room for other meaningful contributors. In the only game Henry missed, Dion Lewis was the primary ball carrier. If an injury sidelines Henry, Darrynton Evans, Jeremy McNichols, and Brian Hill are the names to know. Both Evans and McNichols are smaller backs weighing near 205; Hill is a solid 220. As a third round pick last year, Evans would seemingly have the inside track to more work, though as a rookie he was out-touched by McNichols 3 to 1. McNichols also took one the work in the passing game with 12 receptions to Darrynton's two. Hill has been a steady veteran presence and would likely factor in if Henry were to miss any time, though he holds no dynasty value.
Wide Receiver
AJ Brown
As a 24 year old budding superstar, some analysts fairly consider AJ Brown the top dynasty WR. He's been a big play threat from the moment he stepped on the field, with a 100 yards in his first game. He used efficiency to reach WR1 numbers as a rookie. With only 84 targets on the season, he eclipsed 1000 yards by producing at an insane 12.5 yards per target, adding in 8 TDs. His volume grew significantly in year two, as he eclipsed 100 targets in 14 games played. Many projected another massive step forward when Corey Davis and Jonnu Smith departed. With few other options to target, Brown was primed to join the elite superstars as players with a dominant target share. Paired with his efficiency and ability to score TDs, an overall WR1 finish was a possible outcome. 
AJ Brown is certainly on that trajectory, but the Titan's trade for Julio Jones most likely delays that result. The overall pie is too small, and adding another focal point will handicap the upside of both options. Brown has ascended enough to avoid getting overshadowed by anyone. His penchant for scoring and his ability to return value to your lineup with just a single play makes him the preferred option even for 2021. You don't have to abandon dreams of AJ Brown as the top overall WR, just temper the expectations for this year with the reassurance that his arrival there is inevitable.
Julio Jones
Julio has been an elite WR for over a decade. Going into last year, he was on a stretch of 6 straight years as a high end WR1. A Week 2 hamstring injury lingered all year and ended the streak in 2020, as Julio missed seven games (and was severely limited in two more). As with most WRs over the age of 30, fantasy players were quick to bail at the first sign of struggle. They had to watch as Ridley took over as the primary option in Atlanta, and now fear it is the beginning of the end.
Julio is still an elite talent, but as previously mentioned, the pie in Tennessee is too small to support two WR1s. If AJ Brown is the preferred option, Julio won't get back to his benchmark of high end WR1. During his run at the top Julio averaged 162 targets but averaged only 6 TDs. Barring injury or a major identity change on offense, Julio won't come near that volume. The long track record of low TD output makes it unlikely we see those boost his performance into the WR1 range again. 
Decline reaches every player eventually. At 32, we can at best hope that Julio's drop is slow and graceful a la Larry Fitzgerald. Consider Julio a player that can give you a couple more seasons of solid WR2 production based on elite talent alone. If you don't see a shot at the playoffs by 2022, it is best to get out before his value slips even further.
Sleepers
Josh Reynolds projected as the starting WR opposite AJ Brown before Julio came to town. The tertiary target in a bottom-five passing team doesn't carry much value for your lineup. He is still a name I'm interested in stashing, as one injury could make him extremely relevant. He was buried on the depth chart in LA, but played well in limited opportunities. I'm willing to stash him on the end of my bench because I believe in his talent.
Dez Fitzpatrick was selected in the fourth round by the Titans at pick 109. He started out strong as a true freshman at Louisville alongside Lamar Jackson, but struggled to build on that after Lamar moved to the NFL. He's a strong slot technician with sure hands and can start his career as a complimentary weapon. 
Tight End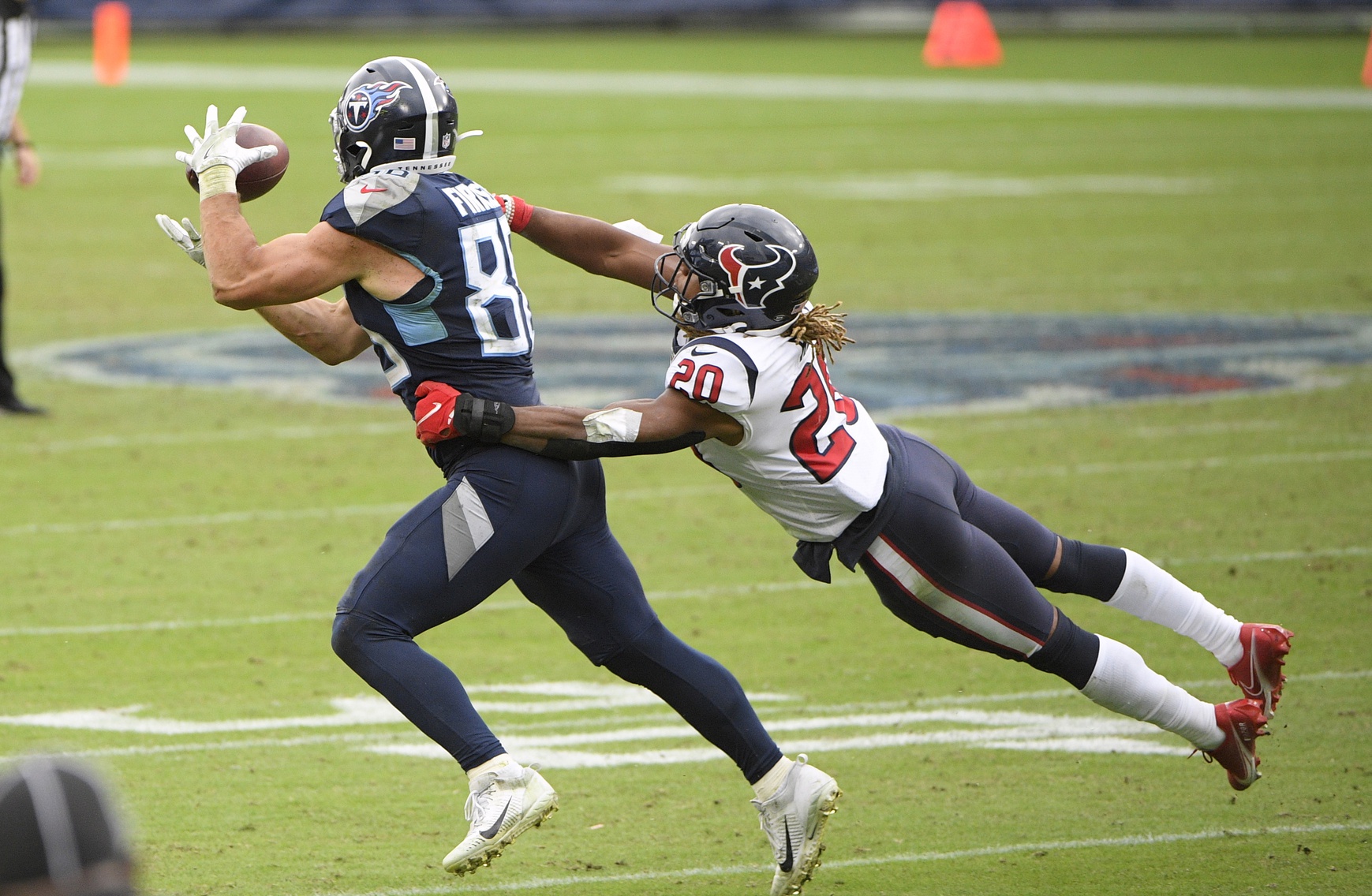 Anthony Firkser
Titan's TEs saw 138 targets last year. Jonnu Smith got first dibs but has left town, opening an opportunity for Firkser to step up. The Titans will still need a reliable target over the middle and underneath, and with Derrick Henry at RB, they may need to lean on Firkser for this. One of the other TEs on the roster will be a factor within 2TE sets, but none have the talent to demand targets at the same level as Jonnu did. Firsker is on the streaming option radar who could give a minor breakout similar to Austin Hooper in ATL. Rather than overpay for a low end TE1, you can pick up similar production with Firkser for less.
Conclusion
The Titans are an offense that centers around a few star names, fueling strong fantasy production. Derrick Henry is one of the few workhorse RBs in the league. While a repeat 2000 yard season would be difficult to repeat, there is little standing in the way of him seeing the same heavy usage. Ryan Tannehill is a modern NFL QB with a solid rushing floor drafted behind the other Konami Code QBs. He is still underrated in NFL circles for his level of play. Tannehill captains an efficient offense using play action off Derrick Henry, giving his WRs opportunities to make huge plays. This will funnel to AJ Brown and Julio Jones, both likely to steal a majority of the targets. Still, unless the passing volume takes a massive step forward, neither are likely to reach a 150 targets, making both borderline WR1/2s.
Get the Dynasty Nerds app in the Apple store and the Google Play store. Mock drafts for Superflex, 1QB, Standard, even SFB11. If you are a DynastyGM subscriber, it even syncs with your actual teams so that you can do rookie mock drafts with ALL of your actual picks. Also on desktop.