Introduction
One topic that seems to have been unanimously decided is that the Washington Football Team's offense will be considerably more improved compared to the 2020 season. Is that true? Maybe. The WFT have added polarizing quarterback Ryan Fitzpatrick in free agency. Then they tempted Curtis Samuel to sign from the Carolina Panthers. Finally, they added Dyami Brown in the draft, an intriguing wide receiver prospect from North Carolina.
If there is one thing for sure, there is a lot more talent on the offensive side of the football this year, compared to that of the previous year. We know the defense is one of the top units in the league. That would undoubtedly help any offense, let alone one with potential star playmakers. Can Antonio Gibson turn into the running back Washington can rely on to make those tough yards to drain the clock? If so, it is hard to see him coming off the field. Terry McLaurin, a third-year wide receiver out of Ohio State, has stretch the field ability every play.
But we are not here to discuss Washington's defense. We are not even here to discuss how well their offense is at game management. All we want to know is how their offense (whether that be the style of play, the playmakers they have) translates into fantasy football production.
With each position group, we will look at the group as a whole and what we can expect in 2021. And then an individual within each group that I want to highlight as someone to look out for in 2021.
Quarterback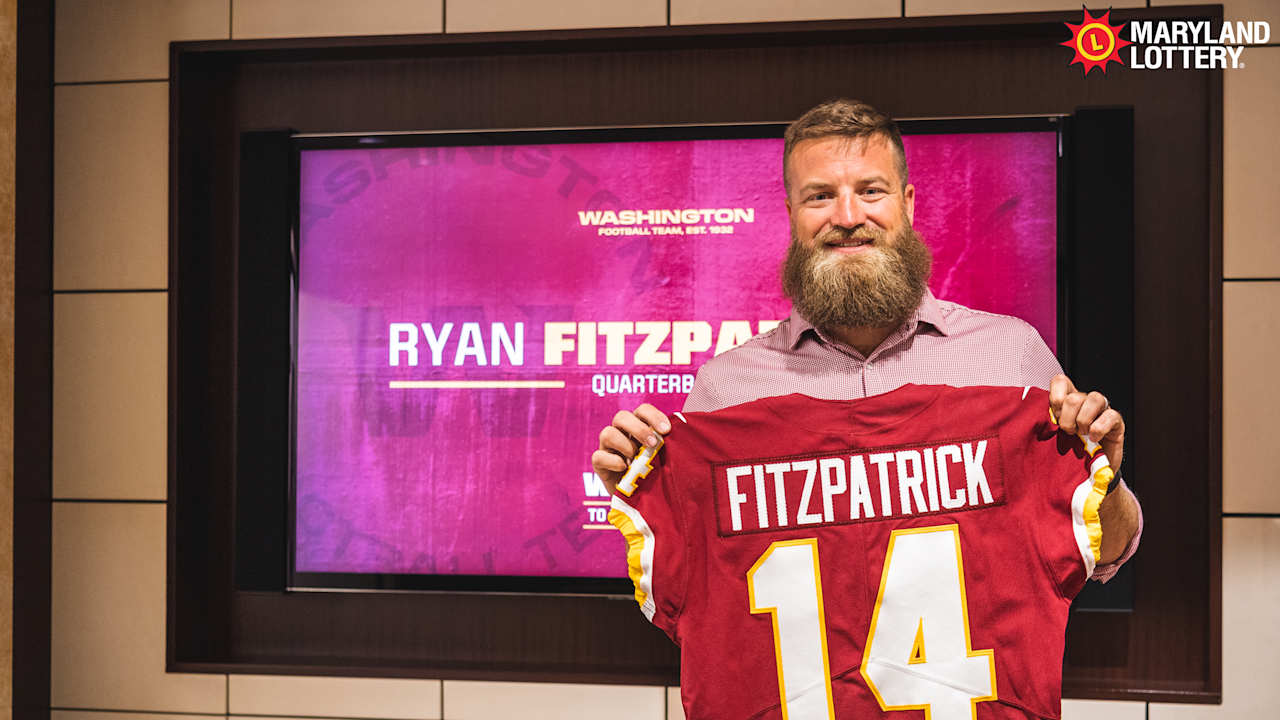 The starting quarterback for the Washington Football Team in 2021 is none other than Fitzmagic himself, Ryan Fitzpatrick. Washington will be hoping the 13-year veteran can bring the sought-after Fitzmania to the east coast.
It is hard to argue that Fitzpatrick is somewhat of an enigma. To start the season in 2020, he threw zero touchdowns and three interceptions in game one. Followed by back-to-back two touchdown and zero interception games, where he ranked as a QB1 in points for both weeks. Then in game four? Two interceptions and zero touchdowns.
When Fitzpatrick is good, he is really good. But when the game is going against him, and he has to take more risks, he struggles. What baffles me about Ryan Fitzpatrick is there is no prediction to his game. He struggles against a Seattle and Denver defense (a combined three interceptions and no touchdowns) – but goes off against Buffalo and San Francisco.
In 2020, Fitzpatrick averaged 17.7 points per game which were good enough for 17th. It could have been slightly higher if he hadn't have been benched in two of the nine games he played. He saw a high week of 27.6 points, and also a low of 7.44 (not included weeks he was benched).
What's the bad news? The bad news is of the four quarterbacks that started for Washington in 2021 – not one of them averaged more than 11.7 points per game. In fact, two of them averaged less than 10. Admittedly, none of those four have ever had a clear success throwing the football Fitzpatrick has had during his career. However, consistently low numbers across all four quarterbacks point towards a system issue, rather than an individual quarterback. In fact, the highest scoring output by a Washington quarterback was Dwayne Haskins in week four with 18.86 points. Under Ron Rivera, no quarterback surpassed 19 points in 2020. Yes, we can blame the quarterbacks, but does that not worry you for a quarterback who in 2020 himself averaged only 17.7 points per game?
In 2019, when Rivera was in Carolina his quarterbacks (Cam Newton and Kyle Allen) averaged 7.8 points and 13.9 points respectively. Although Fitzpatrick has had himself several seasons (2019 most recently) where he possessed a very good point per game average.
Verdict: Proceed with caution. I doubt in many dynasty leagues start-up drafts Ryan Fitzpatrick is going super early. This is most likely down to his age, and his contract. However, I would like to have Fitzpatrick as my number two quarterback when valuing the quarterback position.
I do not trust him to put up consistently good numbers, but there is intrigue in seeing the numbers he can put upon his 'boom' weeks. (Ideal best ball candidate maybe?). Ron Rivera and his style of play over the past two years make me wonder what Fitzpatrick's upside is in 2021. Personally, if he is my QB2 (assuming it is Superflex), I am happy. If he is my QB1, I am slightly worried about those down weeks.
I do not think he gets benched as he did in 2020 as Washington has not invested in a young quarterback that they could feel needs to get reps (other than the obvious recently cut quarterback out of Ohio State). So draft him (unless it's 1QB leagues then just stream QB's). But don't get in the position of needing him to perform to win.
Running Back
The running back depth chart in Washington looks something like this; Antonio Gibson, J.D McKissic, Peyton Barber, Jaret Patterson.
We know Ron Rivera loves to throw the ball to running backs. I mean, McKissic saw 110 targets last year and finished as RB17 in PPR leagues. Impressive, undoubtedly, for a running back who saw more targets than rush attempts.
Some may suggest that McKissic's targets, or the majority at least, will go to Antonio Gibson. The second-year running back out of Memphis. That absolutely could happen, but with McKissic still in Washington, I doubt it.
Antonio Gibson finished 2020 as the RB13 on the year in PPR leagues. Somewhat impressive for a running back that more often than not saw less than 50% of the snaps. The pause for thought with Gibson is the fact that his playing time did not really increase as the year went on, and his target average went down. It is hard to be an elite fantasy option in PPR leagues when you average 3.14 targets per game.
However, as the Washington defense continues to impress, Gibson should be deployed on the field more often when trying to run down the clock. The only competition Gibson faces here is undrafted rookie running back Jaret Patterson. Patterson himself had an impressive college career but saw himself undrafted due to (most likely) his size and lack of receiving ability shown in college. As a big Patterson truther, I would love to see a 1-2 punch with Gibson in 2021. But realistically that is unlikely considering the draft capital spent on both backs (or lack of in Patterson's case).
We saw what Rivera can do when deploying a Christian McCaffrey-type weapon on his offense. Pass catching backs is something Rivera tries to implement regularly so there is always value to be had in his system.
Gibson is a high-end RB2 with elite RB1 upside weeks. I think McKissic being brought back limits his upside somewhat. But if either Gibson can take 50% of JD's passing work or JD is moved on to a different team, look for Gibson to be an elite high-end RB1 for years to come.
Verdict: As your second running back drafted, you can feel comfortable with Gibson. McKissic gives you valuable PPR upside but doesn't rely on him to be an every-week contributor. I am stashing Patterson everywhere I can in deep dynasty leagues, as I can see a future in this Washington team for him.
RB10-15 is Gibson's floor for me. RB13 as a rookie with another running back taking most of the receiving work is impressive. I see a genuine talent that is learning his craft, and as he says himself 'last year was a learning process, and this year, I should be on my toes.'
In drafts, take Gibson anywhere between round two and wherever your league mates let him fall too. Of the sophomore running backs, I think both a) Gibson performs the best, and b) has the most opportunity to improve his fantasy output based on the system he is in, how he faired last year, and the potential opportunity available to him.
Wide Receivers
Headlined by third-year receiver McLaurin – the wide receiver room in Washington looks a whole lot improved with the addition of Samuel. Samuel was a breakout candidate for me in 2020, and I think it was hindered slightly with Teddy Bridgewater as the quarterback of the Carolina Panthers. Still, Samuel proved himself worthy of fantasy recognition finishing as WR25 in PPR formats.
Samuel has improved year on year as he enters his fifth season in the NFL. With a clear path to being second on the team in targets, a real breakout year could be on the cards for him. Although the defense being as good as it is, it can be considered the offense may not need to throw the ball as much as Carolina did last year, there were still games where the Washington quarterback threw the ball over 50 times.
The clear easy choice of receivers in Washington is, as previously mentioned, McLaurin. He finished as WR20 in PPR formats. With an upgrade at quarterback, I would not be surprised to see him cracking the top-15.
As mentioned in the quarterback section, the cause for concern with the receivers is the number of fantasy points the QBs produced under Rivera in 2019 and 2020. If Rivera's system does not allow for it, how will we get top-24 production out of two receivers on the same team?
Other names to keep an eye on are Kelvin Harmon, Dyami Brown, and Adam Humphries. Harmon, although limited by injuries, has looked good when he was on the field. He had a promising end to his rookie campaign after joining the league as a sixth-round pick out of NC State. Brown is a deep threat waiting to happen that could link up well with Fitzpatrick when Fitzpatrick is having his day. Humphries is a no-nonsense slot receiver that I think is hoping for a Cole Beasley-type breakout.
Verdict: I believe both Samuel and McLaurin see similar seasons to the one they saw in 2020. For me, the volume is not there to be elite, relied upon WR1's every week. But I think there will be times where they show off the talent they both have.
Brown is a name to watch in deep leagues and best-ball formats (assuming he beats out Harmon to targets). However much it seems every year I am willing Humphries to do well. I think it is fair to say he can be ignored barring injury. Draft McLaurin in the second tier of wide receivers and you can be relatively content with yourself. Samuel is a bit riskier, but I like the way he fits and I think Rivera tries to get him involved. There is not a lot of vacated targets in Washington, however, there also is not a lot of hard-to-beat talent either. Look for Samuel and McLaurin to both put up valuable numbers in 2021. Don't be shy when picking up and stashing both Harmon and Brown on your deep benches.
Tight Ends
Perhaps the easiest position to discuss, so I will keep this short. Logan Thomas is good.
Thomas burst onto the scene in 2020 having converted from quarterback (who got drafted) to tight end. He proved himself to be a reliable option for the carousel of Washington quarterbacks. He ranked as TE3 in PPR formats, seeing 110 targets on the year.
John Bates is a fourth-round draft pick, who like a lot of rookie tight ends, doesn't plan to be featured for a couple of years at least. I would not worry about the competition at the position going into 2021.
Thomas is, however, a tight end not named Travis Kelce, George Kittle, or Darren Waller. With Samuel in the fray and Gibson projected to see more targets, a slight regression could be in store for Thomas. If you do miss out on one of the big three tight ends, Thomas could be a nice consolation prize. He consistently performs for you at a pretty scarce position for regular fantasy producers.
Verdict: I have Thomas in numerous leagues and I am pretty happy with that. I think he has proven to be both reliable and productive. I look forward to seeing what he does in 2020. If I miss out on Kelce/Kittle/Waller, taking Thomas as my TE1 will feel like a fine amendment.
Get the Dynasty Nerds app in the Apple store and the Google Play store. Mock drafts for Superflex, 1QB, and Standard. If you are a DynastyGM subscriber, it even syncs with your actual teams so that you can do rookie mock drafts with ALL of your actual picks. Also on desktop.