2019 Recap
Finishing with the NFC East crown last season was far from a smooth ride. Wentz virtually carried the team to close last season as receiving weapons dwindled like the twilight of a setting sun. Wentz set an NFL record by throwing for 4000+ yards without a single wide receiver achieving receiving 500 yards. This is quite a feat that amounted to him achieving a hard-earned QB10 finish.
So how did Wentz even get there without the expected correlation of receiver play? Of course, Zach Ertz was a major contributor to the Eagles' success and fantasy rosters. He accounted for 88 receptions on 135 targets for 916 yards and 6 scores (TE4 – PPR). The next leading receiver on the team was Dallas Goedert, who finished as TE10 in PPR. This was solid value considering the low capital most spent on him.
Philadelphia did try to fix their biggest challenge in 2019: speed. In addition, to drafting three burners in Jalen Reagor, John Hightower, and Quez Watkins (drafted in rounds 1, 5, and 6 respectively), they brought in Marquise Goodwin via free agency. With these moves, 2020 should be more explosive by default.
The running game was just outside of the top ten in production at 11th. Jordan Howard (now with Miami) and Miles Sanders split the duties for much of the year while Howard was healthy. After losing Howard to injury Sanders' production increased, helping him finish as RB15 in PPR. It's not as though he had the entire backfield to himself. Boston Scott burst onto the scene as a value in the last four games of 2019. He amassed 350 total yards, including 23 receptions and 4 scores (over 20 points per game).
There was plenty of fantasy success to go around for Philadelphia, just in the most non-traditional fashion. We should expect a regression to normal positional point distribution in 2020. The coaching staff jettisoned Mike Groh as offensive coordinator. It brought in a slew of offensive minds to include Rich Scangarello (Senior Offensive Assistant), Marty Mornhinweg (Senior Offensive Consultant), Aaron Moorehead (Wide Receiver's coach), and Andrew Breiner (Pass Game Analyst). No one really knows how this structure will truly affect the offense, but the constants of Doug Pederson and Duce Staley indicate the same offense with many new wrinkles in 2020.
Rough Start to the Season
The Eagles are already starting out on the wrong foot. It seems they cannot get a break on the injury front. As you probably know, the best guard in the game is out for 2020, due to tearing an Achilles preparing for the season. It was not the same Achilles as last time, as explained by Brandon Brooks on Twitter.
He explains how it happened, but understanding the 'how' doesn't help the Eagles offensive line in 2020. How much impact will his loss be? Well, what better way to replace Pro-Bowl production than with that of a future Hall-of-Famer?
Before this 11th-hour move, Peters was reportedly unwilling to move to right guard. Keep in mind that he is a career left tackle, so there could be some growing pains moving to guard. The truth of it is, this type of move is a common one to extend careers. Peters next to Lane Johnson should give Wentz a lot of comfort and Sanders a lot of room to work.
More Off Season Concerns
The pandemic and social justice issues have caused many of us to dig deep to become educated on said issues. This can be a good thing, but it leads some to act or speak from a position of partial enlightenment. This is being kind with respect to DeSean Jackson's recent social media misstep.
The team has spoken with Jackson urging him to use his platform to promote unity, and they have levied discipline. Jackson has taken steps to correct course by meeting with a 94-year old Holocaust survivor. Julian Edelman has also spoken with Jackson, and the two have agreed to share experiences. This could have been a real disaster, but it appears that the way forward is positive.
Fantasy Outlook
Quarterback
Carson Wentz
Carson Wentz proved a lot to doubters based on how he carried the team to close the regular season. Unfortunately, his early playoff exit due to a cheap shot has caused people to bring up the ugly term "injury-prone." The term simply needs a more strict and robust definition.
If his numbers aren't encouraging enough, look at his receivers in those last four weeks. J.J. Arcega-Whiteside, Greg Ward, Robert Davis, and Deontay Burnett. Yes, "Who?!?!?" is the correct response when looking at those last two.
In the last five games of 2019, he had a 16-game pace of 4829 passing yards, 32 TDs, and 3 interceptions. 5000+ passing yards and 35 scores is totally within reach for Wentz this season. With Carson being another season removed from the ACL and rotational fracture in his spine, he has top-6 QB upside.
Running Backs
Miles Sanders
The question is, "Can Miles Sanders be the feature back that fantasy owners want?" If @PhlSportsNation's view proves true, then the answer should be an overwhelming 'Yes'.
This may be a bit of hyperbole, but Sanders has the talent to improve on his 2019 pace in 2020. Sanders says, "When I look at him, I look at a back that's very hard to stop. I want to be that back," referring to Christian McCaffrey. That's nice, but what is the realism of attaining that goal? CMC is a fantasy unicorn yielding RB1 plus WR2 production in one roster spot. If Sanders can even be ¾ of that, he will be a stud.
A Peek at History
The question is, "Will the Eagles let Sanders do that?" Looking back year to year with the following data points gives some insight.
| Year | Coach | RB1 | RB2 | RB3 | Total RB Targets |
| --- | --- | --- | --- | --- | --- |
| 2019 | Pederson | 179 - Sanders | 119 - Howard | 61 - Scott | 113 |
| 2018 | Pederson | 120 - Adams | 87 - Smallwood | 68 - Clement | 102 |
| 2017 | Pederson | 173 - Blount | 74 - Clement | 70 - Ajayi | 82 |
| 2016 | Pederson | 155 - Mathews | 94 - Sproles | 77 - Smallwood | 98 |
| 2015 | Kelly | 193 - Murray | 106 - Mathews | 83 - Sproles | 178 |
| 2014 | Kelly | 312 - McCoy | 56 - Sproles | 46 - Polk | 102 |
| 2013 | Kelly | 314 - McCoy | 75 - Bryce Brown | N/A | 77 |
The table shows stats with and without Doug Pederson (but all with Duce Staley involved as RB coach). It appears the Eagles haven't had a true feature back since McCoy. What does this tell us? It indicates Doug prefers a split backfield, but he is not completely opposed to a bell cow. Jamaal Charles was the last running back with more than 200 attempts under Pederson. If Pederson likes Sanders' skill set enough, this is the ceiling of touches.
Assuming Sanders gets a Jamaal Charles style workload, it's a far cry from 253 carries and 133 targets (McCaffrey's two-season average). Many factors contributed to CMC's volume, but this is the ceiling many will imagine given Sanders' comments. Sanders is not quite the runner nor receiver that CMC is, but he has enough talent to chase that goal. We should look for a similar production to last season with a 20-30% increase. A McCaffrey like production should not be expected.
Boston Scott
Boston Scott got some opportunity last season, and he had an impact with usage similar to Darren Sproles. He touched the ball on 46% of his snaps and turned that into 499 yards from scrimmage and 5 scores. In the last four games of the season, Scott averaged 16 touches (5.8 receptions) and 87 yards per game. That's solid fantasy output for a running back that you can buy fairly cheaply.
Any investment in Scott is relatively low risk, with potential for an amazing payoff. If Pederson/Staley split the RB touches, you win. If Sanders gets nicked up, you win. If the Eagles are +3 or more and you started Scott due to the game flow, you probably win. Even if Sanders becomes the workhorse, Scott still has a role.
Wide Receivers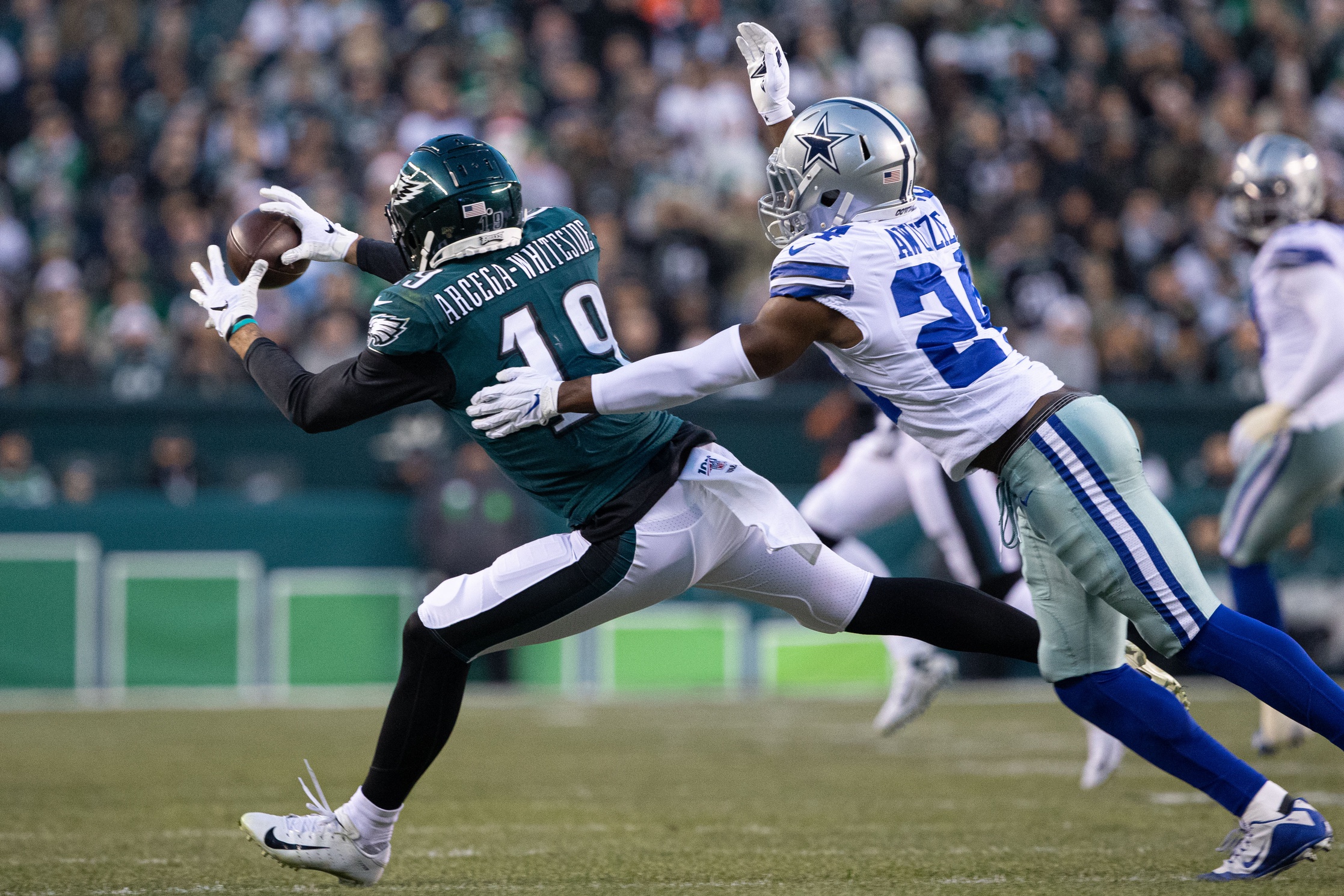 DeSean Jackson
This season Dynasty owners, and even Wentz himself, should be drooling over the influx of weapons. It appears Jackson's ill-advised Instagram post hasn't cost him his roster spot at this point. This is great because he is a significant part of Wentz's upside. We saw the explosive value of his presence in week 1. Wentz's production in that game (28/39 for 313 yards and 3 TD) could represent his floor against defenses outside of the top-10.
What is the real upside for Jackson? Wentz is one of the best passers he will have worked with to this point. Assuming at least 12 games played, we should expect around 60+ receptions, ~1000 yards, and maybe 7 TDs. 202 PPR points will help any competing roster. Buy him cheap as the sun sets on his career and profit.
Jalen Reagor
Add Jalen Reagor, whose expected impact was covered in this earlier article, and that view hasn't changed. While early indications are that he is to be Jackson's understudy, they could still share the grass. Speed kills. Jackson's usage in the slot with Reagor on the outside is a salivating proposition for all.
For 2020, Reagor has explosive potential, but COVID-19 will impact chemistry with Wentz and learning the offense. 50-60 targets with 35 receptions and 3 scores is not an impossible task. At a 13 yards per target, would help him get to around 88 points. Nothing exciting, but it is simply the beginning of an explosive career. Of course, his upside grows if Jackson misses significant time.
J.J. Arcega-Whiteside and Alshon Jeffery
Is Arcega-Whiteside ready? Is Alshon Jeffery washed? These are the questions that the Eagles staff needs to answer before we can know the way forward. Although Pederson "doubled down" on Alshon's status and position with the team, he was "sure" his 2019 staff would return. Long gone are Alshon's 1000+ yard seasons, and 2018 seems to be an anomaly when looking at catch rate.
Receiving & Rushing Table
Games
Receiving
Rushing
Total Yds
Year
Age
Tm
Pos
No.
G
GS
Tgt
Rec
Yds
Y/R
TD
1D
Lng
R/G
Y/G
Ctch%
Y/Tgt
Rush
Yds
TD
1D
Lng
Y/A
Y/G
A/G
Touch
Y/Tch
YScm
RRTD
Fmb
AV
2012
22
CHI
WR
17
10
6
48
24
367
15.3
3
17
55
2.4
36.7
50.0%
7.6
24
15.3
367
3
0
3
2013*
23
CHI
WR
17
16
14
148
89
1421
16.0
7
62
80
5.6
88.8
60.1%
9.6
16
105
0
7
38
6.6
6.6
1.0
105
14.5
1526
7
3
14
2014
24
CHI
WR
17
16
16
145
85
1133
13.3
10
60
74
5.3
70.8
58.6%
7.8
6
33
0
2
12
5.5
2.1
0.4
91
12.8
1166
10
1
9
2015
25
CHI
WR
17
9
8
94
54
807
14.9
4
43
50
6.0
89.7
57.4%
8.6
54
14.9
807
4
1
7
2016
26
CHI
WR
17
12
12
94
52
821
15.8
2
42
54
4.3
68.4
55.3%
8.7
52
15.8
821
2
0
5
2017
27
PHI
WR
17
16
16
120
57
789
13.8
9
44
53
3.6
49.3
47.5%
6.6
57
13.8
789
9
0
8
2018
28
PHI
WR
17
13
13
92
65
843
13.0
6
56
52
5.0
64.8
70.7%
9.2
65
13.0
843
6
1
6
2019
29
PHI
WR
17
10
10
73
43
490
11.4
4
36
38
4.3
49.0
58.9%
6.7
1
2
1
1
2
2.0
0.2
0.1
44
11.2
492
5
0
4
Career
102
95
814
469
6671
14.2
45
360
80
4.6
65.4
57.6%
8.2
23
140
1
10
38
6.1
1.4
0.2
492
13.8
6811
46
6
56
5 yrs
CHI
63
56
529
304
4549
15.0
26
224
80
4.8
72.2
57.5%
8.6
22
138
0
9
38
6.3
2.2
0.3
326
14.4
4687
26
5
38
3 yrs
PHI
39
39
285
165
2122
12.9
19
136
53
4.2
54.4
57.9%
7.4
1
2
1
1
2
2.0
0.1
0.0
166
12.8
2124
20
1
18
As we know, injuries are harder to recover from with age. Jeffery's injury-riddled tenure should give pause. He is currently recovering from aLisfranc injury and these types of injuries have a history of challenging recoveries. If J.J. Arcega-Whiteside, can step up in early opportunity, Alshon's tenure could be over.
Speaking of J.J., a disappointing rookie season should not define his career. Strategic errors were made in J.J.'s development. First, they forced versatility instead of translating his established skillset. Second, they made a confidence-destroying move after dropping the game-winning touchdown in Detroit. He didn't see the field for eight more weeks.
J.J.'s style of play is valuable, especially in leagues awarding bonus points for first downs. As a big body with a basketball background, he could be great as a possession receiver. As a receiver to be featured on the line of scrimmage, he does one of the most important things well; he gets off press coverage and consistently defeats the jam. This ability will allow him to win in the short and intermediate areas of the field.
Bottom line: this may be the rock bottom price point for J.J. The upside is real, but his play style and usage have significant overlap with Zach Ertz and Dallas Goedert. This could cap his target share, which should keep the buy-low window open for a little bit.
Tight Ends
Zach Ertz and Dallas Goedert
The Eagles ran 12-personnel a league high 46.1% per Michael Fabiano. Should this continue, it would be good for both tight ends. Last season this duo combined for 222 targets on 845 routes run and 360 total fantasy points. Questioning if the target share a matter of necessity is natural. With so many injuries at receiver in 2019, regression of these stats has to be a concern.
Pederson won't completely move away from 12 personnel because of a healthy group of receivers. There is an argument to be had that Ertz and Goedert will be more explosive. Putting Jackson and Reagor on the field at the same time will stress any defense deep. Opening up the middle allows Ertz and Goedert to go to work.
Keep in mind the "Boom" value presented by their red-zone work. Ertz and Goedert combined for 16 receptions on 27 targets and 9 scores inside the 20. In 2019, the Eagles had 150 attempts in the red zone (8th), and it could get better. Last season, the Eagles had to routinely grind out long drives after losing Jackson in week two. More explosive plays should lead to more red-zone trips and thus more opportunities for our tight ends.
Both of these players are worth an acquisition. Ertz, while aging, hasn't shown signs of slowing down. Chasing the 'ship makes him worth the acquisition. Goedert, on the other hand, is more of a long term buy with near-term upside. The simple fact that he sees the field so much while Ertz is healthy is encouraging for his value.
IDP
Defensive Line
Fletcher Cox (ranked 8th per PFF) has always been a disruptive force, which usually creates points for other defensive linemen. Malik Jackson has returned from injury, and Javon Hargrave (9th per PFF, also a "buy") joined the team from Pittsburgh. Cox could be getting fed by an increase in tackle for loss and sack opportunities. If two defensive tackles are required, Cox is a worthwhile acquisition.
This pressure up the middle should help the edge defenders as well. While Brandon Graham is a known commodity, Derek Barnett has yet to live up to his 1st round pedigree. Currently, he appears to be the starting right defensive end with no real competition behind him. He may still be worth a late selection since the rest of the line will feed him opportunities.
Linebacker
The Eagles have had two years of lackluster linebacker play. We cannot overlook the opportunity to accrue tackle points. T. J. Edwards, a 2019 UDFA, has an abysmal athletic profile, but this doesn't account for instincts and intelligence.
As a rookie, he led the special teams unit in tackles last season, a great way to prove your worth. In 112 snaps played, PFF graded him as the 6th best linebacker (2nd in run defense, 5th tackling – minimum 100 snaps). If the roster at Ourlads projects correctly, then it means that Edwards has proven his worth in his limited opportunity. Edwards could be a real inexpensive sleeper, so look out for him.
Secondary
Major changes have occurred in the Eagles' secondary. First, Malcolm Jenkins left in free agency to join the Saints, a significant blow to the entire defense. Second, Darius Slay joined the Eagles to fill a long-standing gap in quality cornerback play. Jalen Mills moved from cornerback to strong safety, presumably filling the massive shoes of Jenkins. Mills' move leaves a vacancy opposite Slay, and Avonte Maddox currently fills it.
From a tackles perspective, Mills could be under the radar from a fantasy points consistency standpoint. He may have been burned in coverage by double moves, but his tackling is sound. Playing that Jenkins role should afford him plenty of opportunities to rack up points by tackle. Mills plays aggressively, which may give him interception upside.
Another source of interception and tackle volume upside can come opposite an elite cornerback. Slay may be just shy of elite, but he should produce a repelling effect. This gives Maddox some upside, but sleeping on Sidney Jones could result in a missed opportunity. Jones's draft pedigree was not achieved, but he made critical plays to close out last season. Jones is someone to keep an eye on moving forward.
Conclusion
A quick disclaimer if you have read to this point. As an Eagles fan, optimism and excitement are unavoidable when approaching the start of a new season. Plenty of evidence supports the upside highlighted here, but there are just as many reasons it could all fall apart.
Lack of OTAs and traditional off-season activities are sure to impact success, but this is true for all teams. Also, injuries are the most unpredictable, yet inevitable, events that happen in the sport. With a non-standard off-season, injury risk becomes higher. A 2020 season currently hangs in the balance, but fingers crossed and prayers up for a 2020 NFL season.
Wentz has the weapons and the health to return to his 2017 MVP form. Sanders has the skillset and may receive enough opportunity to crack RB1 production. Boston Scott has flex appeal, and Ertz and Goedert will continue to produce as a dominant tight end duo. DeSean Jackson will lead Jalen Reagor by example, and one or both of them will be productive. J.J. Arcega Whiteside will take a step this season, especially if he takes advantage of the early opportunity.
Defensively, premiere options are scarce, but there are plenty of upside pieces. Fletcher Cox should dominate as one of the few feature pieces. Derek Barnett has opportunity upside thanks to the quality of the rest of the line. T. J. Edwards is a sleeper at linebacker and may unlock value on your roster. The secondary is a true question mark, and upside only exists for the number two cornerback and Jalen Mills.
Got questions? You can find me @FFB_Vern on Twitter where I share my quick thoughts and other content.