Welcome to the new home of my yearly Fantasy Opportunity series! For those who didn't see this series on Reddit last year, I try to take a different approach to fantasy projections than your run-of-the-mill analyst. The basis of my process is that the number one indicator of fantasy success is opportunities to touch the ball. Obviously, individual player skill can (and will) affect that, but players are at the mercy of playcalling and play design at the end of the day. Therefore, if we want to make accurate projections, we need to look at each coach's scheme and how they like to spread the ball around.
As a result, this series is very coach-centric. I'll touch on individual players, but only as they relate to their coaches' schemes. On a related note, this series will only aim to establish projections on how touches will be split up, not what individual players will accomplish with those touches. That will come later once depth charts settle through training camp. Think of this series more as a basis for realistic expectations.
Make sense? Good. Let's dive in.
Most of my stats are pulled from Pro Football Reference. Please support them. They are awesome and are my primary source of statistical information.
Baltimore Ravens
Last Year's Accuracy
| | | | | | | | |
| --- | --- | --- | --- | --- | --- | --- | --- |
| | Total Plays | Rush Attempts (Rush %) | Passing Plays (Pass %) – Includes Sacks | Sacks Allowed (Sack %) | WR Targets (WR Target %) | RB Targets (RB Target %) | TE Targets (TE Target %) |
| 2020 Projections | 1050 | 555 (52.9%) | 495 (47.1%) | 30 (6.1%) | 210 (45.2%) | 70 (15.1%) | 170 (36.6%) |
| 2020 Stats | 993 | 555 (55.9%) | 438 (44.1%) | 32 (7.3%) | 221 (54.4%) | 62 (15.3%) | 109 (26.8%) |
For league wide stats, see this spreadsheet.
Coaching Changes
The offense took a step back in year two under offensive coordinator Greg Roman, but they still weren't bad by any stretch. Despite rising heat under his seat, he remains with Baltimore heading into the 2021 season. Head coach John Harbaugh has no such questions hanging over his head. The fourth longest-tenured head coach in the NFL will return for his 14th season. Same for Don Martindale, who is fresh off coaching his third straight top-three defense.
Coaching History
Roman is only going into his third year at the helm of Baltimore's offense. He has eight total years of experience as an offensive coordinator, including stops in Buffalo and San Francisco. The two defining traits that tie all his years together are that his offenses always operate at a leisurely pace and always focus on a strong run game. And when I say leisurely, I do mean leisurely. His offense has finished above 30th in time per play just twice in his eight years of calling the shots, and only once above the slowest quartile. Meanwhile, the most pass-heavy offense he has ever called only had a 53.4% pass rate.
Zooming in on just his two years in Baltimore reveals an even more extreme picture. His 2019 offense was the slowest in the league, and his 2020 offense was second slowest. Roman went off the deep end in terms of offensive balance as the Ravens have hovered right around a 56% run rate the last two years. No other team has averaged over 50% in that time. That offensive plan worked exceedingly well in 2019 as Baltimore's 1,064 total plays easily set the high water mark for Roman's career. That level of incredible efficiency came back to Earth in 2020, and his offense returned to a much more typical 993 total plays.
Speaking of returning to typical, Roman's positional usage had been pretty consistent before coming to Baltimore. You could reliably expect around a 55% target share for his wide receivers, mid to upper teens target share for his running backs, and somewhere in the mid-20's target share for his tight ends. His first year in Baltimore threw a wrench in that balance by almost matching wideout and tight end target shares at 40%. The 2020 playcalling returned to a much more typical 54/15/27 balance. Interestingly, this shift was not personnel-driven as the Ravens largely featured the same receiving weapons in 2020 that they had in 2019.
Looking Ahead
A personnel shift may not have driven the initial change in positional target shares, but it sure seems like one will solidify the new numbers as the baseline. The Ravens spent their top draft pick along with notable free agent dollars adding wide receivers. Baltimore has three first-round wideouts for the first time in franchise history. Given Roman's history, it seems unlikely that Baltimore's wideouts will suddenly command a massive target share, but a small increase should be anticipated. Expect this increase to come at the expense of the tight ends as the running backs are already being targeted well under Roman's career average.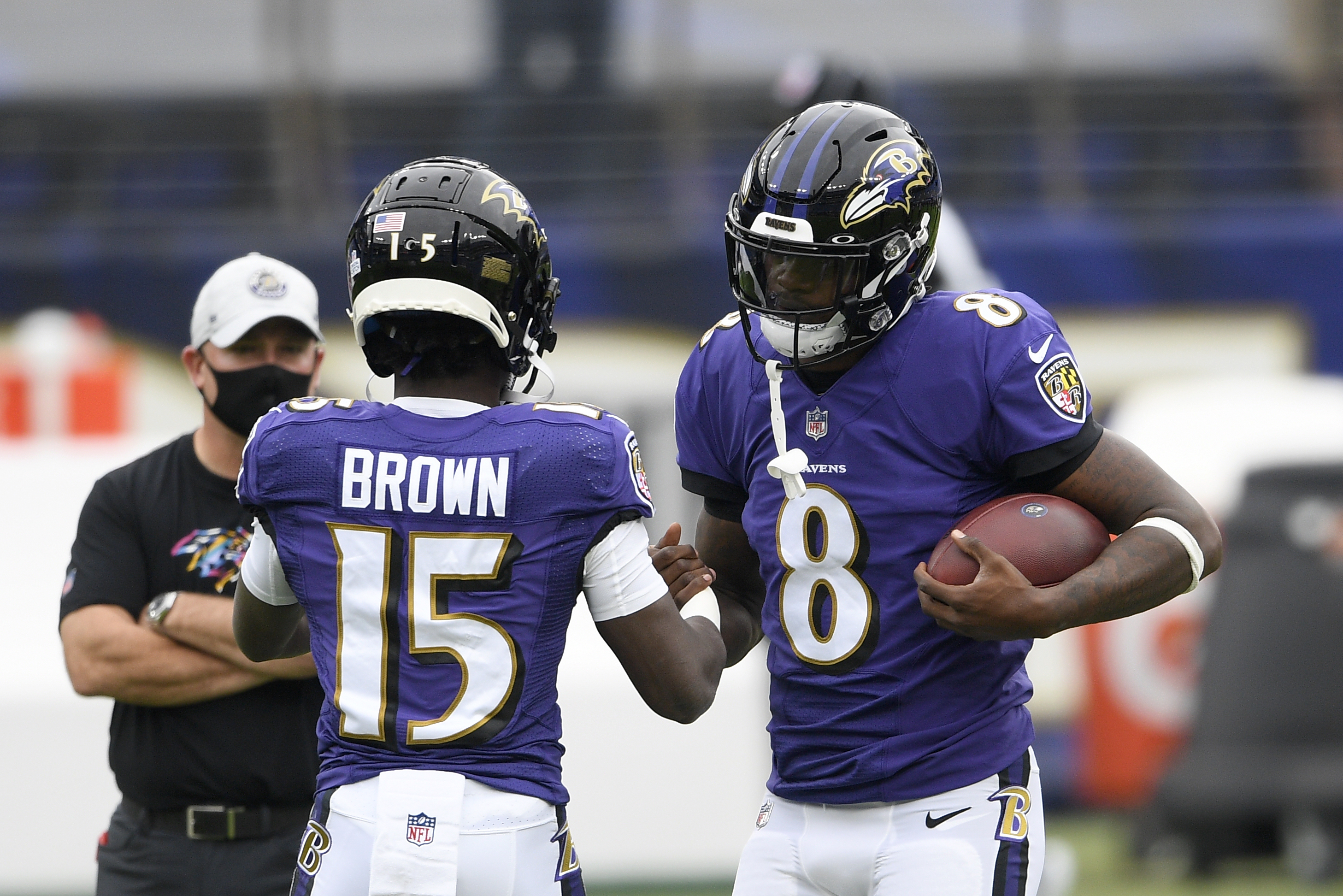 The arrival of such receiving talent may also signal a small shift in run-pass ratio. Don't get me wrong; Roman is still very likely to call the most run-heavy offense in the league for the third year in a row. Maybe the Ravens won't be leading the league by more than five percent this time. Some upgrades along the offensive line should also help the offense return to elite efficiency numbers. That's right; I said upgrades. The Orlando Brown trade may have grabbed headlines, but lost in the shuffle was the return of All-Pro Ronnie Stanley from injury. They also signed a few high-profile veterans in free agency and the infused new blood through the draft.
Of course, where the offense got stronger, the defense got weaker. The Ravens are known for their homegrown defensive talent, but they've got a mighty big hole to fill this year at pass rusher. The offense's improved efficiency could be offset by a small step back by the defense, preventing any real increase in total plays. At the very least, don't expect a return to 2019's totals.
2021 Projections
| | | | | | | | |
| --- | --- | --- | --- | --- | --- | --- | --- |
| | Total Plays | Rush Attempts (Rush %) | Passing Plays (Pass %) – Includes Sacks | Sacks Allowed (Sack %) | WR Targets (WR Target %) | RB Targets (RB Target %) | TE Targets (TE Target %) |
| 2020 Stats | 993 | 555 (55.9%) | 438 (44.1%) | 32 (7.3%) | 221 (54.4%) | 62 (15.3%) | 109 (26.8%) |
| 2021 Projections (17 Games) | 1087 | 569 (52.3%) | 518 (47.7%) | 32 (6.2%) | 277 (57.0%) | 77 (15.8%) | 115 (23.7%) |
Previous Entry: Atlanta Falcons
Next Entry: Buffalo Bills
Find this article helpful? You can follow me on Twitter and Reddit as @TubaDeus, though I spend most of my time on Discord.