Welcome to the new home of my yearly Fantasy Opportunity series! For those who didn't see this series on Reddit last year, I try to take a different approach to fantasy projections than your run-of-the-mill analyst. The basis of my process is that the number one indicator of fantasy success is opportunities to touch the ball. Obviously, individual player skill can (and will) affect that, but at the end of the day, players are at the mercy of play calling and play design. Therefore, if we want to make accurate projections, we need to look at each coach's scheme and how they like to spread the ball around.
As a result, this series is very coach-centric. I'll touch on individual players, but only as they relate to their coaches' schemes. On a related note, this series will only aim to establish projections on how touches will be split up, not what individual players will be able to accomplish with those touches. That will come later once depth charts settle through training camp. Think of this series more as a basis for realistic expectations.
Make sense? Good. Let's dive in.
Most of my stats are pulled from Pro Football Reference. Please support them. They are awesome and are my primary source of statistical information.
Indianapolis Colts
Last Year's Accuracy
| | | | | | | | |
| --- | --- | --- | --- | --- | --- | --- | --- |
|  | Total Plays | Rush Attempts (Rush %) | Passing Plays (Pass %) – Includes Sacks | Sacks Allowed (Sack %) | WR Targets (WR Target %) | RB Targets (RB Target %) | TE Targets (TE Target %) |
| 2020 Projections | 1025 | 460 (44.9%) | 565 (55.1%) | 25 (4.4%) | 280 (51.9%) | 105 (19.4%) | 140 (25.9%) |
| 2020 Stats | 1032 | 459 (44.5%) | 573 (55.5%) | 21 (3.7%) | 281 (50.9%) | 134 (24.3%) | 120 (21.7%) |
For league wide stats, see this spreadsheet.
Coaching Changes
At this point, Colts fans must be sending thank you cards every year to Josh McDaniels for leaving Indianapolis at the altar. Being spurned by the long-time Patriots OC led directly to head coach Frank Reich, who has been a revelation for the Colts. Of course, success often leads to poaching. That is exactly what happened as previous offensive coordinator Nick Sirianni was hired to take over the Eagles team that Reich had previously been OC for. Indy almost lost their defensive coordinator as well, but Matt Eberflus ended up staying put. Indianapolis's QB coach Marcus Brady will be promoted to fill the OC vacancy.
Coaching History
It's worth noting that Sirianni did not call plays in Indy. Reich kept those duties for himself, so the expectation is that he'll continue to do so moving forward. Determining what exactly that means is another story. In Reich's one year with Andrew Luck, Indy produced the fastest offense in the NFL and a well above average 62% pass rate. With Jacoby Brissett at the helm in 2019, the offense slowed down to middle of the pack, and with Philip Rivers, in 2020, it was well below average pace. The offense also shifted to being much more run-heavy with the latter two quarterbacks as Reich's offense only sported around a 54-55% pass rate in 2019 and 2020.
Reich's usage of his weapons has been a little more consistent. Wide receivers especially have hovered right around a 50% positional target share all three years with Reich at the helm. The running backs and tight ends had seen consistent usage through 2018 and 2019 (RBs just shy of 20% target share, TEs just over 25%), but the departure of Eric Ebron created a bigger hole than most people expected. In the wake of his departure, the tight end target share dipped to just over 20%, while the running backs nearly touched 25%.
Looking Ahead
Interestingly, despite apparent needs at wide receiver and tight end, the Colts opted to re-sign the players they already had rather than bring in anyone new. They even avoided those positions in the draft for the most part, with just a fourth-round tight end and a seventh-round wideout to show for it. Given that Indianapolis is returning basically the same weapons they had last year, it's difficult to project any significant shift in target shares.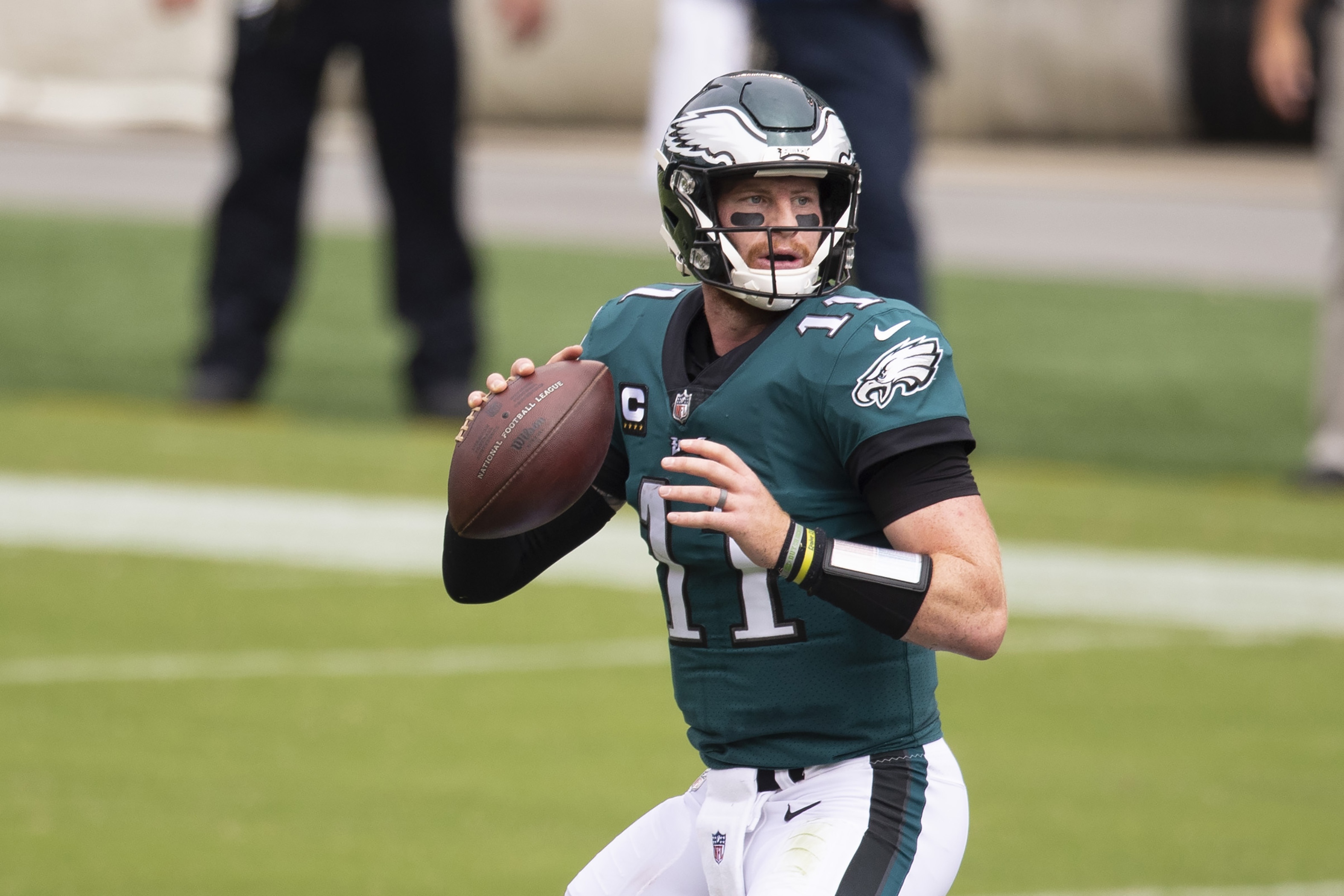 The replacement of the now-retired Philip Rivers with Carson Wentz does have some implications, however. Rivers is known for playing mental games pre-snap, often winding the play clock all the way down before taking the snap. This frequently results in a slow pace – much like what we saw with the Colts last year – but also allows Rivers to avoid taking excess sacks as he is usually able to identify where pressure is coming from. Wentz has also frequently helmed a slower offense. Still, for him, it's largely due to his tendency to hold onto the ball while waiting for things to open up downfield. This has repeatedly led to very high-pressure rates despite typically playing behind an elite offensive line. The Colts also boast an elite line (if not quite as elite as the last few years), but Wentz's playstyle is likely to drive the sack rate up regardless.
2021 Projections
| | | | | | | | |
| --- | --- | --- | --- | --- | --- | --- | --- |
|  | Total Plays | Rush Attempts (Rush %) | Passing Plays (Pass %) – Includes Sacks | Sacks Allowed (Sack %) | WR Targets (WR Target %) | RB Targets (RB Target %) | TE Targets (TE Target %) |
| 2020 Stats | 1032 | 459 (44.5%) | 573 (55.5%) | 21 (3.7%) | 281 (50.9%) | 134 (24.3%) | 120 (21.7%) |
| 2021 Projections (17 Games) | 1102 | 498 (45.2%) | 604 (54.8%) | 37 (6.1%) | 285 (50.3%) | 142 (25.0%) | 129 (22.8%) |
Previous Entry: Houston Texans
Next Entry: Jacksonville Jaguars
Find this article helpful? You can follow me on Twitter and Reddit as @TubaDeus, though I spend most of my time on Discord.