Welcome to the new home of my yearly Fantasy Opportunity series! For those who didn't see this series on Reddit last year, I try to take a different approach to fantasy projections than your run-of-the-mill analyst. The basis of my process is that the number one indicator of fantasy success is opportunities to touch the ball. Obviously, individual player skill can (and will) affect that, but at the end of the day, players are at the mercy of play calling and play design. Therefore, if we want to make accurate projections, we need to look at each coach's scheme and how they like to spread the ball around.
As a result, this series is very coach-centric. I'll touch on individual players, but only as they relate to their coaches' schemes. On a related note, this series will only aim to establish projections on how touches will be split up, not what individual players will be able to accomplish with those touches. That will come later once depth charts settle through training camp. Think of this series more as a basis for realistic expectations.
Make sense? Good. Let's dive in.
Most of my stats are pulled from Pro Football Reference. Please support them. They are awesome and are my primary source of statistical information.
Jacksonville Jaguars
Last Year's Accuracy
| | | | | | | | |
| --- | --- | --- | --- | --- | --- | --- | --- |
|  | Total Plays | Rush Attempts (Rush %) | Passing Plays (Pass %) – Includes Sacks | Sacks Allowed (Sack %) | WR Targets (WR Target %) | RB Targets (RB Target %) | TE Targets (TE Target %) |
| 2020 Projections | 1000 | 385 (38.5%) | 615 (61.5%) | 45 (7.3%) | 335 (58.8%) | 90 (15.8%) | 120 (21.1%) |
| 2020 Stats | 997 | 337 (33.8%) | 660 (66.2%) | 44 (6.7%) | 362 (58.8%) | 115 (18.7%) | 108 (17.5%) |
For league wide stats, see this spreadsheet.
Coaching Changes
When Doug Marrone managed to hold onto his head coaching seat going into 2020, it felt like he was on borrowed time. Sure enough, here we are one year later, and Marrone is no longer with the Jaguars after closing out the 2020 season with 15 straight losses. In his place, Jacksonville has brought in long-time college coach Urban Meyer to lead the team. Former Lions offensive coordinator Darrell Bevell will reprise that role in Jacksonville while Joe Cullen moves up from Ravens defensive line coach to Jaguars defensive coordinator.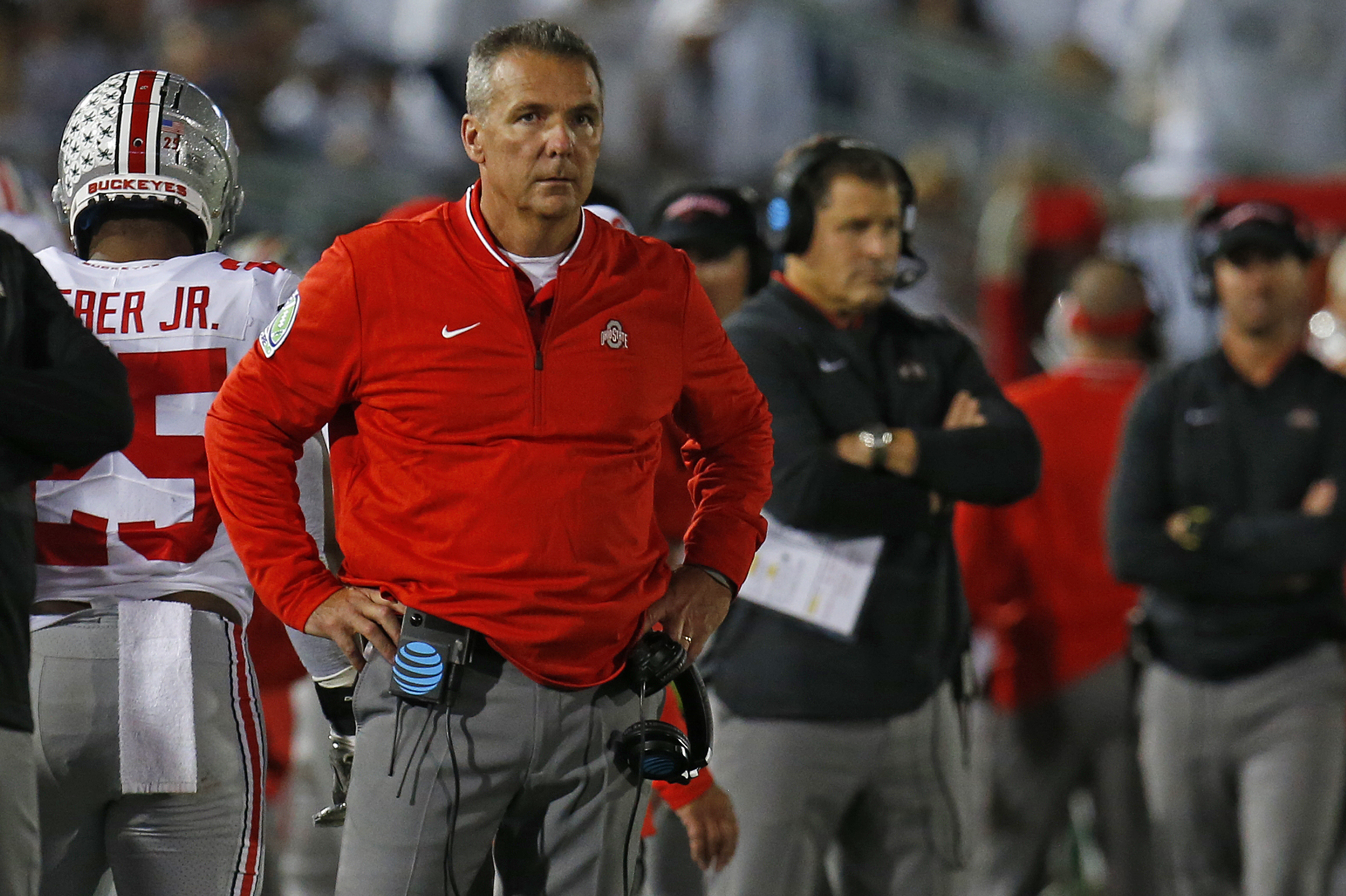 Coaching History
While it is expected that Bevell will call plays, it is also expected that the Jaguars offense will be molded to Meyer's vision. So what exactly is Meyer's vision? The bottom line is that Meyer relies heavily on an option-based scheme, which leads to a very run-heavy offense. While this has always been the case for him through all of his college stops, it is worth noting that he took advantage of his time off after resigning from Florida to modernize his scheme. With that in mind, we will only focus on his time as the head coach of Ohio State.
In his seven years with Ohio State, Meyer's offense never posted a run rate less than 50% and had a high water mark of 66.8% (though it is worth noting that there was a clear trend of decreasing run rates over those seven years). And this was the result after modernizing his offense that he had relied on at Utah and Florida.
The positional target shares on Meyer's Ohio State teams were much less consistent. Depending on the year, his wide receivers caught anywhere from 49-78% of the offense's total receptions, his running backs between 11% and 40%, and his tight ends between 8% and 21%. While this data may not paint a consistent picture, there is still info that can be gleaned from it.
First off, Meyer has shown a clear willingness to adjust his scheme to fit the talent of his players rather than trying to force players into his mold. He has always featured whichever position had the most talent, resulting in widely varying target rates. As a semi-related second point, Meyer has consistently made use of Swiss army knife weapons. Players like Curtis Samuel and Braxton Miller excelled under Meyer's tutelage. The third point worth noting is that Meyer always used tight ends to at least some extent. This is a somewhat rare occurrence at the college level, and is particularly notable as Ohio State never featured any high-end tight end prospects.
Looking Ahead
Unfortunately for those hoping for a sneaky tight end play, the Jaguars don't have much in the way of talent at that position either (no, not even that guy). What they do have is a respectable wide receiver corps and a suddenly deep backfield. Meyer has proven that he won't abandon the tight end position like some of the other college coaches who have been trickling into the pros lately but don't expect the position group to be featured either. That honor should belong to the running backs, as both James Robinson and Travis Etienne have proven more than capable in that regard.
Of course, that's for when the Jaguars actually throw the ball. As noted above, Meyer tends to be somewhat reluctant to do that. Jacksonville may be forced to throw a little more than a typical Meyer offense just to keep up with opponents (even after their offseason spending spree), but this is still going to be a run-early-run-often offense. They may even find some true success running behind a surprisingly not-terrible offensive line. It is likely not enough to keep up with the league average in total play volume, but they shouldn't be too far below it.
2021 Projections
| | | | | | | | |
| --- | --- | --- | --- | --- | --- | --- | --- |
|  | Total Plays | Rush Attempts (Rush %) | Passing Plays (Pass %) – Includes Sacks | Sacks Allowed (Sack %) | WR Targets (WR Target %) | RB Targets (RB Target %) | TE Targets (TE Target %) |
| 2020 Stats | 997 | 337 (33.8%) | 660 (66.2%) | 44 (6.7%) | 362 (58.8%) | 115 (18.7%) | 108 (17.5%) |
| 2021 Projections (17 Games) | 1057 | 517 (48.9%) | 540 (51.1%) | 35 (6.5%) | 281 (55.6%) | 140 (27.7%) | 66 (13.1%) |
Previous Entry: Indianapolis Colts
Next Entry: Kansas City Chiefs
Find this article helpful? You can follow me on Twitter and Reddit as @TubaDeus, though I spend most of my time on Discord.