Welcome to the new home of my yearly Fantasy Opportunity series! For those who didn't see this series on Reddit last year, I try to take a different approach to fantasy projections than your run-of-the-mill analyst. The basis of my process is that the number one indicator of fantasy success is opportunities to touch the ball. Obviously, individual player skill can (and will) affect that, but at the end of the day players are at the mercy of playcalling and play design. Therefore, if we want to make accurate projections, we need to look at each coach's scheme and how they like to spread the ball around.
As a result, this series is very coach-centric. I'll touch on individual players, but only as they relate to their coaches' schemes. On a related note, this series will only aim to establish projections on how touches will be split up, not what individual players will be able to accomplish with those touches. That will come later once depth charts settle through training camp. Think of this series more as a basis for realistic expectations.
Make sense? Good. Let's dive in.
Most of my stats are pulled from Pro Football Reference. Please support them. They are awesome and are my primary source of statistical information.
San Francisco 49ers
Last Year's Accuracy
| | | | | | | | |
| --- | --- | --- | --- | --- | --- | --- | --- |
|  | Total Plays | Rush Attempts (Rush %) | Passing Plays (Pass %) – Includes Sacks | Sacks Allowed (Sack %) | WR Targets (WR Target %) | RB Targets (RB Target %) | TE Targets (TE Target %) |
| 2020 Projections | 1010 | 485 (48.0%) | 525 (52.0%) | 35 (6.7%) | 230 (46.9%) | 105 (21.4%) | 140 (28.6%) |
| 2020 Stats | 1046 | 437 (41.8%) | 609 (58.2%) | 39 (6.4%) | 281 (49.3%) | 136 (23.9%) | 137 (24.0%) |
For league wide stats, see this spreadsheet.
Coaching Changes
One year after a dominant Super Bowl run that fell just short, San Francisco once again struggled to a mere 6 wins. In fact, take away 2019 and head coach Kyle Shanahan has only compiled a 16-32 record in San Francisco. Granted, the Super Bowl appearance likely bought him a few years, and he can certainly point to the difficulty in dealing with a plethora of injuries, but he has to be feeling that seat warming up. Maybe that's why he finally named an offensive coordinator after four years of running the offense himself. Mike McDaniel will be the 49ers OC next year after serving as the run game coordinator the previous four years. On the defensive side, Robert Saleh left for New York, so DeMaco Ryans has been promoted from inside linebackers coach to defensive coordinator.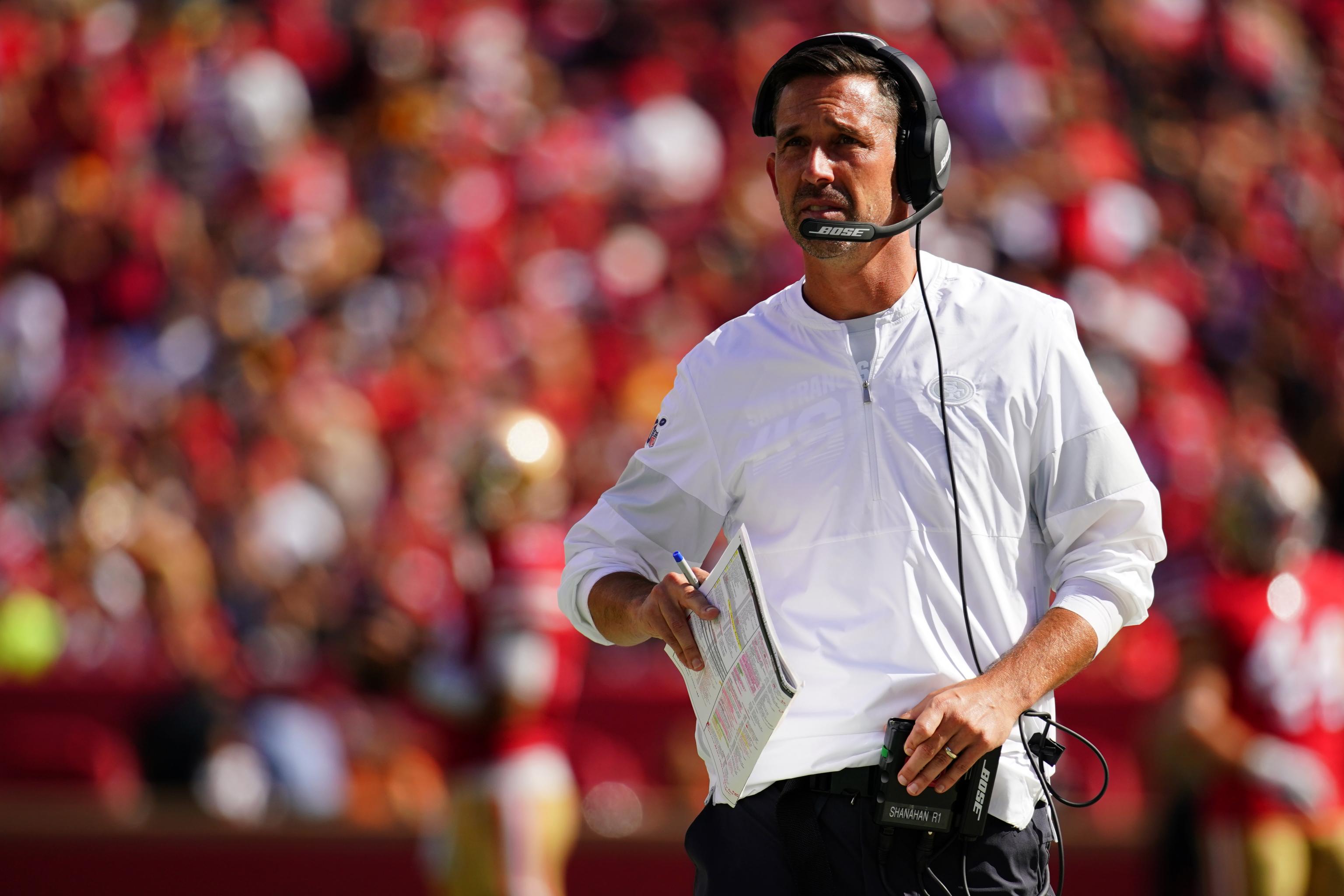 Coaching History
Of course, offensive coordinator or not, this is still Kyle Shanahan's offense. With four years of pure Shanahan in the Bay Area, we've got a pretty good idea of what that means.
Outside of a fluky 2019 season where the 49ers literally ran away with the NFC Championship, Shanahan has stuck pretty close to the league average run-pass ratio. In fact, this was the second time in four years he's nailed a 42/58 ratio on the head. He's established similar consistency over the last three years with which positions he features in the passing game; his running backs have claimed a low 20% target share, his tight ends mid 20% (would be almost spot on 27.5% if not for George Kittle's injury last year), and his wide receivers have hovered right around 49%.
His pace has been less consistent. After starting his tenure in San Francisco with the fastest offense in the league, he has since settled among the slowest. His offense has also found itself below league average in plays per drive after being ranked among the highest initially. It seems the only thing keeping the 49ers' total play volume near league average these days is a defense that has consistently been among the best at getting other teams' offenses off the field quickly.
Looking Ahead
It would appear as though San Francisco is blaming its 2020 woes on injuries as the vast majority of their free agent moves this year have simply been cycling depth. With mostly the same starters, it follows that Shanahan is likely to continue following his trends from the last few years. We should expect a slower offense with a medium-low number of plays per drive, whose total play count is only kept around league average thanks to an elite defense. The wide receivers should continue to command just shy of 50% of the targets, the tight ends should hover close to 27.5% (assuming Kittle doesn't succumb to a major injury again), and the running backs should finish just above 20%. The offensive line has kept their borderline top 10 unit together as well, so the allowed sack rate shouldn't fluctuate.
The one thing that we need to keep an eye on is rookie quarterback Trey Lance. It's clear that Shanahan has lost faith in current quarterback Jimmy Garoppolo as San Francisco sold the farm to move up to the third pick in the draft this year. Lance isn't just any old quarterback, though; unlike the statuesque Garoppolo, Lance can run. If Lance finds himself under center this season, he will undoubtedly carry the team to a higher run rate than we've seen Shanahan call in the past. Given how rare it is for modern quarterbacks to be given an entire year on the bench (much less ones drafted so high after their team gave up so much to get them), it seems more than likely that we'll see Lance at the helm at some point this season.
2021 Projections
| | | | | | | | |
| --- | --- | --- | --- | --- | --- | --- | --- |
|  | Total Plays | Rush Attempts (Rush %) | Passing Plays (Pass %) – Includes Sacks | Sacks Allowed (Sack %) | WR Targets (WR Target %) | RB Targets (RB Target %) | TE Targets (TE Target %) |
| 2020 Stats | 1046 | 437 (41.8%) | 609 (58.2%) | 39 (6.4%) | 281 (49.3%) | 136 (23.9%) | 137 (24.0%) |
| 2021 Projections (17 Games) | 1084 | 474 (43.7%) | 610 (56.3%) | 41 (6.7%) | 278 (48.9%) | 121 (21.3%) | 154 (27.1%) |
Previous Entry: Pittsburgh Steelers
Next Entry: Seattle Seahawks
Find this article helpful? You can follow me on Twitter and Reddit as @TubaDeus, though I spend most of my time on Discord.