Welcome to the new home of my yearly Fantasy Opportunity series! For those who didn't see this series on Reddit last year, I try to take a different approach to fantasy projections than your run-of-the-mill analyst. The basis of my process is that the number one indicator of fantasy success is opportunities to touch the ball. Obviously, individual player skill can (and will) affect that, but at the end of the day players are at the mercy of playcalling and play design. Therefore, if we want to make accurate projections, we need to look at each coach's scheme and how they like to spread the ball around.
As a result, this series is very coach-centric. I'll touch on individual players, but only as they relate to their coaches' schemes. On a related note, this series will only aim to establish projections on how touches will be split up, not what individual players will be able to accomplish with those touches. That will come later once depth charts settle through training camp. Think of this series more as a basis for realistic expectations.
Make sense? Good. Let's dive in.
Most of my stats are pulled from Pro Football Reference. Please support them. They are awesome and are my primary source of statistical information.
Washington Football Team
Last Year's Accuracy
| | | | | | | | |
| --- | --- | --- | --- | --- | --- | --- | --- |
|  | Total Plays | Rush Attempts (Rush %) | Passing Plays (Pass %) – Includes Sacks | Sacks Allowed (Sack %) | WR Targets (WR Target %) | RB Targets (RB Target %) | TE Targets (TE Target %) |
| 2020 Projections | 980 | 440 (44.9%) | 540 (55.1%) | 45 (8.3%) | 285 (57.6%) | 110 (22.2%) | 80 (16.2%) |
| 2020 Stats | 1051 | 400 (38.1%) | 651 (61.9%) | 50 (7.7%) | 296 (49.3%) | 161 (26.8%) | 116 (19.3%) |
For league wide stats, see this spreadsheet.
Coaching Changes
In his first year as head coach of Washington, Ron Rivera took the Football Team from worst to first in their division. Granted, it's not the most impressive division, but the quick turnaround buys job security nevertheless. He'll return for 2021, along with offensive coordinator Scott Turner and defensive coordinator Jack Del Rio.
Coaching History
We had assumed last year that Scott Turner would more or less follow in his old man's footsteps. There were certainly some elements of his scheme that looked reminiscent of what Norv Turner had put together, but the younger Turner clearly preferred to blaze his own trail. The biggest difference was in the pace of the offense. Unlike his dad, Scott kept the tempo up. His offense may not have been the most efficient, but when his pace was combined with Del Rio's elite defense, the result was one of the highest drive totals in the league. More drives means more plays, which led to the Football Team finishing above average in total play volume despite an anemic offense.
Perhaps the most interesting development, however, was Turner's run-pass ratio. Despite featuring a 3rd round gem at running back but struggling with a carousel at quarterback, Turner leaned into the passing game with a top 10 pass rate. It's not like there were any of the typical confounding factors at play; the offensive line performed admirably (though still allowed the second most sacks in the league), and the defense kept the pressure off with lights out play. Perhaps distrust in rookie Antonio Gibson's transition to running back had something to do with it, but at a certain point it becomes clear that Turner wants to lead a pass-first offense.
With all that passing volume, Turner kept the positional target share splits fairly similar to the 2019 Panthers team that he got his first playcalling experience with. The wide receivers were heavily de-emphasized, with their 49.3% share tying for 2nd lowest share in the league. Picking up the slack were the running backs, whose 26.8% target share ranked as the third highest. This wasn't just a result of "Captain Checkdown" Alex Smith either, as scatback J.D. McKissic was racking up targets no matter who was lining up under center.
Looking Ahead
Will those target share splits continue, though? In an effort to bolster their offense, Washington went on a spending spree this offseason. Specifically, they added noted gunslinger Ryan Fitzpatrick along with a handful of wide receivers, a position where the Football Team struggled with depth last year. When you add an aggressive quarterback and some downfield threats, it follows that those downfield threats are likely to be targeted a bit more. It's doubtful that Washington suddenly becomes a haven for wideouts, but they should command over 50% of the targets this year at least. Given Fitzpatrick's own comments on the matter, it's likely that those additional wide receiver targets will be drained from the running backs. Turner may still feature his backfield in the passing game, but at the very least FitzMagic won't be taking many checkdowns.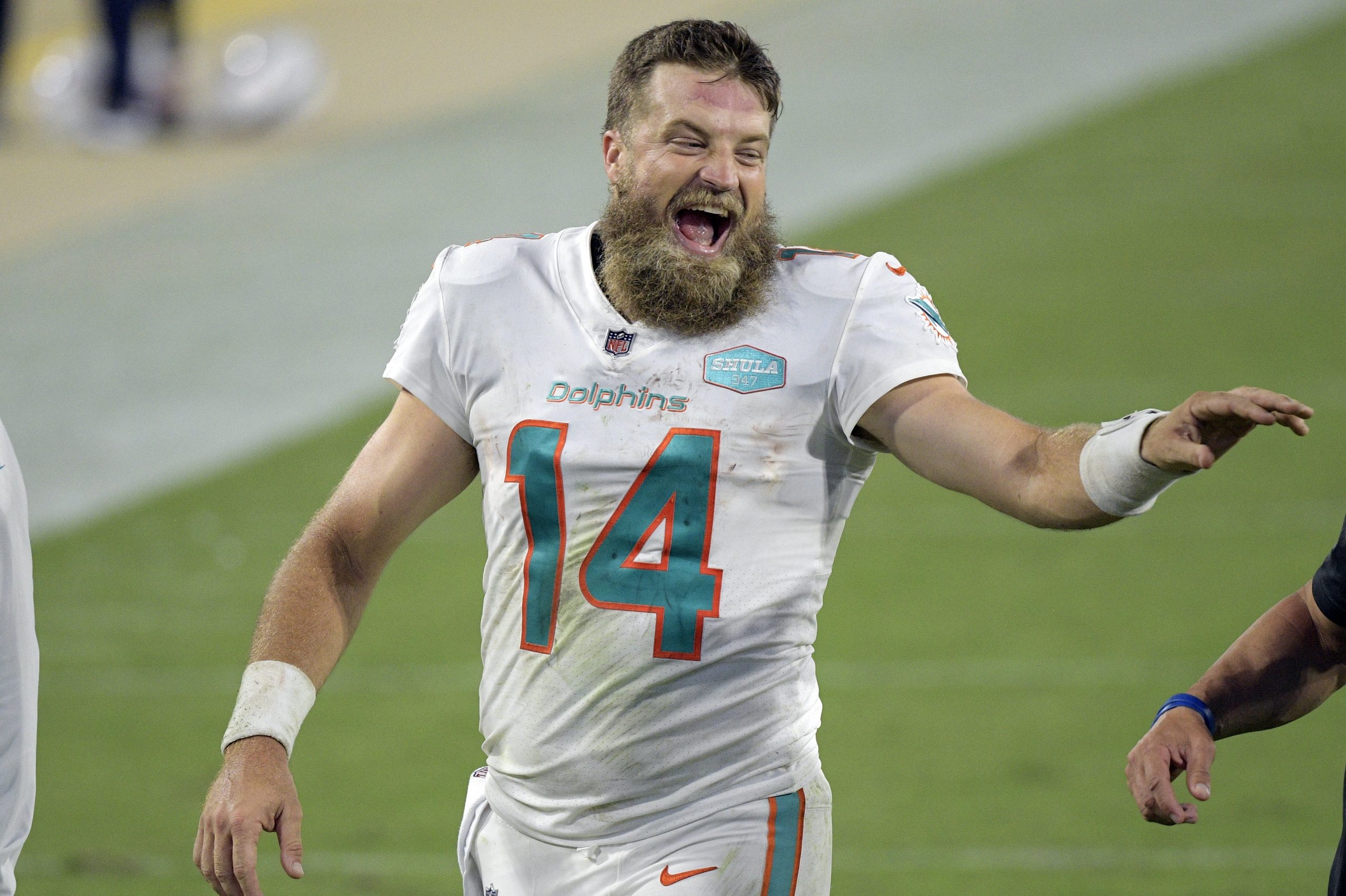 The offensive upgrades should also help out the total play volume. As noted above, the biggest issue Washington faced was offensive inefficiency. Turner has shown that he prefers to operate a fast offense, and the Football Team continued stockpiling talent on defense in the draft. If the offensive upgrades leads to longer drives, then Washington could easily end up with one of the highest play counts in the league. With little reason to suspect any sort of major swing in run-pass ratio, Turner's offense could produce one of the highest volume passing attacks in the NFL.
2021 Projections
| | | | | | | | |
| --- | --- | --- | --- | --- | --- | --- | --- |
|  | Total Plays | Rush Attempts (Rush %) | Passing Plays (Pass %) – Includes Sacks | Sacks Allowed (Sack %) | WR Targets (WR Target %) | RB Targets (RB Target %) | TE Targets (TE Target %) |
| 2020 Stats | 1051 | 400 (38.1%) | 651 (61.9%) | 50 (7.7%) | 296 (49.3%) | 161 (26.8%) | 116 (19.3%) |
| 2021 Projections (17 Games) | 1121 | 438 (39.1%) | 683 (60.9%) | 42 (6.2%) | 352 (54.9%) | 151 (23.6%) | 125 (19.5%) |
Previous Entry: Tennessee Titans
Back to First Entry: Arizona Cardinals
Epilogue: That just about wraps things up. We've made it to the end of the 2021 version of this series! Well, sorta. If there are any major moves leading into the preseason with scheme-altering ramifications, be on the lookout for updates. (Looking at you, Atlanta. Couldn't have traded Julio before my series started? So inconsiderate…)
Find this article helpful? You can follow me on Twitter and Reddit as @TubaDeus, though I spend most of my time on Discord.