The Vikings were both exciting and disappointing at the same time in 2019. They showed flashes of offensive brilliance but struggled at times also. When you look at who to target in fantasy when it comes to current Vikings players, the landscape has changed from a year ago.
Kevin Stefanski did a superb job as an offensive coordinator resulting in him becoming the next head coach of the Cleveland Browns. I'm rooting for him to succeed there. Filling the shoes of OC will be Gary Kubiak, who will continue to have the Vikings be a run-first offense.
Dalvin Cook led the charge in 2019, and if it weren't for a running back named Christian McCaffrey, he would have been the talk of fantasy football to start last season. From week one to week 11, he averaged 23.3 points per game. However, in the fantasy playoffs, he most likely failed your team in propelling them to a title. He stumbled his way to an RB6 finish and 20.9 PPG.
Kirk Cousins led the passing attack to a QB15 season, with Stefon Diggs being his primary target. Diggs had flashes of brilliance but was hardly consistent in finishing as WR24. He is now off to Buffalo, leaving a hole at WR for the Vikings. Adam Thielen looked like a WR1 before hurting himself on a TD grab against the Lions in week 7. Before that injury, he was averaging 16.4 points, which would have been WR6 on the season. At TE, neither Kyle Rudolph nor Irv Smith Jr. was anything special as TE14 and TE34, respectively.
2020 Outlook
Quarterback
This job is Kirk Cousins and nobody else's. Although rumors swirled about the Vikings taking a QB in the first few rounds of the 2020 draft, this is still Kirk's team. He signed an extension this past offseason (to relieve the cap) and will continue to be a Viking after this season. Last season he finished with 3,600 yards, 26 TD's, and only 6 interceptions. He shouldn't' be your QB1 in fantasy but can fill in as a solid backup or QB2 in Superflex formats. With Stefon Diggs headed out to Buffalo this season, it will change his passing options heading into 2020.
If you dive into previous fantasy outputs for Kirk Cousins, you see that he had his worst fantasy season as the full-time starter, ever. He had almost 500 yards less passing than his previous four seasons as a full-time starter. His TDs dropped by four from last year, which was expected regression with the offense moving to the ground game. The Vikings had the third-highest rushing percentage in the NFL in 2019. Kirk remains one of the more accurate passers in the league, especially on the deep ball, but with Gary Kubiak coming in, you can expect the Vikings offense to once again rely heavily on Dalvin Cook and company.
Running Backs
Dalvin Cook
Dalvin Cook is the heart and soul of the Vikings offense but has struggled with injuries throughout his career. Last year we finally got a glimpse of how impactful he can be. His 20.9 points per contest were something fantasy players had been waiting for, and he showed what he could do when healthy. He is in the final year of his rookie contract and has said he won't play without a new deal. We'll see if that is true after the recent cases of LeVeon Bell and Melvin Gordon proved the players don't have much say in the matter. If he decides to sit out, his contract for this year will defer to next season resulting in the same dilemma.
I'm still buying Dalvin Cook as a fantasy asset. He is 24 years old, has shown he can produce at the top level and is falling in drafts because people are scared of him sitting out. He is a calculated risk, and that is how you win championships. I expect him to play this year even if he sits out a few games. Dalvin should have over 1,500 all-purpose yards (rushing and receiving) and get close to his 13 TDs from last season.
Kubiak will continue to be a run-first OC, and Dalvin stands to benefit from that, especially in a contract year. However, he isn't the only running back worth noting for the Vikings. Coming into his second season is Alexander Mattison. Mattison proved what he could do last year but also faced a little injury bug throughout the season.
Alexander Mattison
Mattison provides insurance for Dalvin sitting out as well as dynasty value if Cook decides to find greener pastures during the 2021 offseason. Alexander averaged 4.6 YPC last season with over 500 yards on 110 touches. He also faced the highest average amount of defenders in-the-box in the NFL (7.3). To be able to produce those numbers against defenses filling the box proves how ready he is to take on NFL defenders. Alexander is one of the most highly coveted handcuffs in 2020 start-up drafts.
Wide Receivers
The Minnesota Vikings will look very different from a few years ago when it comes to this position. Adam Thielen is the one constant, and after injuries ruined his 2019 season, he has become extremely undervalued in dynasty. Stefon Diggs is living it up with Josh Allen now. Laquon Treadwell never lived up to the hype and is attempting to resurrect his career in Atlanta. Heading into 2020, what can you expect from the Vikings receiving core?
Adam Thielen
If healthy, Thielen will return to his WR1 form in the Vikings offense as the primary target for Kirk Cousins. In 2017 and 2018, he averaged 149 targets, injuries dropped him to 48 in 2019, and he still managed to score six touchdowns. He was WR8 in 2017 and WR7 in 2018 while sharing targets with Stefon Diggs (WR19 & WR10). In 2017 he was WR12 with Case Keenum and Sam Bradford at QB. Here's his 2018 film; if he is healthy, he is dangerous and someone I want on my team if I'm a contender.
Justin Jefferson
This year he will have rookie Justin Jefferson taking the place of his former sidekick, Stefon Diggs. Jefferson is no slouch at the position, either. He was a guy I was targeting in rookie drafts before I knew his landing spot, and him landing in Minnesota raised his stock for me. The Vikings have over 100 vacated targets from 2019, and Jefferson will have every opportunity to be the Vikings WR2. He caught 111 passes for 1,540 yards and 18 touchdowns. The even crazier part about those numbers is he was the WR2 in LSU's offense behind Jamar Chase.
The other names to mention at wide receiver are Tajae Sharpe, Bisi Johnson, Chad Beebe, KJ Osborn, and Quartney Davis. Sharpe signed this offseason, but he reminds me too much of Kendall Wright (yes, the Vikings signed him last year). Bisi Johnson filled in when Thielen went down with an injury as an undrafted free agent in 2019. He showed flashes but is a fringe dynasty player at best right now.
Chad Beebe looked great in the preseason but suffered a season-ending injury and worked his way back to being the WR3 for the Vikings. KJ Osborn was a 5th round pick in 2020 out of Miami but looked to be a depth piece. Quartney Davis is a guy I'm excited about but has limited upside this year. The 6'2″ receiver out of Texas A&M slipped in the draft resulting in the Vikings going after him as a UDFA.
Davis initially signed with the Cowboys, but the Vikings offered more money to get him to Minnesota. If Rick Spielman has proven anything, he can find and target UDFA's. His track record speaks for itself; Adam Thielen, Anthony Harris, Bisi Johnson, Mike Boone, Holton Hill. Davis could be the next one to join that list, but as for now, he isn't worth adding unless you have crazy bench depth/taxi squads.
Tight End
This position comes down to two players, the incumbent, Kyle Rudolph, and the prodigy, Irv Smith Jr. Kyle Rudolph provided plenty of fantasy value when Thielen got hurt last year, but his hot streak faded. Irv Smith Jr. was taken in the second round of the 2019 draft and figures to be the future of the position for Minnesota. The big question heading into 2020, is the future now?
According to fantasydata.com, Irv looks to take over as the receiving TE in 2020. I agree that Rudolph will move more into a blocking role, and Smith Jr. will be relied on more as a receiver and could also see time out of the slot. Neither Vikings tight end figures to make a huge fantasy impact, but Irv Smith Jr. is the one to own moving forward.
IDP
The Vikings have several players worth owning on defense. With Mike Zimmer as head coach, the Vikings are stout as a unit. The defense will look different in 2020, so let's look at who you should target heading into the season.
Defensive Line
Danielle Hunter
Danielle Hunter tops the list as one of the top defensive ends in the NFL. He is also one of the top defensive linemen in fantasy. Hunter grows his game more each season and will look to improve on a great 2019 season. With back to back 14.5 sack seasons and 54.5 sacks at 25 years old, the sky is the limit for him. He is in the same realm as the Bosa brothers and Aaron Donald making him arguably the best option when you are on the clock looking at defensive lineman.
Ifeadi Odenigbo
My favorite sleeper this offseason is also on the Vikings D-line, Ifeadi Odenigbo. Initially drafted in the seventh round of 2017 by the Vikings, Ifeadi made the practice squad that season. In 2018 he was cut and picked up by the Browns, then the Cardinals before returning to the Vikings practice squad. He stayed on the practice squad over joining the Eagles 53-man roster, and it paid off in year three.
Odenigbo got his first sack the fifth game of 2019 on his way to seven sacks and thirteen QB hits. With Everson Griffen on his way out in 2020, it opens the door wide-open for Ifeadi. I love a guy who has had to work this hard to get his chance because he knows it can be gone just as fast. Odenigbo is still learning the position, but he has all the natural talent in the world. Andre Patterson has taken the time to help him develop, and Ifeadi is ready to explode playing opposite Danielle Hunter.
Linebacker
Eric Kendricks
Eric Kendricks seems to get better each year and will continue to be the Vikings top linebacker in 2020. He isn't one of the elite linebackers when it comes to fantasy football but is a solid LB2 to have on your roster. Kendricks was PFF's highest-rated linebacker in 2019, and his knock when it comes to fantasy is that he is a better coverage linebacker (12 passes defended in 2019) than a run stopper. He has limited sack upside but will provide you with over 100 combined tackles, and several passes defensed.
Anthony Barr
The other linebacker to talk about is Anthony Barr. Barr spurned the Jets to come back to Minnesota in 2019. He had a career-high in 2019 with 79 tackles and is locked in as a starter alongside Kendricks. He has some sack upside, but he is a low-end linebacker in fantasy and someone I'm not looking to add to my roster in IDP.
Defensive Back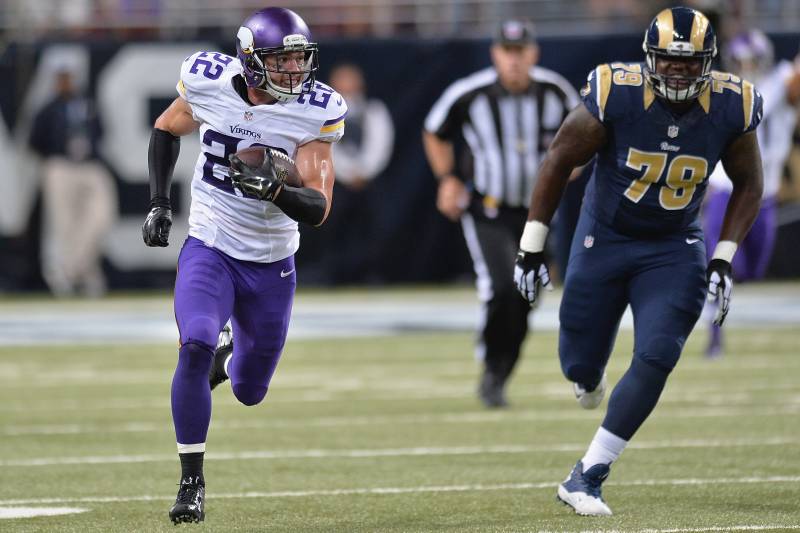 Harrison Smith
In the defensive backfield, there is one stud to talk about, Harrison Smith. The Vikings have a lot of turnover at defensive back this offseason, but both safeties remain the same. Harrison Smith is a top-10 DB in IDP but is 31-years old. He plays up in-the-box so often he factors into the run game, adding to his IDP resume. Smith is also one of the best coverage safeties in the NFL and is a ball hawk when it comes his way. He also has elite vision, so when he gets the ball in his hands, there is always a chance he takes it back for six. He may only have a few years left of top tier DB seasons, but he is someone who can help out any IDP roster.
Conclusion
The Vikings will look to make a deeper playoff run in 2020, but with the shortened offseason, it's anyone's game. As far as fantasy is concerned, the offense and defense both have stars in Dalvin Cook and Danielle Hunter. Thielen should bounce back if he can stay healthy, and Justin Jefferson has the chance to be a starter from day one. Harrison Smith and Eric Kendricks provide defensive value to your roster, but my favorite Viking to own in 2020 is Ifeadi Odenigbo.
This concludes my 2020 Fantasy Forecast for the Minnesota Vikings. If you want to reach out and pick my brain, you can follow me on twitter @carl_vagleFF.