Campus to Canton leagues are devy leagues on steroids. Not only do you get to draft college players who will make their way to your NFL squads – you get to play them every week as well. What could be better than that? Given most devy league drafts are three rounds long, C2C selections are chalk for the first few rounds. After that, it's a free for all, with ADPs for various players varying wildly. Below are five players you can take in the middle rounds of drafts to set you up for future success. Included is one player at each position with an ADP over 100 in the most recent incarnation of Brian Shacochis' C2C ADP rankings and a super deep player ranked beyond 250 who could be a league winner. Without further ado, here are the players who can lead you to a championship.
WR Jake Smith, Texas (WR36 ADP 107.9)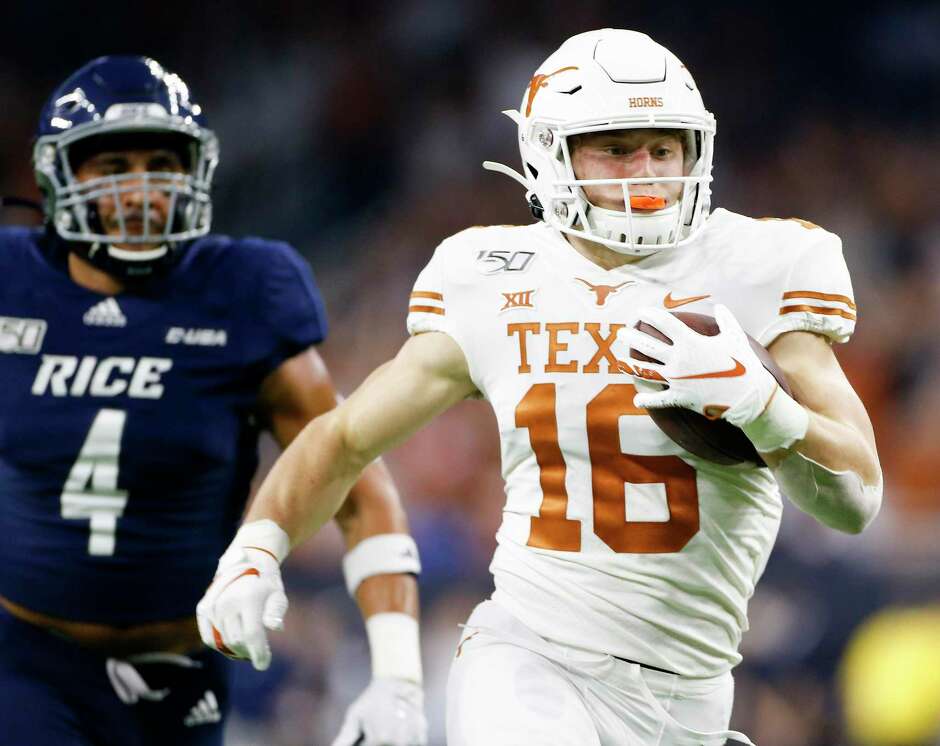 The Texas Longhorns have one of the most prolific offenses in college football with Sam Ehlinger at the helm. Last season the junior quarterback had his best season yet. Ehlinger posted career highs in passing yards (3.663), rushing yards (663), and passing touchdowns (32). Devin Duvernay and Collin Johnson gone to the NFL. The Longhorns have a Big 12 high 60.9% of receptions and 60.7% of receiving yards from 2019 up for grabs. Sure, they have guys like Brennan Eagles and Jordan Whittington returning and transfer Tarik Black entering the picture. The most valuable of all their receivers, however, is likely to be sophomore Jake Smith. Smith had a modest season last year (23 receptions for 274 yards and 6 TDs) but is poised to break out because he will likely be taking over in the slot.
Why is this important? In 2018, Lil'Jordan Humphrey manned the slot for the Longhorns and posted 86 receptions for 1176 yards and 9 TDs. Last season it was Devin Duvernay's turn. All he did was catch 106 balls for 1386 yards and 9 TDs. The Longhorns passing offense runs through their slot receiver. Smith, a four-star recruit who was the 8th ranked WR and 49th overall recruit in the 2019 class, has all the tools to succeed. Grab him ahead of his teammate Eagles, whose ADP is 82.7, before his price soars after this season.
TE Baylor Cupp, Texas A&M (TE9 ADP 120.9)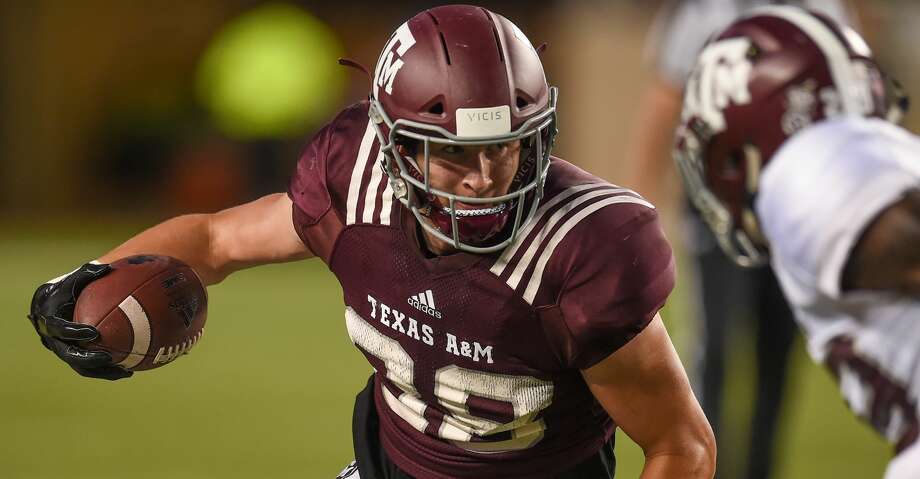 Tight end is a position that is polarizing in most C2C drafts. Some teams love to draft one of the top prospects early (Brevin Jordan, Pat Freiermuth, or Kyle Pitts) while others entirely punt the position. Given the prevalence of tight-end premium leagues, I wouldn't advocate punting the position. However, if you want to wait on a tight end, Baylor Cupp should be one of your top targets.
Cupp, a four-star recruit in 2019 and the top tight end recruit in the nation, drew comparisons to Travis Kelce by 247Sports. Tragically, before the season, he fractured his left leg during a scrimmage and missed the 2019 season. This has caused some to forget about the stud prospect, but their loss can be your gain. Jalen Wydermyer, Cupp's replacement, posted 32 receptions for 447 yards and a team-leading six touchdowns. This highlights the fact that the Aggies like to utilize the tight end in their passing attack.
While Wydermyer remains on the roster, Cupp still possesses the most upside of the two. Cupp has the ability, given his talent and opportunity, not only to help your C2C teams but also to be one of the first tight ends drafted in the 2022 NFL Draft. He should be taken as the TE5 off the board (behind the three listed above and Arik Gilbert of LSU) as a set it and forget it option at the position for years to come.
QB JT Daniels, Georgia (QB32 ADP 163.1)
Picking a franchise quarterback in C2C leagues is a lot like playing Russian Roulette. For every elite talent like Trevor Lawrence and Justin Fields, others like Joe Burrow and Sam Howell come virtually out of nowhere to be highly regarded prospects. Another such player this past season that thrust himself into the national conversation was Kedon Slovis. After incumbent JT Daniels went down with an injury in the first game of the season, Slovis took over and never looked back. Most draft analysts now view him as a consensus top-three quarterback in the 2022 draft class. JT Daniels saw the writing on the wall and decided to transfer, ending up with the Georgia Bulldogs.
It was expected that Daniels would have to sit out the 2020 season, but surprisingly, he was granted a waiver and is immediately available to play. At the time, this was thought to be a luxury as Wake Forest transfer Jamie Newman was expected to be the starting quarterback, but in an unexpected twist, Newman opted out of the 2020 season. Daniels has still not been cleared for practice due to his injury last season, but he will almost certainly see the field sooner rather than later, given his skill set. He is a former five-star prospect who was the 2nd ranked pro-style quarterback in the 2018 class. While the news of Newman's opt-out might drive up Daniels' ADP a bit, don't be afraid to pay the price.
Given the opportunity, his pedigree, and the insane wide receiver classes that Georgia has this season and next, I think there's a real chance Daniels can end up as a first-round pick. Getting a first-round quarterback this late in C2C drafts is criminal. Sure, it's a little like playing Russian Roulette, but the upside makes pulling the trigger worth it.
RB Jerome Ford, Cincinnati (RB47 ADP 151.7)
When you think about college pipelines for NFL running backs, the Cincinnati Bearcats probably aren't among the first teams that come to mind. However, over the last ten seasons, they have had three running backs land on NFL rosters. This includes Isaiah Pead, who was drafted in the second round in 2012. Michael Warren, their most recent, was added to the Eagles as an undrafted free agent after rushing 261 times for 1265 yards and 14 touchdowns last season. Warren's graduation left 66.6 percent of the Bearcats carries and 65.3 percent of rushing yards up for grabs. Enter Alabama transfer Jerome Ford, the man who is coming to town to fill the void.
Ford was a forgotten man in Alabama backing up the likes of Damien Harris, Josh Jacobs, and Najee Harris. However, don't forget that he was a four-star recruit himself, and the 12th ranked all-purpose back in his recruiting class. The Bearcats run the ball on 60.04% of their offensive plays, and Ford is the most talented back they've had lined up in the backfield in quite some time. If you go receiver heavy at the start of drafts, Ford is a perfect RB2 to round out your team. He will offer you high-end production in college and a strong chance to end up on an NFL roster.
WR Frank Darby (WR84 ADP 271)
Frank Darby is a name most people aren't familiar with outside hardcore C2C enthusiasts. However, he's definitely someone who should be on your radar. The WR1 for the Arizona State Sun Devils has put up prolific numbers over the past couple of seasons. In 2018, N'Keal Harry caught 73 passes for 1088 yards and nine touchdowns from Manny Wilkins. 2019 saw Brandon Aiyuk take over and go for 65 receptions for 1192 yards and eight touchdowns from Jayden Daniels. Not only did both these receivers ball out in college – both were eventual first-round picks in the NFL draft.
Darby doesn't have the recruiting pedigree of Harry or Aiyuk. He hauled in 31 passes for 616 yards and eight touchdowns in 2019 and has averaged 20.8 yards per reception in three seasons with the Sun Devils. Jayden Daniels is coming off a stellar freshman campaign. He figures to get better, and Darby is a deep play threat every time he touches the ball. At worst, Darby is a serious threat to top 1,000 receiving yards with 7-9 touchdown receptions and be a top option in your college league this season. At best, he's the third Sun Devils wide receiver in a row to land in the first round of the NFL draft.
These are five players I think are absolute steals given their price. They could be key contributors to your championship lineup. For other devy or C2C questions, please feel free to follow me on Twitter @mastapj or hit the comments section here. Happy drafting!
Are you a member of the Nerd Herd? For the cost of a cup of coffee each month you get access to exclusive rankings, extra podcasts, and more. Bundle the Nerd Herd with the DynastyGM tool for just $4.99/month.