2020 has been a year straight out of the Twilight Zone. COVID-19 has forced sweeping changes to all aspects of life, and college football is no different. Conferences changed schedules, and many even postponed play altogether. However, perhaps the most drastic shift has been players opting out of playing out of health and financial concerns to prepare themselves for next year's NFL Draft. They will look to capitalize on last year's success for an NFL payday in 2021. In doing so, they are opening up opportunities for other lesser-known players to get their chance in the national spotlight. The following five players are the most high-profile names so far to opt-out of the 2020 season and the five players who might become household names.
Opt-Out: WR Ja'Marr Chase, LSU (84 receptions for 1780 yards and 20 TDs in 2019)
Breakout: WR Racey McMath (17 receptions for 285 yards and 3 TDs in 2019)
Chase is arguably the biggest name to opt-out of the upcoming season, and it's hard to argue with his decision. He is coming off one of the most prolific seasons in SEC history. Chase posted SEC records for receiving yards and touchdowns and had nothing left to prove. While Terrace Marshall might be the biggest name returning amongst the LSU receiving corp, the guy I'm targeting late in C2C drafts with breakout potential is Racey McMath.
McMath has been drawing praise from coaches all offseason. He will immediately move into the starting lineup with Chase's opt-out and Justin Jefferson leaving via the draft. These departures will open up a ton of vacated targets and opportunities for the 6'3" 224-pound senior receiver. McMath could become a favorite red-zone target of new starting quarterback Myles Brennan. He was a three-star prospect in the 2017 recruiting class according to 247Sports. If the offense is anywhere near as efficient as it was last season, he could easily play himself into hearing his name called on draft day.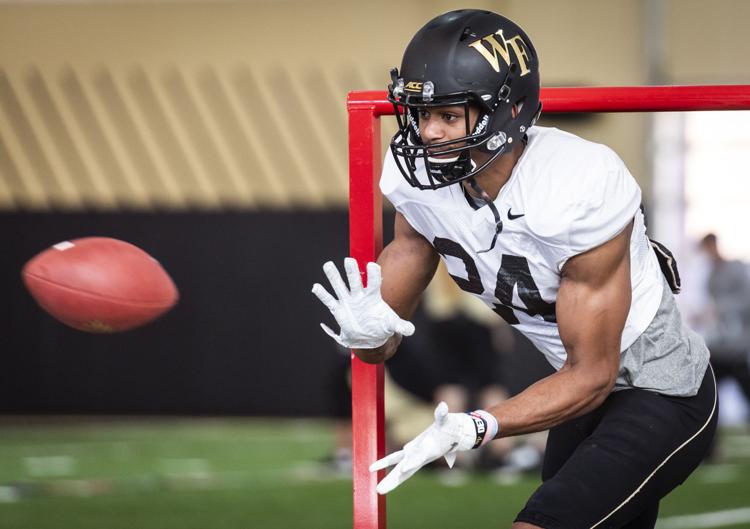 Opt-Out: WR Sage Surratt, Wake Forest (66 receptions for 1001 yards and 11 TDs in 2019)
Breakout: WR Donavon Greene (13 receptions for 249 yards and 2 TDs in 2019)
Surratt was considered one of the top wide receivers in the ACC and a potential day two draft pick but chose to opt-out. This will thrust redshirt freshman Donavon Greene into the spotlight. Greene must step up as the leader of the Wake Forest wide receiver group. To retain his redshirt status, Greene was limited to four games last season. He flashed his potential against Syracuse with seven receptions for 172 yards and a touchdown.
Greene enters Wake Forest a more highly regarded recruit than Surratt. He earned a four-star grade in the 2019 recruiting class from 247Sports and drawing comparisons to Davante Adams. QB Jamie Newman transferred out of Wake Forest and then opted out of the season. So, Greene will be dealing with a downgrade at quarterback with Sam Hartman under center. However, with his talent and the targets Greene should command, he should overcome that and put up big numbers in this offense. He has a real chance to be a mid-round draft pick in a crowded 2022 wide receiver class and be an every-week contributor in the NFL.
Opt-Out: WR Rondale Moore, Purdue (114 receptions for 1258 yards and 12 TDs in 2018)
Breakout: WR David Bell (86 receptions for 1035 yards and 7 TDs in 2019)
Rondale Moore was one of the more surprising names to opt-out given that he missed the majority of 2019 due to injury and only has one year of production on tape. However, his loss will once again be David Bell's gain. Bell will look to improve on the impressive numbers he posted last year. As a true freshman, Bell stepped in and posted six games in excess of 100 receiving yards, including his last three contests. Provided he can do what Moore didn't and stay healthy, he should have no problem improving on last year's 25.99% dominator rating now that starting quarterback Jack Plummer has his freshman year behind him.
While Moore is projected by many as a potential first-round draft selection, Bell was actually a higher-ranked recruit coming out of high school. Moore is more of a prototypical NFL wide receiver given his 6'1" frame. Given his talent and opportunity, it's easy to see a future where Bell is drafted even higher than Moore and has a long NFL career ahead of him, and Moore opting out should only help speed up that process.
Opt-Out: WR Rashod Bateman, Minnesota (60 receptions for 1219 yards and 11 TDs in 2019)
Breakout: WR Chris Autman-Bell (28 receptions for 371 yards and 5 TDs in 2019)
Rashod Bateman broke out last season alongside Tyler Johnson, and many were eager to see what he would accomplish without the NFL draft pick by his side, but he ultimately decided to opt-out and prepare for the 2021 NFL Draft. The two departures leave 146 receptions, 2537 receiving yards, and 24 touchdowns up for grabs. The next man up for the Golden Gophers is junior wideout Chris Autman-Bell. Autman-Bell is a three-star recruit who has a similar build to Bateman and Johnson but wasn't as highly regarded coming out of high school.
However, what he might lack in skill, he should make up for in opportunity as he won't have to fight for targets. In addition to that, junior quarterback Tanner Morgan is one of the fastest rising quarterback prospects in the NCAA. Morgan is coming off a 30 touchdown season and showed considerable improvement between his freshman and sophomore seasons. If he can continue improving and funnels targets to Autman-Bell, he could be a steal at the tail end of C2C drafts. I could easily see a scenario where a big season puts him on NFL radar this offseason. If he's available, make sure to add him before he starts hanging those big numbers on teams this season.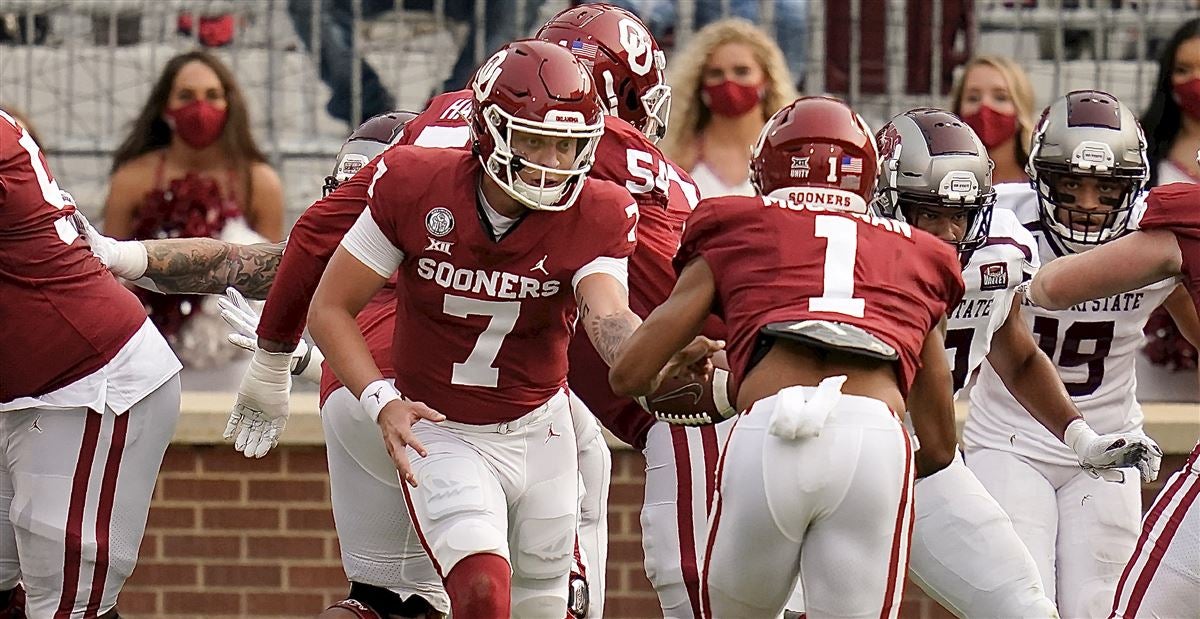 Opt-Out: RB Kennedy Brooks, Oklahoma (165 touches for 1090 yards and 6 TDs in 2019)
Breakout: RB Seth McGowan (incoming freshman this season)
Given that Kennedy Brooks' numbers declined from 2018 to 2019, it was surprising that he chose to opt-out. Especially, considering he isn't considered a surefire NFL prospect. 2019 should have a deep running back draft class. Luckily for the Sooners, however, they are never at a loss for high-end talent. A few backs should see touches for the Sooners this season. The one who should separate himself from the pack is true freshman Seth McGowan.
McGowan enters this season as the 134th ranked prospect and 14th ranked running back in the 2020 class according to 247Sports. The comparison to Devontae Booker might not be exciting. Still, McGowan projects as a future NFL draft selection. I tend to agree given their high-powered offense.
McGowan enters college already possessing a prototypical running back physique. He put this on display during the Sooners first game of the season against Missouri State. McGowan led the team in averaging 6.8 yards per rush while putting two touchdowns on the board, one on the ground and one through the air. This could be significant as Brooks only caught ten passes a season over the last two years. If Oklahoma trusts McGowan with more looks out of the backfield, it will only help his NFL draft stock. McGowan's career is just getting started, but his future is bright. Make sure to grab him in the middle to end of C2C drafts, he won't be available on the wire if you don't.
This concludes my look at five players whose stocks should rise this season given their increased workloads. If you have any comments or questions, feel free to leave a comment below or tweet me.
Have you tried the DynastyGM tool? New updates are being added all the time. For the price of a cup of coffee you can see how your team measures up against your league, find a trade partner, and more. Enjoy seamless integration with MFL, Fleaflicker, Sleeper, as well as manual input for other platforms.