2020 recap
One of the great NFL mysteries will be how Adam Gase was frequently given a long leash across multiple chances as an NFL head coach. Last year, the Jets defense was bottom ten in almost every notable defensive category: yards, points, and first downs. There are few bright spots to carry into 2021 and few reinforcements added this offseason via the draft and free agency. Any improvement this unit sees will come from better X's and O's.
2021 scheme notes
Looking forward to the 2021 season, the most significant change for the Jets is the new defensive look under Saleh. He comes over from San Francisco, where he served as defensive coordinator. His energy and passion garner the respect of his players. He had an injury-ravaged 49ers defensive unit playing well above their talent level in 2020. The year before, he put together a historically stingy unit that carried the team to the Superbowl. The personnel remains largely unchanged, but the deployment of those players will look very different than last year. I expect Saleh to stick to his roots, culminating in a dominant defensive unit as a first-time defensive coordinator for the 49ers. His successful installation in San Francisco can serve as a blueprint for the evolution of the defense in New York.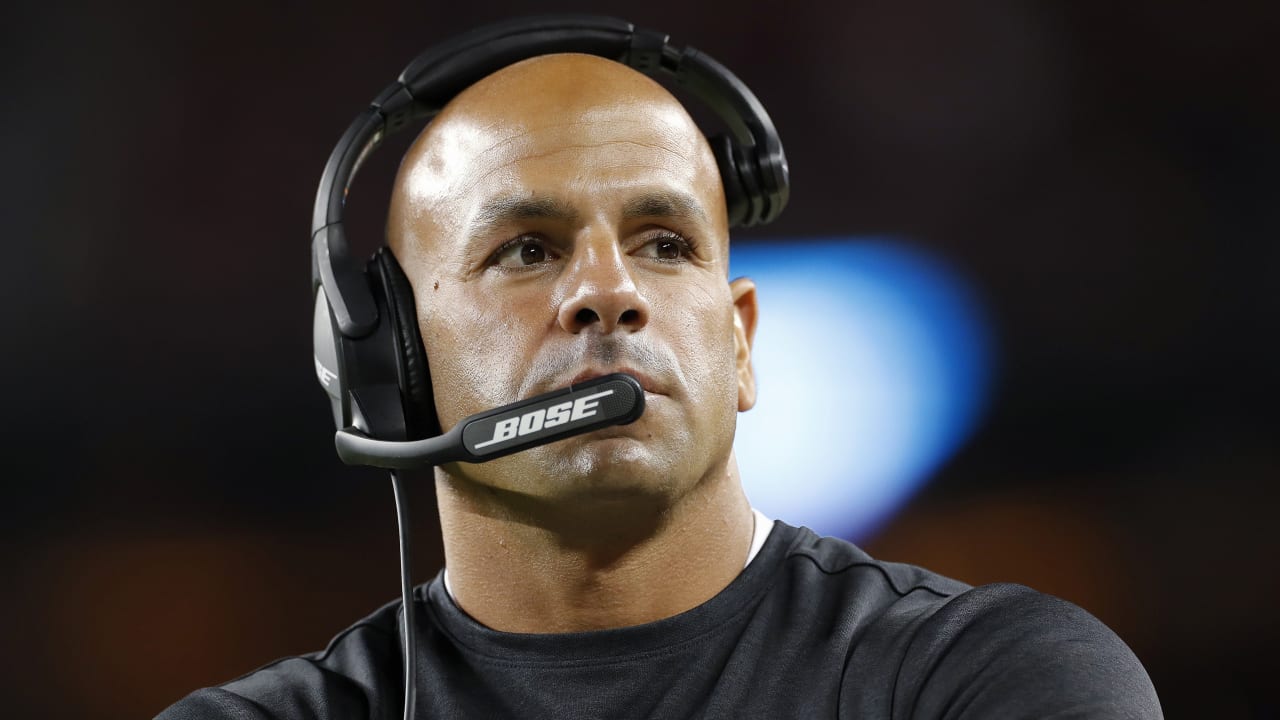 Saleh runs a very traditional defense utilizing almost exclusively a four-man front, most often featuring two defensive tackles. The aim is to control the run gaps by occupying blockers and have the linebackers flow to the gaps to meet the ball carrier or provide disruptive internal pressure on the pass rush to reduce the pocket. Another traditional element of this defense is the heavy usage of two and three LB sets. While the league has been trending towards removing LBs in favor of extra DBs, Saleh's 49ers defense always employed multiple LBs. They patrol the run gaps and clog passing lanes while in zone coverage. This requires linebackers to be proficient in coverage responsibilities.
In the secondary, safeties frequently lined up in two-high formations. This aligns both starting safety positions farther away from the ball, in a poor position to rack up the necessary tackle numbers for IDP production.
Defensive Line
Quinnen Williams
The bright spot of the Jets defense, Quinnen Williams. Williams came into the league as a top prospect in the 2019 NFL draft. He rivaled Nick Bosa as the draft's top-rated player and was selected the pick after him at 3rd overall. He was a dominant force during his time at Alabama. Williams wreaked havoc behind the line of scrimmage, single-handedly blowing up plays and racking up 19.5 tackles for loss and 8 sacks during his final year.
The transition to the NFL was not instantaneous, however, and Williams had a rough rookie year. He often looked lost and only compiled 2.5 sacks and 28 tackles that first year, leaving IDP managers disappointed. Encouragingly, he made a huge leap in his second year despite the COVID shortened offseason. He put together a very solid 7 sacks and 58 tackles while showing some of the same dominant flashes that made him a star in college.
Williams is the centerpiece and will play an important role in this defense. He'll be in the middle of the action, though don't expect him to rival the output of the top EDGE rushers. Unless your name is Aaron Donald, linemen playing from the interior are at a disadvantage in your "DL" designated fantasy lineups. Still, Williams has the talent and now, hopefully, the system behind him to grow into one of the premier names in the trenches, similar to Deforest Buckner's rise under Saleh. Quinnen Williams will be a valuable target in leagues with a specific roster spot for DT or in DT premium scoring.
Carl Lawson
The Cincinnati Bengals drafted Lawson in 2017 as a fourth-round pick. Playing behind an established veteran in Carlos Dunlap, he had a slow start to his career. Their investment in Sam Hubbard a year later further delayed Lawson's potential breakout. Still, Lawson played well in a rotational role and began contributing more in 2020 with a 68% snap share. The Bengals started a transition away from the elder Dunlap; once Dunlap was traded to Seattle, Lawson became a full-time player.
Although Lawson doesn't come with a premier pedigree or multi-year track record of production, the depth chart at EDGE rusher for the Jets is pretty barren after whiffing in previous drafts. Lawson is instantly the best pass rusher for the Jets and should see a heavy snap share right out of the gate. Getting snaps is the first key to IDP production, and I think Lawson could surprise with a high snap count by the end of the year. Production should follow, and the investment to take a shot on him is minimal.
Sleepers
The other names here are uninspiring, and you likely won't find a player that will contribute to your fantasy team, but the guy with the best shot is Vinny Curry. Sacks can be a fluky stat, but that could work in your favor with lottery ticket players like Curry. If this happens to be a season where he lucks into a surge of them, the result will be an asset that increases in value, similar to last year's breakout producers Romeo Okwara, Trey Hendrickson, and Hasaan Reddick. He's at least a name to watch.
Linebacker
If Saleh runs this defense anything like his unit in SF, there will be serious IDP fantasy contributors at LB for the Jets. In fact, even in previous years, we saw average talents like Harvey Langi and Neville Hewitt rack up tackles and fantasy points on this team. Coverage ability will be a crucial factor in winning the snaps for this valuable role, where we could see two full-time players.
CJ Mosley
CJ Mosely is the prime candidate to take over the productive lead role. Moseley broke out in Baltimore as a rookie first-round pick out of Alabama. Selected at 17th overall, he contributed a massive 133 tackles (88 solo) as a rookie. He continued to put up numbers throughout his rookie deal for the Ravens and was a cornerstone piece to many IDP rosters. Baltimore found him too expensive to keep after his fifth-year option expired, and he signed a massive deal to lead the Jets defense in 2019.
Notably, this deal was made prior to Joe Douglass taking over as the GM. And with a groin injury limiting him to just two games in 2019 and a COVID opt-out in 2020, he's been absent from the stat sheet for a long time. The Jets have yet to see a return on investment, but they will find it difficult to move on from him, as he carries a massive dead cap hit through 2022.  
The Jets will likely see what they have in Mosley due to his contract status and a shallow depth chart behind him. t. Coverage skills will be a major factor for the type of defense Saleh has previously run, and Mosley is the type of player, if healthy, that would be crucial to installing that system. There is a high likelihood that Mosley is a 100% snap player in a defense that will likely be facing a lot of run-heavy game scripts as their opponents will likely be playing from ahead. At LB3 prices, he's got an LB2 floor with LB1 upside.
Jarrad Davis
Jarrad Davis is another name that bears close monitoring, as the Jets made a point to bring him in with a 1-year, $7 million contract. Davis also has a first-round pedigree after going to Detroit with the 21st pick in 2017. Though, you'd be forgiven for not recalling that fact as his recent play has not lived up to that standard.
Davis approached 100 tackles in each of his first two years before his poor play led to lost snaps as he fell out of favor with Matt Patricia. He wouldn't be the first player to clash with the now-fired head coach, and a revival in New York is very possible based on his prospect profile entering the league and the previous productive years under his belt. The fact that the Jets targeted him in free agency is encouraging for his bounce-back prospects. The red flags around the quality of his recent play could be rationalized as a poor fit in an overcomplicated (and unsuccessful) defensive scheme. He's worth keeping an eye on.
Sleepers
Blake Cashman would be one final sleeper to monitor. He had a productive 100 tackle season in his final year at Minnesota, and he showed impressive athleticism during the combine with fast times in the speed drills and a strong vertical jump. These theoretically translate to good coverage skills, but his average frame, poor length (below 5th percentile arm length at 30.13"), and extensive injury history have prevented him from developing into a consistent NFL player. He still has a shot to be a late bloomer.
Defensive Back
I don't expect significant value on this team in the secondary. The linebackers will be tasked with stuffing the run and guarding underneath, with two high safeties responsible for limiting big plays. That said, there are some intriguing talents at this level of the defense.
Marcus Maye
Marcus Maye was a Week 1 tease last year after looking like he stepped directly in Jamal Adams's shoes with 10 tackles and two sacks. As the season went on, he started aligning further from the line of scrimmage, and his IDP stats dropped. With the new scheme under Saleh likely asking him to stay deep, that week one IDP "breakout" seems more like a mirage, though I expect he'll play a lot for the team and still be an average DB contributor to deeper IDP lineups.
Ashtyn Davis
Ashtyn Davis was a popular 2020 sleeper coming out of Cal due to his rangy playmaking abilities. While he will continue to grow as a player, he's best used as a weapon against the passing game. Thus, he is unlikely to hit the necessary tackle numbers to reach a comfortable scoring floor for any IDP lineup, though he has splash play upside. Still, to be a regular DB2/3 contributor, he'll have to emerge as one of the best free safeties in the league like Minkah Fitzpatrick, a big ask.
Sleepers
Jamien Sherwood and Hamsah Nasirildeen were drafted in the 5th and 6th rounds as college safeties that might earn their playing time at LB in this defense. Position switches like this are a wild card. Still, if they have DB eligibility while playing in a role closer to the line of scrimmage like that of a linebacker, they become valuable fantasy dart throws.
One final name to keep an eye on: Lamarcus Joyner. He is the veteran presence and could find a lot of playing time in Nickel formations. He was an up-and-down IDP producer. Joyner was a good player for the Rams before finding himself in a chaotic environment with the Raiders. He'll be in a more stable environment under Robert Saleh.
Conclusion
There is value to be found on this defense. Quinnen Williams is an excellent player who has a suppressed ADP based on his position on the interior of the line. People are discounting CJ Mosley because his last productive season was in 2018. Still, as a likely every-down player, he will produce regardless of whether he's the same talented player he used to be and carries the upside to return to the prominence he once held. Even with these two headlining the defense, there will be valuable roles up for grabs, and some of these sleeper candidates will have stretches where they could plug holes in your lineup if they seize on their opportunity. This defense is likely to see the field a lot again, and don't ignore them when putting together the defensive side of your IDP teams.
Get the Dynasty Nerds app in the Apple Store. Mock drafts for Superflex, 1QB, Standard, even SFB11. If you are a DynastyGM subscriber it even syncs with your actual teams so you can do rookie mock drafts with ALL of your actual picks. Also on desktop. Coming soon to Android.