This article is going to Highlight the best IDP players from the Super Bowl Champions Tampa Bay Buccaneers. I'm going to go through their defensive units and predict which players will be the most beneficial for your IDP rosters in 2021. The Buccaneers had one the best defenses in 2020, and were fortunate enough to return everyone. 2021 looks like it should be a repeat of the dominant run that the Bucs had in 2020.
Defensive Line
Ndamukong Suh
He is the hired mercenary who continues to be one of the most consistent interior linemen in the game. Ndamukong Suh is still a beast, and in 2020 he put up 44 total tackles, six sacks, one forced fumble, and nine tackles for loss. He is still a game wrecker on Sundays and, for fantasy football purposes, he was the DL25 in 2020.
Suh has proven that he can still beat some of the best interior linemen in the game. Last year, he had nine QB hits along with the six sacks, for an interior lineman he was a wrecking ball. His presence as a disruptor on the line opens up opportunities for his fellow linemen to get sacks. At the age of 34 going on 35, I wouldn't make getting Suh a priority this upcoming season. If you have more than two spots for a defensive lineman, then draft Suh. In 2021, Suh is ranked DL46 and should be seen as an ideal backup/bye week replacement.
Vita Vea
Vea is coming into the 2021 season as the DL56, according to Fantasy Pros. Vea missed 11 games last season after breaking his leg against the Chicago Bears. He'll be a welcomed addition to this defensive line that was already excellent last year. Vea's main role for the Bucs is to be the run-stopping nose tackle. With his limited time in 2020, Vea tallied 10 tackles, two sacks, three tackles for loss, and three QB hits. Vea has the potential to be as good as Suh is, but his role as an interior lineman doesn't scream a great statline. I would grab him just for his upside, but I wouldn't make him someone I'm seeking out.
Jason Pierre-Paul
Jason Pierre-Paul (JPP) was a monster in 2020, finishing as the DL1 on Fantasy Pros rankings. He put together his best season since coming to Tampa; 55 tackles, 9.5 sacks, four forced fumbles, two fumble recoveries, two interceptions, and seven tackles for loss. Pierre-Paul was nothing short of an absolute force for the Bucs, and there's no reason to think he won't be just as productive in 2021. Since coming to Tampa, JPP has only missed eight games in three seasons and has put together 30.5 sacks. An incredible athlete with 34.75-inch arms, perfect for batting down passes and getting to quarterbacks.
My overall outlook on JPP is that he can replicate his impressive season, and I would 100 percent back grabbing JPP as an IDP for 2021. This is a guy who plays really well with the Bucs' incredible defensive unit and made the most out of a great situation. I fully expect the return of Vea to take on double teams will open up more sack opportunities for JPP. While all his stats might not be sustainable, I do believe that Pierre-Paul will continue to produce at a high level in 2021.
LINEBACKERS
Lavonte David
Lavonte David has been a tackling machine his entire career, averaging 125 tackles/season. Last season, David had 117 tackles, 1.5 sacks, three forced fumbles, and 12 tackles for loss. Simply put, David is a stat stuffer with the most basic stat and can help your team by scoring eight-plus points a game in fantasy. David is very meat and potatoes with his stats, one stat that really stands out is his 12 tackles for loss, which shows how strong he is against the run.
Overall there's not much to say about David. To put it simply, you want him on your team. He's consistently one of the best linebackers and a lock for tackle production. David is going to give you a good stat line every time he plays, with a few great ones sprinkled in between. He'll most likely never give you a down week. Lavonte David is someone you need to bring onto your fantasy squad.
Shaquil Barrett
Shaq Barrett was a clutch player last season for the Bucs, picking up four sacks between the NFC Championship and Super Bowl games. During the regular season, Barrett posted 57 tackles, eight sacks, two forced fumbles, and a safety. While Barrett averaged 12.7 pts per game in fantasy, he did see a massive decline in sacks and QB hits from his 2019 campaign. This decline makes me see him as a one-year wonder, someone who hit his pinnacle and regressed. Don't get me wrong, he's still a valuable asset in IDP leagues, I just think he's a little overhyped.
Barrett officially signed a 4-year $72 million dollar contract to remain with the Bucs. This is great for his IDP value in 2021, as he'll be heavily relied on as the big playmaker this upcoming year. Barrett, like most of the Bucs defense, will greatly benefit from having a healthy Vea upfront to take on those double teams and create space for blitzes. Barrett is good and provides upside for multiple sack games, but he shouldn't be valued any higher than Fantasy Pros rankings have him at LB38.
Devin White
Devin White is the beast in the middle that everyone wants on their team, redraft or dynasty. Ranked #2 for all IDPs by the FantasyPros website, White is clearly a rising star for the Bucs. 2020 was a display of excellence for White, with 140 tackles, nine sacks, a forced fumble, and 15 tackles for loss. White is a heat-seeking missile that covers ground well, stops gaps, and blows up running backs in the open field.
It's easy to see why White goes into the season ranked as the LB2, and I have a feeling he'll be number one during 2021. White has everything you want in an IDP, averaging 33.8 points per game, the most by an IDP. There's not much more to say about White, just go draft this guy if you can.
DEFENSIVE BACKS
Carlton Davis
Carlton Davis had a breakout season for the Bucs last year at cornerback. Davis picked off four passes, collected 68 tackles, and had 15 pass break-ups. The 24-year-old corner had a statistically good year but had some issues in coverage. Last season, he allowed the fourth-most receptions (76) and the fifth-most yards (961), while giving up five TDs. He's not the best coverage corner in the league and according to PFF who graded him out at 66.4, he's average at best. Where he is above average has been as a run defender where he graded out at 83.8.
Davis is a good corner; he's just beat a little too much, but the good thing is he was only burned on 6.3 percent of routes against him. So he wasn't miserable in coverage, just sometimes shaky. One thing he can improve on is his hands and body control, there were a number of opportunities for him to intercept the ball. Davis would put himself into position but just lacked the concentration to bring the ball in. If he can slow himself down then an eight interception year is not out of reach for Davis. This is what makes him an interesting grab for IDP leagues.
Jordan Whitehead
Jordan Whitehead, the fourth-year standout at safety, is looking for a breakout season in 2021. Hard-hitting is the perfect way to describe his approach to the game. He blasts ball carriers, which has positives such as nine tackles for loss, and negatives such as nine missed tackles. His style is reckless and fun but can have consequences. Last year, Whitehead had 74 tackles, two sacks, a forced fumble, and 4 passes defended. A nice stat line for a safety and this young man is only 24 and getting better.
One thing I like to see is Whitehead blitzing more, last season he had 36 blitzes, which is a little more than two a game. I want him to blitz three times a game, this guy could easily record six-plus sacks if given more chances. I'm taking my chances with Whitehead in 2021 and drafting him in IDP leagues.
Antoine Winfield Jr.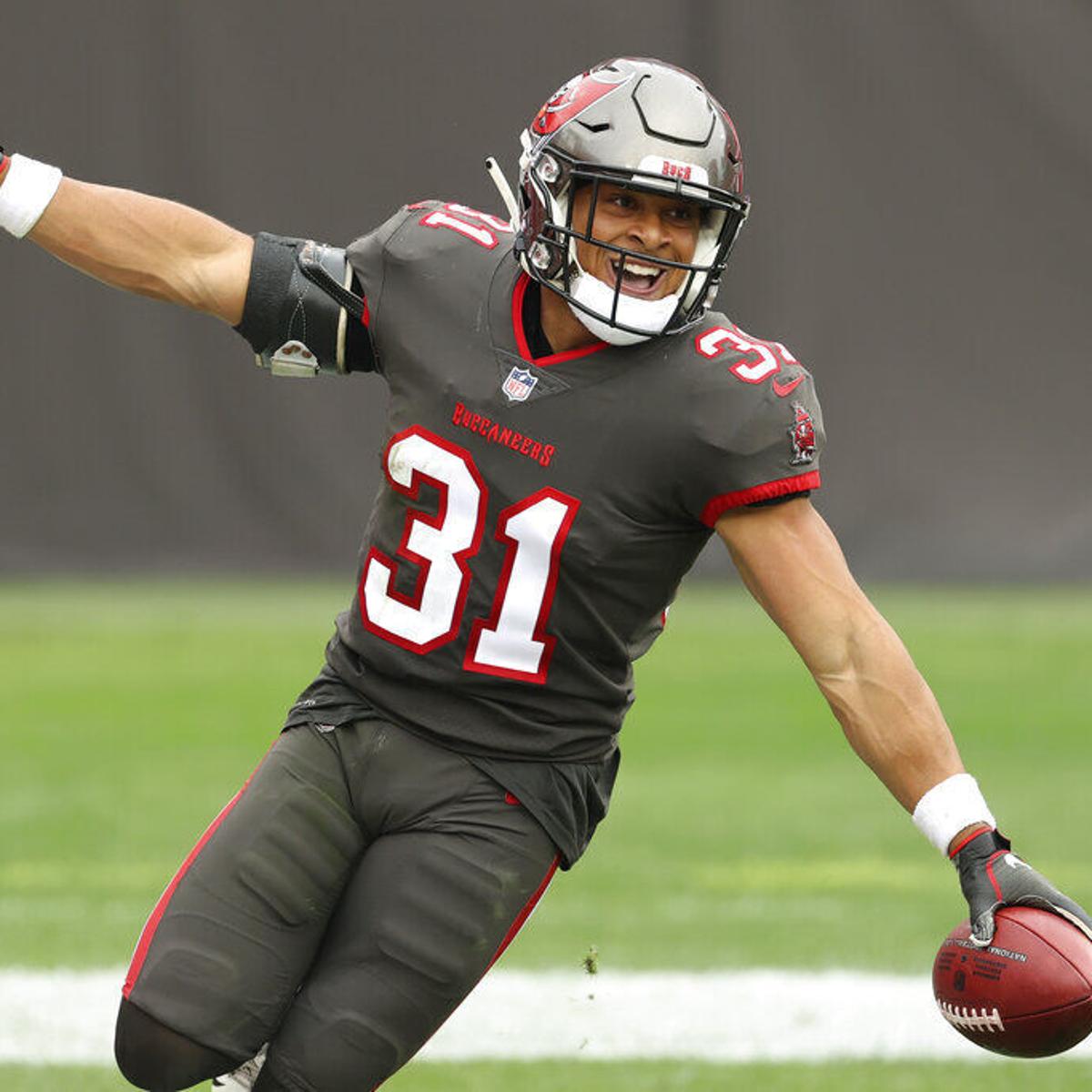 In his first year in the league, Antoine Winfield Jr made it known that he will be one of the best safeties in the league for a long time. Winfield's numbers were excellent for a rookie; 94 tackles, three sacks, two forced fumbles, and an interception. He has everything you want in a safety; the ability to recognize plays, awareness of ball location, and the playmaking ability. He's a game-changer on the field and is only getting better. According to Playerprofiler, Winfield averaged 23.7 pts/games and should be an asset in IDP leagues. Fantasypros has Winfield at DB19, and for me guys, that's a steal. Go grab him in every draft format and get him while he's cheap, this guy may be one of the best safeties for the next ten years.
Conclusion
The Bucs might just be the most loaded team on defense. They have playmakers and top IDPs at every level of the defense. If I were to stack IDPs, it would be from the Bucs, they are just that good on defense. Look for this team to produce a top-five player at each position in the IDP rankings this year. So don't fool yourself, go grab Tampa Bay Buccaneers players in IDP drafts.
Make sure you subscribe to the #NerdHerd, where you get exclusive content, dynasty/rookie/devy rankings, buy/sell tool, and a bonus podcast too. Dynasty Nerds also recently launched the #DynastyGM tool, which is a complete game-changer in the fantasy industry. Click here for a free trial. We truly are your one-stop-shop for all your fantasy football needs!