The 2021 RBV data has been published, but now it's time to put it to work. If you read that article and heeded the suggestion, you may have worked out some of the best fits already. Now, I will share what the data reveals to me for the rookies in Zone run-blocking schemes.
Many of you avid football fans may already know the difference between a Zone blocking scheme and a Gap blocking scheme. The point of attack designed in Gap scheme simplifies reads. In Zone, however, there is an intense mental processing demand. As the trenches flow in a direction, the backs must read the offensive lineman's leverage as it develops. Let's identify where some opportunities might exist for rookies.
Zone Run Scheme Landing Spots
Zone blocking is more prevalent in the NFL, with 20 of 32 teams running Zone at least 60% of the time. Of those teams, there are only three that have a suitable vacancy. San Francisco's stable may appear full, but Raheem Mostert didn't exactly build on his stellar streak from 2019. His dead cap hit is less than $500k, so the 49ers aren't exactly married to him. JaMycal Hasty had some buzz in 2020, but failed to dazzle in his opportunity. Then, Jeff Wilson helped people win leagues by running for 183 yards and catching a TD in week 16. The challenge with him is that he doesn't seem trusted with consistent playing time. There is a real opportunity here, and it is primed for a good Outside Zone (OZ) runner, which they run ~47% of the time.
Next, there is the New York Jets, who have La'Mical Perine and Ty Johnson. Perine capped out with 13 touches, including a touchdown in week 7, but hardly enough to gauge his ability. Adam Gase may have had a suppressive effect, and Perine could be the 'buy low' of the century. There is also the concern of a coaching change, but we should still see a preference for Zone running with Mike LeFluer coming on board. This new staff has provided us supporting evidence by bringing on Tevin Coleman, who knows Shanahan's system. This doesn't preclude current running backs, or even incoming rookies, from taking the starting role based on Coleman's contract. Perine's grade in last year's RBV data may all but count him out; however, he was near the bottom in Zone running in 2021.
Other Possibilities
Other possibilities for vacancies include Houston (but they just signed Mark Ingram), Buffalo, and there is a razor-thin chance Philadelphia could do something. This data, if not used in the context of coaching changes, could lead to under-appreciated situations. Atlanta is one such case with new OC Dave Ragone, who spent his last five years with the Bears. The Bears Zone run usage was 82%, and only unremarkable assets like Ito Smith and Qadree Ollison remain in Atlanta. It is reasonable that the Falcons could make a move in the draft. Don't sweat the acquisition of Mike Davis too much. He has a history with the coaching staff and his contract is not starter money.
Best Zone Scheme Fits
We will look at these three different ways: overall, Inside Zone (IZ), and Outside Zone (OZ). Runners must emphasize slightly differently on IZ vs OZ. Patience, burst, and change of direction have a larger demand in OZ due to the acute angles of the cuts upfield. Inside zone requires less demand on the sharp change of direction but requires more contact balance as one works through the trenches.
Best Overall Zone Runners
Javonte Williams
We already took a look at one of the better Zone runners in Running Back Vision Model – 2021: Jaret Patterson. Since my entire take on him was covered there, he won't be covered here. The only other RB that scored above 60% in both Zone varieties is Javonte Williams (70.2% IZ, 61.1% OZ). I love Williams' build. At 5′ 9″ he could get lost in the trenches, but can use his 220-lb frame to deal some damage. An added benefit of this combination of height and weight is a lower center of gravity which afford excellent contact balance.
Contact balance is extremely helpful to be able to realize extra yards like this next play. His ability to recover and accelerate after contact will be valuable at the next level.
We are talking about Williams' prowess as a zone runner, but his vision-decision-action cycle is actually faster in Power and Counter concepts. This is a dangerous quality to bring to teams who mix Zone and pulling concepts for misdirection. For a deeper dive on Williams, check out Matthew Bruening's profile on him.
Best Inside Zone Runners
When looking at the tendencies in single categories, we can add Arizona (~49% IZ frequency) and Miami (~36%) to the list of potential landing spots for those runners who shine on Inside Zone. Arizona may sit pretty with Chase Edmonds, but they should be looking for another runner now that Kenyan Drake is in Vegas. Miami's Myles Gaskin had an efficient season at 4.11 ypc, but he was on the low end of the spectrum 47th of 62 running backs charted in 2020's RBV model. Salvon Ahmed could put a damper on any perceived opportunity, however as the best IZ runner. RBV's 2020 data did indicate he was a good fit in that scheme. With that said, let's see who could shine in a team's Inside Zone scheme from this rookie class.
Michael Carter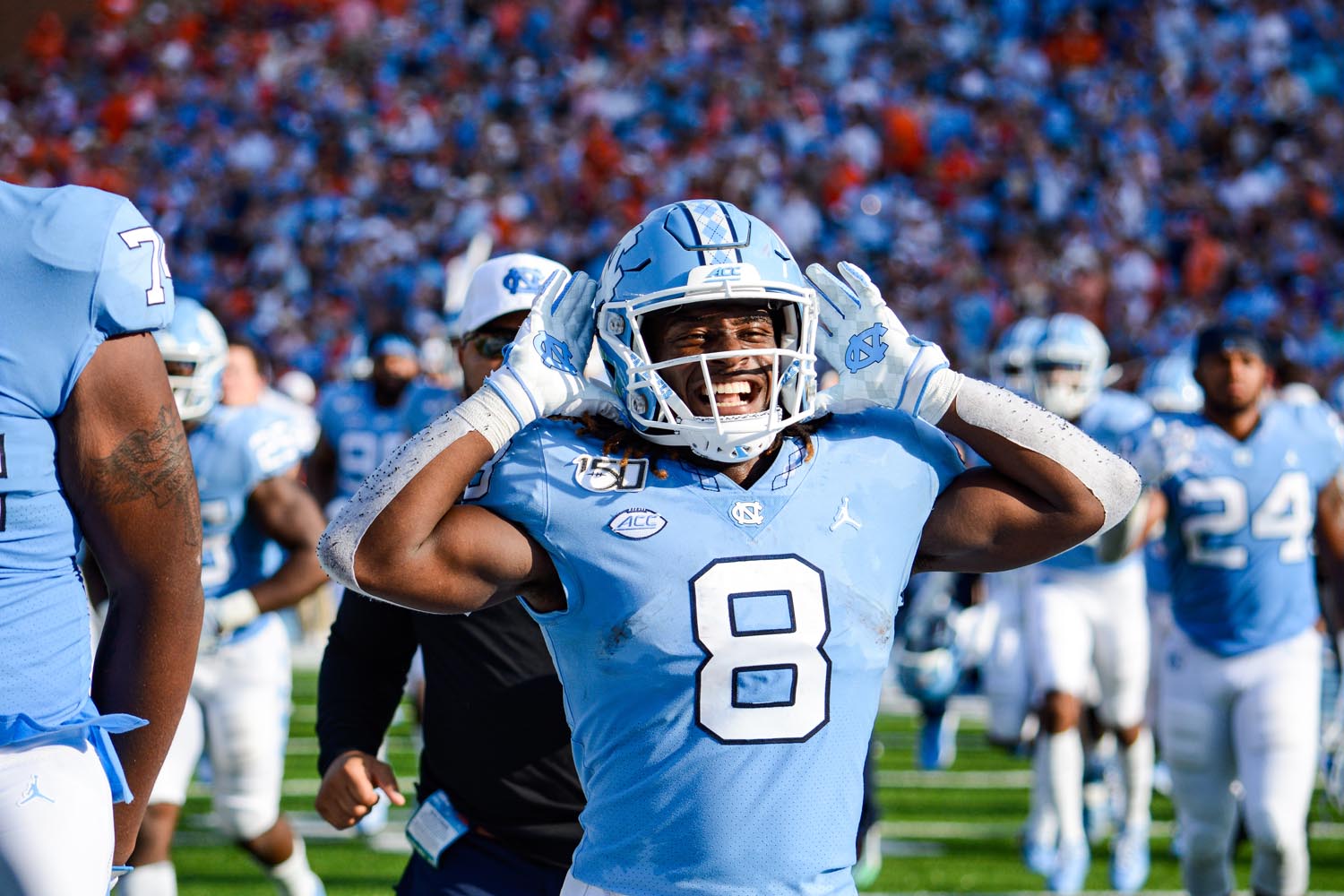 While Michael Carter may be known for his ability on the boundary, Inside Zone is where he really shines. At 83% adjusted success rate, fluid feet and excellent vision in the trenches are major contributing factors. As you can see in the below clip, he can maximize the space by his willingness to trade paint with the right guard and tackle. We also get a glimpse of his contact balance which is a core feature of his game.
In this clip we see the speed of his mind-body connection translating to his fluid feet. The intended point of attack was the left A or B gap, but as blocking develops, he recognizes the cutback lane bursts through it.
Inside Zone is allows for more efficient downhill running. This will let Carter to get to the second level more directly, increasing the frequency of seeing his other tools. His finishing qualities include elusiveness and anticipatory vision in the open field. Take a look at this next play and pay attention to when he reaches the second level. He reads the defenders from his left, and their pad alignment parallel to the sideline indicates an aggressive pursuit. He takes advantage with his footwork and exploits the cutback void created by the linebackers.
Carter has the tools to be explosive and dynamic in space, and he should be exciting anywhere that he lands. To see a more in-depth look, check out his profile by Lake Slabach. Another exciting runner, known for his explosiveness, is also effective in this scheme.
Travis Etienne
Scouting Report Excerpt – Travis Etienne
Travis Etienne has the speed, burst, and vision preferred in running back prospects. Good hands out of the backfield with a good catch radius, elevation, and very good body control will compliment his ability to line up outside. Brings explosiveness that will be a mismatch vs most LBs and will exploit weak arm tackles w/ play strength. With that said, as a long strider, he does not display high-end finishing qualities of power and elusiveness, though he can be 'slippery' through use of his hip flexibility. His speed, however, is dangerous in the open and sure to exploit defenders using bad angles.

Vernon Meighan – Travis Etienne Scouting Report
Travis Etienne Tape
Above is an excerpt from a report I wrote upon Travis Etienne. One of the things that stand out is his straight-line speed and acceleration. Both of these qualities make him an excellent fit for a heavy dose of inside zone runs. At a 75% adjusted success rate on observed IZ runs, we can see why he has been among the top names amongst college running backs. One of his keys to success is the patience to press the line of scrimmage. This will complement his explosive ability when it opens up cutback lanes. Engineering plays to get him into space make him the most dangerous. Take a look at the result when the defense allows this to happen.
Now, this was a draw play, so it is tough to evaluate in the context of what he will see/do in the NFL. No matter what, we can see his home run speed as he increases distance the between him and pursuers.
I mentioned my concerns about his power, but to clarify that a bit, I actually love his play strength and balance against imperfect tackle attempts at his legs. The above play demonstrates this somewhat. You need to have good play strength and balance to recover from attempted shoe-string tackles like this. The challenge is the head-on hits seldom result in him finishing forward due to his pad level. But for glancing blows, this isn't an issue, as seen in the below clip. This is more of a note than true concern because we are banking on offenses getting creative to get him in space. Landing on an innovative team that can block Inside Zone consistently well is a problem for all opponents.
Other Names to Examine for Inside Zone
Another name to look at is Cam'Ron Harris. When charting his plays, I was only looking to identify scheme but an 83% adjusted success rate in the scheme warrants a deeper look. Georgia's Zamir White (64.8%) and UL-Monroe's Josh Johnson (64.2%) are two more backs warranting film study for Inside Zone. Rhamondre Stevenson also peaks curiosity with a 79.5%, but the challenge is he only had 11 carries observed in the scheme.
Best Outside Zone Runners
For Outside Zone, there are only two real fits with vacancies: San Francisco or Buffalo. As mentioned earlier, Buffalo is an outlier as an option because they have drafted backs in each of the last two seasons. The Bills have also had success in the scheme with the 5th best adjusted success rate. San Francisco, on the other hand, is likely to seek improvement. Either way, this next runner could really give them a boost.
Trey Sermon
Former Sooner and Buckeye Trey Sermon hasn't necessarily dazzled statistically throughout his career. Failing to eclipse 1000 yards in any season of his collegiate career may give pause to those who believe the truth exists in the numbers, but this is why the tape and adjusted success rate matter. Trey sermon is the best Outside Zone runner in this year's model, and his ability is attractive in a 6'1″ 215 lb package.
Trey Sermon Tape – Movement and Burst
Sermon's athleticism should not be in question as shown by his hurdling ability. On closer examination, it seems like he can accelerate as he bends around the edge. An ability such as this will be quite the asset as an Outside Zone scheme. Matt Waldman gets a lot deeper into his "Curvilinear Movement" which exceeds acceleration around the edge, but facilitates his movement through the trenches. When you have a 90% success rate on the edge like Sermon can, you can counter over-aggressive defenses with Belly Zone runs like this:
While he may not have break-away speed, his burst allows him to get to his top speed in no time. Combine that with his ability to change direction while accelerating, and defenses have a lot to worry about. Change of direction, speed, and burst don't mean a whole lot without vision.
Trey Sermon Tape – Vision
As I watched Trey Sermon's tape, I kept noticing an above-average level of anticipation, allowing him to use the defensive flow against them consistently. Unfortunately, his vision is far from perfect. When the trenches are extremely muddy his feet, which are normally fluid, slow down considerably. I would blame this mostly on his mental processing speed and mind body connection. This is to be expected for most running backs, but it can also be improved. The draft profile by Erik Kortz provides a deeper look at what Sermon brings to the table.
Of the two teams mentioned regarding outside zone, San Francisco should be drooling over him as a prospect. He has better size and ability than any existing running back they currently have, though Mostert still has better speed. For Buffalo, his a build superior to both Moss and Singletary. The jets come to mind again as a possible candidate given Mike LeFluer's hiring as OC. Keep them in mind as a sleeper landing spot. There will be a temptation to downgrade Sermon in this landing spot, but don't do it. Trey Sermon could be exactly what your teams and the Jets need to go from insignificant to challenger.
Jermar Jefferson
Scouting Report Excerpt – Jermar Jefferson
Despite Jermar Jefferson's (JJ) build (5'10", 217lbs), he uses good quickness and COD to make a living as a running back. Vision is good but capped as there is a lack of evidence of anticipating next-level defenders, essentially responding to the most apparent developments. Good play speed with good Vision-Decision-Action cycle (VDA) shown in his willingness to be patient and press the LOS on inside runs allow him to utilize his COD and good-very good burst to get to the second level on clean reads. Good homerun speed is his best finishing quality, and with better conditioning, it could raise to the level of very good. JJ's size comes with the surprising lack of play strength. Marginal tackle-breaking ability against DL as evidenced by lack of success overcoming one-armed grasps. Adequate power and contact balance while finishing make his success dependent on getting into open space to use his speed. JJ's ability in power/counter/gap run schemes is still largely unknown due to the lack of sample size. Given that man blocking concepts are typically less dynamic reads, there is some potential hidden upside for him in said schemes. Lack of sample size in running routes and being targeted makes receiving ability inconclusive.

Jermar Jefferson Scouting Report – Vernon Meighan
Jermar Jefferson – Outlook
Burst and speed are how Jefferson will win at the next level. The trouble is the advantages afforded by burst and speed at the collegiate level often disappear when entering the NFL. For Jefferson to truly realize his potential at the next level, he will have to improve his vision.
Jefferson's vision is more reactive than intentional or predictive. He has the one prerequisite to elevating his vision: patience and the willingness to press the line of scrimmage. If he can learn schematic nuances and play "chess" instead of "checkers" with his approach, he could elevate to a dangerous asset in a heavy outside zone scheme.
Elijah Mitchell
I have to admit, at first glance, I was not sold on Elijah Mitchell. A lot of the flash and pizzazz of many others in this class seemed to be lacking from his film. The thing is, Mitchell came in 5th in Outside Zone success (68.3%) behind Jefferson by a 10th of a point! This warranted a deeper look and inclusion in this section. Initially, I set out to identify the top two prospects in each category that had not yet been mentioned.
Mitchell – Vision and Feet
Mitchell's speed is solid enough to take advantage of poor defensive angles and gaps as they open up. Good to very good vision allows him to bend the definition of open pertaining to gaps. His competitive toughness enables him to drive through cracks in the trenches with confidence and solid burst. We can expect him to take advantage of clean read consistently, and his vision quality doesn't dwindle much when the trenches get messy. Mitchell also wisely uses the space he is presented, "trading paint" with offensive linemen when needed. He is reminiscent of Jordan Howard early in his career (in vision only).
With many OZ runs there is an inside-out progression the back is meant to read leverage and find the hole. His vision seems to see the bigger picture beyond those initial reads, and he wisely works against leverage when necessary or beneficial. To be able to do this consistently, he has to have a good understanding of his own ability in the context of the defensive flow. Knowledge of his own speed is evident in his footwork where it is rare to see his feet get him in trouble. Additionally, he seems to have good flexibility and enough lateral explosiveness to skip gaps and avoid penetrating lineman.
Mitchell – Finishing Qualities
When it comes to finishing, his contact balance is nearly on par with Javonte Williams. He combines this with good play strength to run through one-arm tackles and carry a few defenders a few yards occasionally. These good traits are necessary with only solid homerun speed and true elusiveness. Unfortunately, he has shown some carelessness with the ball in the open field leading to some critical fumbles after big gains. With all that, Mitchell is probably going to be somewhat overlooked in rookie drafts. If he falls to you late and you got everything else you need, take a swing.
Summary
Just to review, the best opportunities for Zone scheme overall are the Bills, 49ers, Jets, and Texans (patience required). The running backs we want to land at these locations per their RBV success are Javonte Williams and Jaret Patterson. For Outside Zone we are looking at the 49ers, Bills, Jets, and Falcons, then pairing them with Trey Sermon, Jermar Jefferson, or Elijah Mitchell. Inside Zone team like Arizona, Houston, Miami and the Jets are the destinations where we hope that Michael Carter and Travis Etienne land.
All there is to do now is wait for the draft. While you wait, you should consume some of the tape for yourself at the DynastyNerds Prospect Film Room through a #Nerdherd subscription. With that same subscription, you can check out the Nerd Score as it becomes available for 2021. Follow me on Twitter for more of my thoughts, articles, and videos.