As a football enthusiast, you've no doubt become familiar with the 'ACL' as a devastating and season-ending knee injury. There is also a chance you may have personally experienced a torn Anterior Cruciate Ligament (ACL), as well as the long and difficult road of rehabilitation required to return to one's prior level of physical activity. Every year there are high-profile NFL players who experience the extreme misfortune of an ACL injury, and 2020 was no exception. Saquon Barkley, Joe Burrow, Odell Beckham, Nick Bosa, Courtland Sutton, Tarik Cohen… the list could go on. The goals of this article are to (1) provide an overview of the knee joint and the purpose of the ACL, (2) discuss concomitant injuries which may occur, and (3) look back at how prior stars performed following ACL reconstructive surgery.
A Brief Overview of the Knee
The bony structures of the knee include the femur (thigh-bone), patella (knee cap), and tibia (shin-bone). These bones provide the structural foundation for the muscles of the upper leg (such as the quads and hamstrings) to flex and extend the knee. There are also many soft-tissue structures that serve a critical role in optimizing knee function, such as the meniscus and surrounding ligaments.
Ligaments connect bone to bone, and there are four 'main' ligaments in the knee (Image A). These include the Anterior Cruciate, Posterior Cruciate, Medial Collateral, and Lateral Collateral Ligaments. You have most likely heard these anatomical structures referenced in their abbreviated forms before: ACL, PCL, MCL, and LCL, respectively. It is also important to take note of the two menisci (Image B). The menisci are C-shaped structures made up of fibrocartilage, which largely serve as shock absorbers by cushioning the knee. These are termed the medial and lateral meniscus, respectively.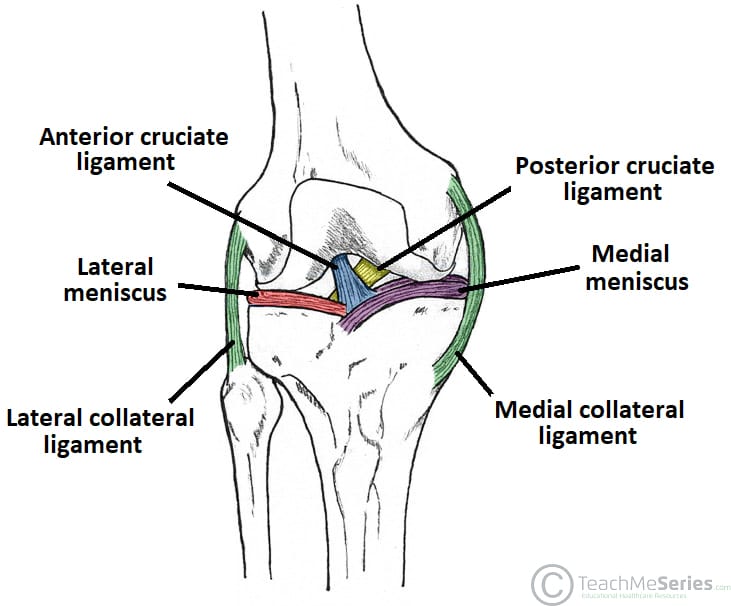 What is the purpose of the ACL and how is it injured?
The ACL passes diagonally through the middle of the knee joint, connecting the femur (thigh-bone) to the tibia (shin-bone). Its main function is to prevent the tibia from sliding forward in front of the knee joint, but it also provides rotational knee stability as well. Both of these functions are critical for knee stability, especially during high-intensity activities such as running, jumping, and cutting. As you can imagine, a football player requires absolute stability in his knee in order to plant, cut, and avoid defenders in a fraction of a second. Since the ACL is a major knee stabilizer, individuals with an ACL deficient knee will frequently describe a sensation of their knee "giving out" with activity, followed by increasing pain and swelling.
The ACL is most commonly a non-contact injury. Put simply, injury occurs when the knee collapses/rotates/twists inward while the foot is planted firmly against the ground. For example, this is commonly seen when a player attempts to plant and quickly change speed/direction quickly. Excellent video examples include Jimmy Goroppolo (specifically the 16-second mark) in 2018 and Odell Beckham Jr. (1:02 mark) in 2020. In both videos, you will see the athlete plant their foot and load their knee with a tremendous amount of valgus/internal rotation force (aka a force that twists and caves the knee inwards), overloading the ACL and resulting in a tear. This mechanism of injury can also occur with physical contact, such as what we saw when Joe Burrow (2:06 mark) was rolled up on by a defensive lineman in week 11 this season. When the ACL tears, athletes commonly describe hearing a "pop", with the rapid development of pain, swelling, and decreased range of motion.
Additional Injuries
At the initial time of Joe Burrow's injury, we were told he not only tore his ACL but had "other structural issues as well", including his medial collateral ligament (MCL). This is known as a multi-ligament knee injury. As we discussed earlier, the MCL is on the inside (medial side) of the knee. When the knee collapses and rotates inward with an ACL injury, this may also stress the MCL and result in a simultaneous tear, as demonstrated in Image C below. This results in greater knee instability, as the MCL plays a major role in preventing the knee from caving inwards (known as knee valgus). In the most severe of injuries, such as a very high-energy trauma resulting in knee dislocation, multiple knee ligament injuries can include ACL/MCL/PCL injury with associated injury to the major artery and nerves surrounding the knee. Examples of this include Dustin Keller in 2013 (WARNING — gruesome content — proceed with caution) or McKenzie Milton (again — proceed with caution). Unfortunately, for those two phenomenal young athletes, this is a life and career-altering injury requiring complex surgical treatment and significant postoperative rehabilitation (Duethman et al. 2020)
An additional injury with may occur with an ACL is tearing of the medial or lateral meniscus. In fact, one of our recent studies (Krych et al. 2020) demonstrated 2/3 of patients with ACL injuries had a simultaneous meniscus tear. I suspect that in addition to Joe Burrow sustaining ACL/MCL injuries, the likely culprit of his "other structural issues" was a meniscal tear. When these tears are very small and located on the inside periphery of the meniscus, they can be shaved back to a smooth edge at the time of ACL reconstructive surgery. However, when larger and/or located closer to the outside periphery of the meniscus, they should be repaired at the time of ACL surgery. Growing research in orthopedic sports medicine has shown the importance of the meniscus in cushioning the knee joint and preventing the femur (thigh bone) from making contact with the tibia (shin bone), resulting in pain, cartilage wear, and the development of knee arthritis at a young age (Krych et al. 2018)(Faucett et al. 2018)(Krych et al. 2017). As such, athletes with ACL and meniscus tears should undergo repair of the meniscus (performed with sutures) at the time of ACL reconstructive surgery for optimal knee health and function going forward.
Surgical and Rehabilitation Timeline
I would also like to point your attention to the timeline of proceeding to ACL surgery. Following Saquon's injury, many were confused as to why he did not undergo surgery until 40 days after his injury. Orthopedic research has demonstrated it to be very important for swelling in the knee to subside and for the patient/athlete to regain range of motion in the knee prior to surgery. If the knee undergoes surgery while swollen and stiff, the patient will never fully regain knee range of motion. Additionally, this timeline allows the patient to perform other important "prehabilitation" exercises which will improve surgical outcomes and recovery.
The ACL rehabilitation timeline and utilization of physical testing to determine when an athlete is ready to return to sport remains a hotly debated topic in the academic world of Orthopedics and Sports Medicine. It includes variables such as quadriceps/hamstring strength, neuromuscular/biomechanical training, and psychological readiness. However, whether or not I or the research may agree, the majority of athletes return to practice or competition at 9-12 months following surgery. From what I have read, it appears this year's major stars are all on track for a return by the 2021 season.
Dynasty Fantasy Football Implications
Now, the moment you have all been waiting for! How can we predict which players will return to an elite level vs. slow down a step vs. experience future reinjury!? This is the advice you all came for — to get the leg up on your dynasty league mates! Well… unfortunately… I don't have your answer. Research demonstrates that young athletes who sustain an ACL tear are at increased risk of secondary ACL injury (to the same or other knee)(Wiggins et al. 2016). However, I do not personally let this deter me from drafting, or trading for, ACL-injured athletes. I commonly do the opposite and use it as an opportunity to gain shares of young and elite-level athletes when discouraged/afraid managers want to offload at a discount. Not everyone has that personality, which I understand. But building a dynasty fantasy football team is all about buying low, selling high, and acquiring the necessary talent/depth at the right time to push for a championship. Here are a few of my favorite elite-talent examples:
Deshaun Watson – ACL injury in his 2017 rookie season. In 2018, he bounced back and was a Pro Bowl selection with 4165 yards throwing with 26 TD and 9 INT, as well as 551 yards rushing (career-high) with 5 TD. Not to mention his recent 2020 season with a career-high 4823 passing yards and 33 TDs.
Dalvin Cook – Also an ACL injury in his 2017 rookie season. In 2018, his season dynasty value took an even greater hit when he was labeled as 'injury prone' due to new and recurring hamstring issues. What happened next? He was a pro-bowl RB in 2019-2020 with a career-high 1557 yards rushing with 16 rushing TDs on 5.0 yards per carry this past season. A true elite-RB who brought many fantasy teams to the champions
Adrian Peterson – Probably my favorite example. Tore his ACL near the end of the 2011 season. In 2012? First-team All-Pro with 2097 rushing yards on 131.1 yds/game.
I could go on with the list… Tom Brady (2008), Rob Gronkowski (2014), Frank Gore (2002 and 2003), Cooper Kupp (2018), Philip Rivers (2007), etc. Now, I am certainly not able to predict how someone like Saquon or Courtland Sutton will play when they return to the field. However, my rosters have reflected three very common themes:
(1) In leagues where I have shares of ACL injured players on my roster, I absolutely do not trade them at an 'injury' discount.
(2) In startups, I have been nearly always acquiring injured talent like Saquon and Sutton (throw in guys like Dak, Kenny G, and Deebo to boot) due to the drastic fall in ADP we are seeing this off-season.
(3) When managers become nervous and anxiously want to off-load an 'injury' prone Saquon for the next best thing, like Cam Akers, you can bet I will ALWAYS capitalize on the injury discount.
Ultimately, some of the moves we make in dynasty end up as a win. Others are a loss. From my experience, gambling on the injury discount in a young and elite athlete with lots of fantasy football life left can be a great way to increase the value of your team, especially if you flip them for massive value later. Best of luck, and feel free to reach out on Twitter if you ever have any injury questions! Let's all hope our favorite stars avoid the dreaded ACL in 2021!
References
Krych et al. 2020 – Krych AJ, LaPrade MD, Cook CS, Leland D, Keyt LK, Stuart MJ, Smith PA. Lateral Meniscal Oblique Radial Tears Are Common With ACL Injury: A Classification System Based on Arthroscopic Tear Patterns in 600 Consecutive Patients. Orthop J Sports Med. 2020 May 19;8(5):2325967120921737. doi: 10.1177/2325967120921737. PMID: 32490027; PMCID: PMC7238316.
Duethman et al. 2020 – Duethman NC, Martin RK, Krych AJ, Stuart MJ, Levy BA. Surgical Treatment of Combined ACL PCL Medial Side Injuries. Sports Med Arthrosc Rev. 2020 Sep;28(3):e18-e24. doi: 10.1097/JSA.0000000000000287. PMID: 32740460.
Krych et al. 2018 – Krych AJ, Johnson NR, Mohan R, Hevesi M, Stuart MJ, Littrell LA, Collins MS. Arthritis Progression on Serial MRIs Following Diagnosis of Medial Meniscal Posterior Horn Root Tear. J Knee Surg. 2018 Aug;31(7):698-704. doi: 10.1055/s-0037-1607038. Epub 2017 Sep 26. Erratum in: J Knee Surg. 2018 Aug;31(7):e1. PMID: 28950387.
Faucett et al. 2018 – Faucett SC, Geisler BP, Chahla J, et al. Meniscus Root Repair vs Meniscectomy or Nonoperative Management to Prevent Knee Osteoarthritis After Medial Meniscus Root Tears: Clinical and Economic Effectiveness. The American Journal of Sports Medicine. 2019;47(3):762-769. doi:10.1177/0363546518755754.
Krych et al. 2017 – Krych AJ, Reardon PJ, Johnson NR, Mohan R, Peter L, Levy BA, Stuart MJ. Non-operative management of medial meniscus posterior horn root tears is associated with worsening arthritis and poor clinical outcome at 5-year follow-up. Knee Surg Sports Traumatol Arthrosc. 2017 Feb;25(2):383-389. doi: 10.1007/s00167-016-4359-8. Epub 2016 Oct 19. PMID: 27761625.
Wiggins et al. 2016 – Wiggins AJ, Grandhi RK, Schneider DK, Stanfield D, Webster KE, Myer GD. Risk of Secondary Injury in Younger Athletes After Anterior Cruciate Ligament Reconstruction: A Systematic Review and Meta-analysis. Am J Sports Med. 2016 Jul;44(7):1861-76. doi: 10.1177/0363546515621554. Epub 2016 Jan 15. PMID: 26772611; PMCID: PMC5501245.