Name: Jalen Reagor
School: TCU
Position: WR
Height: 5′ 11″
Weight: 195 lbs.
DOB: 1/1/1999
Breakout Age: 18.7
Statistical Analysis
What other college football player lead the nation with a 26-foot long jump as a senior in high school? This track star has always been known as an absolute blazer. Coming out of high school as a 4-star recruit, Reagor ran a 4.41 forty yard dash. Reagor was a hot topic coming into this year, after catching 8 touchdowns as a true freshman and posting 1200 plus scrimmage yards in his sophomore outing. Over this past season, Reagor put up lack-luster numbers leaving analysts to wonder, what happened?
To say TCU struggled to move the ball through the air would be an understatement. As an offense, they ranked a horrendous 61st nationally and nearly all their production came from their rushing attack. TCU had three players rush for over 500 yards and finished the season with more total rushing yards than passing yards. The Horned Frogs finished the year 5-7 and this environment made it hard for a deep threat receiver, like Reagor, to thrive. However, despite the situation, any substantial statistical regression calls for concern.
Film Breakdown
Explosiveness | Speed
Jalen Reagor possesses elite speed and acceleration with and without the ball. With the ball, this allows him to be explosive in space and burn tacklers in pursuit. Without the ball, Reagor uses his acceleration in his deep routes and release off the line. One on one man coverage simply cannot keep up with Reagor on deep balls unless they give him considerable space.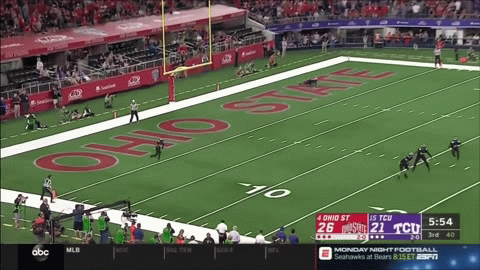 Contested catches | High point
Standing at only 5' 11", Jalen Reagor can go up and win a jump ball against any corner in the nation. When the ball is in the air, Reagor uses his intelligence to gain an advantage in body positioning and on the timing of his elite jumping ability. Reagor is not restricted to just winning contested catches down the field either. On quick hitch or slant routes, Reagor can simply take the ball away from corners when the coverage is tight.
Route Running
Reagor is by no means a complete route runner. Though, his ability to make quick breaks, accelerate, and decelerate give him a lot of room for improvement. TCU's offensive scheme left Reagor with a limited route tree and limited Reagor to only one position. Every snap in college Reagor was lined up at receiver on the far right, but due to his sheer athleticism and his change-of-direction ability, he has the potential to play in the slot at the next level.
Concerns
In the Dynasty Nerds film room, there is not much to hate about Jalen Reagor. There are two main concerns that I have with Reagor's game. First, Reagor drops a fair amount of passes. From looking up-field too quickly to using his body to trap the ball, Reagor is simply not a sure-handed receiver. The greater of the concerns is his lack of physicality. This causes lapses in his route running when he is being press covered, limits his ability as a ball carrier, and damages his concentration as a receiver across the middle.
Fantasy Impact
Reagor will make an immediate impact as a big-play receiver and has the talent to eventually become a true wide receiver 1. After a year or two in an NFL system, we could easily be looking at Reagor as the best receiver from this draft class. Reagor's improvement in the league will depend on his advancements in his route running, beating press coverage, and development as a slot option. Reagor's floor is a Mecole Hardman type, vertical threat receiver with inconsistent, but solid fantasy production. On the other hand, in the right system, Jalen Reagor has the potential to be an Odell Beckham Jr. type talent giving you elite, week to week fantasy production.