Sup Nerds!
This will be my second annual "lessons learned" article. The first was, well, a lot. But a lot of the advice is evergreen, so give it a skim here: https://www.dynastynerds.com/15-lessons-from-2019-draft-season-part-1/ and here: https://www.dynastynerds.com/15-lessons-from-2019-draft-season-part-2/
Some of the best dynasty players recommend some form of this exercise and I can attest that writing out my process has improved it.
Give it a shot, and I hope there are some tidbits in here that are helpful to you as well!
Be patient with your rookies
Players get better
Talent above all
Stick to your rankings
Buy the dips on a good profile
The veteran discount is real
Don't be scared to buy high on a rising asset
Opportunity matters
Buy athleticism at TE and RB
We don't know as much as we think
Ambiguous backfields can pay big dividends
Build around QBs
Be careful with data
Be Patient With Your Rookies- and Should We Rethink Rookie Drafts?
This is Dynasty 1.01. Rookies take time to catch up to the NFL game. Some step in and dominate from week 1, but many do not, and selling an underperforming rookie before they break out is a great way to mire your team in mediocrity.
The common wisdom used to be that wide receivers need time to adjust but that rookie running backs should produce out the gate. Well, the past couple of years have turned that paradigm on its head.
In 2019, Josh Jacobs landed with a splash week 1, but fellow highly drafted RBs Miles Sanders and David Montgomery were a bit slower to get going, with Sanders not posting a RB1 finish until week 8 and Monty really not hitting his stride until the second half of his second season.
Meanwhile, receivers Marquise Brown and Terry McLaurin both posted WR1 finishes week 1, and by week 4 AJ Brown had put on a display of his own. DK joined the party around week 9.
In 2020, we saw this pattern repeat. Clyde Edwards Helaire broke out from day one though he didn't live up to expectations. Meanwhile, Jonathan Taylor found himself riding the pine in the middle of the season, while Cam Akers took a back seat to 2nd-year back Darrell Henderson, and JK Dobbins started the season behind both Mark Ingram and Gus Edwards.
Roookie receivers came out hot once again, with Ceedee Lamb, Tee Higgins, and Chase Claypool posting top finishes in the first month of the season and Justin Jefferson beginning his world domination tour in week 6.
I must admit, I fell into the trap with both JT and Akers, selling off shares of each when I'd been convinced the timeshares were there to stay. Taylor was playing poorly; I started to think that I should recoup some value on him while I could.
Obviously, it took all of three weeks for this to be among the worst decisions I've ever made as a fantasy manager.
It's clear that the old paradigm of RBs producing immediately should go out the window. Is it the prevalence of timeshares? The increasing usage of RBs in the passing game? The lack of full-contact reps in the preseason- or any preseason at all in 2020?
Whatever the cause, it's a fools play to sell these backs before they take off, and a smart play to buy any dip you can.
On the other hand, the glut of NFL-ready wide receivers available in the late 1st / early 2nd of the draft may make those picks the best values on the board. Is it wiser to trade down to the back end of the first and acquire a veteran back to pair with a rookie WR? I bet you could get David Montgomery or Joe Mixon and the 1.10 for your 1.03 in SF.
Players Get Better
This one flows a bit from my first take-away: Jonathan Taylor, in particular, went from looking lost in the backfield in September to looking like the RB1 in December. That may be an extreme case, but examples are plentiful.
Montgomery is another easy one; the version of D-Mont we saw this year was faster, more disciplined, and read the field better than the guy we saw last year.
Derrick Henry was all-but left for dead after two years of limited usage and negligible production. After his rookie season, we mostly thought Davonte Adams was bad at football. Ryan Tannehill was supposed to wash out of the league after languishing at the bottom of QB ranks in Adam Gase's system. Corey Davis, it seemed, was a bust, until his renaissance in 2020, as was Ronald Jones.
The common thread with all these players? They were good prospects who either fell into bad usage or needed time to pick up the mental part of the NFL game- or sometimes both.
My takeaway? Investing in high-level prospects who have underwhelmed can pay off- particularly when they have shown flashes of excellence. Not every highly-drafted rookie will turn it around, though, so you need to pick your spots carefully. I'm not running out to buy JJAW, but I might try to get Jalen Reagor or Keshawn Vaughn or Tyler Johnson- all of whom looked good with their opportunities- as throw-ins in a bigger deal. Give talent time, buy low on it when the price has become appropriate.
Talent Above All
Chase talent above situation, always. Again, this should be dynasty 101, but we often forget and drop the ball on this one.
The examples from the past few years of guys the community faded erroneously are as long as the day:
Stefon Diggs in BUf
Aaron Jones with AJ Dillon
Derrick Henry for not catching passes
DeAndre Swift in DET
Ceedee Lamb in DAL
DeAndre Hopkins in ARI
Antonio Brown for behaving like a psycho
Talent will nearly always win out. Buy the perceived value dip if you can.
Some guys that we may see this for this off-season:
Aaron Jones (FA)
Allen Robinson (FA)
Tee Higgins and Tyler Boyd (JaMarr Chase rumors)
Tua (QB rumors)
Brandin Cooks (QB rumors)
Will Fuller (FA)
Kenny Golladay (FA, injuries)
Ezekiel Elliot (bad season)
Talented guys will shine, regardless of their surroundings. Buy talent!
Stick To Your Rankings, and Look for Value, Too
This is a rookie draft bullet, and there's a lot of overlap from the previous point.
We'll hit that part first.
How many of us moved Swift down because he landed in DET? Moved CEH up because of KC? Moved Ceedee down because of his crowded receiver room? Lots of us did all or some of these things, and they were all bad ideas.
Moving Tee Higgins down because of a missed combine was just as bad; moving Keshawn Vaughn up because of a weak RB room in KC didn't work out, either.
Draft talent, not landing spot. Stick to your rankings.
At the same time, every rookie draft class has some huge values, and it's often the same ideas at work. In this class, the big ones for me were Justin Herbert and Tee Higgins; both were of the same tier as earlier picks at their position and yet fell in the draft due to market forces.
Take the value!
The Veteran Discount is Real
I won a few titles last year, and I made a ton of playoffs. Here's some of the un-sexy names from my super bowl rosters:
Melvin Gordon
Aaron Jones
Ryan Tannehil
Jarvis Landry
Robert Woods
Allen Robinson
Keenan Allen
Kirk Cousins
Travis Kelce (aka the FF superweapon)
The WRs stick out to me the most. Nearly all those guys still have a few years left of peak performance and were drafted rounds later than guys that they kept up with or outperformed.
At QB as well Tannehill and Cousins were both huge values relative to draft position.
I like to build around a stable core of younger players, but at WR3/4 or even RB2/3 and QB2 give me some of these cheap, cheap veterans.
Ride the veteran discount to victory!
Buy the Dips On a Good Profile
We've pretty well beat this one to death, but it still deserves it's own heading.
Whether it's a guy coming off a down year (Cooks last year, Zeke and Thomas this year) or a rookie that's fallen due to landing spots, you need to seize value where you can.
But find that talent in guys with good profiles, not in so-so players with opportunity. It's easier to spot a Justin Jefferson than an Adam Theilen; pursue players with elite profiles whenever you can.
Jonathan Taylor and Cam Akers were both prime examples of this past year, as were vets like Keenan Allen, Brandin Cooks, and Deshaun Watson (remember him going as the QB9? I do. )
Don't Be Scared to Buy High on a Rising Asset
Here's a link to a description of the sunken cost fallacy. This is something you should know if you're going to play the game of dynasty.
One side of the sunken cost fallacy is refusing to "buy high" on a player because you weren't sharp enough- or lucky enough- to buy before the value spike.
This is like refusing to buy Bitcoin at $18k because you didn't buy it at $80.
Just because an asset has gained value doesn't mean it's not going to gain more. If you see that an asset's value isn't maxed out, go get it.
I had a few great trades this season where I was able to "buy high" on rising assets.
One was for Justin Herbert. I made a trade in a C2C where I sent away Kedon Slovis, Brock Purdy, Tank Bigsby, and Marshawn Lloyd for Herbert and Chris Carson; this was right after Herbert's first great game, when many still had Slovis as the '22 QB1. I love those running backs but I rode Herbert and Carson to a 'ship.
The other "buy-high" trades (the good ones, anyway) were mostly for James Robinson. I watched a lot of his film after his first breakout game and decided he was good and set about buying him everywhere. I made trades like Keshawn Vaughn and a 3rd for Robinson + or even a 2020 1st straight up for JRob, and I regret nothing.
On a side note, the result of the trades where I bought high on peak-value assets were mixed. Any trade in which I sent away young players with upside for vets doesn't look great in the rear view (Swift, Gallup, 1st for Michael Thomas; JT + JJet for Davin; those both sting quite a bit). I had some great trades moving picks for vets though (Adams for 2 1s & 2, Cook for 1 & 2).
Opportunity Matters
This is another evergreen / 101 type point that still bears repeating.
What do these players have in common?
Antonio Gibson
James Robinson
Travis Fulgham
Chad Hansen
Alex Smith
Allen Lazard
Logan Thomas
Wayne Gallman
Jeff Wilson
Jerrick McKinnon
Myles Gaskin
Gabriel Davis
Everyone on this list was an under-the-radar player that fell into opportunity and delivered useful or even league-winning fantasy performances for your dynasty rosters. I rode Gaskin or Robinson to the playoffs in more than a few leagues; Logan Thomas won some late-round TE drafters a lot of weeks as well.
Buy Athleticism at TE
Logan Thomas and Darren Waller both languished in the league for some time before finding success, though for very different reasons. Yet they had one thing in common: highly athletic profiles.
2020's other out-of-the-blue TE, Robert Tonyan, has- you guessed it- great athleticism.
Not every athletic tight end breaks out, but most breakout tight ends are athletic
We Don't Know As Much As We Think
All of fantasy football is an attempt to quantify and prognosticate the controlled chaos of a violent, often random sport. We often think we have it figured out, and the fantasy gods laugh.
Here's some of the comical misses from 2020 pre-season for me:
Jordan Howard, RB1 for MIA
Jace Sternberger, TE breakout for GB
Aaron Jones losing snaps to AJ Dillon
Antonio Gibson was supposed to play behind Derrius Guice
Alex Smith couldn't play again
Tom Brady was washed
Aaron Rodgers was washed
Phillip Rivers was washed
Gronk was washed
Taysom Hill wasn't a QB
Eagles were a great landing spot for WR
There's a million of these every year. The point is that every one of these situations presented a value situation (or a stay-away) if you could read it correctly.
Anytime there's an unclear situation there's value to be had.
Ambiguous Backfields Can Pay Big Dividends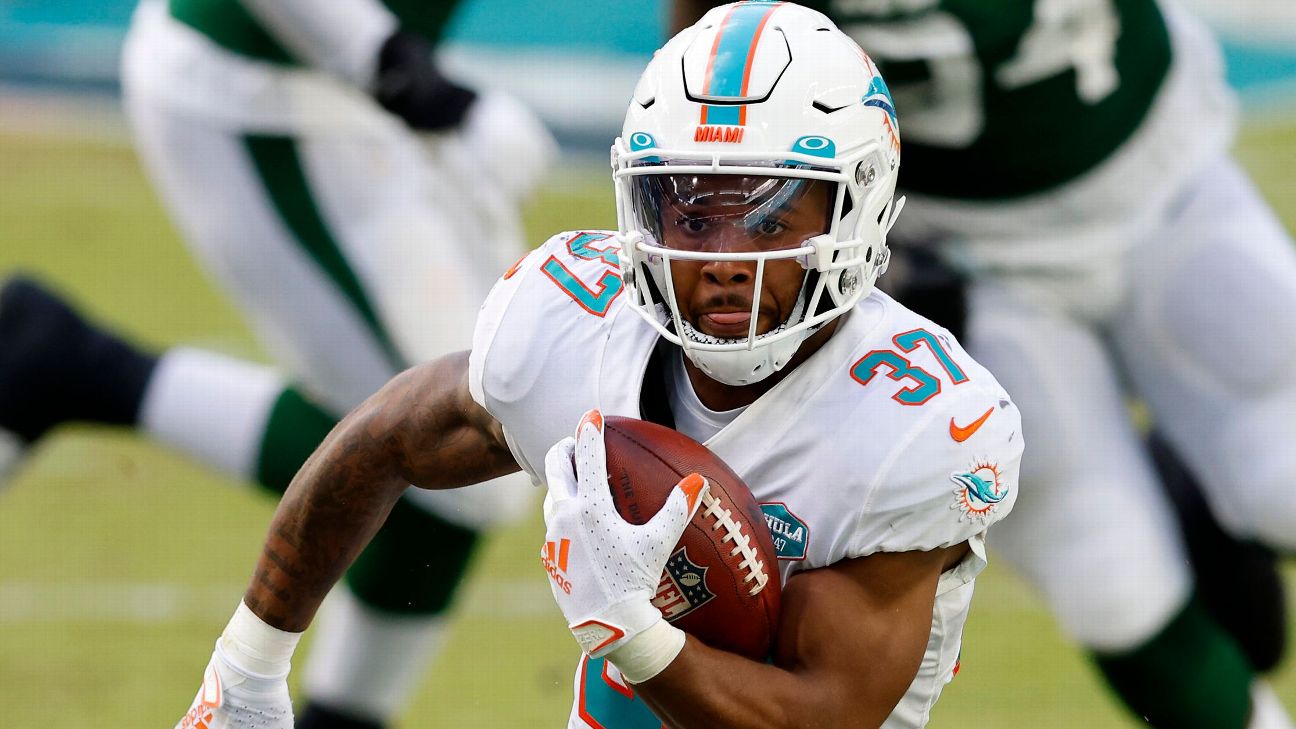 We've been dancing all around this one so I won't spend too much time on it.
If you made investments in lesser parts of the backfields in MIA, SF, WAS, SEA, NYG, NEP, NYJ, ARI, CLE, CIN or JAX, to name a few, you saw benefit. Some backups, like Gaskin, Robinson, or Gallman, became every-week starters. Others, like Gio Bernard or Jeff Wilson, yielded several productive weeks.
Sure, if you guessed wrong, you may have wasted some late picks, but the cost of these players is typically so low that it's worth taking a few swings and trying land a solid hit. Often, the cheapest or youngest options are the right ones to buy, and you want the ones that catch passes.
This year may have been more profitable than most, but 0-RB devotees will tell you that this is an every-season occurrence, and I plan to use this method to profit again next year.
Build Around QB in Dynasty- But Don't Overpay for Mediocrity
There's always school of thought in dynasty that says to build around QBs and pass-catchers. But the rise of the mobile QB and the defensive struggles of 2020 made the QB landscape one of haves and have-nots more so than ever before.
I had supposedly tanking teams kept undefeated by Dak, until his injury. Most of my playoff squads had at least one of Mahomes, Murray, or Allen.
Investing in a young, mobile, high-scoring QB may be the most necessary move in 2021 dynasty FF.
I'm also an advocate for grabbing a competent QB2 in superflex; the difference between the QB12 and QB20 is still a significant 60 3.1 points/week.
As you go further down the scale the difference between rank x and x+1 becomes fairly negligible (14-20 are separated by < 1 point/week; the same for 20-25) so I'm happy to take the last guy in any of those tiers, as there's no difference makers.
Just don't get stuck trying to start a QB3 weekly. It's tough to win when you're relying on Mtch Trubisky or Drew Lock as a starter. I like to have two safe options, then I'll take a swing on a late guy with upside at QB3.
Be Careful With Data
We want to make decisions based on solid data as much as we can, but sometimes, it's easy to make the wrong decision if we put too much faith in the numbers.
Last year, I wrote a Tyler Higbee article; i demonstrated, through film and stats, why he was superior to Gerald Everett in nearly every way.
Well, Sean McVay doesn't care what I think. He wanted to play his TE committee and did so to my great chagrin.
Similarly, when Darrell Henderson was on a tear at the beginning of the season, PFF had him as their top-ranked back, and, to be fair, he looked damn good. This was part of my basis for deciding to invest in Henderson and let go of some Akers shares.
Obviously, that was a terrible move.
Jonathan Taylor is my third example. During the first half of the 2020 season, he ranked terribly in literally every grade or metric by which running backs are judged (except yards/REC). This data encouraged me to sell some shares, thinking they may lose still more value.
We all know how that worked out.
Be careful with metrics and stats. Sometimes, they lie.
---
Well friends, that's it for this one. I hope there was something helpful to you in here.
If you're not already, follow me on twitter at @ekballer. I'm always down to talk football or just chat.
Thanks for reading!
Head on over to the Dynasty Nerds youtube channel and hit that subscribe button. We have great videos and shows out every week.