Eighth in yards, third in completion percentage, tenth in average yards per attempt – or AY/A -, and second in true completion percentage, while being in the bottom ten in both sacks taken and interceptions thrown in 2019.
There's a rule in grammar where if a value is greater than ten, you write it as numerals. If the number is ten or less, you spell it out. People don't realize: most of Raiders quarterback Derek Carr's stats have to be spelled out. One of his stats doesn't have to be spelled out: attempts, being he was 14th.
Efficiency is key in the fantasy world with quarterbacks. Derek Carr was able to maintain his borderline top 12 status because he was so efficient. However, the shocking part wasn't his stats, as he's hit relatively close to 2019's numbers his entire career. The surprising part is how he's able to do it with little to no help around him.
A Change at the Top
After the Raiders bombed 2017, the Raiders moved on from head coach Jack Del Rio and general manager Reggie McKenzie, bringing onboard legendary head coach John Gruden and Mike Mayock. They started with quite a bang garnering criticism for trading Khalil Mack, drafting tackle Kolton Miller while safety Derwin James was still available, and trading wide receiver Amari Cooper after six games.
Carr owners immediately freaked out and rightfully so. The Raiders options were now a washed-up wide receiver Jordy Nelson – who was one year away from retirement – and tight end Jared Cook who was wildly inefficient and had never played a full game.
Carr was unphased.
2019 didn't improve his situation much. The Raiders only added former third-string wide receiver Tyrell Williams in free agency, Bills bust receiver Zay Jones, and fifth-round slot receiver Hunter Renfrow.
Still, Carr was unphased.
Clicking on all Cylinders
2018 and 2019, Carr had arguably his most efficient years throwing for his highest yard total and completion percentage in each one. For everyone screaming about him being a terrible and backup quarterback Mariota taking his job, I'd like to question: How?
Looking into 2019, he threw for his highest AY/A with eight. His receivers had the tenth most drop balls while being 18th in average yards of separation per target. You might think if it weren't for breakout star tight end Darren Waller, things would have been worse, but he was second among tight ends in drops, and his inability to gain separation on targets was brutal. Not surprising considering he only had 178 yards receiving in his previous three years combined. Still, Carr produced.
The previously criticized moves have now set Carr up to make an epic leap in production. The Mack trade freed up cap space in which they used to sign tackle Trenton Brown, opposite of Miller. They reinforced the defense while adding running back Josh Jacobs and tight end Foster Moreau in 2019. The way they constructed the roster allowed them to go buck wild in the 2020 draft, adding three wide receivers in their first four picks along with depth at offensive line in the fourth round. Carr is starting to look pretty damn dangerous.
All three receivers were extremely dynamic in different ways.
Restocking the Arsenal
Henry Ruggs
The first-rounder Henry Ruggs III was extremely explosive at Alabama. Running a sub 4.3 at the combine had coaches drooling. Unfortunately for them, only 11 teams had the option of taking him before the Raiders did at 12. Some people scratched their heads when the select came in, and both CeeDee Lamb and Jerry Jeudy were still available. However, most people don't realize how much Gruden loves speed: Tim Brown, Irving Fryar, and Joey Galloway are just a few of the receivers who succeeded in Gruden's system. Ruggs is more athletic than anyone of them. Now he just needs to translate that athleticism to the football field.
Lynn Bowden
Lynn Bowden was selected next, one pick before his teammate, Bryan Edwards. Lynn's versatility is well noted as he was forced to move from wide receiver to quarterback at Kentucky in his final season. He had 2833 all-purpose yards and 19 touchdowns on only 320 touches during his college career. At nearly nine yards per touch, his ability to play quarterback, wide receiver, running back, and return kicks is nothing short of incredible. Carr and Gruden will have big plans for this swiss army knife. If receiver doesn't work out maybe, he will have a career in the MMA.
Bryan Edwards
Edwards played the typical alfa receiver role for the Gamecocks while amassing over 3000 yards on the way to 21 touchdowns. My favorite stat was his breakout age occurring at 17.8, according to Player Profiler. Gruden loves guys with his size: Antonio Bryant and Michael Clayton both had their best years with Gruden while he still had success with a post-30-year-old Keyshawn Johnson.
Sneaky Good?
We didn't even dive into Moreau, and I already had to walk away from my computer multiple times before I got a little too excited…
How Moreau was the tenth tight end off the board is baffling to me. At the combine, he was the fifth-fastest tight end, had the third-best vertical, second-most bench reps, fourth-longest broad jump, seventh-best three-cone, and destroyed the shuttle having the fastest time in 2019 and the third fastest in NFL history. His knock was the lack of college production; however, coach Ed Orgeron's offenses don't produce high-end receiving numbers at the tight end position. We saw a small sample of Moreau's upside last year as he hauled in 3 more touchdowns than Waller.
The Holdovers
With Williams returning to his best position as a field-stretching wide receiver, Renfrow going into his second season, and Waller still being an option, the additions to the offense should vault Carr into the top 12 quarterbacks. Dynasty League Football has this 29-year-old quarterback's ADP as the 30.8th off the board.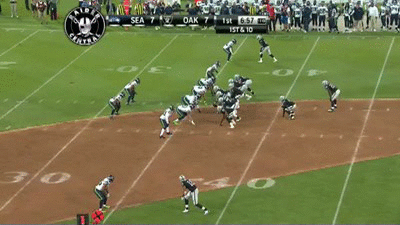 I was once told by an editor never to use capital letters in an article because no one wants to be yelled at by a piece, but I'm finding it extremely difficult not to hit the caps lock.
*Whoosah*
I'm good. I'm good. I just don't get it, and it drives me a little nuts. He's the prime example of an overlooked veteran put in the perfect situation set to explode. His schedule isn't as difficult as some are leading people to believe, and it's becoming easier by the day with players opting out.
Carr's floor has been set, and his ceiling keeps getting higher. Give me all the Derek Carr shares.
Thanks for reading and I hope you enjoyed the article. You can find me on Twitter. You can see my previous Dynasty Nerds article here. Are you a #NerdHerd member yet? For just $2.99/month, you get access to rankings, extra podcasts, the buy/sell tool, and more on the way.