If you have been keeping up with Running Back Vision (RBV), then you must have read up on the Zone fits for 2021 rookies. Although most teams are Zone-heavy, it would be crazy to ignore those gap-heavy teams. Teams utilizing heavy Man-blocking concepts are confident in their ability to dominate 1-on-1 matchups. Gap plays typically have a designed point of attack. The running back's read is simplified, and it typically boils down to two options. The first option is to manipulate linebackers to stuff attack the wrong gap with patience and head fakes. The second option is to know where to go when someone crashes the party at the point of attack.
Gap Opportunities
Who are the heaviest Gap-blocking teams? Who utilizes pulling lineman the most to execute Power and Counter concepts? Only seven teams ran Man or Gap blocking more than half the time. Of those seven teams, the opportunities appear to be with the Steelers, Dolphins, Broncos, and maybe the Patriots.
We can count the Patriots out since it has been a historically bad place for consistency in RB opportunity unless your name is LeGarrette Blount. The Steelers seem ripe for a good Gap runner to come in since parting ways with James Connor. Benny Snell is still there, of course, but there is a possibility Pittsburgh could seek a faster, more nimble version. A good Gap runner landing with Denver isn't all that bad either. Melvin Gordon is there, but only for this year, creating a nice sneaky landing spot. Lastly, there is Miami who runs a good balance of Gap and Zone. Myles Gaskin was solid in their scheme last season, but they could make the case that they desire more out of the position.
Significant opportunity only exists on three teams for Gap scheme, and thus this article is formatted differently. We will try to identify the best singular fit for each team. To do that, we will use the same strategy: match players with the highest success in a scheme (assuming adequate sample size) and match them to the team's tendency data.
Pittsburgh Steelers
Starting with the numbers, the Steelers ran the fourth highest Gap scheme percentage at ~62%. Pittsburgh used pulling linemen (Power – 22% and Counter -12%) second-most behind only the AFC North rival Ravens to break this down a little further. This leaves the remainder of Gap concepts at 28%, or eighth-most. So who fits best?
Despite the apparent lack of interest in Javonte Williams, their high frequency in employing pulling concepts and Williams' success in those schemes. The Zone fits article highlighted him as well, but he dominates in pulling concepts in Running Back Vision (RBV). When we look at his scores in Power (101.7%) and Counter (140%) we see a value above 100%. The natural question is, "What does this mean?" A value above 100% means that, on average, Williams will get more than needed on plays within this scheme. This translates to a higher frequency of chunk plays within these schemes.
Williams landing here would be ridiculously exciting. His tendency to finish with power and contact balance make him an excellent fit for the Steelers' culture. If this were to happen, he would be an immediate upgrade over Benny Snell. Let's not forget that Williams is a solid pass-catcher as well, making him more versatile than any other running back on that roster.
The Wrinkle
While writing this, it has come to my attention that the Steelers have had an interest in Travis Etienne and Jermar Jefferson as these Pro-day events occur. We need to understand their motivation here since it could indicate a change in run-blocking philosophy. There has been a subtle shift in their coaching ranks. Matt Canada was promoted from passing game coordinator to OC. Adrian Klemm was also promoted to the offensive line coach. Even though Klemm is a promotion within, his attachment to the Chip Kelly tree could indicate a shift to more Wide Zone. This could totally explain their absence from UNC's Pro Day.
With that said, there could be better fits than Javonte Williams for this potential scheme adjustment, but Williams is still arguably compatible. However, if this becomes a complete "about-face" in scheme, then the likes of Jermar Jefferson, Trey Sermon, and Elijah Mitchell become more sensible choices.
Miami Dolphins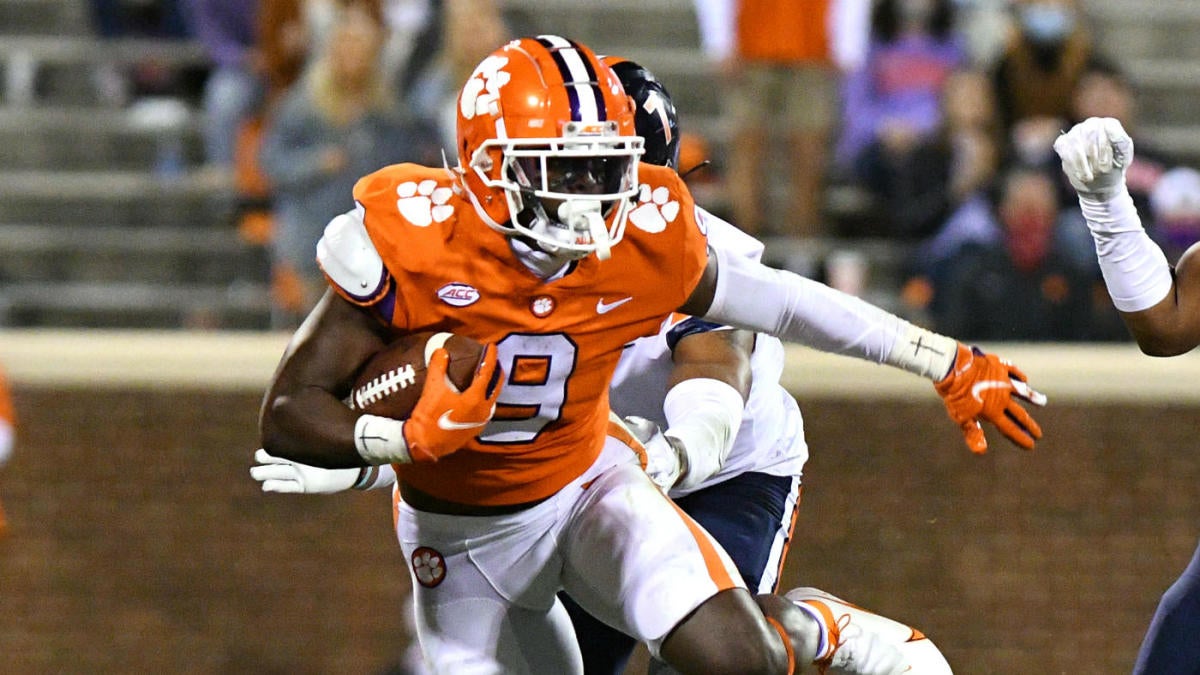 The Dolphins run the 5th most Gap scheme at ~34%, and they mix in Counter on ~12% (5th) of their total runs. The runner I have pegged to fit best in Miami is Travis Etienne, who showed up on the Zone fits with a 75% adjusted success rate (ASR). This detail becomes important because Miami ran Inside Zone ~36% of the time in 2020. Putting all that together accounts for 82% of their tendencies, and Etienne's 91.1% ASR in Gap scheme makes this a scary good fit.
We know what he brings to the table in that excellent burst and straight-line speed. His pass-catching ability is a legit weapon especially considering his body control. While Gaskin and Ahmed are there, the overall ability is in Etienne's favor should this become his destination. Gaskin was 35th of 62 RBs charted in Gap scheme and 47th for Inside Zone in 2020. Ahmed was first for Inside Zone and 36th in Gap. These metrics further support the idea of making this acquisition. With their picks in the first two rounds (6, 18, 36, 50), they could afford a luxury pick like this in 2020.
Denver Broncos
Melvin Gordon will be around for this year, but free agency is on the horizon once again. In 2022, it is likely the Broncos will move on from him. Would they be in the market to select a running back in this draft? If they were to do so, they are going to want one of the more versatile runners. Pat Shurmur had one of the most diverse run-blocking offenses, running about 31% pulling concepts with Zone and other Gap concepts ranging from ~21% to ~25%.
The dream fit for them would be Javonte Williams, but there is no way they are spending pick number nine on him. While it's possible he makes it to 40, it's a coin flip at best. The best fit here may be Najee Harris.
Najee Harris
Najee Harris' tape is good, or even very good. His tape not matching the ASR is very puzzling because it indicates he does not consistently get chunk plays. This is exactly why stats and analytics aren't everything, but merely pieces of the body of evidence. Despite his ASR, he is one of the few prospects that lacked red flags in sample size/ASR in the RBV data. Even his worst ASR (in Counter) was still at the median of scores. My scouting notes indicated Alabama's execution of Counter blocks was largely to blame for their subpar success. With 25 plays observed, better blocking in this specific scheme could unlock a ton of potential.
Melvin Gordon was ranked 17th in Counter ASR, leaving plenty of room for improvement. "Maybe Denver didn't block well for Counter plays?" This is a natural question, but Philip Lindsay's ASR in the scheme (4th) indicates otherwise. If this becomes his landing spot, it would be an interesting rookie season. They would really be able to mix their strengths in a way that could be deceptive.
Harris' pass-catching is an intriguing feature of his game. Even though the focus of RBV is strictly on the running game, we cannot ignore it. Take a look at this play below. Harris runs this slant like an NFL wide receiver. He makes it look natural, and this will encourage coaches to line him up outside occasionally. Harris continues to show his versatility as a receiver during his Pro days, raising the intrigue.
Najee Harris – Scouting Report Excerpt
I wouldn't be surprised if he ended up with the Steelers due to his running style and general success across schemes. Here is my synopsis on Harris:
"Najee Harris is seen by many as the best RB in the class. It is easy to see why given his combination of power, agility, and speed. Good vision in Zone and Counter, showing patience and anticipation of blocking development with ability to infer lanes based on what's in front of him. Very good vision-decision-action cycle shown when patience is exercised allowing 2nd level blockers to declare to which he responds with explosive decision-making using his agility and footwork to skip gaps and change POA. Uses space created by blocks well being unafraid to "trade paint" w/ OL.
Very good burst into second level. Very good finishing qualities through very good power through very good play strength, good balance, solid elusiveness, and very good speed given his size shown by rarely going down on first contact in 1-on-1 encounters, good re-acceleration after contact, and good anticipatory vision to use pursuit angles against defenders. Good receiving skills with good explosive release versus off coverage when split out and very good quickness and explosiveness at the breakpoint versus linebackers. Good hands, good catch radius (above and below frame on the run) and quickly transitions back to the natural runner he is after the catch.
Biggest concern is going to be adequate blocking where he seems to struggle to track blocking assignments across the formation. Adequate power generation to stalemate linebackers which points to a technique issue since his play strength and competitive toughness as a runner are very good."
Scouting Report Excerpt – Vernon Meighan
If you weren't sold on Harris already, you should check out Gage Bridgford's draft profile on him. There is plenty there to drool over in that piece.
Now We Wait…
The draft is closing in on us, and I am sure we are all watching Pro days and draft news closely to make the best predictions. Remember, the goal of RBV and these "fit" articles is to help you adjust your draft boards a little more quickly as news develops. Additionally, we must be cognizant of coaching changes and the subsequent changes in philosophy and their effect on their team's direction. In the meantime, draw your own conclusions by what you see on the tape at the DynastyNerds Prospect Film Room. Of course, you can follow me for my takes @FFB_Vern. Until next time.