While the team here at Dynasty Nerds brought you a 'Way Too Early Superflex Rookie Mock' earlier this year, we all know that so much can change following the NFL Combine. With that in mind, we circled the Dynasty Nerds' wagons once again to bring you our Post-Combine rookie mock drafts for both Superflex and one quarterback leagues.
We'll be releasing the three rounds of this mock in three separate articles. You can find round one of the Dynast Superflex Mock Draft here. Below are the results of the second round and why each analyst made their pick. Enjoy!
2.01 Henry Ruggs III, WR Alabama
Gage Bridgford @gbridgfordNFL
I was between Ruggs and Justin Jefferson on this one, but I'm going with the athleticism of Ruggs. I'm expecting him to get drafted in the first round to be a starter. At the combine, he tested in the 99th percentile in adjusted SPARQ score, which accounts for body size differences between each athlete. Ruggs jumps off the tape, and he just looks like he's playing at a different speed than everyone else on the field. With the modern offensive revolution that we're seeing, teams are working harder than ever to put the ball in the hands of their playmakers to see what they can do. Ruggs is by no means a gadget player, but he has an easy path to putting a high volume of touches and yards in the right offense. Opportunity is king.
2.02 Ke'Shawn Vaughn, RB Vanderbilt
Matt Bruening @SportsfanaticMB
I took Vaughn here, as I wanted the last RB in my top tier in this class, and I know I will still be able to get a really good WR with the depth of this class in the second round. Vaughn is still consistently overlooked and underrated, and this 5th year senior has been incredibly effective despite some tough circumstances. He has a bad offensive line and QB, and he had to run against SEC defenses. Despite all of that, he still gained 5.2 yards per carry and terrific improvement in the receiving game.
2.03 Jordan Love, QB Utah State
Matthew Mitchell @ReflipeWThenuz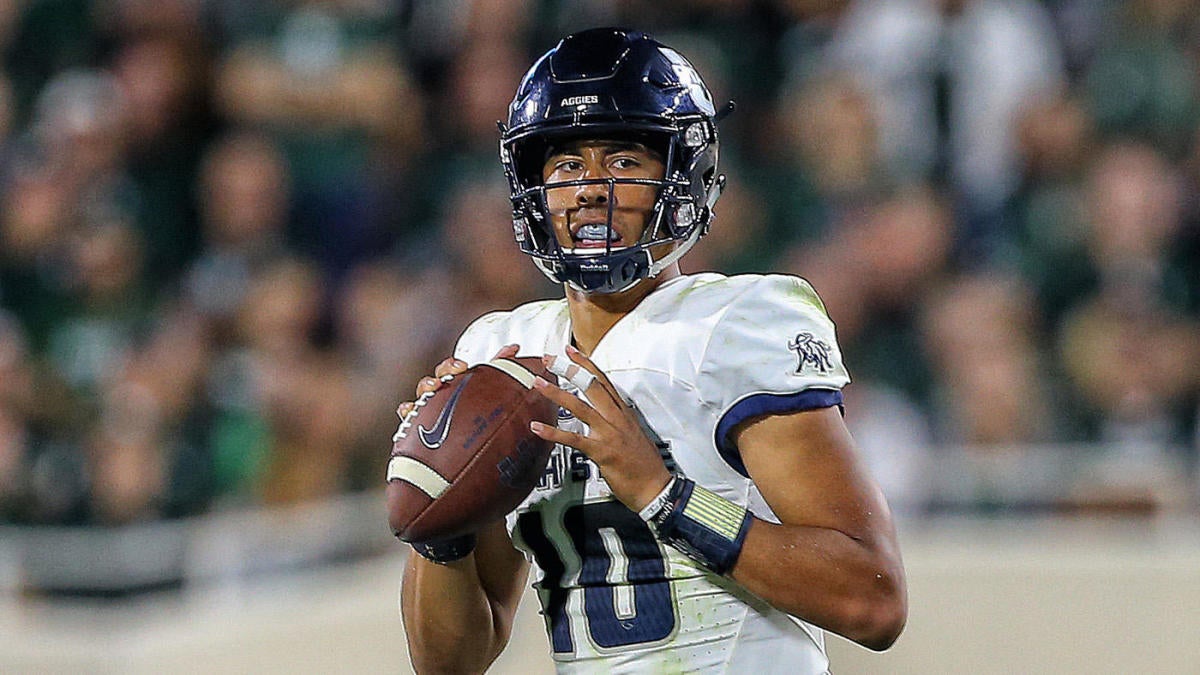 Jordan Love seems to have the makings of a Daniel Jones type Superflex drop. I cannot understand how a QB being mocked firmly in the 1st round of the NFL draft is available at this point in the draft. Love is big, athletic, and could be a solid starter on your SF team for the next decade or more. I could have taken a couple of the high-end WRs still on the board or gambled on one of the lower-tier RBs, but Love's value was simply too good to pass up.
2.04 Justin Jefferson, WR LSU
Mychal Warno @DynastyDadMike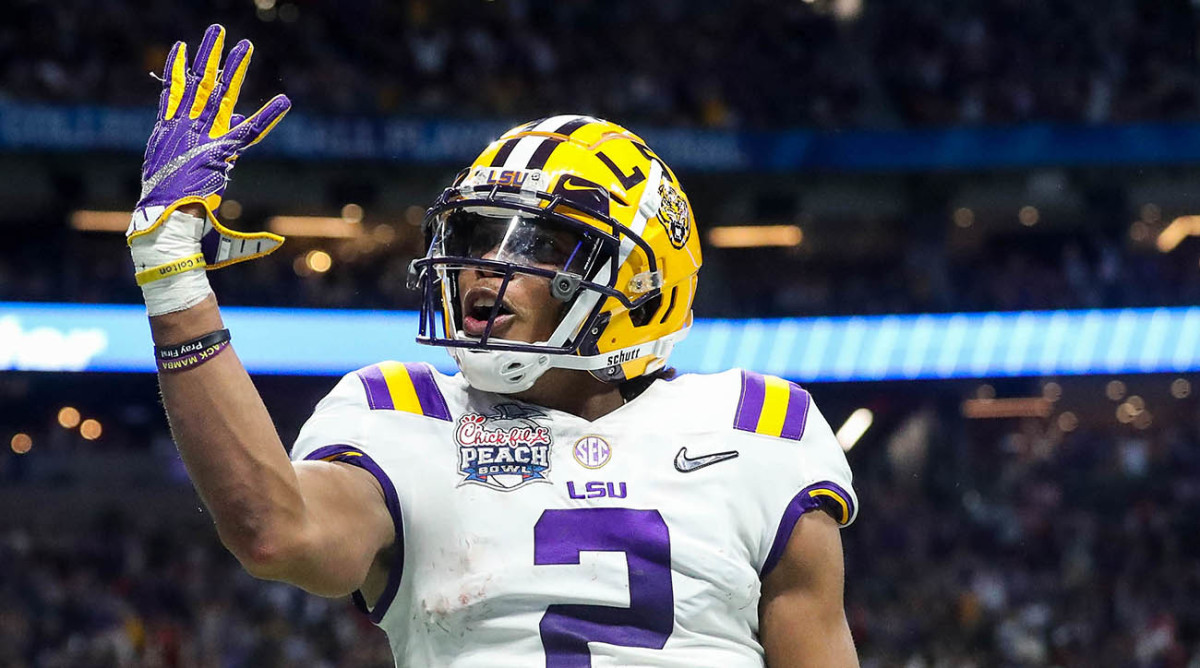 I'm thrilled that Gage took Ruggs because that allows me to draft Justin Jefferson at 2.04 in a 12 team Superflex! Sign me up, all day long for that pick. Jefferson finished his college campaign with 111 rec, 1540 yards, and 18 TDs. By the way, those 111 receptions are an LSU all-time team record. Jefferson creates separation, and he isn't afraid to go over the middle of the field. My player comparison for Justin Jefferson is Keenan Allen.
2.05 Tyler Johnson, WR Minnesota
Dom Johnson @domffl
There are things to love about Tyler Johnson's game, but there are also some concerns. For his size, he has a fantastic contested catch ability; he consistently meets the ball at the top of his impressive leap, but he lacks elite acceleration and top-end speed. He elected to not run the 40 at the NFL combine which worries me a little, but those worries might be put to rest if he runs well at his pro day on March 25. Tyler Johnson has great instincts, tracks the ball well, is physical at the catch-point, and owns several Minnesota school records. However, his below-average foot agility limits his route-running and his ability to get open. Winning contested catches is important, although he might have been forced to be good at it because he can't separate well. Either way, his junior year stats don't lie. He has an absurd college DOM (57.2%), young breakout age (19.0), an acceptable catch rate (65.7% over college career), and a good YPR (17.3). Tyler Johnson has great potential in the NFL. At this point in the draft, I'm trying to find the guys with huge upside over anything.
2.06 Denzel Mims, WR Baylor
Jeol Verzosa @JVerzosa2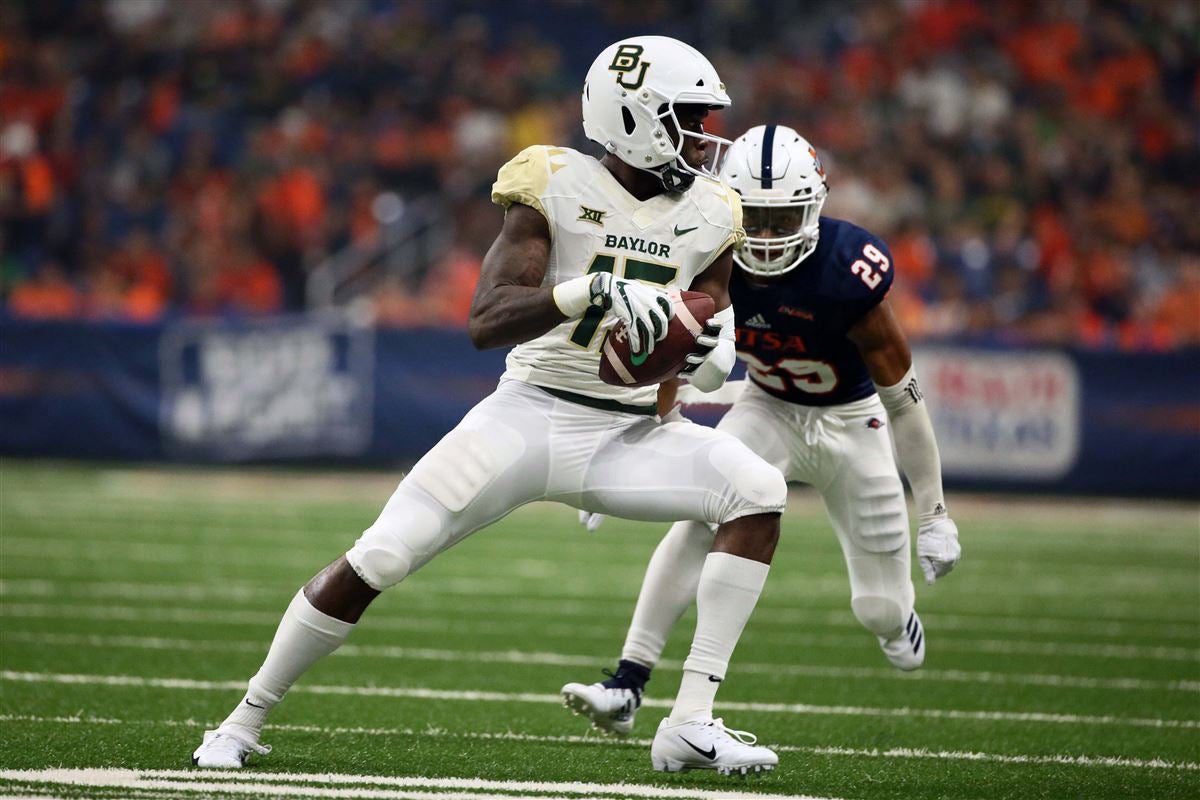 Enter this year's top combine and senior bowl riser. Mims has earned every bit of his hype through good route technique, finishing his blocks, and elite skills with high pointing the football, speed and body control for his size. With his athletic profile, it's not hard to imagine Mims being among the top 3 receivers taken in the NFL draft which would boost his fantasy ADP. Add in a 42% dominator rating and a 19.9-year-old breakout age, and there isn't much more you can ask for from a receiver. Let the naysayers pitch that he's this year's Miles Boykin and take the discount in your rookie drafts
2.07 Zack Moss, RB Utah
Brian Shacochis @DynastyTools
Moss isn't sexy, but he's rock-solid as a two-down thumper between the tackles, which has value both in the NFL and for fantasy teams (especially at the goal line). An important element to factor in here is that NFL scouts reportedly like Moss significantly better than Draft Twitter, and the NFL opinions are the ones that decide draft capital. Moss has rushed for over 1,000 yards in three straight seasons, and he capped off his college career by racking up over 1,800 yards from scrimmage, chipping in a 28-388-2 receiving line that shows the capability to contribute in the passing game, even if he's not necessarily a dynamic threat as a receiver. Moss isn't fast, but he's physical and consistently breaks tackles. If he is selected on day two of the NFL draft, he will be a potential value in the second round of rookie drafts.
2.08 Laviska Shenault Jr.
Nate Christian @NFLDraftDynasty
Shenault was in line to be one of the first 3 or 4 WRs taken off the board only a month or two ago, but after re-injuring a core muscle during the combine, his stock seems to have fallen a bit too far. Shenault is one of the top playmakers in the draft class, and the film shows that his 4.58 40-time was a fluke (due to his injury). Now going forward, his injury history is one of the top concerns, understandably, but when he had the ball in his hands there were not many players more dangerous than him in the past two college seasons. He has the size and speed to grow into a future "alpha" receiver, and with a creative offense could make an impact day one starting with jet sweeps and screens.
2.09 Bryan Edwards, WR South Carolina
Jared Wackerly @JaredWackerlyFF
Isn't it amazing how far guys like Bryan Edwards, Laviska Shenault, and Michael Pittman fall in Superflex rookie drafts this year? I am drafting an absolute stud toward the back of round two and I couldn't be happier. Bryan Edwards is one of the rare cases of an age 17 breakout. What's that mean? He came into South Carolina and dominated the market share on his offense next to guys 3-4 years older than him. Edwards is a physical specimen at 6-foot-3, 215 pounds with hands like Beckham (okay, maybe not that good, but they're good enough). He is dealing with a broken foot right now, which didn't allow him to perform at the Combine, and I think that's the main reason he's falling right now in mock drafts. Had he been able to participate, people would've seen how great of an athlete he is and paired that with his great tape and measurables. Sign me up for Bryan Edwards all day.
2.10 Michael Pittman Jr., WR USC
Keith Ensminger @TheSmingDynasty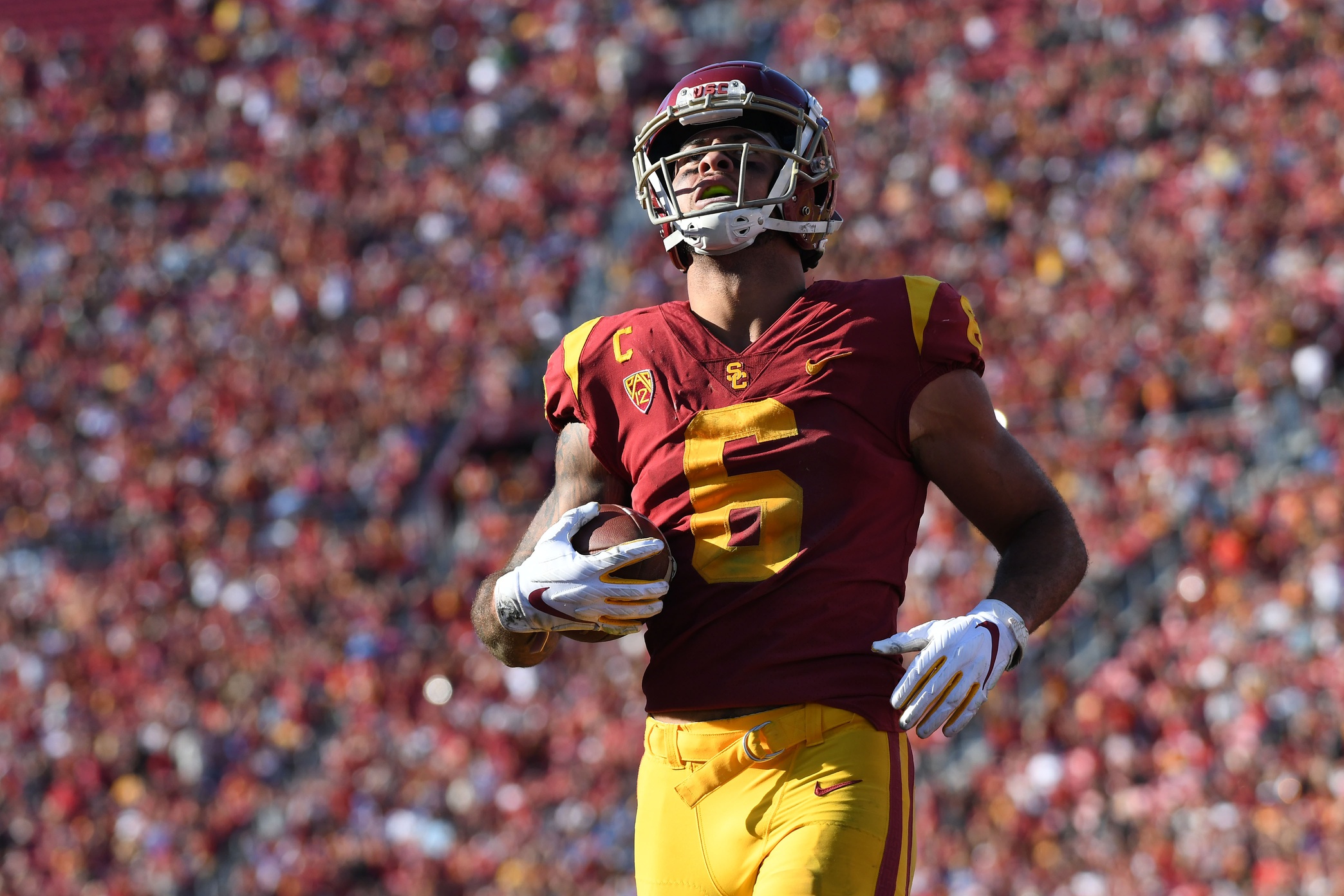 Traits like size, pedigree, and college production were never questions with Pittman going into draft season, and he put any speed concerns to rest in my eyes with a sub-seven second three-cone and a 4.52 forty-yard dash. A great interview and an intelligent player, Pittman seems like a steal this late in the second round. Couple all of the above with likely decent draft capital and Pittman is a runaway choice for me with pick 2.10. Perhaps more importantly than the pick itself, it is clear to see how deep this class is, especially at the wide receiver position, given the names still on the board for me to pick from here as we approach round three.
2.11 Jalen Hurts, QB Oklahoma
Erik Kortz @EKBaller
Jalen Hurts is as polarizing a player as any in the draft. Many have him ranked as the 6th or even 7th QB in this class despite Hurts being runner-up for the Heisman. His renaissance at Oklahoma saw him much improved as a passer, and his senior year line of 237/3851/38, with another 1298/20 on the ground, was impressive. I've watched his tape, and Hurts can be accurate to all areas of the field, and he runs with burst and decisiveness. He has aspects of his game that need work, but, if Hurts lands with a team that can build around his strengths, this kid has a shot of making in the league, and of making an instant fantasy impact
2.12 Antonio Gibson, WR Memphis
Dylan Thomas @dkthom2018
At this point in the second round, we are starting to look for high potential guys. Those players that have a little something extra, that if given the opportunity will put up fantasy numbers. Antonio Gibson is one of those guys.
Checking in at 6'2″ and 220 pounds with a 4.39 forty yard dash Gibson is an RB/WR hybrid. Gibson is an adept route runner and dangerous with the ball in his hands. He is also a dynamic returner and could turn out to be a real get in leagues that use return yardage.
The main concern is the lack of usage in college. Often when a player is underused according to fantasy addicts there can be very real football reasons – issues with the playbook, slow to recover from nicks and nagging injuries. While I have not heard those concerns the usage does give me pause. At 2.12 though he is well worth the shot.
That's a wrap on round two of our post-combine Superflex rookie mock. Stay tuned for the next round. There is still plenty of running back and wide receiver talent left on the board. Are you a #NerdHerd member? For $2.99 per month, you get access to the buy/sell tool, exclusive podcasts, the Dynasty Prospect Film Room, rankings, and more to come. See you in round three!