The Details
Name: Ja'Marr Chase
School: LSU
Year: Junior
Position: Wide Receiver
Measurements: 6'1" & 200 pounds.
The Background
Wideout Ja'Marr Chase was one of the top wideout recruits along with future teammate Terrace Marshall Jr. in the country out of high school. Twenty-six different schools recruited him, and he had multiple commitments before he signed his official recruitment to LSU. If it weren't for a serious knee injury in his final year of high school, he likely would have been in the top ten for the position. After bouncing back at LSU, he became one of the top players in the country.
Chase was a supreme athlete throughout high school. He was a standout in track and had the state's best long jump as a junior at 24' 2.5." At LSU, that explosiveness was on display early on in his college career. He played in ten games as a freshman with decent production, but that sophomore year with Joe Burrow under center was a special season that showed what he could do in the future.
Through three years on the LSU campus, he's done well to avoid off-field concerns, and the connection he has with his family show a strong support system around him. He was one of many big-name players that opted out of the 2020-21 season due to Covid-19 concerns, and, after the year he had just put up, it was for good reason. He knew his tape was good enough, and he was ready to prep himself for the next level of competition.
The Stats
That freshman year saw him put up 23 catches for 313 yards and three touchdowns. In the sophomore season, it was a fireworks show. He caught 84 passes for 1780 yards and 20 touchdowns. Prior to the incredible season that Alabama wideout Devonta Smith just put up, it was the most touchdowns the SEC had seen since Amari Cooper's final season at Alabama in 2014.
There were some questions about Chase to be answered after that impressive year. He didn't fully produce without the finished version of Burrow, and he had just one year of elite production. It's unlikely that Chase is going to put up elite testing numbers in terms of speed. He'll show a good amount of explosiveness, and he'll interview well. However, you don't put up the numbers that he did without having a serious amount of skill, especially against the SEC competition that he played.
Chase had 84 passes, right? He averaged over 21 yards per reception during that season, and that number is absurd when comparing it to the other top receiving options. His 21.2 yards per receptions would have ranked seventh this season among all receivers. However, only one of those players had more than 30 receptions on the year, and only three had 20 or more. Chase took his opportunities and more than made the most of them.
The Film
Chase isn't going to generate an extreme amount of separation. That's not the way he wins. Where he is one of the best in this class is jump-ball situations. He times his jumps so well and highpoints the ball consistently. On this play against Texas early in the 2019 season, he puts those skills on display. Burrow slightly underthrows the ball here. This gives the cornerback a great chance at an interception, but Chase goes up and snatches it away from him.
We've already talked about Chase not winning with raw speed or athleticism. He does make up for it with his shiftiness and fluidity in his movements. At the line of scrimmage, he's just about impossible to jam. The corner tries to engage him, but Chase uses his hands to swat the defender away and gain some separation. Once that happens, it's over for the defender, and Chase is wide open.
One major skill of Chase's that will boost his success at the next level is his YAC skills. On this wide receiver screen, Chase catches the ball, and he goes to work. He does a little bit too much sideways running instead of going vertical. But, he's just continually working on getting that extra yard on every play. On screens and catches in the rest of the field, he's just a handful to take down every time he touches the ball.
This final play just indicates so strongly how he can win at the next level. He doesn't win with size, speed, or athleticism, but he does so because he knows how to get himself in the right spot for his quarterback. He beats the initial press at the line, and he generates separation right at the top of his route without pushing off. That route-running and natural separation is a skill that many elite receivers can rely on.
The Future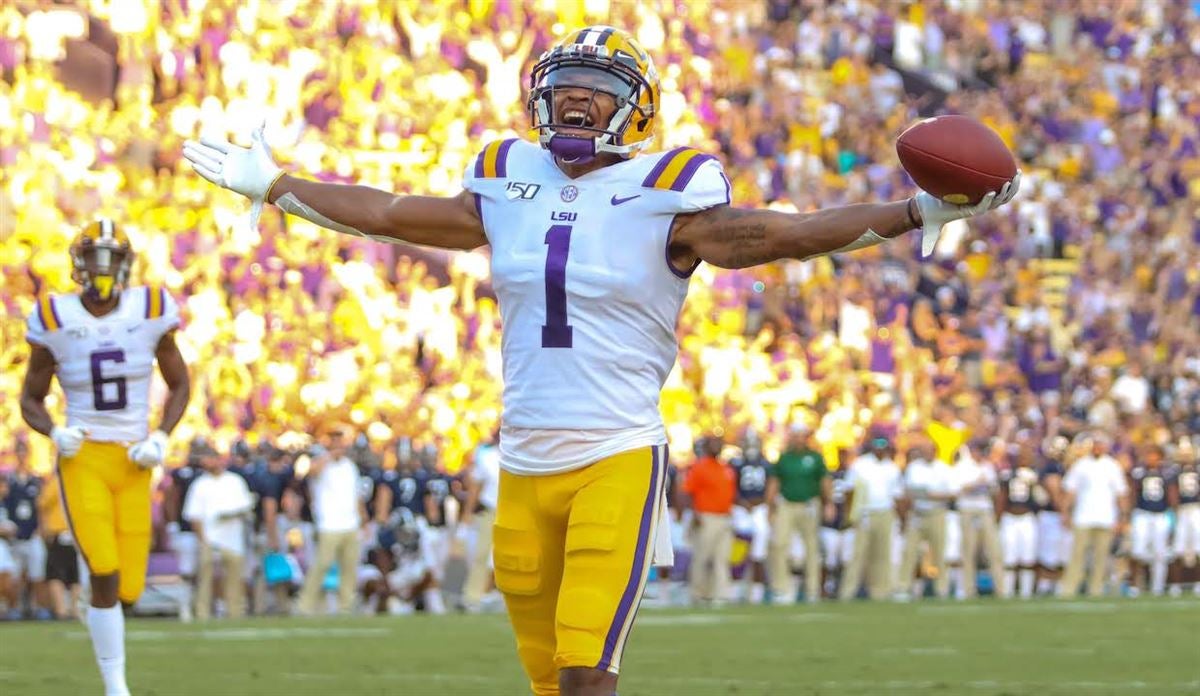 Chase slipped out of the public eye after opting out of his final season at LSU. Chase's accomplishments were fading from prominence, with players like Smith and former teammate Justin Jefferson lighting up opposing defenses. With everyone getting the chance to go over his tape again, everyone quickly remembered just how talented a player he is. As long as he interviews well with clean medicals, he's a lock to be one of the first three receivers off the board on draft night. For fantasy purposes, he figures to be a fixture in your lineups for a long time.
Make sure you subscribe to the #NerdHerd, where you get exclusive content, dynasty/rookie/devy rankings, buy/sell tool, and a bonus podcast too. DynastyNerds also recently launched the #DynastyGM tool, which is a complete game-changer in the fantasy industry. Click here for a free trial. We truly are your one-stop-shop for all your fantasy football needs!