It's time to be honest with yourself. That team that you want to be a contender with every single year. It's just not going to be your year. Either you had players opt-out, you're dealing with injuries, or maybe you took over an orphan squad that had been gutted for parts. How are you going to recover from this to rebuild your dynasty foundation? You're going to find your old and valuable pieces, and you're going to trade them for young talent that has yet to break out.
Identifying your league's best teams is going to be your first task. People that are competing for a title right now are the ones that are going to be willing to sell off that good young piece for an aging veteran that can help them in the immediate. Look at teams that are featuring multiple stud running backs or wide receivers. Definitely approach your league's top two finishers from last season to gauge their temperature.
We're going to be working today to identify a couple of players at each position that you should be shopping along with a couple of players you should be looking to buy. Remember that just because I mention a player you should be selling or buying, you don't have to go after that specific player. You need to target a guy that fits in the same tier as that player.
Quarterback Sells
Tampa Bay Buccaneers – Tom Brady
If you own Tom Brady, and you're not a contender, you need to be shopping him aggressively. He signed a two-year deal this offseason. Surrounded by the most talent that he's had in a long time, with Mike Evans, Chris Godwin, and Rob Gronkowski have Brady poised for a good year. He's continued to be successful as his age as elevated, but Father Time continues to remain undefeated.
You need to be looking to move him right now because his price will only go down at the first sight of trouble with his arm. Training camp videos are going to drive his price up with impressive plays, and you're going to be able to get some value for him. He finished as QB12 last year, and he figures to be throwing the ball, even more, this year in the Bruce Arians offense. With only two years on his deal, his career could be over after two seasons.
Pittsburgh Steelers – Ben Roethlisberger
Similar to Brady, Ben is working on an abbreviated window. He has just two years left on his deal, and the team has an opt-out after the 2020 season. If he can just stay healthy, though, this team has all of the pieces in place for him to generate a QB1-level season. In 2018, when he played 16 games, he finished the year as QB3. He doesn't have Antonio Brown on the roster anymore, but he still has Juju Smith-Schuster, Diontae Johnson, and more.
One thing that I love about Roethlisberger is the fact that he is one of the few quarterbacks that manages to produce all year long despite playing an overwhelming number of his games outdoors. Even in the second half of 2018, he averaged over 24 points per game. His points per game from 2018 would have been good enough for second among quarterbacks in 2019. It's time to ship him out, and, if someone ignored their QB position or needs an upgrade, Ben's a perfect candidate for them.
Running Back Sells
Baltimore Ravens – Mark Ingram
This one is a little more difficult. The majority of teams are rarely using running backs past their first contract because of how quickly they can replace the production at the position. Ingram only has two years left on his deal, but he should still be productive, at least in the short term. In 15 games last season, he averaged 16.1 PPR points per game on an elite running offense.
With Lamar Jackson under center, opposing defenses were unable to key in on Ingram coming out of the backfield. He was consistently getting to use his power in the open field against smaller defenders. We could see lower touchdown scoring in 2020, but, if you are selling him, you have to tell your buyer that he can replicate it in an offense that figures to run the ball heavily.
New York Jets – Le'Veon Bell
If Bell were on a team other than the New York Jets in the 2021 season, I wouldn't be the least bit surprised. Bell had the worst season of his career in 2019. He averaged just 3.2 yards carry and only 4.0 yards per touch. He's also playing with a coach who has openly stated that he didn't want him on the team while heading closer and closer to the 30-year old wall that stimies even the best running backs. Despite all of that, I still see a path to him being a productive running back.
where Le'Veon Bell admits "I didn't have my body ready" last year

insists his weight, speed and strength are perfect right now "for the first time in my career. This is the best I've ever felt"pic.twitter.com/qEsdlu5ATC

— Warren Sharp (@SharpFootball) August 19, 2020
For one, his only real competition for touches this year will be Frank Gore. While Gore remains a consummate pro, he's far removed from his days as a legitimate contributor. Bell also remains one of the league's better receiving backs, and he's caught at least 79 percent of his passes in every season outside of his rookie year. Bell has some value as a volume play for the next year or two. His value isn't through the roof after such a rough year, but you could still get a little something for him.
Wide Receiver Sells
New England Patriots – Julian Edelman
Prior to the Cam Newton signing, I would have avoided Edelman like the plague. I'm still not actively seeking him out, but he's a great option for someone who needs another decent volume receiver. N'Keal Harry and crew are fun young pieces, but Edelman is the only proving receiving threat on this team, that's not named James White. He's coming off a season that saw him finish as WR7 on the year in PPR, and he was ninth league-wide in points per game among players that played more than one game.
Since becoming a full-time starter in the 2013 season, Edelman has been one of the NFL's most reliable wideouts. He's caught at least 60 percent of his passes, and he caught over 70 percent of passes thrown five or fewer yards last season. Newton will be looking to develop chemistry early on with his receivers, and Edelman will be a good one target. Heading into his age 34 season, he's quite seasoned, but he wins more with finesse than athleticism, which can be used as a selling point.
Detroit Lions – Marvin Jones
First off, Jones might be one of the most underrated commodities in fantasy football. If it weren't for injuries shortening his last two seasons, his price would be much higher. Among receivers that played more than one game in 2019, Jones was 20th in points per game at 14.9. That puts him ahead of guys like Jarvis Landry, Tyler Lockett, and Courtland Sutton. With a quarterback like Matthew Stafford that can throw the ball around the yard, he's set up for a big year with Detroit.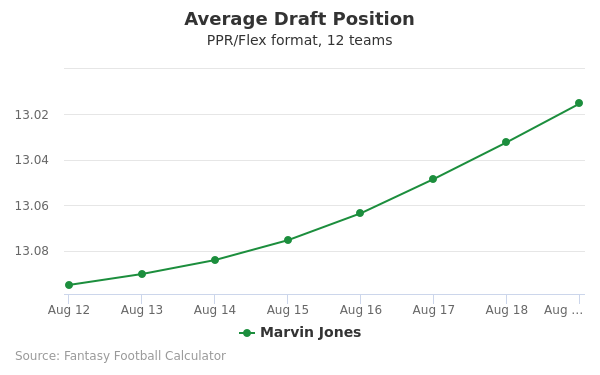 ADP from Fantasy Football Calculator
Jones is a free agent after this season, but he still has a lot left in the tank. He was averaging over 12 yards per catch before his injury, and he scored nine touchdowns last season. Similar to Edelman, he brings a stable presence to someone's receiving corps. His ADP has him going in the ninth round right now, and I think you could still get a decent young player with him as your centerpiece.
Tight End Sells
Philadelphia Eagles – Zach Ertz
This is probably the guy that's going to fetch you the prettiest penny when you start trying to move him. He's hauled in at least 74 receptions in each of the past four seasons, and he's the Philadelphia Eagles' most consistent pass-catcher. He'll be 30 by the time the season is over, but he shows no signs of an immediate slowdown. Tight end is a position others often neglect, and you can use that to your advantage with Ertz.
His work over the final seven games of the season was insane. With no reliable receivers on the field, Ertz was eating to the tune of 18.6 PPR points per game. Throughout a full season, he would have outscored the second-best tight end by 40 points. All of those games came with Dallas Goedert in the lineup as well. He's still his team's best receiver and a legit tight end threat, but, if you're not competing, strike while his value is high.
Jared Cook – New Orleans Saints
After struggling with injury throughout the majority of his career, Cook has finally started to capitalize on the potential he had shown in flashes. He's finished as TE12 or better in the last three seasons, and, until last season, he had been successful due to receptions and yardage more than touchdowns. He's still playing in a Saints' offense that is looking to contend for a Super Bowl this season with Drew Brees under center.
He finished 2019 on an absolute tear with an average of one touchdown per game. He nearly doubled his yardage totals in those games despite seeing a significant dip in targets. The Saints added Adam Trautman as a tight end option this offseason, but he's not going to be a legitimate threat as a rookie. Even if it's only a short-term upgrade, he'll still be an upgrade for most teams starting tight ends.
Quarterback Buys
Cleveland Browns – Baker Mayfield
If you thought Mayfield's 2018 was good and replicable, he is a screaming buy right now. You're getting a huge discount on where his price was a season ago when he was being drafted in the first two rounds due to the addition of Odell Beckham Jr. With a better offensive line combined with loaded weapons at every position, he's positioned for a bounceback year in 2020 under Kevin Stefanski.
Mayfield's start to 2019 was absolutely abysmal. He was on pace to throw for 24 interceptions through his first eight games, and he was only going to throw for 14 touchdowns. He flipped the script in Week 10 when something seemed to click. His ball security dramatically improved, and he more than doubled his touchdowns per game. Combine that with a nearly five-point bump in fantasy points per game, and you had a potential league winner down the stretch. If you extrapolate his final eight games over a full season, he would have finished as QB6.
Los Angeles Rams – Jared Goff
Let's clear up one thing first. Goff is not necessarily a good quarterback, but he plays in a perfect system with Sean McVay pulling the strings. At the end of the day, Goff is playing in a good system with a loaded offense, and he's finished as QB13 or better in the last three seasons. You can get him for cheap, and it doesn't make sense to me. He's going to throw the ball a lot, and volume reigns supreme in fantasy. Just ask Michael Thomas and Christian McCaffery.
Passing Table

| Rk | Player | Tm | Age | Pos | G | GS | QBrec | Cmp | Att | Cmp% | Yds | TD | TD% | Int | Int% | 1D | Lng | Y/A | AY/A | Y/C | Y/G | Rate | QBR | Sk | Yds | NY/A | ANY/A | Sk% | 4QC | GWD |
| --- | --- | --- | --- | --- | --- | --- | --- | --- | --- | --- | --- | --- | --- | --- | --- | --- | --- | --- | --- | --- | --- | --- | --- | --- | --- | --- | --- | --- | --- | --- |
| 1 | Jared Goff | LAR | 25 | QB | 16 | 16 | 9-7-0 | 394 | 626 | 62.9 | 4638 | 22 | 3.5 | 16 | 2.6 | 220 | 66 | 7.4 | 7.0 | 11.8 | 289.9 | 86.5 | | 22 | 170 | 6.90 | 6.46 | 3.4 | 1 | 2 |
| 2 | Jameis Winston | TAM | 25 | QB | 16 | 16 | 7-9-0 | 380 | 626 | 60.7 | 5109 | 33 | 5.3 | 30 | 4.8 | 243 | 71 | 8.2 | 7.1 | 13.4 | 319.3 | 84.3 | | 47 | 282 | 7.17 | 6.15 | 7.0 | 2 | 2 |
Goff was tied for the NFL lead last season in passing attempts with 626. He was tied with Jameis Winston, who was known by everyone around the league for his extreme throwing numbers. The Rams' offensive line hasn't drastically improved, and they have a pair of young running backs in the backfield. With that setup, he's going to be throwing a lot again. You can trade a valuable piece for a young guy like Goff while getting largely the same production.
Running Back Buys
Chicago Bears – David Montgomery
Montgomery entered last season with an insane amount of hype. Right before the season started, he had an ADP of 3.07 ahead of guys like Josh Jacobs and Derrick Henry. Now, after an underwhelming year behind a patchwork offensive line, he's being left for dead on the side of the road. Looking at the Bears' depth chart, it's pretty tough to see why that's the case. They've added no one to the running back room this offseason. It's still his job.
Montgomery led the Bears in rushing attempts last season with 242. The next guy on that list was Tarik Cohen, with just 64 carries on the year. Cohen smoked him with 54 more catches on the year, but he still gets absolutely no running work by comparison. Running back production is next-to-impossible to find after the first couple of rounds. If you can get Montgomery for cheap, buy him all day long.
Devin Singletary – Buffalo Bills
Singletary was one of the more fun players to watch last season, and he was consistently explosive in relief of Frank Gore. It was presumed to be his show until the team drafted Zack Moss to give him a running mate. Despite a new face in the building, I'm not overly concerned about how Singletary will be effective because I still think he's far and away the better running back.
When watching Moss's college film, he was a solid player, but he doesn't bring the pop that Singletary does. Additionally, Singletary brings the aspect of being a veteran into this year and the future. He's had one year to learn the aspects of pass blocking as a running back. Moss won't have that same experience. You can get Singletary at a discount right now due to Moss's presence, but he still figures to be the lead back.
Wide Receiver Buys
Christian Kirk – Arizona Cardinals
I've been hyping him up all offseason for a good reason. Kirk is due for the breakout season. He had a decent rookie year before dealing with injuries during his sophomore campaign. Now is the time for him to realize his potential. Across from DeAndre Hopkins, he'll be getting the easier matchup every week. He broke out at just 18.8 years of age in school, which is in the 93rd percentile. The college scores were there.
Kirk averaged a healthy 12.9 PPR points per game last season. That was good enough for 31st among wide receivers, and it was better than perceived studs such as Odell Beckham Jr., Deebo Samuel, and T.Y. Hilton. He dealt with an injury that slowed him down through the second half of the season, and it nearly forced him to have offseason surgery. In this loaded Cardinals' offense, Kirk should be a strong WR2 with huge potential every week.
Michael Gallup – Dallas Cowboys
Gallup was viewed as a rising star in the league last year, and he was the perfect complement to Amari Cooper on the other side. In April, when Dallas drafted CeeDee Lamb, he was immediately thrust aside. He's projected to be a free agent in two seasons, and the team just doesn't have the money to afford to keep him around. With that in mind, you have two years of production out of him before becoming a WR1 somewhere else.
Gallup is being drafted as WR22 right now, and he's projected for an even bigger year. The Cowboys' offense lost Randall Cobb and Jason Witten. They had a combined 166 targets between them. Gallup more than doubled his yardage and touchdown totals from his first to his second season. With Dak Prescott slinging the ball in Mike McCarthy's wide-open offense, Gallup should have the potential to be at least a WR2 again this season.
Tight End Buys
Dallas Goedert – Philadelphia Eagles
You should be buying one Eagles' tight end and selling the other. Goedert finished as TE10 last season despite being the second-best one on his roster. Coming out of a small school like South Dakota St., it was unclear how well he would translate to the NFL. But his size at 6'5" & 256 pounds has allowed him to become a mismatch tight end that opposing defenses are unable to deal with.
In the second half of last season, Goedert took advantage of a weaker receiver room and injuries to Ertz. Unlike some, he wasn't relying exclusively on touchdowns for his increase in scoring. Goedert only has two years left on his deal, but they could easily re-sign him while letting Ertz go. The Eagles' have two top-10 tight ends on their roster, and they're each trending in a different direction.
Irv Smith Jr. – Minnesota Vikings
I had him, just like everyone else, in the top three tight ends of last year's draft. Because of the two tight end system the Vikings ran, they needed to keep Kyle Rudolph in the fold, and he vultured the looks that would have come his way and chopped his production in half. Rudolph is a good blocker, but he's not the natural receiver that you get in Smith.
Not many TEs can easily shake Eric Kendricks in coverage. Nice route from Irv Smith Jr. here: pic.twitter.com/H0rVbdCMq4

— Nick Olson (@NickOlsonNFL) August 17, 2020
With Stefon Diggs out of the fold, Smith has all of these targets that are now up for grabs. He can shake even the best linebackers in coverage. Kirk Cousins needs a consistent underneath threat. While his receivers will fill some of that role, Smith is going to be breaking out in a big way this year.