The opening few bowl games featured huge games by NFL hopeful quarterbacks Zach Wilson and Carson Strong. This batch of bowl goodness features a few running backs with dreams of running on the biggest stage and a few more quarterbacks to keep our eyes on. Several bowl games were canceled, but we are still left with a good appetizing slate before the New Year's main course.
Union Home Mortgage Gasparilla Bowl
South Carolina (3-8) vs. UAB (6-3) – Saturday 12/26
Having a team with eight losses and without a head coach in a bowl seems odd, but the SEC fulfills its obligation by sending South Carolina to take on the Conference USA champion. The Gamecocks haven't won since October 17, losing their last six games by an average of 24.8 points. The Blazers played the Miami Hurricanes tight in an early-season loss and have a few players on offense with the potential to play on Sundays. UAB should beat South Carolina, and a win over any SEC team is something to build on.
South Carolina
Kevin Harris (Sophomore) – RB, Devy Prospect
Harris has been a bright spot for the Gamecocks in 2020, rushing for 1,138 yards and 15 touchdowns. He has also corralled in 21 receptions and been a solid receiving option. Harris has been a riser for me this season – he runs with tenacity and is a bear to bring down. He has sure hands and good vision with patience when he hits the line. The offense has had to focus on him, and defenses still had trouble slowing him down.
University of Alabama at Birmingham (UAB)
Spencer Brown (Senior) – RB, Draft Prospect
Brown has rushed for 889 yards in only eight games while scoring ten times and has been the team's workhorse since his arrival on campus. Over four seasons, he has rushed for over 4,000 yards and 41 touchdowns. At 6'0" and 220 pounds, Brown is a big back and runs true to his size – he's more apt to run over someone than around them. He rarely takes a loss and falls forward every time. The lack of elusiveness, agility, and pass-catching chops could limit his role in the NFL. 
Austin Watkins (Senior) – WR, Draft Prospect
The first cousin of Sammy Watkins, Senior Bowl invitee Watkins will have a chance to prove he can play against tougher competition in this bowl and then in Mobile. He eclipsed 1,000 yards in 2019 and had a solid 2020, catching 33 passes for 466 yards and three scores. The offense rarely threw, and when it did – Watkins was often double covered. Ball tracking, high pointing, and muscling the ball away from defenders are a few of his strengths. He needs to clean up route running and show he can create separation from tougher competition, but there is a lot to love about his game.
DeWayne McBride (Freshman) – RB, Devy Prospect
Only a freshman, McBride received just 47 carries but ripped off over 400 yards and scored four times. He has great size at 5'11" and 220 pounds and is insanely quick. Keep an eye out for this player in devy drafts next season.
Cure Bowl
Liberty (9-1) vs. Coastal Carolina (10-0) – Saturday 12/26
The schedule makers blessed us with this game here – these two teams were set to clash on December 5 with ESPN's College GameDay on Coastal Carolina's teal turf. Liberty had to reschedule, BYU stepped in and put on a great show in one of the games of the year. Now we get a chance to see the game, which could have been. Liberty is only giving up 19.2 points per game and averaging 38.3 scored. The Chanticleers are allowing 16.8 points per game while scoring an average of 37.5. This game has the potential to be the best bowl game of the season – both teams are playing great football, and strengths match strengths.
Liberty
Malik Willis (Junior) – QB, Devy Prospect
Technically, Willis could enter the draft, but another year of development could help his draft stock immensely. The electric quarterback was the driving force for Liberty's offense. He threw for 2,040 yards and 20 touchdowns versus only four interceptions. He also rushed for 807 yards and ten more touchdowns. Defenses have to account for Willis. He is a very dangerous runner, and his arm has shown improvement, yet is still a bit inconsistent. He throws a beautiful ball, but at times his accuracy is spotty.
Coastal Carolina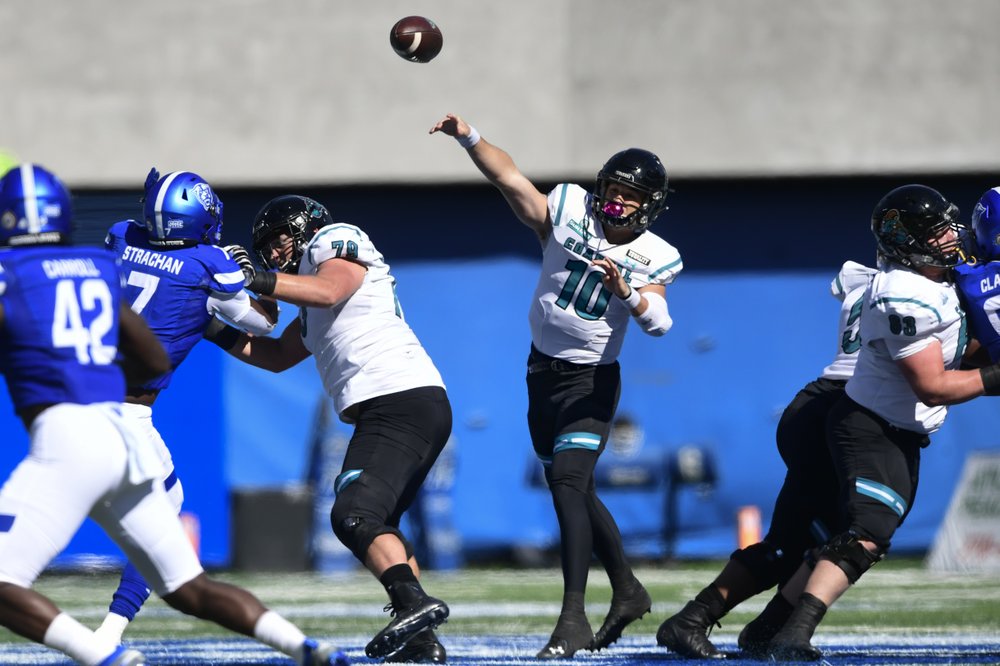 Grayson McCall (RS Freshman) – QB, Devy Prospect
McCall has been one of my favorite players to watch this season, he has the elusive running ability to be dangerous, and his arm has gotten better every game, it seems. He has thrown for 2,170 yards, 23 touchdowns, and only two interceptions while adding 473 yards and six more scores rushing. The Chanticleers run an offense with a lot of run/pass options, and McCall runs it masterfully. As a runner, he is quick and doesn't take direct hits. As a passer, he is efficient and throws a tight, clean ball. He has a good release and makes good choices, optimizing what he is given.
CJ Marable (Senior) – RB, Draft Prospect
I have been asked about Marable a few times, and I think he could find a home in the NFL, but he is not a three-down back or starter caliber. He has decent size at 5'10" and 200 pounds, rushed for 844 yards and 12 scores, and caught 30 passes for 220 yards and seven more. As a runner, he is fairly elusive and sorts through the line well, displaying decent power and good contact balance. He is smooth out of the backfield, and it could find him an NFL home. He has soft hands and is a natural receiver. The competition level will always be a question, but with some refinement, CJ could be a solid NFL back.
Isaiah Likely (Junior) – TE, Devy Prospect
The junior tight end is eligible for the draft this season, but it is Likely he returns for another season – I kill myself – couldn't resist! He caught 25 passes this season for 517 yards and four touchdowns, solid numbers for a collegiate tight end. He will need to add some bulk to handle the blocking required in the NFL, but he is a willing and tenacious blocker. He looks like he has good, strong hands and runs good clean routes. He could easily make his way onto an NFL team.
SERVPRO First Reponder Bowl
Louisiana Lafayette (9-1) vs. Texas San Antonio (7-4) – Saturday 12/26
The Ragin' Cajuns were Sun Belt co-champs with Coastal Carolina and will face off with a UTSA team making its second bowl game appearance after a solid 2020 season. ULL started the season defeating Iowa State and ranked 28th in offensive and defensive scoring on the season. UTSA was middle of the pack offensively and defensively and played BYU close before losing in their biggest matchup of the season.
UTSA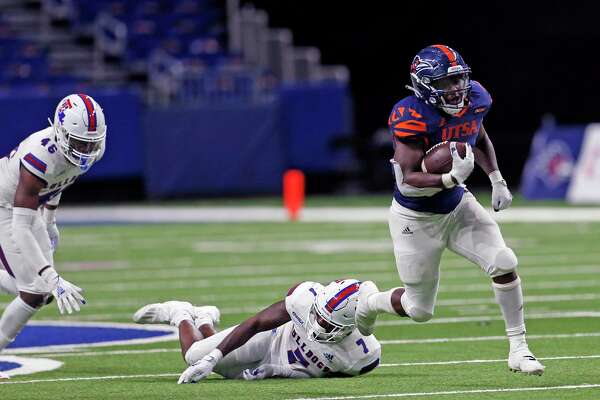 Sincere McCormick (Sophomore) – RB, Devy Prospect
If the Ragin' Cajuns want to secure their second straight ten-win season, they will have to stop the Roadrunners' top weapon. McCormick rushed for 1,345 yards – second-most in the NCAA – and 11 touchdowns. He also caught 18 passes after catching 24 his freshman season. He is a bit small at 5'9" and 200 pounds, but he could profile as a three-down back. I broke down one of his games and was thoroughly impressed. McCormick has power but also enough speed to break away if he gets to the open field. He has a powerful low center of gravity and plays through contact. Watch what he does in 2021. He is a riser and potential sleeper in the 2022 running back class. 
Lending Tree Bowl
Western Kentucky (5-6) vs. Georgia State (5-4) – Saturday 12/26
Both teams finished the season strong. Georgia State won three of their last four games and secured their third bowl trip in the last four years. Western Kentucky won their last three games to get the bowl nod. The Hilltoppers are not overwhelming offensively, but veteran quarterback Tyrell Pigrome is a fun college quarterback to watch. Georgia State scores 32.7 a game but also allows 32.9 a game, and this has the potential to be a good game as far as being watchable. I don't see any devy or NFL talent on either offense, though.
Cheez-It Bowl
Oklahoma State (7-3) vs. MIami (8-2) – Tuesday 12/29
Both teams faltered down the stretch, but this could be an entertaining game to watch. Mike Gundy's Cowboy squad started 4-0 before splitting the final six games amid some offensive struggles after Chuba Hubbard opted out of the season. They are trying to find their groove again and could test Miami's young but fierce defense. Miami had won five in a row until they were pummelled by North Carolina two weeks ago. The run defense was gouged for over 500 yards and now faces another good running team without their top three defensive linemen. This will be a final showcase for their draft hopeful at quarterback, and Miami's young team should bounce back with a win.
Oklahoma State
Dominic Richardson (Freshman) – RB, Devy Prospect
After the news of Hubbard not returning hit Stillwater, sophomore Dezmon Jackson took over the running back reigns and rushed for 353 yards in his first two games. I wasn't overly impressed with him as a prospect despite the gaudy numbers. Insert true freshman Richardson, who gouged Baylor for 169 yards and three touchdowns. He looked powerful, deceptive, and quick in a small sample size. He impressed me, and I am hopeful he continues against Miami and into next season.
Tylan Wallace (Senior) – WR, Draft Prospect
Wallace is lost in this super-talented wide receiver class but could be one of the most productive when he reaches the NFL. Wallace isn't a lock to play due to injury but if he does, watch what he does. In 2020, he had 872 yards receiving with six touchdowns as the inconsistency at quarterback cost him a little. Wallace is great at creating separation and is incredibly dangerous after the catch. He has great hands, wins high pointing, and can track deep throws well. He could add some strength and sometimes relies too much on speed, but Wallace has the tools to be a successful NFL receiver.
Miami
D'Eriq King (Senior) – QB, Draft Prospect
King didn't make quite as big of a splash at Miami as some hoped but had a productive season and should be a day two draft pick. He threw for 2,570 yards with 22 touchdowns to only five interceptions. He added 520 yards on the ground and was not as effective running as he had been at Houston. Regardless, King is a dangerous runner who can pass, and he has an absolute cannon. His throws can often be erratic, and he's a bit too inconsistent in my opinion, but the raw traits will earn him a spot in the NFL for a long time.
Cam'Ron Harris (Sophomore) – RB, Devy Prospect
Harris shot out of gates in 2020, rushing for exactly 134 yards in each of the first two games. The devy community took notice, and then he struggled like mad the rest of the season. He finished with only 529 yards and only had two games over 50 yards rushing. In the first few games, I saw a hard runner who was tough to bring down, and he had a few long rushes with glimpses of breakaway speed. The rest of the season, it was hard to tell what was on him and what was on Miami's offensive line – it was really atrocious. Harris is a name to keep in your pocket, but I wouldn't pay much to acquire him.
Brevin Jordan (Junior) – TE, Draft Prospect
Jordan was one of the bright spots in the season-ending thrashing at the hands of North Carolina. He caught six passes for 140 yards and a score, bringing his season totals to 480 yards and five touchdowns. Jordan is a move tight end who could be a valuable chess piece to the right NFL offense. He runs and catches like a wide receiver and is a willing blocker, albeit not the most effective blocker. At times, he could take over a game, and Miami never really used him to his full potential. Jordan could be special at the next level.
Valero Alamo Bowl
Texas (6-3) vs. Colorado (4-1) – Tuesday 12/29
Texas didn't live up to its lofty expectations yet are still 3-0 in bowl games under Tom Herman. The team averaged 41.3 points a game, good for twelfth in the country, and the potent offense can score 70 in any game. Colorado looked better than most expected under new coach Karl Dorrell with a balanced attack but did not face an offense anywhere as potent as the Longhorns have.
Texas
Sam Ehlinger (Senior) – QB, Draft Prospect
It feels like Ehlinger has been the starter at Texas for the past decade. He finished his college career with 2,406 yards, 25 touchdowns, and five interceptions this season. He also rushed for 382 yards and eight touchdowns. Over his four-year career, he completed only 60% of his passes, and his accuracy was the biggest knock. Some scouts don't love the throwing motion, it is funky, but it got the job done most games. Ehlinger will likely be drafted as a project due to his rushing upside, but I don't see him starting in the NFL.
Bijan Robinson (Junior) – RB, Devy Prospect
The last time we saw the Longhorns, Robinson finally had the game we were all hoping for. He rushed for 172 yards on only nine carries, with three of those going for touchdowns. He also caught three passes for 51 yards. He's my top running back in the 2023 draft-eligible class. At 6'0" and 222 pounds, he has great size – he uses the size to run with power and agility and possesses breakaway speed, and will run by defenders. Robinson is the complete package, and I can't wait to see what he can do.
Brennan Eagles (Junior) – WR, Devy Prospect
Eagles is a four-star recruit who has never really put together a dominant statistical season. He has just over 1,000 yards and has scored 11 times in the past two seasons. Eagles is a tall boundary receiver who needs to develop a better route tree but tracks the ball in the air well and has solid hands.
Joshua Moore (Sophomore) – WR, Devy Prospect
Moore caught 25 passes for 386 yards and 7 scores in 2020 and looked like the best receiver in the Texas corps. He is immensely talented and one of the fastest players on the field when he plays. Moore has breakaway speed and will need to add some weight and strength to develop into more than just a deep threat.
Jake Smith (Sophomore) – WR, Devy Prospect
Smith is my favorite receiver of the Texas trio, and I believe he will find a role in the NFL. Texas uses him in the slot mostly, and he projects there in the NFL as well. He has 48 grabs for 568 yards and nine touchdowns over his first two seasons as the Texas offense spreads the ball all over. Smith is lightning quick in and out of breaks, runs crisp routes, and has great hands. Watching him play, he reminds me so much of Cooper Kupp. I love his game and hope he sees more production in his junior season.  
Jordan Whittington (RS Freshman) – WR, Devy Prospect
Whittington is a five-star talent who hasn't been able to make it on the field. He is built like a running back but has great hands and is extremely dangerous after the catch. He could be a future superstar. Whittington has just had trouble getting on the field consistently. 
Colorado
Jarek Broussard (Sophomore) – RB, Devy Prospect
Broussard has rushed for 813 yards in only five games and scored three times, coming out of nowhere to be one of the bright spots for the Buffalos this season. He runs strong between the tackles and then blazing speed when he reaches daylight. Broussard was recruited as a wide receiver and has good size for a running back at 5'9" and 190 pounds. With some added weight and strength, he could continue to ascend and is a name to watch.
Vontae Shenault (Freshman) – WR, Devy Prospect
The younger brother of Laviska, Shenault, followed his brother to Colorado and flashed some playmaking ability as a freshman. He has good hands and works the outside boundaries well but doesn't have elite speed or breakaway ability.
Did you hear the big news? The Dynasty Nerds youtube channel is up and running. Now you can see the podcast straight from the NerdHQ!! Smash that subscribe button. Sign up for the DynastyGM tool to keep that edge over your leaguemates. Manage all of your dynasty teams, use the trade calculator, and we just added a player shares tool so you can see all players you roster in one place. Try it here for free.