We have now officially reached the double-digit mark of the regular season! The most surprising thing about this season is the impact the rookies are making for their teams. As the injury-plagued season continues to decimate fantasy teams, new rookies rose to the occasion. Here are your Week 10 rookie studs and duds.
The Good:
Rhamondre Stevenson
Rhamondre Stevenson broke out on Sunday as the Patriots demolished the Cleveland Browns 45-7. Stevenson rushed 20 times for 100 yards and scored 2 touchdowns. He also caught 4 of 5 targets for 14 yards. With Baker Mayfield struggling in this contest, Stevenson continued to punish and pound the football on the ground. Stevenson has displayed his abilities on the field and should be a consistent factor in this offense. What will Stevenson's role be when Harris returns from the concussion protocol? Harris should return as the lead RB, but Stevenson could insert himself in short-yardage situations. This RB situation is something to monitor. If Harris misses any more time, look for Rhamondre Stevenson to produce strong RB1 numbers. Dynasty managers should look to acquire Stevenson because he may get a significant role in a run-first offense.
Devonta Smith
Devonta Smith had a huge game on Sunday against the Broncos. Smith caught 4 of 6 targets for 66 yards while also scoring 2 touchdowns. Smith took advantage of his opportunities on Sunday. With Dallas Goedert exiting the game early, Smith was Hurts' favorite target in the red zone. Smith has been inconsistent this year, but it's not his fault. Jalen Hurts has been inconsistent and unproductive in the passing game. Devonta Smith has been productive in fantasy in the past two games, but dynasty managers shouldn't expect this production every week. Smith is constantly proving his ability to become a WR1 for a team and should be a future WR1 for years to come. But for now, Smith should be considered a WR3/WR2 in fantasy. Smith should be in line for more work and considered a WR3/Flex against Marshawn Lattimore and the Saints in Week 11.
Najee Harris
Najee Harris saw a lot of work against the Detroit Lions. Harris ran for 105 yards on 26 carries while catching all 4 targets for 28 yards. Najee could've had a bigger day if a penalty had not nullified his touchdown. Harris has established himself as a true workhorse for a struggling offense. Although the offense has looked putrid up to this point, Harris has consistently produced RB1 numbers in fantasy. He has dominated all of the work on the ground and has even become prominent in the aerial assault. Harris is undoubtedly an RB1 in an offense that is looking to run the ball a lot more. With Harris firmly grasping the full workload of the backfield, dynasty managers can expect him to be an RB1 for a long time. Look for Harris to continue to be a strong RB1 option for years to come. Najee Harris will have a great match-up against the Los Angeles Chargers that have been friendly to opposing RBs.
Mac Jones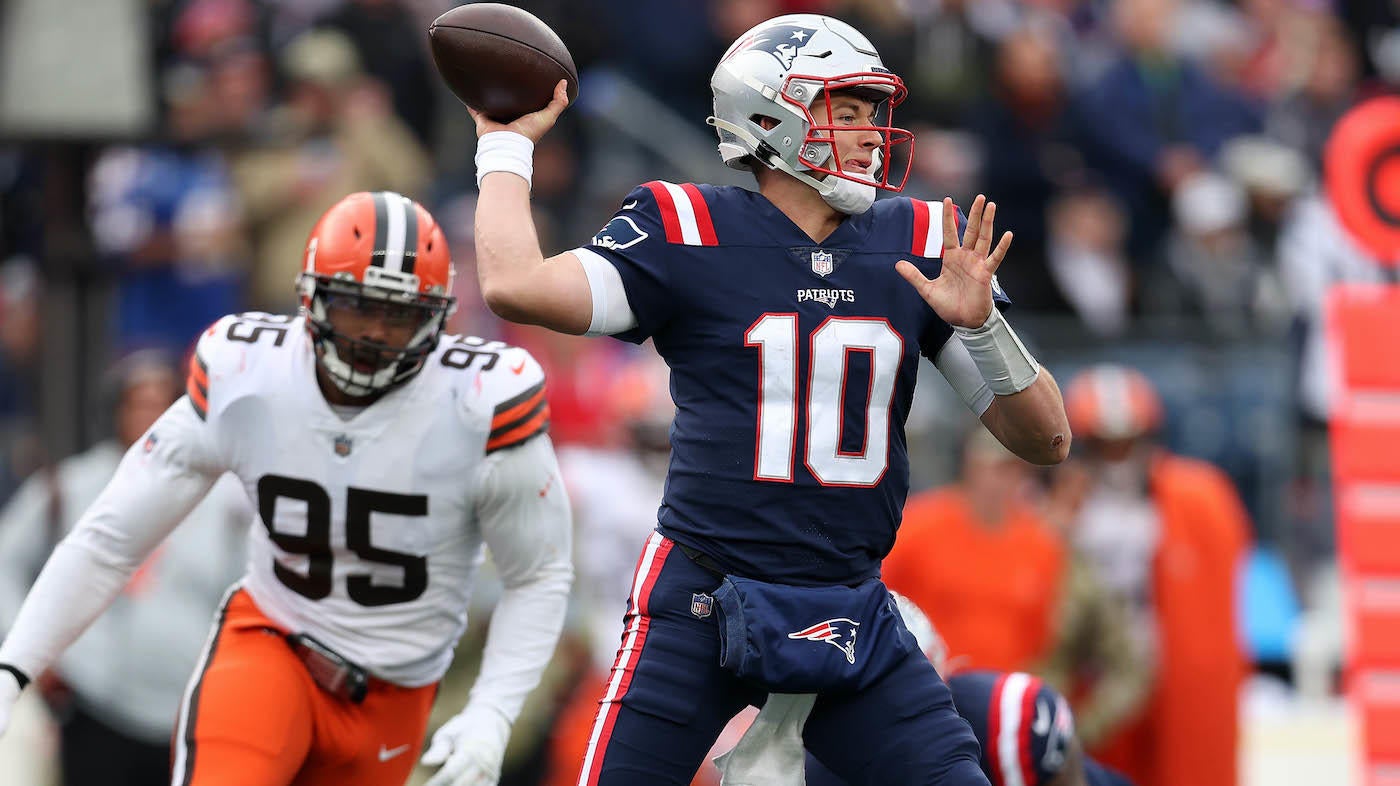 Mac Jones played a brilliant game against the Cleveland Browns. Jones completed 19 of 23 passes for 198 yards and threw three touchdowns. Jones completely outdueled Baker Mayfield in this game, and he continues his campaign as the best rookie QB. Even though Cleveland had one of the game's best defensive lines, Mac Jones systematically took apart the defense. Mac Jones has been looking better as the season progresses. He has been undoubtedly the best rookie QB in 2021 and has a case to become the best rookie QB of his class. Jones is developing nicely and has translated nicely for dynasty managers. Jones has not been perfect this season, but he proved enough to be considered a strong QB2 for dynasty managers. Mac Jones has a juicy match-up against the Atlanta Falcons that just let up 43 points to the Cowboys.
… and the Bad:
Trevor Lawrence
Trevor Lawrence continues to disappoint dynasty managers. Lawrence completed 16 of 35 passes for 162 yards while also rushing for 33 yards. He also lost one fumble in the loss against the Colts. This game did not seem as close as the scoreboard says it was. Lawrence had an opportunity to take the lead but ultimately fumbled, which ended the game. Lawrence has been going the wrong way in fantasy. Though there is optimism that things will improve in the coming years, there is still a level of concern for his development. The Jaguars are still a troubled football team, and it doesn't seem like Urban Meyer is having a positive impact on the team's success. Dynasty managers most likely must hold onto Lawrence because of how much they paid for him or the level of draft capital it took to obtain him. Dynasty managers should not expect Lawrence to improve this season but should be hopeful for next year. Lawrence has been a shaky QB2 option in 2021. He may be best left out of lineups until he shows improvement, as the Jaguars will face off against a San Francisco defense that shut down the Rams in Week 10.
Javonte Williams
Gordon and game script limited him. Melvin Gordon is still the lead RB in this backfield. Many dynasty managers are disappointed that Williams has still not made a dent into Gordon's snap count as they prepare for Week 11. Gordon still got the goal line carry that led to a touchdown and received one more target than Williams. He has been slowly overtaking Gordon in snap share but hasn't taken over the workload. Fantasy managers should continue to temper their expectations for Williams going forward and expect that Williams may have to wait until next season to obtain a full workload. Williams has a bye week in Week 11 but is in the Flex/RB3 discussion when he returns against the Chargers in Week 12.
Jaylen Waddle
Waddle posted a modest stat line on Thursday night against the Baltimore Ravens. Waddle caught 4 of 6 targets for 61 yards. Even though Waddle did not produce a great stat line, Waddle still led all WRs in snap percentage and share. Waddle continues to dominate the snap share, and he continues to be a huge part of this Dolphins offense. Dynasty managers should not be concerned with his production in Week 10 and should lock him in as a strong WR2 in Week 11 against a non-existent Jets defense.
Nick Westbrook-Ikhine and Dez Fitzpatrick
With Julio Jones officially placed on IR before heading into the game against the Saints, NWL and Fitzpatrick failed to capitalize on the opportunity to replace the vacant WR2 spot. It has been disappointing to see Fitzpatrick drop so far after being drafted in the 4th round of the 2021 NFL draft. Both WRs were non-factors in this game. The combined targets and receptions between the two WRs were 2 receptions on 2 targets for 10 yards. Both rookies were outplayed and outshined by Marcus Johnson in this game. Nick Westbrook-lkhine will look to be set in the WR4 role, while Fitzpatrick may once again revert to the practice squad. Both WRs should not be looked at and can even be dropped to waivers in all formats.
Sign up and become a #NerdHerd member and use the promo code WooLeeNERDS to receive 15% off of Nerds membership. Follow me on Twitter @WooLee_FFB for more fantasy football content!
The fantasy season is in full swing. How are you going to reward the league champ? I'll tell you – go to Trophy Smack and get that Championship hardware. Use promo code NERDS for a free ring when you order a trophy or belt.