Last time, we looked at a few RBs and their upside from various perspectives. The goal was to see if their change in opportunity could be overcome or sustained by the skills they bring to the field. This time will involve a look at some receivers who are known but may be overshadowed by the hype around them or the presence of established receivers on the same team.
For receivers, the focus tends to be on separation, speed, hands, and to some degree, yards after the catch. Many of these have statistics/data aligned with them such as average separation, targets, catch rate, and YAC. Others loosely identify production potential like air yards. To ensure we are seeing both sides of the proverbial coin we need to know the "why" behind a receivers stats so that we can attempt to project which way the trend will move.
Michael Gallup
Michael Gallup was the 81st overall pick (3rd round) by Dallas in the 2018 draft. He was touted as one of the better route runners in the class and had a little bit of buzz going into the season as the next potential WR1 for Dallas. Based on his production last season, people have likely waned on any positive perception they had of him. The arrival of Amari Cooper at the trade deadline last season virtually destroyed any possibility of Gallup rising into a WR1 role.
When people look at Gallup in 2018 through the stats lens, his value from an ADP or rankings perspective makes sense:
Gallup was 18th in the NFL in targeted air yards, 195th in catch rate (only credited with 5 drops), and an aDoT of 13.9 yards. Statistically, not a very attractive receiver. On top of that, people discount him because they believe Amari Cooper will command most of the targets in Dallas, leaving Gallup scrounging for crumbs among the rest of the receiving corps.
The film can really help us see the upside of players who don't impress statistically. Simply watching the incompletions helps provide some much-needed context to the numbers. For example, weeks 11, 12, and 14 (@ATL, vWAS, vPHI) were the three worst performances as far as catch rate after Cooper's arrival where Gallup went for a combined 7 receptions on 20 targets. Before you get sick, the film shows that 7 of those passes were uncatchable. While this brings him to only 53% catch rate (vs 35%) in the sample, it still shows how the numbers only tell a part of the story.
Scouting Gallup
Fantasy owners should look for Gallup to feast in a land of opportunity vs single coverage with Cooper getting much of the defensive attention. What's even better is that Gallup has the skills to be able to take advantage in most situations. Below is my rough scouting report on Gallup:
He will utilize every ounce of his 4.5 40 speed to threaten DBs deep in his stem. It is here that he has success against some solid DBs in manipulating their hips to open up with his posture at the breakpoint. His leg strength is very good in facilitating good change of direction in/out of his breaks (typically digs, outs, curls, comebacks) while sacrificing little speed. His ability to run these routes facilitates his success on double moves. Good mental processing against zone coverage consistently creates separation by finding soft spots and responding to QB scrambles. Gallup shows good competitive toughness when faced with press coverage where he utilizes good foot speed to stack aggressive DBs that are unable to disrupt him off the line of scrimmage. Very good at tracking the ball on deep throws and good body control in awareness and toe-taps when working the sideline. Solid hands and good catch radius will reduce the necessity of QB accuracy while also increasing the probability of success for out of structure plays. After the catch, good acceleration with his consistent preference to puncture upfield allows receptions in space to be maximized. Very good overall competitive toughness in high-intensity situations, especially the red zone where the moment never appears too big for him.
His physicality and play strength versus press against handsy, aggressive DBs will cause some issues on his release and in his stem on the perimeter where he could be squeezed to the boundary. Gallup's adequate balance during his release through contact impacts his stem and separation quickness against physical DBs. Furthermore, adequate agility in adjusting to passes that demand simultaneous elevation and rotation impacts his success in these situations. His ability after the catch is limited by his lack of vision and poor use of downfield blockers to maximize the play.
A few samples of some of the good things revealed on tape:
Ball Tracking
Ability to Adjust
Contested Catch Ability
Bottom Line
Gallup should still be a buy despite his few warts. Preseason has indicated improvement in his body control which should make him more effective downfield. He has what we want where it counts and it only gets better when Cooper is on the field. Those that believe in Dak's growth must believe in his ability to get beyond his first read. As long as Gallup is allowed to continue working the outside as the X or Z, he should often be Dak's second read because he is dependable at all levels of the field.
Dante Pettis
Many reports came out earlier in August indicating that Pettis is still trying to earn a starting role. It's crazy how a powerful a coach's comment can be, especially when taken out of context. Just take a look at Pettis' ADP since the beginning of August: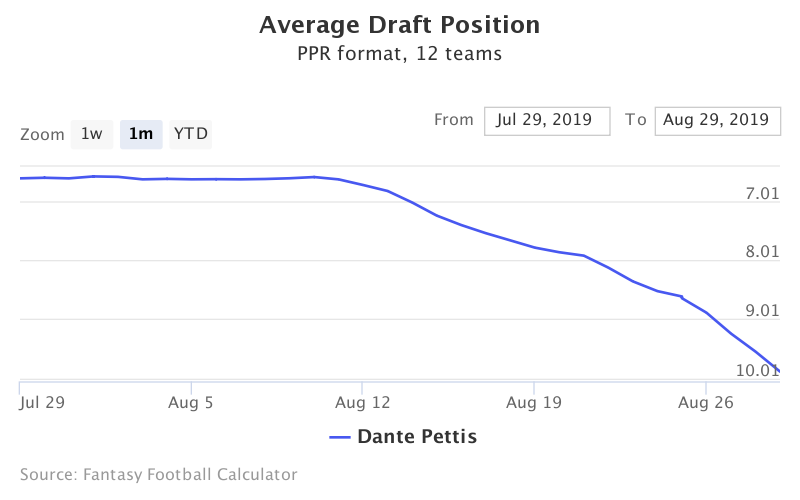 Three rounds are quite a drop, but this drop can't be because of his play. The statistics somewhat support this perspective once he became a full-time starter.
As we can see, he had some solid games after week 10 including a total stud game against Seattle in week 13. The fantasy community seemed to rise on him toward the end of last season, and for good reason.
How He Wins
Pettis has some nasty footwork against press coverage showing very good quickness and fluidity in his primary and secondary releases. He can consistently avoid contact at the line of scrimmage with this ability.
In this next example, we can see his use of hands releasing against press facing Shaquill Griffin. He shows very good fluidity as he ties together his footwork and hand moves in the release. Watch him come to balance then aggressively step attacking Griffin's leverage. Griffin's response puts him out of position to where his attempt to bump Pettis is easily chopped on this slant.
Footwork is also a key to route running and Pettis appears to have very good natural feet to execute his routes. Here on this route, we see Pettis working with a cushion against this Cover 3 look with Tre Flowers in coverage (#37, admittedly not his strong suit according to PFF). As we see him run this crossing route you can see his footwork in the "stair-step" technique at the 38-yard line causes Flowers to take an inefficient step downfield instead of continuing to close on Pettis. Pettis effectively increases his separation with this subtle technique. Textbook!
He has the moves to really sell the deep route as we can see on this play against Tre Flowers. On this curl route, watch these two things at the breaking point. First, right as he reaches Flowers, he steps toward Flowers' feet. Immediately after, he makes his break which involves an exaggerated, extended front leg and an aggressive, forward torso posture. To a DB the receiver appears to be bursting downfield in real-time, selling the deep route. This requires leg strength and hip flexibility to pull off with this quality, and we can see the separation it creates. Beautiful!
He is also able to help his QB with his catch radius. He can utilize his arm length all around his frame to maximize his catch radius anywhere above the waist. All of this is awesome for a receiver, so what was Shanahan saying in early August?
Room for Growth
Shanahan "challenged Pettis to earn the starting job" which many took as a demotion (downgrading his ADP). Maybe, rather than "calling him out" it was closer to "raising the bar" or "goal-setting" for the young WR. Based on what we have already discussed and seen above, what else could we want from Pettis? There are a few areas where this was evident in my review of his 2018 film.
One area requiring improvement is his hands, more specifically his ability to adjust when the pass is below the waist. Improvement here would help his catch rate which is solid already.
Competitive toughness is an important component of contested-catch situations. In watching his incomplete passes from last season there were a few uncharacteristic drops and a lot of tipped, batted, or uncatchable passes. However, there were a number of times where he appeared passive at the catch point in contested situations. This attitude toward 50/50 situations shows when he waits for the ball to enter his hands rather than snatching the ball out of the air. Although his other skills will often have him open with significant separation, there are good DBs out there that can rob him of his true ceiling. If he can tap into some aggressiveness that he flashed in spots last season he could reach the ceiling that Pettis-truthers have in mind.
One final blemish on his game is he doesn't seem able to translate his quickness into elusiveness with the ball in his hands despite his quickness in his release and 4.48 speed (I think he plays slightly faster than that). This will definitely cap potential for any post-catch production where he needs to make the first guy miss.
Pettis' Outlook
Perhaps these are the areas where Shanahan wants Pettis to improve to "earn" the starting job. If we are able to buy at his current ADP, the improvement could turn Pettis into something special and a value for your team. Taking the whole sample into account, Pettis' movement pattern, stride, and quickness have me imagining his ceiling as somewhere between OBJ and Theilen. It's lofty yes, but the upside is real, especially if Shanahan can whip this offense into shape while Pettis becomes a focal point of the offense.
Give me a shout and a follow on twitter @FFB_Vern. Are you in the #NerdHerd? Join for just $2.99 per month you get exclusive consensus rankings, buy/sell tool, extra podcasts and more good stuff to help you win your dynasty leagues.
Follow @FFB_vern
Tweets by FFB_Vern