One of the arguments every offseason is the debate between the film grinders and the analytics crew. Each side believes their process is better at finding NFL breakout candidates. Film proponents argue you need to see certain traits on film to differentiate the extraordinary from the ordinary. The analytics group argues that the data speaks for itself.
When it comes to wide receivers, the data that has the highest correlation to predicting future NFL success seems to be an early breakout age (the age when a player first has a dominator percentage over 20%) and dominator percentage (the percentage of receiving yards and touchdowns a player accounts for in a given season). The logic behind this is that players who can come in at a young age and play at a high level against competition that is 2-3 years older than them should be able to do the same thing upon entering the NFL. It also likely means their talent and understanding of the game is at a higher level if they can move from the Friday night lights of high school immediately into the starting lineup in college.
This article will use dominator (DOM) and market share percentage (MS Rec Yards) to highlight some Sophomore wide receiver values. Players whose freshman breakouts in these data points could predict NFL success because of their early breakout ages.
Kayshon Boutte, LSU
DOM: 23%
MS Rec Yards: 24%
The most recognizable name on the list is Boutte, a five-star recruit (per 247Sports) who landed at LSU. Despite getting off to a slow start, Boutte led the team with 735 receiving yards and was second with five receiving touchdowns. He was the primary beneficiary of opt-outs by Ja'Marr Chase and Terrace Marshall. Once Marshall opted out after LSU's seventh game of the season, Boutte took full advantage. In the final three contests of the season, he put up 527 receiving yards and four touchdowns, which equates to a 57% dominator rating. Now that Chase and Marshall are gone and Arik Gilbert transferred to Florida, Boutte is the alpha. LSU boasts a potent passing attack and recent history of WR success in the NFL. Boutte has tremendous upside and will see a lot of targets. As such, he's a player I'm targeting at the end of the first round in C2C drafts.
Jordan Addison, Pittsburgh
DOM: 30%
MS Rec Yards: 27%
Addison came to college unsure if he would play wide receiver or safety. However, he quickly announced his presence with seven receptions in each of the Panthers' first three games. He rode this momentum to a team-high 60 receptions, 662 receiving yards, and four touchdowns. The numbers solidified him as one of the nation's best true freshman receivers. Pickett's return for a fifth season should ensure his continued growth in 2021. He is an ideal pick in C2C drafts in the fourth or fifth round.
Marvin Mims, Oklahoma
DOM: 24%
MS Rec Yards: 18%
Mims, the 29th ranked WR in the 2020 class per 247Sports, saw early action due to an offseason injury to Jadon Haselwood and the suspension of Trejan Bridges. He made the best of the opportunity he was given, finishing with a team-high 610 receiving yards and nine touchdowns. He quickly became star quarterback Spencer Rattler's favorite target. The Sooners are projected to be a powerhouse in 2021 once again. With Charleston Rambo transferring to Miami, Mims should again be a focal point in a top-15 passing attack. I would be looking to target him in rounds three or four of C2C drafts.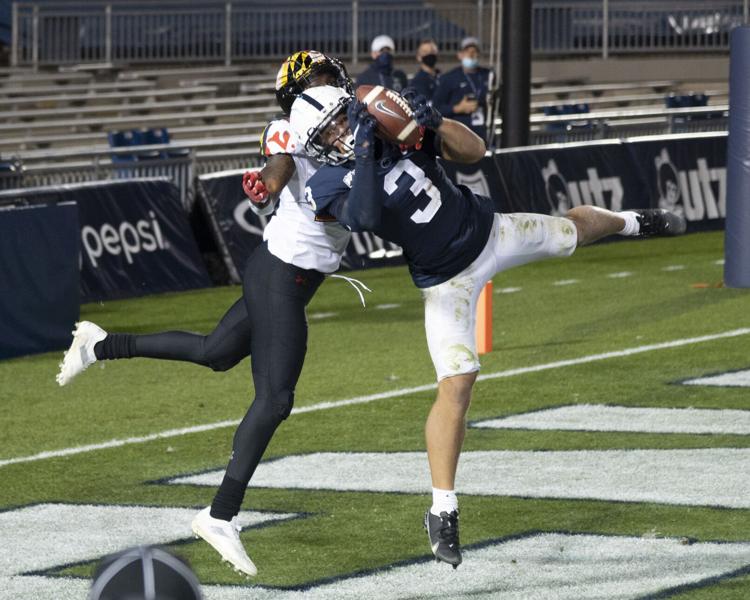 Parker Washington, Penn State
DOM: 28%
MS Rec Yards: 21%
Washington, the 45th ranked WR in the 2020 class per 247Sports, came to campus ranked behind another incoming freshman in KeAndre Lambert. It was Washington who burst onto the scene as a true freshman. He finished second to Jahan Dotson in both receiving yards (489) and touchdowns (six). With Dotson returning in 2021, Washington should once again be the second option in the passing attack. The only question mark for me is the uneven play of incumbent quarterback Sean Clifford. If the Nittany Lions get another quarterback in the transfer protocol, I'd feel better about Washington's future. Still, as it stands right now, I'd probably look to target him around the sixth round of C2C startups.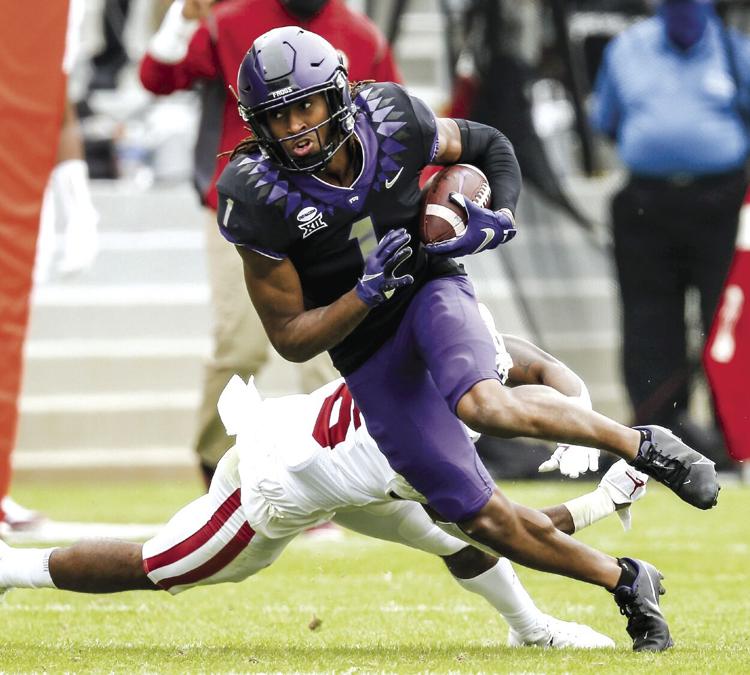 Quentin Johnston, TCU
DOM: 27%
MS Rec Yards: 29%
Johnston's size at 6'4″ made him one of the more intriguing wide receivers in the 2020 class. He wasted no time living up to the hype by scoring a touchdown in his very first game on campus. While his 22 receptions and 487 receiving yards don't jump off the page, he finished the season with two 100-yard receiving games and averaged over 22 yards per catch on the season. Johnston's drawback is the Horned Frogs' 99th ranked passing offense. However, he certainly possesses NFL size and looks to have a bright future ahead. He's a player I would take higher in devy drafts than C2C drafts as he'll likely be hit or miss in college. I would still, however, be comfortable taking him in the sixth round of C2C drafts and gambling on his talent.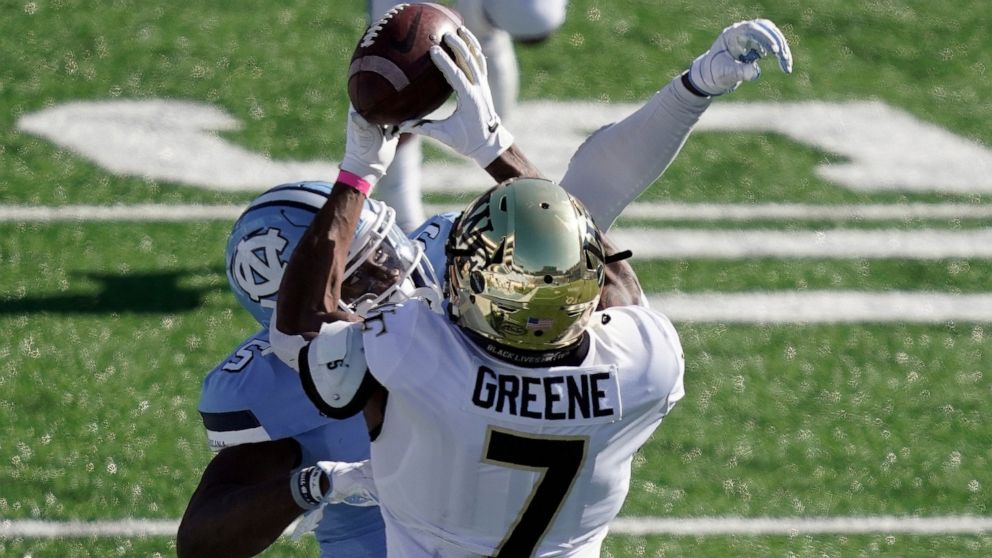 Donavon Greene, Wake Forest
DOM: 21%
MS Rec Yards: 25%
Greene, a redshirt freshman, is a player many had high hopes for coming into the season. In the final game of 2019, he torched Syracuse for seven receptions and 172 yards. However, that hope was not realized until the final two games of the season. Against arguably two of the Demon Deacons' toughest opponents of the season, North Carolina and Wisconsin, Greene posted 14 receptions for 292 yards and two touchdowns. For these two contests, it translated to a dominator percentage of 32%.
Jaquarii Roberson is returning to the team (62/926/8) and is likely to be the lead dog next season, so the question remains – which version of Greene shows up next season? The one who broke out late in 2019 but got off to a slow start in 2020? Or the one who finished the season on a tear and proved to be a solid complementary WR to Roberson? Given Wake Forest had the 26th ranked passing attack last season, I would bank on Greene's talent. He's a player I would likely start targeting in rounds eight or nine of C2C drafts.
Jaden Walley, Mississippi State
DOM: 22%
MS Rec Yards: 27%
Walley is a name that might not be familiar to many. He emerged late in the season as one of the top options in the Air Raid offense of Mike Leach. After not accumulating more than 56 receiving yards in any of his first five contests, he eclipsed the 100-yard mark in each of his next four games and notched both his receiving touchdowns for the year. Walley figures to have a prominent role in a top 20 passing attack next season and, as such, can be a valuable asset to your C2C teams. The question is, does he have the tools to translate that into success at the next level? Given the gaudy stats possible in a Mike Leach offense, I am willing to take the risk in the tenth round.
Lavel Davis, Virginia
DOM: 27%
MS Rec Yards: 26%
Davis wasted no time making his presence felt for the Cavaliers, hauling in four receptions for 102 yards and two touchdowns in the first game of his career. Not only does his massive 6'7″ frame make him an ideal red-zone weapon, but his athleticism down the field is also exceptional as well. He led all freshman wide receivers and was second in the nation with 25.8 yards per reception. With quarterback Brennan Armstrong returning to helm the nation's 38th ranked passing offense, the sky is the limit for Davis. The NFL covets his freakish skill set, so a bright future lies ahead. I would be comfortable taking him rounds nine to ten of C2C drafts as a big-play threat every time he touches the ball.
Tory Horton, Nevada
DOM: 21%
MS Rec Yards: 18%
Horton saw limited action to start the season but was close to an every-down player by its conclusion. A three-star recruit (per 247Sports) from Fresno, Horton broke out against his hometown Fresno State Bulldogs, catching five passes for 148 yards and three touchdowns. While his totals in this game were close to fifty percent of his receiving output for the season, the fact that he was getting regular snaps in his true freshman season for the 12th ranked passing offense in the nation speaks volumes. With fast riser Carson Strong at QB, I love the future outlook for Horton. While I'd still be taking teammate Romeo Doubs ahead of him, he is still someone I'd love to add in the middle rounds of C2C drafts.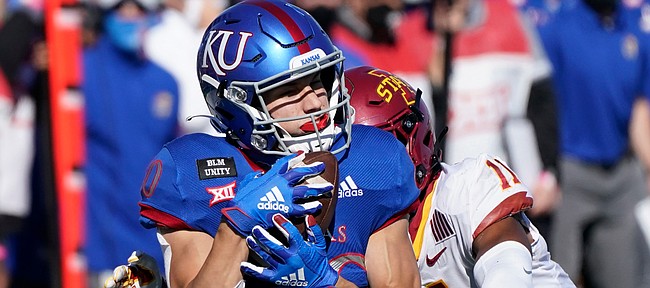 Luke Grimm, Kansas
DOM: 40%
MS Rec Yards: 30%
Grimm is a virtual unknown to most but has the highest dominator of any of the receivers on this list. This is largely in part to the Kansas passing attack's futility, which ranked 112th in the nation last season. Despite only playing fifteen snaps across the Jayhawks' first four games of the season, Grimm finished the season with four games of at least 50 receiving yards or five receptions. In their game against TCU, he caught four passes for 72 yards and two touchdowns. Les Miles is entering his third season as the head coach of the Jayhawks, and with the majority of the coaching staff returning, it's possible things could be looking up in Lawrence. I'd look to take a flier on Grimm towards the end of drafts in the hopes that he can become the alpha for the Jayhawks.
All these players possess the analytics that predicts a greater than average chance of success at the next level. It's certainly not a guarantee they are all superstars in the NFL, but the data speaks for itself. Is there anyone I forgot? Do you disagree with the process or some of the players listed? Feel free to drop me a line on Twitter and let me know!
Thank you for reading this article! Please be sure to join the #Nerdherd so you don't miss out on any of the amazing things we have to offer Dynastynerds.com. You will get rankings, extra podcasts, and access to our rookie film room. For just a couple bucks more you can get access to our revolutionary DynastyGM tool. So much for so little, why miss out on all the fun.