We're back with round two! Our team at Dynasty Nerds is way too excited about the dynasty off-season, just like you are. This will give you a good idea of the current value of these prospects and the thought process behind each pick. We'll be releasing three rounds of this mock in three separate articles. Below are the results of the second round and why each writer made their pick. Enjoy!
If you missed round one, you can find it here.
2.01 – Justin Jefferson, WR LSU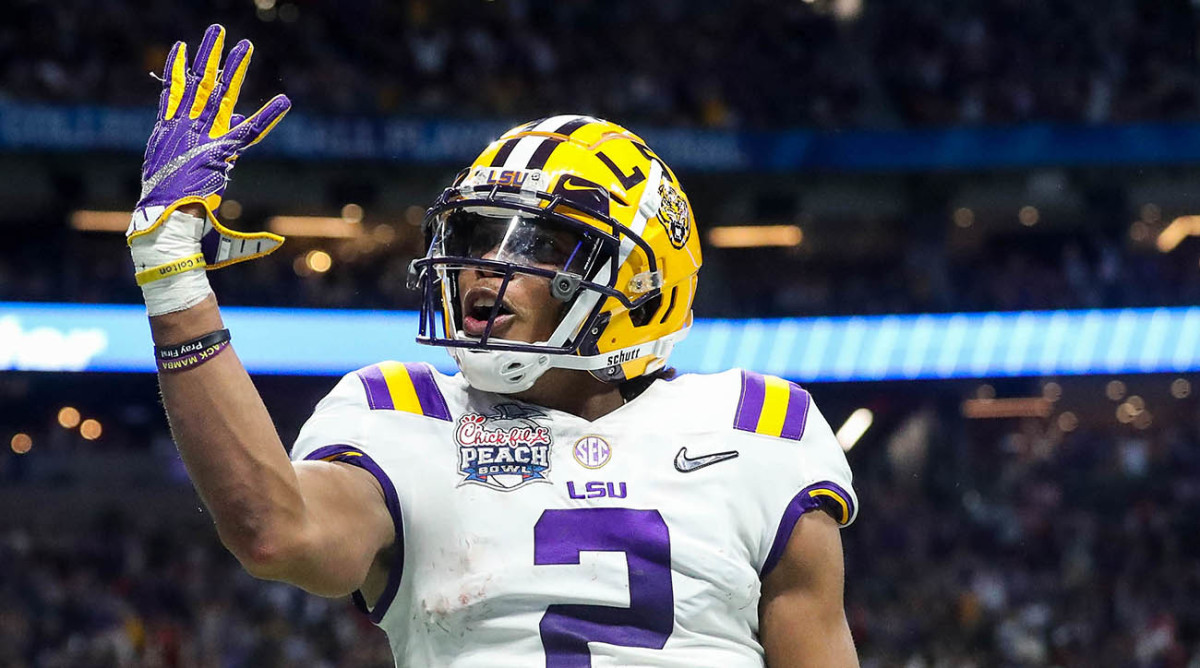 We're into the second tier of wide receivers and running backs both. I'm tempted to take a running back here, as that position is getting thin quickly in this draft. I also might consider Burrow; he'll go somewhere in this round, and while 2.01 is high to take a quarterback, he's as good a prospect as we've seen at the position. Instead, I'm diving into a deep wide receiver class. This one's tough, as there's a handful of guys tightly clustered for me, but I'm going to go with my gut & take Jefferson. Sure, he's not even the best wide receiver on the 2019 LSU squad, but this kid can ball. He's got the length and explosion to go up and get the ball; he's not a true burner, but he's got enough speed to get downfield; he's got short-area quickness, great hands, and great ball tracking. Tough & versatile, Jefferson's going to excel as a pro.
2.02 – Henry Ruggs III, WR Alabama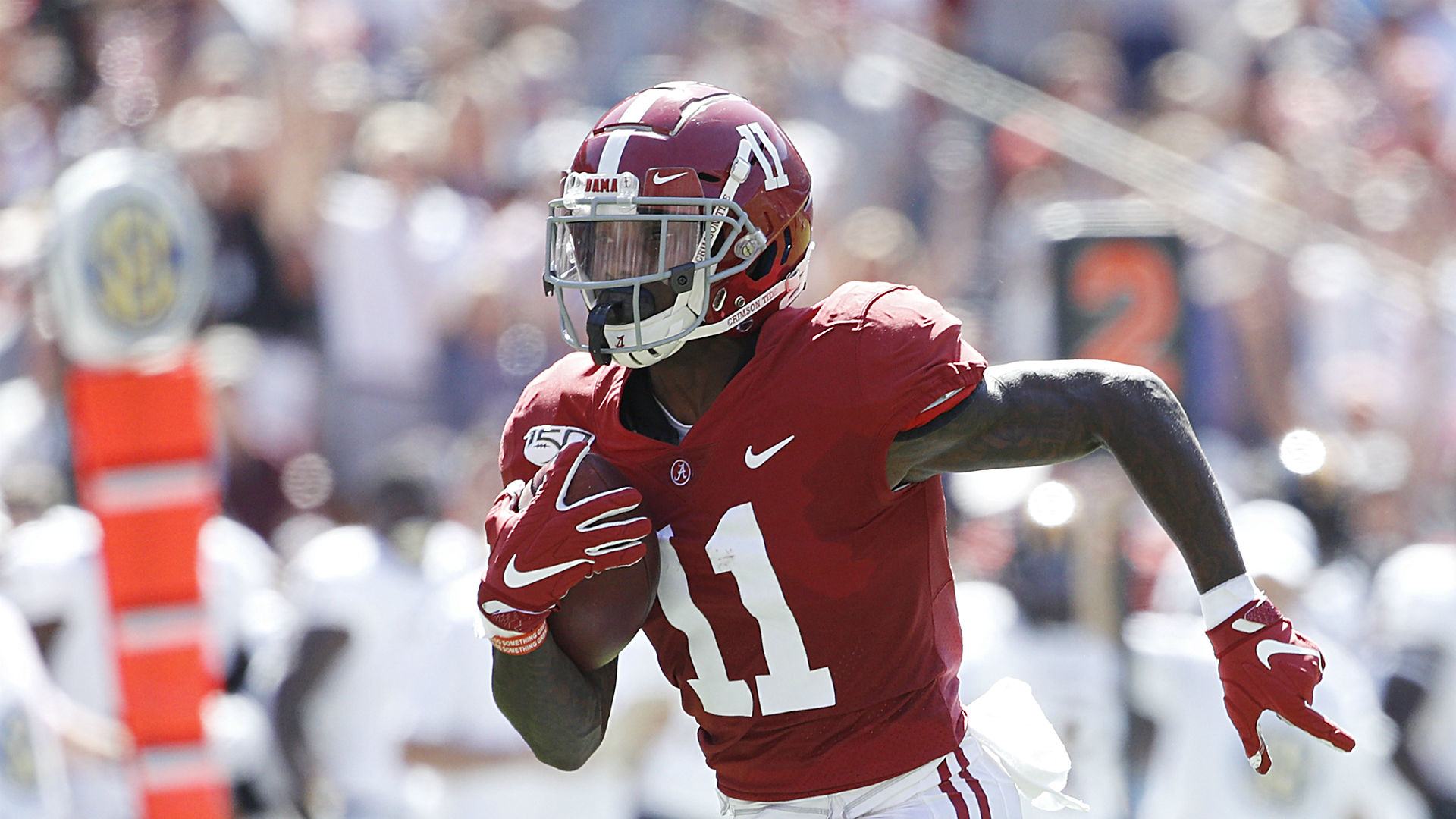 This pick was tough, I kept going between Ruggs, Higgins, and Edwards-Helaire. I ended up choosing Ruggs as an upside pick. Henry Ruggs is the fastest player in the class, makes elite breaks on his routes, has great hands, and is a versatile receiver being effective in the slot and outside. Ruggs is a zone breaker, he can run nearly perfect crossing and post routes. He does not shy away from contact with the ball in his hands but he is not going to break tackles. Physical corners can throw Ruggs off his routes if they can get their hands on him and he is not going to win jump balls. Ruggs' athletic ability and route running give him the potential to be unguardable if he can improve beating physical man coverage. The upside intrigued me into picking him over two of my favorite players in the class.
2.03 – Tee Higgins, WR Clemson
After snagging Swift with the 1.03, I couldn't pass up the opportunity to come back and get one of the best wide receivers at 2.03. Very few players in the class possess the overall upside of Tee Higgins. He's the driving force in the Clemson passing game racking up over 2,000 yards and 25 touchdowns the past two seasons. He's big, fast, and has great hands. His 9/182/3 performance in the ACC Championship game highlights just what type of a game-breaker he is. I was tempted to take Najee Harris but after nabbing Swift in the first round I wanted to hit the wide receiver position before a tier drop. I have Higgins above a couple of the receivers taken ahead of him in this mock.
2.04 – Najee Harris, RB Alabama
Reading Dr. Mitchell's comments above, I essentially went in the opposite direction in taking Harris. I landed my top wide receiver at 1.04 in Jeudy, so let me take his running back teammate in this round. Harris is my RB5 in this class, and I think his skill set will translate very well to the NFL.
Did you watch the Citrus Bowl? Did you see him drag defenders behind him? Did you see him hurdle over a defender into the end zone? I'll be interested to see how he tests at the combine and where he lands, but for now, I'm very excited at the value of getting a prospect like Harris here in the middle of the second round, who is yet to declare.
2.05 – Clyde Edwards-Helaire, RB LSU
After taking Ceedee Lamb with my first pick, I'm glad this silky smooth runner fell to me. He's starting to land on people's radar more as Derek mentioned taking him three picks earlier. 1,300 scrimmage yards on under 200 rushes in the SEC is one thing, but a nose for the end zone (17 total TDs) and 50(!) receptions means this guy can fit in any backfield. His movement skills are amazing, as he has a diverse toolset for every on-field problem he encounters, which quickly made him one of my favorite guys in this class. There are a lot of wide receivers I like here, but at this point, each is a limited prospect and a bad landing spot would plummet them down my board. Many will have significant upside but face more difficult odds of hitting that. Clyde Edwards-Helaire, on the other hand, has the feel of the game. A la the way I viewed Devin Singletary as a prospect but is likely more athletic and a bigger contributor in the passing game. If you blend the chunk rushing plays of Singletary with the reliable receiving of James White, and CEH is going to be the more valuable piece of whatever backfield he lands in.
2.06 – Bryan Edwards, WR South Carolina
Bryan Edwards is a freak of an athlete. He's crazy quick for how big he is, 6'3″ 220 lbs. He is one of the few prospects to ever have a Breakout Age of 17. South Carolina underutilized Edwards this past year, only catching 72 balls for 857 yards and six touchdowns. I think he's a great target for anyone in the middle of the second round of their dynasty drafts. He does things others don't at his size. His film is littered with spectacular catches. I'm a big Edwards fan and I think he needs more attention.
2.07 – Eno Benjamin, RB Arizona St.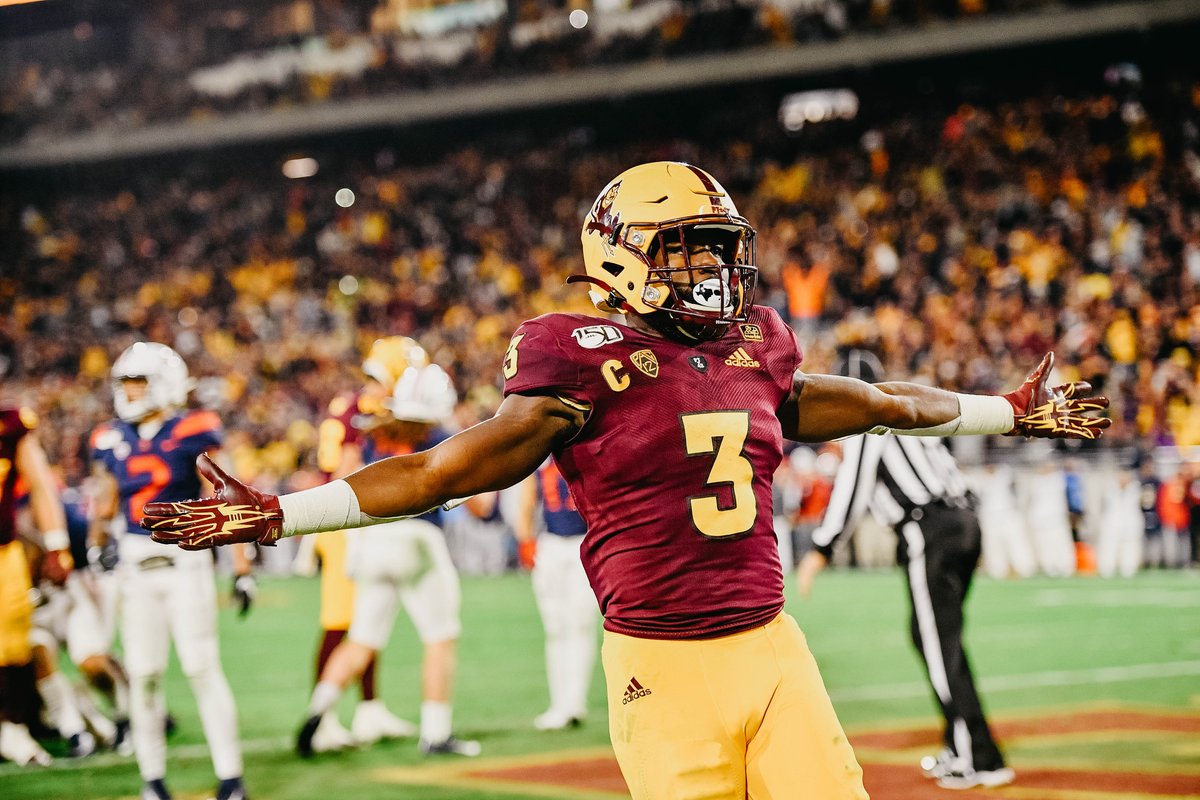 Coming into 2019, I thought Eno had a chance to put himself in the discussion of a top-tier running back in this class. He isn't someone I've seen much hype about of late, so I'm not surprised that he is still available at 2.07. I certainly am a fan of his, and although he didn't have the same production in 2019 as he did in 2018, I think that creates an opportunity for value. He's a versatile player that can do anything you ask of him on the field. He's better in-between the tackles than most think and is an excellent receiver out of the backfield. Herm Edwards, his head coach, speaks extremely highly of him and his intangibles.
2.08 – Michael Pittman Jr., WR USC
There are plenty of names who could go in this range. I considered Brandon Aiyuk heavily, Zack Moss to a lesser degree, but I ultimately went with Pittman, a sure-handed receiver with a 6-4/220 frame and deceptive speed. He had the highest Dominator Rating on USC the past two seasons, both of which included strong competition from fellow Trojan receivers Amon-Ra St. Brown and Tyler Vaughns. Pittman absolutely smashed in his final campaign, posting a 101-1275-11 stat line as a senior. He may profile as more of a possession receiver than as an explosive YAC threat, but he can win at the catch point in contested situations, which provides plenty of value to keep the chains moving. He has been compared by some to an Alshon Jeffery type, which is a polarizing name, but when Jeffery has been healthy, he has been plenty serviceable in fantasy lineups. If Pittman can perform similarly, he could be a nice snag here.
2.09 – Isaiah Hodgins, WR Oregon St.
Hodgins is a wide receiver many people are overlooking. I believe it's mostly due to him playing in the PAC-12 after-dark games. Hodgins has elite hands along with a very large catch radius. He's a good route runner but he does need to improve here. He's a big body guy and deceptively quick for 6'4″ 209 lbs. He is one of the best contested-catch players in this draft and is willing to take a beating while catching the ball. He has underrated ball tracking skills. If you put on the tape, you'll see him make some great over the shoulder and back shoulder catches. He's a yards-after-catch bully once he gets the ball.
2.10 – Joe Burrow, QB LSU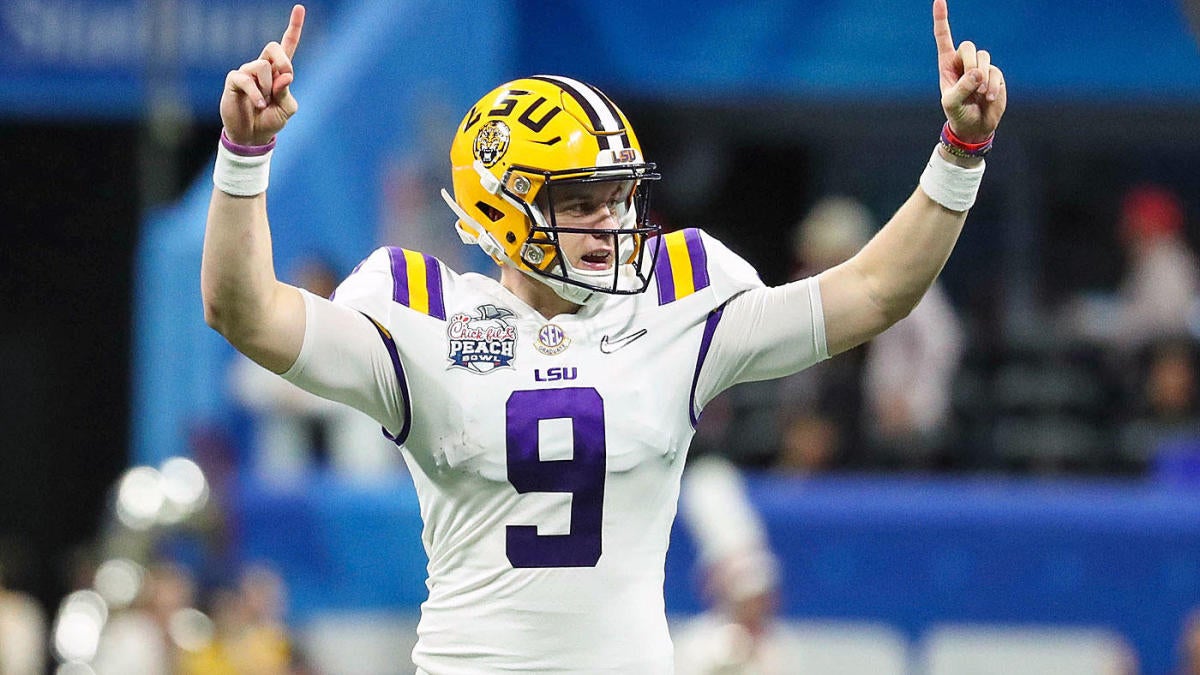 At this late in the draft getting this year's Heisman Trophy winner, Joe Burrow, would be a steal. He has the potential to be a franchise quarterback for years to come. Many are projecting him to land in Cincinnati and I believe that he could come in right away and produce with the weapons that are already in place there. Burrow excels in getting the ball out on time, moving in the pocket, and winning in big moments.
2.11 – Tua Tagovailoa, QB Alabama
It's Joe Burrow and Tua… and then everybody else. These two both have legitimate shots at being top ten at their position for fantasy in the very near future. Once Joe went, I knew I had to act quickly to nab the other significant quarterback. The only real question is how will his hip heal and how quickly will he return to the playing field. I can't imagine he will fall outside the top ten in this draft and if he falls to either the Dolphins or Chargers, I'm very interested.
2.12 – AJ Dillon, RB Boston College
It's a lot harder to find a full-proof rookie prospect at the end of the second round. Due to the insane amount of talent at the top of this draft, AJ Dillon feels to me like the type of dart throw you should be willing to make due to his upside. Dillon has dominated the ground game at Boston College, posting over 1,000 yards in all three years there, including going over 1,500 yards at just 19 years old. There's no doubt what kind of runner he is, a 100% bruiser back that at 250 lbs is going to make NFL players pay for trying to tackle him. His biggest wildcard is going to be his draft spot. Dillon might move up my board come summertime, especially if he can secure the analytically-coveted first-three-rounds draft capital. On the flip side, if NFL teams decide he's nothing more than a fullback, this could be a busted pick entirely. Time will tell, but I'll take my chances compared to some of the talent left on the board at this point.
AJ Dillon concludes our second round of this rookie mock draft. You can find the third round here!