Our team at Dynasty Nerds is way too excited about the dynasty off-season, just like you are. This will give you a good idea of the current value of these prospects and the thought process behind each pick. We'll be releasing three rounds of this mock in three separate articles. Below are the results of the first round and why each writer made their pick. Enjoy!
1.01 – JK Dobbins, RB Ohio State
I think the consensus pick here is going to be Swift or Etienne, but I love Dobbins. His lateral agility, his power, his ability as a receiver — this kid can truly do it all, and I think he's going to land in a great spot. For any doubters, I submit to you article A: his 24 touches, 222 yds, 1 TD masterpiece of a performance against the highest-ranked defense in college football, Clemson. Ohio State lost the game but it was not due to a lack of excellence on the part of JK Dobbins.
1.02 – Jonathan Taylor, RB Wisconsin
Many would have gone with Swift here, but I have Jonathan Taylor as my RB1. He is the smartest and most experienced runner in the class. He has an elite combination of size, speed, and elusiveness. This class has plenty of better receiving backs than him, but he has improved as a receiver over the years. He is my RB1 because he is far ahead of the next best as a pure runner in the class. His combination of vision and patience, along with the fact that it's always going to take more than one player to take him down, makes him instantly one of the top pure runners in the NFL.
1.03 – D'Andre Swift, RB Georgia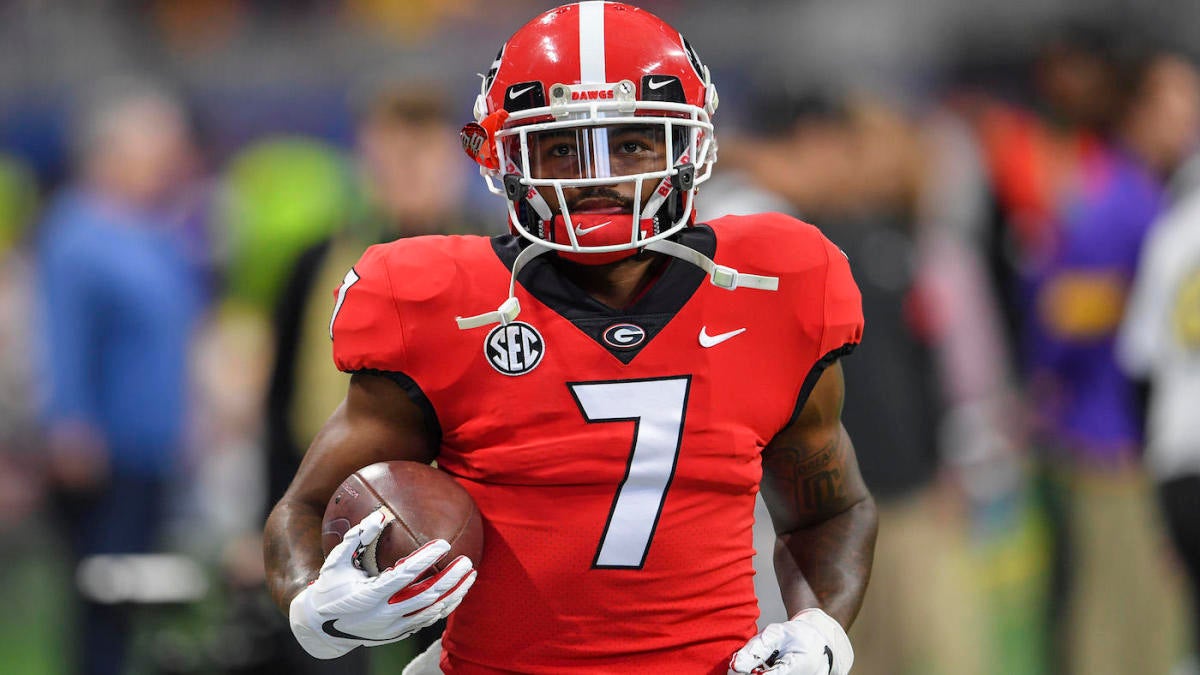 Swift is the no-brainer pick here. He is my number one player in the entire draft. Combine his little wear and tear with his do-it-all skill set and you have the makings of a perennial All-Pro. Easiest pick of the draft in my humble opinion.
1.04 – Jerry Jeudy, WR Alabama
Some people in the dynasty community have "soured" on Jeudy this season, but he's been my 1.01 in this class for the past year at least. It's hard to argue against picking a dominant college wide receiver with the fourth pick in a rookie draft, especially as most NFL mocks have him going as a top ten pick. Look no further than his final game earlier this month where he saved the best for last, going 6-204-1 in the Citrus Bowl.
Can I argue against any of the three players taken ahead of Jeudy in this mock? No. Can I definitely say he should and will be picked after Lamb? No. I think the most important lesson from this pick is – if you have a top pick in this draft, it may serve you best to trade back to pick four or five. You'll be getting an outstanding player who, for me, will land in the same tier. I see Jeudy as being a bit more landing-spot-proof, which is what breaks the tie for me between Jeudy and Lamb.
1.05 – CeeDee Lamb, WR Oklahoma
I love going running backs early in rookie drafts, but I don't generally drop a tier in prospects to reach for them. While the consensus might have Etienne in the top three, I still have some concerns about his game. He still lacks the vision of Taylor, the integrated skillset of Dobbins or the true versatility of Swift. With those three off the board, I pivot to the safest wide receiver pick in the draft, CeeDee Lamb. He'll be the favorite for analytics folks, but even tape grinders put him next to Jeudy in the elite prospect tier. When wide receivers hit young, they are almost impossible to acquire. This might be the cheapest you can ever get Ceedee Lamb.
1.06 – Cam Akers, RB Florida St.
I believe Akers to be the best running back prospect in this draft. He was dealt the unfortunate hand of playing behind three bad offensive lines and two different head coaches. He's an extremely polished pass catcher, an explosive runner, and is able to make defenders miss in the open field. Most importantly, the former five-star prospect can be on the field for all three downs. This is a very safe pick here in the middle of the first round.
1.07 – LaViska Shenault, WR Colorado
I am most certainly in the minority here, but I think Shenault has as much talent as any wide receiver in this draft, and I personally have him as my top wide receiver. I would be thrilled to be able to take him at 1.07. He is built like a defensive end, but yet has shown top-end skills as a wide receiver. Feel free to join the "LaViska Locomotive", because I think the hype will only continue to grow. I think he will likely rise in rookie drafts as the draft season progresses.
1.08 – Travis Etienne, RB Clemson
This is how bananas this draft class is: As Erik credibly noted above, Etienne will absolutely be in play for some owners at the 1.01 spot… and I'm snagging him here at 1.08. That's a deep talent pool. Now with that said, I'm surprised Etienne is available in this spot. For me, the top seven prospects are locked into a distinct tier, and Etienne is one of those seven guys. Etienne's burst and stop-start prowess are legitimately elite. He came into the season with questions and concerns about his pass-catching ability, but he posted a 32-396-4 receiving line through the Ohio State game, including a pair of receiving touchdowns against the Buckeyes on the biggest stage around. So, all he has done in my rankings is solidify his status as a monster prospect. I expected to be eyeballing LaViska Shenault or Jalen Reagor with this pick, so I'm thrilled to be snagging Etienne because I just made my fake hypothetical team dramatically better.
1.09 – Jalen Reagor, WR TCU
Jalen Reagor was an easy pick here for me. He's currently my third-ranked wide receiver in this class. While I would have loved to go with a running back here, but the only ones I would be willing to take are gone. Most won't have Reagor this high right now, but this kid can play. He has speed for days with great hands. Reagor is one of the best ball trackers in this class. While statistically, he didn't have a great year but if you watched him play you would see that wasn't just his fault. He was victim to a bad offensive scheme, and quarterback play really hurt him this year. Once the combine comes and he blows every test out of the water, Reagor might even enter the discussion as top guy at his position.
1.10 – Chuba Hubbard, RB Oklahoma St.
He has yet to declare for the 2020 draft, but Chuba Hubbard is just as good as the other running backs taken. At this spot in the draft, he would be a steal in my opinion. There are multiple teams that have running back concerns in the NFL going into next season and Chuba definitely offers major potential for greatness for the team that selects him. After posting 2,094 yards and 21 touchdowns, Hubbard has the potential to be a franchise running back. He has the power of Derrick Henry but can change direction at a moment's notice to turn a four-yard gain into ten. I am absolutely thrilled to get him here.
1.11 – Ke'Shawn Vaughn, RB Vanderbilt
In a class with so many stars, this name has been somewhat overlooked. The fifth-year senior has a very impressive all-around game and runs like he is mad at the world. His numbers are okay with over 1,000 rush yards and 270 receiving yards, but if that's all you look at then you will miss the bigger picture. He played for Vanderbilt, which is in the SEC. He had a bad offensive line and quarterback play that only produced 10 passing touchdowns. Overlook this kid if you want, but he has a real shot to be a difference-maker at the next level.
1.12 – Tyler Johnson, WR Minnesota
Want to get an analytics guy drooling over a wide receiver rookie prospect? Find someone with the market share numbers of Tyler Johnson. When I say he blows the roof off of the values expected, I'm talking he makes the analytical profiles of legendary wideouts like Odell Beckham Jr., Devonta Adams, DeAndre Hopkins, and even Julio Jones look like busts by comparison. Anyone with over 40% market share at 19 years old has a huge statistical chance of dominating in the NFL. His only knocks? That he didn't put up the same numbers at 18, and that he didn't declare as early as the analytics would have liked. But hey, at the last pick in the first round, I'll take those not-even-red flags all day long.
Tyler Johnson concludes our first round of the rookie mock draft. You can find our second round here!