What makes a rookie running back desirable in the NFL? There are so many boxes to check while evaluating:
Workout Metrics
Physical Measurements
College Production
Appearance in Game Film
System Fit
Projected Role
Special Teams Contributions
There's a never-ending list scout's have to evaluate while making sure they don't skip a beat. Most top-end prospects will check close to every box, but to find one that checks them all is close to unlikely. In 2020 we saw Jonathan Taylor struggle with pass-catching; D'Andre Swift produced average workout metrics at the combine; Clyde Edwards-Hilare only put up one year of excellent college production. The year he did, he was on potentially the most prolific college offense ever. Those issues don't completely dismiss a player as we saw them go in the first two rounds. However, the more boxes you don't check, the higher the chance you won't start for an NFL team.
When I started my research, it was in my mind Alvin Kamara or Aaron Jones (shown above) would be the perfect running back for the Cardinals in 2021: Compact size, pass-catching ability, and superior burst. Jones, in particular, wasn't built for the wide zone run scheme. I believe the Packers drafted the perfect successor in running back A.J. Dillon to take over the starting role, very similar to Derrick Henry with the Titans, leaving Jones up for grabs.
As I looked into the Cardinals system, I saw multiple running backs with similar profiles to Jones succeed under head coach Kliff Kingsbury: Chase Edmonds, Bryce Beall, DeAndre Washington, Ben Melena, the list goes on. If Kenyan Drake, who's on a one year deal, does not pan out, this could be the ideal landing spot for Jones.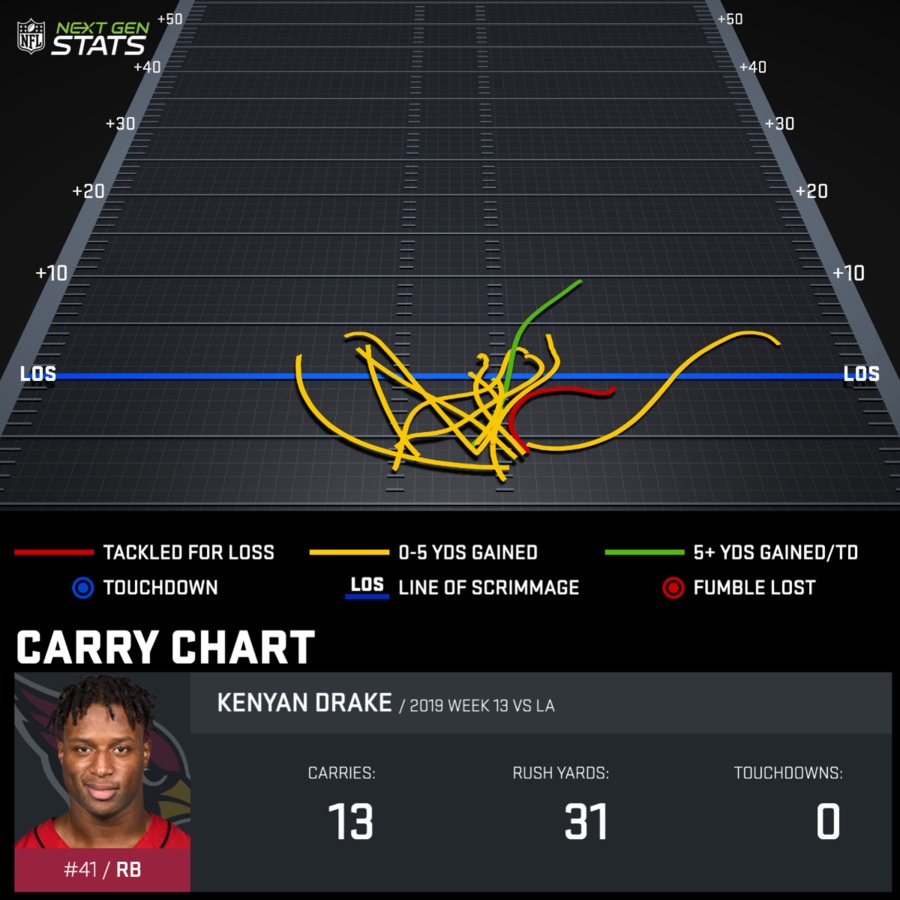 Looking into the current backfield, I saw significant inconsistencies with Drake, only performing against teams with subpar run defenses, outside of the first week he arrived in Arizona. If you include his first game, he averaged only 56.7 yards per game with 4.4 yards per carry against defenses that were not in the bottom 12 of the league in run defense; without that game, only 46 yards per game for 3.7 yards per carry. The point isn't to discredit or disparage Drake. It's more so to present a case in which he's not fail-proof. The Cardinals recognized it and only gave him a one year deal.
The search for Jones' future landing spot brought me to Chase Edmonds, who I've been a fan of for a couple of years. The issue has become his ability to stay healthy after receiving over 275 touches in each of his first three seasons at Fordham. Unfortunately, his senior season ended with only seven games played. His first opportunity in the NFL to become a bell-cow back was cut short, with a hamstring injury.
In 2020, if Drake is inefficient and Edmonds can't stay on the field, it's a lock for a free agent or rookie running back to seize the starting role. It could be a gold opportunity knocking for Jones. However, if they struggle, could rookie running back Eno Benjamin step up? The seventh-round pick doesn't have a shot, does he?
Revisiting the start of this article, checking boxes is a valuable indicator of whether a player will be successful in the NFL. Let's take a look.
Benjamin is almost a clone of Jones at 5'9, 207 pounds, and a body mass index of 30.6. Also, his workout metrics are eerily similar: 86th percentile burst; 71st percentile agility; with a 56th percentile 40 time. If you built a clone in a lab of Jones, I don't think you could get closer to Benjamin.
College Production and Special Teams Contributions
The Sun Devils offense ran through Eno Benjamin. He contributed as a freshman to special teams returning kicks, but after seeing 630 touches over his final two seasons, they probably realized he didn't need to be holding the ball on every play. Not only did he accrue 2725 yards on the ground, but he also snatched 77 passes for 610 yards in those final two years.
Appearance in Game Film
I couldn't find an analyst who had anything negative to say about Benjamin other than reading his blocks. Outside of that, people throughout the sport raved about his lateral agility, ability to find windows, and his burst to get upfield. Benjamin can catch passes and play as a receiver, which was always on the front of people's minds while breaking his down film. Sure, he had some drops, but 77 receptions in two seasons isn't chump change. Certain things can be taught and improved, others not so much. Luckily for Benjamin, reading blocks and developing patience is something that can.
System Fit and Projected Role
We have already discussed Kingsbury's infatuation with guys similar to his profile. They get utilized all over the field. All it will take is Benjamin to pop once or twice, even if Edmonds and Drake do well. The system run by the Cardinals asks three to four receivers to be on the field at one time. If he's not in as a running back, we should see him get work as a wide receiver.
Summary
I'm not discounting the fact it took till the seventh round before he was selected. Draft capital is crucial. Most guys chosen in the seventh round never see the field. However, talent-wise I projected him as a fourth-round pick along with multiple other analysts. Fantasy analysts are more focused on the fantasy aspect of things, so it's possible many of us missed something. However, just because we missed something does not mean he doesn't have the tools to become successful in this offense.
It's not easy to find sleeper fantasy running backs like Seattle running back Chris Carson. Like Benjamin, Carson previously had to have the dominos fall perfect for him to get the opportunity. Former Packer Eddy Lacy was brought in to be the Marshawn Lynch replacement, while they had former fourth-round pick, Mike Davis, as the young stud backup. Lacy got hurt while underperforming, along with Mike Davis developing injury issues of his own. Carson, who fit perfectly in the Seahawks system, took the starting job and never turned back.
If Benjamin gets an opportunity, I think fantasy owners will be more than pleased with the output of their late-round rookie pick.
Hit me up on Twitter @FF_Intervention, I love talking fantasy football. Listen to my podcast the Fantasy Intervention Podcast where I'm breaking down fantasy strategy and helping you win your league.