Just as American Idol would have never been able to excite fans with weeks and months worth of programming solely by having Kelly Clarkson or Carrie Underwood singing, having a winning lineup in fantasy football is not always about having superstars like Christian McCaffrey or Patrick Mahomes. What sets the best fantasy players apart from the also-rans is the ability to find production at good value, whether through the draft or through trades, to fill the middle and back-end of your lineup.
Marquise Brown finished last season as the 36th overall wide receiver in PPR leagues. Yawn, right? Yes, I agree. Nowhere in this article will I claim that Hollywood will be your next Dynasty Idol, so let us get that out of the way from the start. He is not going to be Davante Adams. He is not going to be DeAndre Hopkins. What should get your attention, however, is that he is currently going off the board as the 43rd wide receiver in mock drafts.
What Doesn't Kill You Makes You Stronger – Marquise's Early 2020
The early part of Marquise Brown's 2020 season was a flop. Through his first eight games, Brown finished as a WR2 once, a WR3 once, and a WR4 twice. His scoring was an albatross around the neck dragging lineups down to losses. In those eight games, he averaged 10.5 points per game, landing with a thud at WR51 by average. Even after expressing frustration on his role in the offense, the nadir of his 2020 season came in weeks 10 and 11, where he scored 3.4 against the Patriots and 0 points against the Titans. The lights seemed to be going out on Hollywood.
Out of the Darkness and Into the Sun – Marquise's Second Half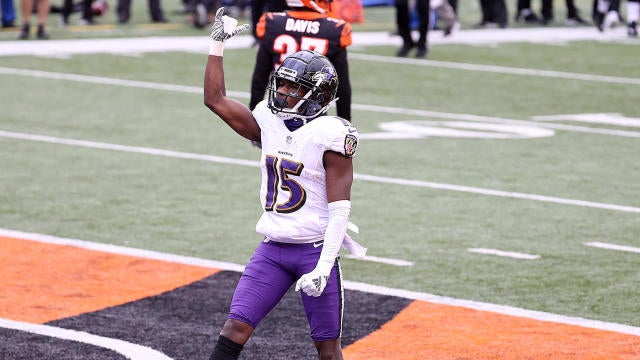 The pandemic affected the 2020 season in so many ways. Still, it was a week 12 tilt between the Ravens and their division rivals, the Pittsburgh Steelers, which may have provided one of the strangest set of circumstances in NFL history. The game, originally set for Sunday Night Football, was played on a Wednesday afternoon. The Ravens were without star quarterback Lamar Jackson, and they would go on to lose the game to the Steelers 19-14.
In that game, Marquise Brown caught four passes for 85 yards and a touchdown. His 18.5 points and WR15 overall finish that week was a harbinger of what was to come for Hollywood.
Over his final six regular-season games, Marquise Brown finished as a WR2 three times and a WR3 three times. He averaged 16.0 fantasy points in those games, good enough to place at WR12 overall during that stretch. He finished at WR36 overall on the back of his strong finish. It is safe to say his complaints about his role in the offense paid off, as his target-share increased during that stretch to the second-highest in the league to only Davante Adams.
The breakout did not stop there, however. In the Ravens, two playoff games, Brown's statlines were 7-109 in a win against the Titans and 4-87 in a loss to the Bills. He was WR12 on a points-per-game basis in the 2020 NFL playoffs. Those numbers place him ahead of names like Terry McClaurin, Allen Robinson, and Chris Godwin.
"It's a Yes From Me, Dawg!" – What to Expect Going into 2021
The only important question now is will Marquise build upon, or even maintain, that finish? It's fair to ask. Let's break down each concern.
Is his scoring touchdown dependent?
During his late-season run, Brown became a touchdown machine, scoring six touchdowns in his final six regular games. Touchdowns vary like crazy, so it is tough to say whether Brown can score eight touchdowns next season. However, he did also score seven touchdowns in his rookie season, and as his playoff output demonstrates, Brown can put up big fantasy weeks without scoring touchdowns. During that final stretch, his lone game without a touchdown was against the Jaguars, where he went 6-98, finishing in the WR2 range for the week.
Do the Ravens pass enough?
The biggest knock on Marquise Brown is the Ravens offense. They simply do not pass the ball enough. They finished 2020 dead last in completions, attempts, and yards.
Yet, did it matter? Despite all of that – the strange season, injuries to the quarterback and the offensive line, not having another NFL caliber wide receiver across from him, the entire offense being out of sync – Brown still put up the numbers he did. What if any of those things improve? If the Ravens bring in another receiver to draw coverage away from Brown? What if the line stays healthy and gives Brown more time to get open down the field?
We desperately want our players to get touches and targets. More targets, more points! When we see a low-volume offense, it turns us off to the players in that offense. Yet, sometimes we spend too much time focusing on the trees and not the forest. The numbers must be taken in a relative context.
What if I told you that Chase Claypool only had ten more targets than Brown in the same amount of games? Tee Higgins? Only eight more.
Chase Claypool is being drafted as WR25 overall.
Tee Higgins is being drafted as WR13 overall.
As a reminder, Marquise Brown is being drafted as WR43.
Now, of course, the difference between Brown and most receivers is his catch rate. At 58% on the season, this number must be improved for Brown to maintain or increase his production. Again, though, for reference, I will point out that Chase Claypool finished lower than Brown at 56.9%. What if Brown can get that percentage up just a bit higher, into the low sixties? We are now talking about a two-hundred-plus point-scoring wide receiver, and those are gold for your fantasy lineup.
My Lineup Would Suck Without You – Final Thoughts
At only 24 years old and going into his third season, I believe Marquise Brown can be a relatively cheap buy for your dynasty team. Between rookie fever and the narrative of the Ravens' offense, he has become an afterthought to many, especially as hit late-season breakout may have gone unnoticed by some fantasy players out of the playoffs.
Brown established a solid floor in the latter half of the season, and with his breakaway (one final Kelly Clarkson reference!) speed, the weekly ceiling he provides can help win you the matchup against your opponent. As rookie fever ramps up, I would pay a high second-round pick for Brown in a one-quarterback league and a mid-to-late second-round pick in Superflex leagues. Yes, he is more Taylor Hicks than Carrie Underwood, but hey, aren't we all?
Make sure you subscribe to the #NerdHerd, where you get exclusive content, dynasty/rookie/devy rankings, buy/sell tool, and a bonus podcast too. Dynasty Nerds also recently launched the #DynastyGM tool, which is a complete game-changer in the fantasy industry. Click here for a free trial. We truly are your one-stop-shop for all your fantasy football needs!