What's up, Nerds?! Who's pumped for Week 16 to be here for the 2021 NFL Season!!! It's PLAYOFFS! We are in it now! The time to put up and shut up is here. Let's win in the Semis and get to the Championship!!
The season is flying by already! I can't wait to review these tight end starts/sits next week to see how they went. We have an amazing squad full of Nerds to provide you with all the starts/sits so you can win your matchup every week. This is going to be the longest season yet with 17-game schedules! More football is never a bad thing. I'm thankful too since this season is whizzing on by!
There are NO MORE BYES! WOO-HOO! This is something to celebrate indeed! However, Week 15 was absolutely disastrous- I hadn't seen so much chaos ever before.
Merry Christmas to all those who celebrate it. May you have a wonderful time with family and friends as we celebrate and remember all those we love and cherish. After a rough year like this, some fun downtime with the family is wonderful. Happy Holidays!
The Dynasty Nerds writers are here to provide you with weekly starts and sits. We will be making our recommendations based on weekly consensus PPR rankings from FantasyPros. Here is our squad and the position groups they will be covering to help you each week. Follow us, friend us, tweet us.
The Team doing Start/Sits
QB: Jayson Snyder @Spydes78
RB: Gage Bridford @GbridgfordNFL
WR: Tristan Cook @Tristancook_
TE: Jake Oliver @DarthDbacks
FLEX: Ethan Wyatt @ethanAwyatt
IDP: Jon Glosser @Glosser13
We look forward to hearing from you!

NOTE: Rankings are based on a 12-team PPR league. So, saying WR2 means top 24, or TE1 means top 12, etc. It is referring to the fact that he is projected among the top-12 TE of the week. TE1=top-12, TE2=finishing between top-13-24. Finally, all rankings are taken from Fantasy Pros Weekly Expert Consensus Rankings.
Now, you may be wondering who I am since I'm not the same guy from last year. My name is Jake Oliver. I've been with the Nerds since June. I have written a lot of articles with this wonderful team since then.
These articles are made out of love and passion for fantasy football, the NFL, and helping others. If you all have any questions or comments, hit me up on Twitter, in the comments here, or on Discord in Fantasy Football Chat! I'll be posting a bunch and love to engage with anyone. We would appreciate it a lot if y'all checked out the other start/sit articles as they rock too! One final tidbit, if you're wondering why Travis Kelce, Darren Waller, or Mark Andrews aren't listed, well, that's because you need to START YOUR STUDS! These guys are ones that you start them once and forget about them. I'll be focusing on the other tight ends that are a bit trickier to decide whether you should start them or not.
Week 15 Review
First, let's review my picks from last week. I'm curious to see how well I did in Week 15 and to keep myself accountable. Hopefully, I didn't mess up too much!
Mike Gesicki: Sorry, folks, this was another case of what in the world was going on. The Jets nearly beat the Dolphins, while with Waddle out, Tua forgot about Gesicki. Gesicki nearly reached 10 points in what was a trying game. He caught 5 of his 8 targets for 43 yards.
Dallas Goedert: What did I tell you, folks? Goedert was going to go OFF and that he DID. Dallas wrecked the Football Team's defense by grabbing 7 of his 9 targets for 135 yards.
Dawson Knox: As I said, this week was just utter chaos and confusion. Dawson Knox helped contribute to that by going under 10 points with 4 catches for 38 yards on 5 targets kind of day.
Hunter Henry: Told you to start Hunter and boy did it pay off. He went OFF against the Colts. Serving as Mac Jones's #1 option, Henry hauled in 6 receptions on 8 targets for 77 yards and TWO touchdowns. over 25 PPR points!
Zach Ertz: Despite what was the worst performance by the Cardinals this year against the Lions, seriously. How do you lose to them? Anyways, Ertz still put on a great showing. He caught 6 of his massive 11 targets for a great 74 yards. Keep starting him.
Tyler Higbee: Tyler Higbee ended up missing the game with Covid, hope you sat him.
Tyler Conklin: In what was a disastrous Monday Night Football game, Kirk Cousins didn't even have over 100 hundred passing yards. Regardless, Conklin caught one pass on three targets for 7 yards. I really hope you sat him.
Gerald Everett: Yet another surprise that Gerald Everett led the Seahawks in receiving. I honestly don't know how Russell and Pete have forgotten about Metcalf, but they have. Regardless, Gerald only had 4 receptions for 60 yards.
CJ Uzomah: CJ struggled in the mile-high stadium. Of course, so did Chase who only got one catch. Regardless, Uzomah had only 3 receptions on 4 targets for 18 yards. Hope you sat him.
TJ Hockenson: Hockenson ended up requiring surgery which caused him to not only miss Sunday's game but the rest of the season as well.
Kyle Pitts: Pitts was missing for much of the game until he caught a massive deep pass that saved his day. Thanks to that, he eclipsed 10 points with a 4 catch, 77-yard day on 7 targets.
Cole Kmet: The Bears offense was anemic, except for one particular player shockingly. Take a guess. It was Kmet! Since of course. He was targeted a bunch, 9 times to be exact, and caught 6 of them for 71 yards. Nice job by Cole.
Overall, for the week: 8/12. Overall, for the season: 108/156 69%
Tight End Starts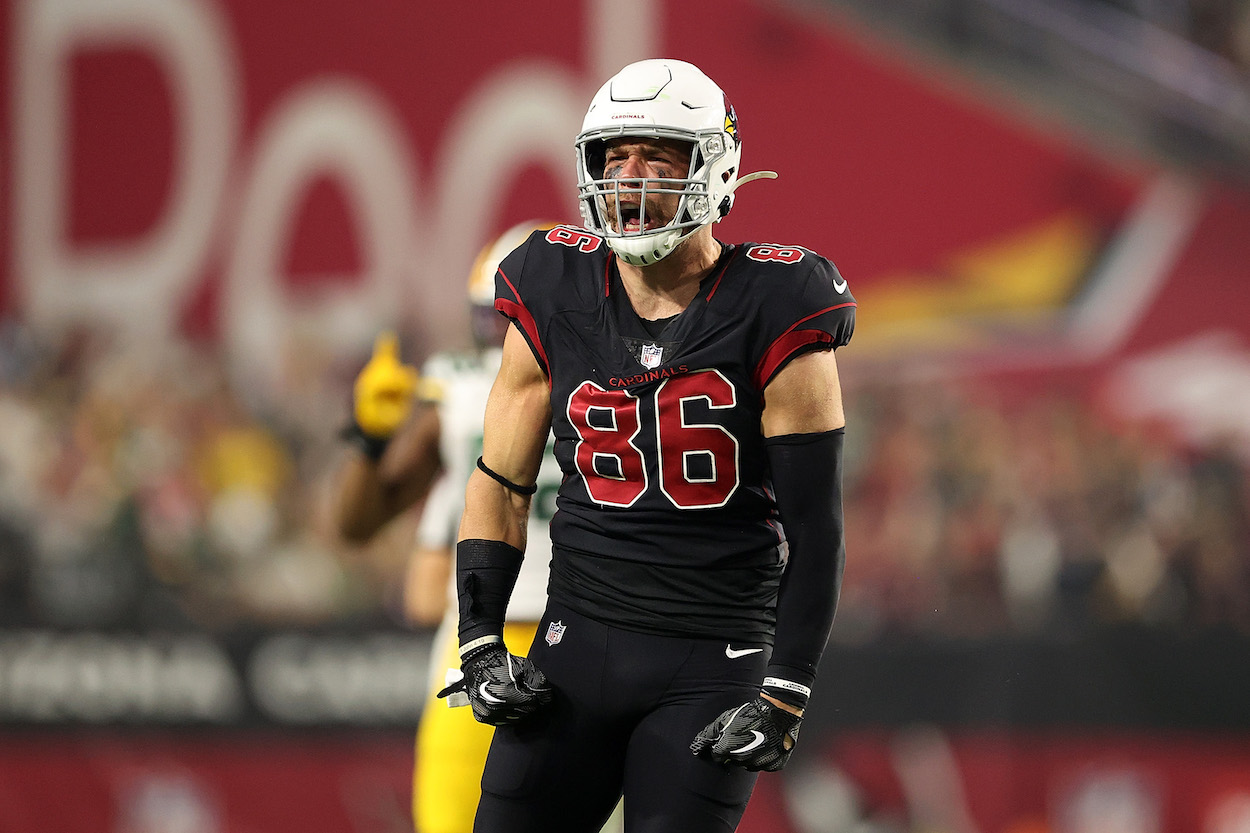 Tight End Start of the Week: Zach Ertz
Even in a miserable loss to the Lions, Zach Ertz still performed. He put up a TE1 week. On Christmas, he should perform even better. Zach's been one of the best tight ends in the NFL since coming to the Cardinals, consistently getting into the TE1 tier every week. Overall, he's the TE11 on the season. That's thanks to his 52 receptions on 80 targets for 584 yards and 5 TDs. One highly encouraging stat is that he has 15 red-zone targets and has caught 7 of them for 4 TDs. I love that. He's one of the most dependable tight ends and if you need guaranteed points, fire Ertz up.
Zach and the Cardinals are facing the Colts on Christmas in a must-win game for both teams. I am positive that the Cardinals will want to prove to themselves that the loss to the Lions was a fluke. Additionally, it should be fairly high-scoring with Jonathan Taylor running roughshod. As such, with the Colts struggling massively to cover tight ends by allowing the 3rd-most ppg, 10.6, to the tight end position, Ertz should eat. Furthermore, with Nuk out, Zach's only going to get targeted more.
Start: Rob Gronkowski
Even though Rob missed many weeks with a rib injury, he's still the TE15 on the season. If you look at it from a ppg position, he's the #4 TE. That's right, he's averaging 14.3 ppg as a tight end. On the season, he's caught 40 passes on 66 targets for 527 yards and 6 TDs. Gronk's averaging a super 13.2 ypr too. Brady loves Gronk, we know this, which explains why he has 10 targets in the red zone in which Gronk has caught 6 of them for 5 TDs.
With the Bucs losing Chris Godwin, Leonard Fournette, and potentially Mike Evans to long-term injuries, watch for them to feature Gronk a ton. He should soak the targets up from Brady as one of the few trusted options on the field for him. Due to that, and his matchup with the Panthers, I expect a good game from the USAA commercial star. The Panthers are tough on tight ends, allowing only 6.4 ppg, but Gronk's a special player. He says so himself even. Finally, you just have to trust Brady to find Gronk often, unless he suddenly trusts butterfingers Vaughn.
Start: Noah Fant
Fant's a weird start. Granted, he's been struggling a lot this year thanks to the crowded offense and Teddy's random not wanting to throw to Fant feelings. However, due to Bridgewater's concussion, Drew Lock will be starting this week. That's a good thing for Fant as we know how much Lock likes throwing to him. Thus, it's not a huge surprise that Fant had one of his better games of the season last week. Despite the struggles, Fant ranks as the TE14 of the year. While he's only scored 3 touchdowns, he has 58 receptions on 77 targets for 532 yards. That's not a great yardage amount for the passes he has caught. Yet, you take what you can get from a player like Fant.
In a must-win game against the Raiders, look for the Broncos to utilize Noah a bunch. Why? Appropriately, the Raiders are stinky against tight ends. They allow the MOST points to the tight end position, 11.6 ppg. Ouch. In what is a rough week with all the injuries and Covid positives, you have to take the risk on Fant to boom. It's a wonderful matchup, with a QB that likes him, and in a huge game. Fire up Fant soda.
Start: Dallas Goedert
Dallas is quickly becoming a must-start week-in and week-out. A set-it and forget-it option. I think next season, he will really blossom quite a bit. However, we have to finish this year first. In that case, Dallas is a must-start this week.
Other Starts: Hunter Henry, Pat Freiermuth, Dalton Schultz, James O'Shaughnessy
Tight End Sits
Tight End Sit of the Week: Tyler Higbee
So, there are multiple reasons to bench Higbee this week. First off is the fact that he is currently out with Covid. There are no guarantees that he'll be activated in time for the game and/or that he'll even play. Plus, we have seen that when players miss actual time with Covid, they seem to struggle their first game back. As such, do you really want to risk it on Higbee if he's not even a bonafide stud? I don't. Furthermore, he's not even having a great season. Sure, he started off good but has cooled significantly lately. He's missed multiple weeks with Covid issues and is out once again. Overall, he's the TE19 with 44 receptions for 395 yards on only 60 targets. He's caught 3 TDs as well.
There's not much to get excited for about Higbee in fantasy. He doesn't have a great YPR (9.0), red zone stats, or even a top-3 option in the offense. In addition to that, he plays with Cooper Kupp, who soaks up every target. Combine that with him potentially coming off covid and in a harsh matchup against the Vikings. I think I'm going to pass on him. After all, the Vikings are only giving up 7.3 ppg to the tight end position. You have to win this week, thus why risk it?
Sit: Tyler Conklin
Heyo, the tight end against Higbee is Tyler Conklin. Two Tylers, how funny. Anyways, this is another matchup for Conklin I will be avoiding. Thielen should be back which limits his upside, along with Osborn and Justin Jefferson. While Cook is out, that doesn't mean that Conklin won't be stuck at the line blocking. Additionally, Kirk Cousins struggled last game and didn't pass for even a hundred yards. While Tyler can win you weeks, he certainly can lose them for you too. He's far too hit/miss for me.
As the TE16, I expect more consistency than only 3 of his last 8 reaching over 10 PPR Points. His base stats are fine, 50 receptions on 69 targets for 496 yards and 3 touchdowns. However, in the playoffs, I need more. I need the special players. As such, I wouldn't want to rely on Conklin. To further that, he faces the Rams who only give up 7.3 ppg to the TE position. With so many more mouths to feed, I doubt Kirk and the Vikings decide they should pepper their TE with targets.
Sit: Gerald Everett
Gerald is having a weird year. On one hand, he's scored over 10 PPR points in 4 of his last 6 weeks. On the other hand, in one of those weeks he didn't, he had a miserable 0.8 PPR points. Overall, Gerald has caught 40 passes out of 50 targets with a lazy 8.9 ypr and 354 yards. He does have 3 TDs but 2 fumbles as well. All 3 of those TDs have come in the red zone so at least he's somewhat being utilized there. He's the TE22 overall and not one I would play in any league. I just don't trust Russ, Pete, or the Seahawks at all right now. In fact, I'm considering benching DK Metcalf in one league of mine!
The Seahawks are guaranteed to have a losing record this year. This is the first in what seems like forever or a decade. Thus, I'm not sure they are going to truly be giving it their all, especially when Russell is clearly not healthy. Regardless, they are facing the Bears. A game they should win. That said, the Bears are extremely tough on tight ends. They allow only 5.1 ppg, top-5 lowest in the league. Due to that and the weird offense, consider Everett a must-sit.
Sit: Dawson Knox
Fort Knox has been amazing this year. He's truly opened so many eyes, mine included. I can safely say that no one was expecting this at all. He has basically been the majority of the offense in Buffalo. Plus, he's proven that he can play the Kelce role and block, run deep, and catch everything. That's been proven to be true thanks to the fact he's the TE7 overall. Not bad for a tight end that you could've overpaid for with a 3rd last year/off-season.
Knox has scored over 10 PPR points in 3 of his last 6 games. He's become a bit risky in tough matchups. The majority of his work has come in those easier matchups that have allowed him to accrue counting stats like 44 catches on 61 targets for 527 yards and 8 TDs. It's those touchdowns that really inflate his value. They really make his points look higher than they should be. Due to that and the fact he's facing the Patriots, I'm benching Knox. The Patriots lock down opposing tight ends, just like they did with Knox three weeks ago. They give up only 4.7 ppg to the tight end position. That's 3rd-lowest and not a team I want to bet against. If you have another tight end, seriously consider starting them.
Other Sits: David Njoku, Foster Moreau, Austin Hooper, Cole Kmet
Make sure to subscribe to the #NerdHerd, where you get exclusive content, dynasty/rookie rankings, and DynastyGM! Additionally, if you want 15% off of ANY SUBSCRIPTION, USE PROMO CODE 'MAYTHEFORCEBEWITHYOU' or CLICK HERE.
Good luck with your Week 16 matchup, especially with your tight end starts! I truly hope you win! Give me a follow on Twitter @DarthDbacks. I love to talk football, baseball, movies, shows, Star Wars, Marvel, and of course to interact with the fantasy football community. Join Fantasy Football Chat and get tons of access to the best fantasy football chat group where many Nerds hang out in. It's free too!
As always, May the Force be with You…