What's up, Nerds?! Who's pumped for Week 7 to be here for the 2021 NFL Season!!! The season is flying by already! I can't wait to review these tight end starts/sits next week to see how they went. We have an amazing squad full of Nerds to provide you with all the starts/sits so you can win your matchup every week. This is going to be the longest season yet with 17-game schedules! More football is never a bad thing. Week 6 was rather meh for tight ends with many coming back to life, exploding, and/or falling flat. Gesicki, Seals-Jones, and Ertz are BACK.
This Week 7 might very well be the worst bye week I've ever encountered in my years playing fantasy football. 6 NFL teams are on bye, all of which are mainstays for fantasy contributors. Combine that with the endless amounts of injuries and well, this is a tough week! But, that's why we are here to help! FYI: The 6 teams on BYE are Chargers, Cowboys, Steelers, Jaguars, Vikings, and Bills.
The Dynasty Nerds writers are here to provide you with weekly starts and sits. We will be making our recommendations based on weekly consensus PPR rankings from FantasyPros. Here is our squad and the position groups they will be covering to help you each week. Follow us, friend us, tweet us.
The Team doing Start/Sits
QB: Jayson Snyder @Spydes78
RB: Gage Bridford @GbridgfordNFL
WR: Tristan Cook @Tristancook_
TE: Jake Oliver @DarthDbacks
FLEX: Ethan Wyatt @ethanAwyatt
IDP: Jon Glosser @Glosser13
We look forward to hearing from you!

NOTE: Rankings are based on a 12-team PPR league. So, saying WR2 means top 24, or TE1 means top 12, etc. It is referring to the fact that he is projected among the top-12 TE of the week. TE1=top-12, TE2=finishing between top-13-24. Finally, all rankings are taken from Fantasy Pros Weekly Expert Consensus Rankings.
Now, you may be wondering who I am since I'm not the same guy from last year. My name is Jake Oliver. I've been with the Nerds since June. I have written a lot of articles with this wonderful team since then.
These articles are made out of love and passion for fantasy football, the NFL, and helping others. If you all have any questions or comments, hit me up on Twitter, in the comments here, or on Discord in Fantasy Football Chat! I'll be posting a bunch and love to engage with anyone. We would appreciate it a lot if y'all checked out the other start/sit articles as they rock too! One final tidbit, if you're wondering why Travis Kelce, Darren Waller, or George Kittle aren't listed, well, that's because you need to START YOUR STUDS! These guys are ones that you start them once and forget about them. I'll be focusing on the other tight ends that are a bit trickier to decide whether you should start them or not.
Week 6 Review
First, let's review my picks from last week. I'm curious to see how well or horrible I did in Week 6 and to keep me accountable.
Hunter Henry: I said to fire up Hunter Henry and I hope you did as he got you over 10 PPR points. He was shaping up to have a rather deflating day until his touchdown catch that saved the day. He ended up with two catches for 25 yards.
Dawson Knox: Well, we knew this day was coming. Sad times for the fantasy tight end community as not only did Knox put up a stinker, but he broke his hand too. There's no word on how long he will miss following his surgery, but he had 3 catches for 25 yards and a 2-point conversion pass. Sigh.
Dan Arnold: Admittedly, this was somewhat of a no-risk it, no biscuit since he was either going to do great or awful Unfortunately for the fantasy world, it was the latter. Dan had 2 receptions for 27 yards. Not good.
Tyler Higbee: Only 2.3 points separated the TE12 overall from where Higbee was at TE21. It wasn't a great day at all as he only had 8.6 points in a plus matchup. On the bright side, he still did more than a lot of TEs and was involved in the offense. I love the fact he caught 5 passes, just not that they only went 36 yards.
Ricky Seals-Jones: I said to start Ricky Seals-Jones and I sure hope you did. He went off in Week 6 against the Chiefs, securing 4 catches for 58 yards and a touchdown. That amounted to 15.8 PPR points and a TE6 overall finish!
Mike Gesicki: Big Mike dominated the lowly Jaguars in London. There were some concerns about his timing with Tua coming back from injury but that didn't matter. They looked like they were Brady and Gronk out there. This was one of Gesicki's best games yet as he had 8 catches for 115 yards. That's good enough for TE2 overall!
David Njoku: During Arizona's game in which they just wrecked the Cleveland Browns offense, Njoku did nada. I said to sit him and I hope you did as Arizona limited him to one catch for 6 yards. That was not a fun game for Browns' fans.
Tyler Conklin: He's the best start from the players I listed to sit. He finished as the TE16 overall with 10.1 PPR points. He had his highest, but unreliable, yard total for the whole season at 71 yards. Why is it unreliable? Well, that's because he only had 3 receptions. I did say he wouldn't be a TE1 at least. Haha.
Robert Tonyan: Does Tonyan still play football? I wouldn't know as I've barely seen him do anything this year. Turns out that he did indeed play Sunday and recorded 2 receptions for 10 yards. On the waivers, you shall stay Sir Tonyan.
Jonnu Smith: Well, it's official that we can now stop trying to make Jonnu Smith a thing. He had 1 catch for 9 yards and belongs to the waivers until further notice.
Austin Hooper: Ditto what I said above for Njoku. Hooper got handled by the Cardinals as he had 1 catch for 4 yards.
Overall, for the week: 8/11. Overall, for the season: 32/55
Tight End Starts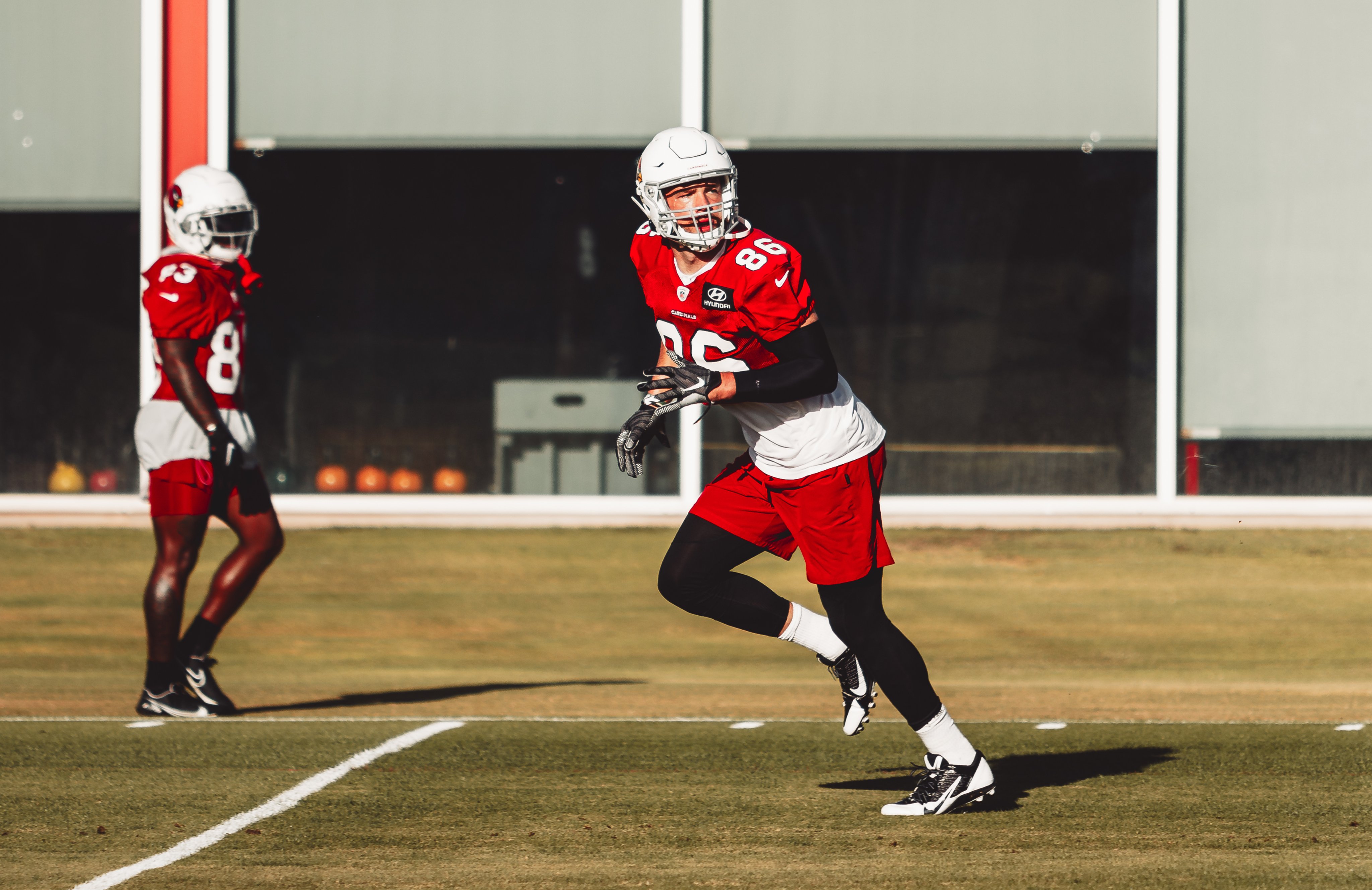 Tight End Start of the Week: Zach Ertz
Arizona finally has a STAR at tight end! It's only been years since they have had a bonafide TE1. Actually, I can't think of the last time. He's going to play this weekend and start. He should be starting in your lineups too. That's because he gets the absolute best matchup to debut in this weekend against the Texans. First, let's discuss more about Zach Ertz and his role in this star-filled Cardinals offense.
Ertz will dominate the TE targets. He will be a crucial third-down/red-zone target for Kyler Murray. Kyler needs that safety valve, a player that just knows how to get open in crucial spots and makes the tough catch. They have that in Nuk, but it never hurts to have multiples. Also, with Ertz now on this offense, teams can no longer easily put double coverage on Nuk which will help his fantasy points, targets, and catches rise. Ertz is going to help every player on this offense simply by playing and making defenses account for him. Hence why Maxx Williams was doing damage, teams didn't account for him. With Ertz, they will.
Zach Ertz is a great red-zone target as he already has 6 targets within the 20's so far this year. Granted that was with Hurts as his QB, but he should still do plenty of damage in the red zone. You know how bad Zach wants to win, that's why he wanted to come to Arizona if he was being forced to leave Philly. He's going to do everything he can to help this team win. Zach's going to get the dominant share of snaps as Maxx averaged 66% snap share pre-injury. There's no reason that I can see for Ertz to not meet that % or go even higher.
Also, don't forget the matchup this Sunday against the Texans. They are the third-worst against TEs in fantasy. They give up, on average, 11.7 points per game to the position. It's the perfect game to introduce the Cardinals' version of Ertz to the NFL. Fire up Ertz this week! Don't Ertz yourself by forgetting.
Start: Mike Gesicki
No matter the QB, both of 'em love Gesicki. He's blossoming into a career year at the right time as it's his contract year too. Did you see his play or stat-line last week against the Jaguars? He gashed the Jags' defense constantly. When all was said and done, he had 8 catches for 115 yards. That's good and his highest yardage total of the season so far. He's been over 40 yards receiving every week since Week 1's dud. He's had 4 or more receptions and 6 or more targets in the same time frame every week. In fact, over his last 5 weeks, he's put up 30 receptions off of 40 targets and had 342 yards. He only had one touchdown too which is HUGE.
Why is it huge? Well, that's because it showcases that Mike isn't relying on touchdowns for his fantasy points. He's doing damage via yards and receptions which is what sustains pro-longed success. If you doubt me, just compare Robert Tonyan's stats from last year to this year. Anyways, Gesicki's averaging 68 yards receiving, 6 receptions, and 8 targets per game in his last 5 games. He's the #2 option in Miami's offense with a young QB in Tua who's trying to prove that he can be THE QB for Miami.
Mike's the 5th-most targeted TE in the NFL with 43. He's 2/2 in the red zone with a touchdown. He's playing on over 65% of snaps which means he's on the field consistently and plenty. Plus, he's facing the Falcons defense which isn't something you should be scared of. Yes, they've given up a "low" average of 5 points per game to the TE position. However, the only good TEs they have faced so far was Goedert and Gronk. Guess what? Gronk obliterated the Falcons with two touchdowns and Goedert had a touchdown as well. There's nothing to fear with the Falcons defense or with starting Gesicki. Fire him up as he helps you win this bye/injury-ravaged Week 7.
Start: Dallas Goedert
With the trade of Ertz, Goedert is finally the King of the TE-room in Philly! All hail King Goedert! It took only a year longer than we expected, but we'll take it. With Howie Roseman's comments (GM) about wanting to feature Goedert through the rest of the season to see if he's worth the large contract, they are about to give him, Dallas is now fantasy gold.
The fantasy football world has been begging the Eagles to make Goedert their "Kelce", their main part of the offense. The time is now for that to happen. With the Eagles looking likely to be behind in nearly every game, that means there should be plenty of passing done. As Dallas' 68% snap share looks to increase due to Zach leaving, his targets and receptions will increase as a result. Plus, he's had 6 red-zone targets while Ertz was playing there. Imagine how high that'll go with Ertz gone. By the way, Dallas scored his only two touchdowns on the season in the red zone.
Dallas' averaging only 4.5 targets per game with Ertz, but the TE position, in general, has averaged over 8 targets. Look for Dallas to start averaging 7+ targets a game. That's a good thing too as he's averaged 11+ PPR points per game when Ertz didn't play in the game. I'm comfortable projecting Goedert as a top-10 TE for the rest of the season. The first game is against the Las Vegas Raiders who have been shredded by tight ends. Just look at Noah Fant's 9 catches for 90+ yards and a touchdown this past week. The Raiders allow, on average, 12.4 points to the TE position per game. That's the most in the NFL. Yes, even worse than the Texans. Be prepared for a Goedert blow-up game this week!
Other Starts: Hunter Henry, Kyle Pitts, Ricky Seals-Jones
Tight End Sits
Tight End Sit of the Week: Cole Kmet
I don't know if there's been a bigger let-down at TE or offense this year than the Chicago Bears. We were expecting Allen Robinson to at least be a high-end WR2. He's on the milk carton and there's an urgent search for him. Cole Kmet was expected to take the leap to be a TE1 this year and well that's not happened. David Montgomery was doing well until the injury. The QB position has been a mess whether it's Andy Dalton or Justin Fields.
Alas, Cole's a reasonable start this week in a bye/injury-filled week. I just don't recommend it if you have anyone better or anyone like I listed above. Yes, he's facing the Bucs defense who have given up an average of 11.4 points per game to the tight end position. However, the Bears are AT Tampa. That's a hostile environment with a loud crowd for a rookie QB. Plus the Bucs held Gesicki to only 4 receptions for 43 yards. And, it looks like they are getting their best safety, Antoine Winfield Jr. back this weekend. He's only going to help their coverage issues, in which teams are smart to throw to their WRs.
Finally, Cole's not done well this year. Yes, he's averaging 82% of the snaps in a game and has out-targeted Jimmy Graham by a 24-3 margin. Yet, that's only a 4 target per game average. Not good. Neither is the fact that if you take out his Week 1 performance in which he got 7 targets, he's only averaging 3.4 targets per game; he's also been held to under 50 receiving yards all season. Cole's had only 1 reception in three different games. He's had 4 or fewer targets in 4 of 6 weeks.
Now recency bias might say that Cole had 4 catches for 49 yards last week against Green Bay. That's relatively good, but that's still only 8.9 PPR points. If that's what you're relying on to win you your matchup, that's not going to get it done. Sit Cole Kmet if you can. Manage your expectations if you can't. He'll be a TE2.
Sit: Mo Alie-Cox
The touchdown machine of the Colts is staying on the ground this week. Why? Well, let's focus on his situation in the Colts' offense. To start, he's in an offense that doesn't feature tight ends. Carson Wentz is focusing his throws on the WRs and RBs. Mo is only playing on an average of 51% snaps per game. That's not enough to truly be fantasy-relevant or even put up decent stats. If you're not playing consistently or on the field, you can't get any catches or targets.
In fact, he's not on the field at TE the most for the Colts. That would be Jack Doyle. He's on the field for 59% of the snaps. That's not giving a good outlook for the rest of the season. Additionally, Mo has 18 targets, one more than Doyle's 17. They are splitting any TE offense down the middle between the two. So, why is there hype around Cox?
Well, that's because he's three touchdowns in the last three weeks. Despite that decent touchdown number, there are no stats that support Cox being anything more than TD-reliant. He's not had more than 5 targets in any game this year. He has three or fewer catches in every game. In fact, he averages 1.67 receptions, 3 targets, and 25.3 yards per game. That's rather pathetic when you compare it to any other fantasy-relevant tight end. Finally, he has a horrible matchup this week against the 49ers. The 49ers are allowing only 1.3 points per game to the TE position. That's the lowest amount in the league. You beat the 49ers by attacking their corners, not by going after their linebackers. Look for another dud by Cox.
Sit: OJ Howard
Orange Juice has come back to life of late. He's reminded us of that oozing potential that's been wasted in Tampa so far. Last game against the Eagles, he had 6 receptions off of 7 targets for 49 yards and a touchdown. It was his best game in two years. So why am I saying to sit Orange Julius? Well, that's because that Tampa Bay TE room is a slot machine until Gronk comes back.
In the games since Gronk's injury, OJ had 1, 3, and 7 targets in the three games since. His yardages of 0, 19, and 49 in the three games leave plenty to desire. The two weeks before this one, Cameron Brate had significantly out-targeted Howard. Then, last week he sat while Howard played. You just don't know who is going to get the workload. It sounds like the Tampa Bay RB room. Bruce Arians sure does love his committees.
Also, this Tompa offense is going to live and die by their WRs. When you have three of the best WRs in Godwin, Evans, and Brown, you don't throw the ball to a backup TE. Don't go chasing points. Those points already happened. You can't get them back. Don't fall for Bruce's tricks, look at the teams unlucky enough to have Rojo. Oh yeah, the opponent this week, the Bears, isn't favorable for tight ends. The Bears have given up the third-fewest points to the TE position with 4.0 per game. Don't go chasing points, Orange Juice, or Howard the Duck. Just leave him on the waivers or your bench.
Other Sits: Robert Tonyan, Jonnu Smith, CJ Uzomah
Make sure to subscribe to the #NerdHerd, where you get exclusive content, dynasty/rookie rankings, and DynastyGM! Additionally, if you want 15% off of ANY SUBSCRIPTION, USE PROMO CODE 'MAYTHEFORCEBEWITHYOU' or CLICK HERE.
Good luck with your Week 1 matchup, especially with your tight end starts! I truly hope you win! As always, I hope you follow me @DarthDbacks. I love to talk football, baseball, movies, shows, Star Wars, Marvel, and of course to interact with the fantasy football community. Join Fantasy Football Chat and get tons of access to the best fantasy football chat group where many Nerds hang out in. It's free too!
As always, May the Force be with You…